Check Out The Adrenaline-Pumping IMAX Poster For F9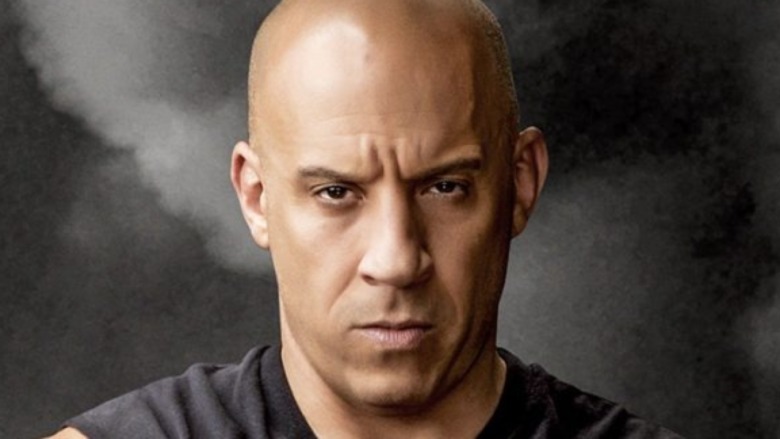 Universal Pictures
"Fast & Furious 9," officially titled "F9," is set to premiere this summer, hopefully sparking the return of the theater experience after the COVID-19 pandemic effectively shut it down. Once vaccinations began rolling out earlier this year and theaters began to reopen, the cast for "F9" started to rev up their press tour by participating in exciting interviews, releasing a new trailer, and hyping up the movie on their social media accounts.
The first posters for "F9" were ultra-colorful, showing each famous "Fast" character propping up against their vehicle of choice, with a massive cloud of color behind them. Dominic Toretto's (Vin Diesel) poster was the only one that was monochromatic; he donned a gray shirt while leaning against a metallic gray car surrounded by gray smoke. The ensemble poster featured all the characters lined up next to one another, their various smoke colors billowing behind them to make a giant rainbow.
On April 28, fans were treated to a brand-new IMAX poster for "F9" that's much more high-octane than what they've seen before.
The new F9 poster features Dom and Jakob in action
The new poster features Dominic Toretto and his long-lost brother Jakob Toretto (John Cena) fighting against one another in their cars. Dom is driving his signature Dodge Charger, while Jakob is pushing up against him in a Ford Mustang. As the Toretto brothers battle it out on a dirt road, another car can be seen behind them. In true "Fast and Furious" franchise fashion, the vehicle in the background is on fire and mid-flip. 
IMAX shared the new poster to its Instagram account, captioning the post, "Drivers, start your engines! We're all revved up for the return of @TheFastSaga to IMAX theatres." Fans began expressing their excitement for "F9" in the comments section, with many proclaiming that they're ready to get back out to cinemas to see the film on the big screen.
"F9" lands in theaters on June 25.