How Old Is Lana Winters In American Horror Story?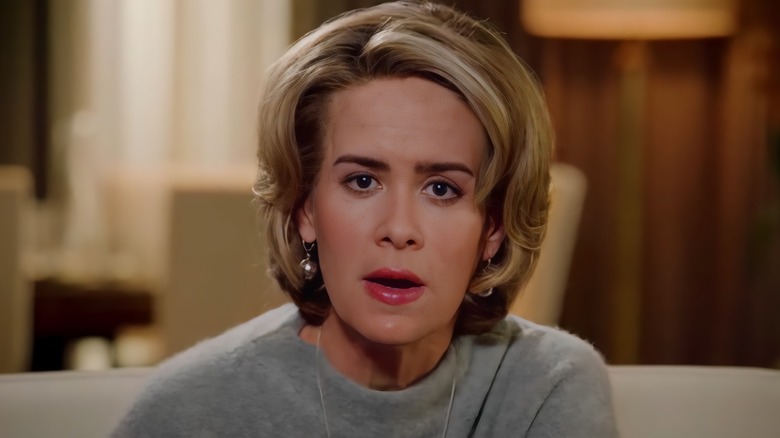 FX
Over the multiple seasons of "American Horror Story" — and multiple ages in which she's been represented — Lana Winters, as played by Sarah Paulson, has become an iconic favorite character in the series. The investigative journalist first came on the scene during the second season, "Asylum," and then reappeared for a short time in the sixth season, "Roanoke," to interview Lee Harris (Adina Porter) about the similar experiences she faced. Her name was also dropped in the season finale episode during the "Cult" season (via Pop Sugar), when Rachel Maddow comes calling to find out if Ally (also played by Paulson) would be willing to do an interview.
Given how much she's aged by the time "Roanoke" comes around, though, you might be wondering exactly how old she is during the traumatic events she experiences as part of the series. Most of the time, there's no mention of character ages in "American Horror Story," which leaves viewers guessing. However, in Winters' case, there's some behind-the-scenes information that can help us figure out exactly how old the character was, during the events of the second season.
Lana Winters, based on Barbara Walters, is close to her age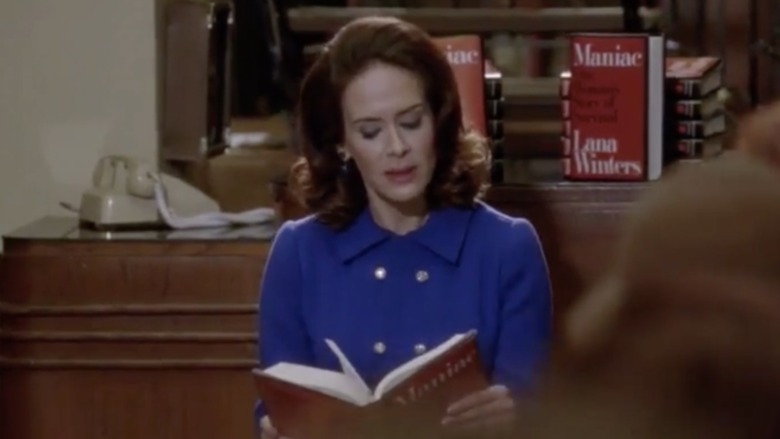 FX
In the "Asylum" series, Winters goes through some hair-raising events, including electroshock therapy, rape, and being witness to murder. As a journalist, she's determined to expose the happenings at Briarcliff, which later turns her into a household name. But calculating Lana's age at this point in time is not necessarily a straightforward proposition, as it turns out, not least because she appears at several ages during the course of her appearance in "Asylum." 
However, in an interview from 2013 that co-creator Ryan Murphy did with Entertainment Weekly, he indicated that Lana herself was inspired by journalist Barbara Walters (as well as writer Booke Astor), and her makeup look at an advanced age was also inspired by Walters. "When we were doing Sarah's make-up, we sorta did the math and I think Sarah Paulson's character was like two years younger than Barbara Walters so we really looked at photos today of Barbara and copied that makeup," he said. 
A-ha — a clue! Looks like some extrapolation is in order here.
Lana was around 33 years old when she was inside Briarcliff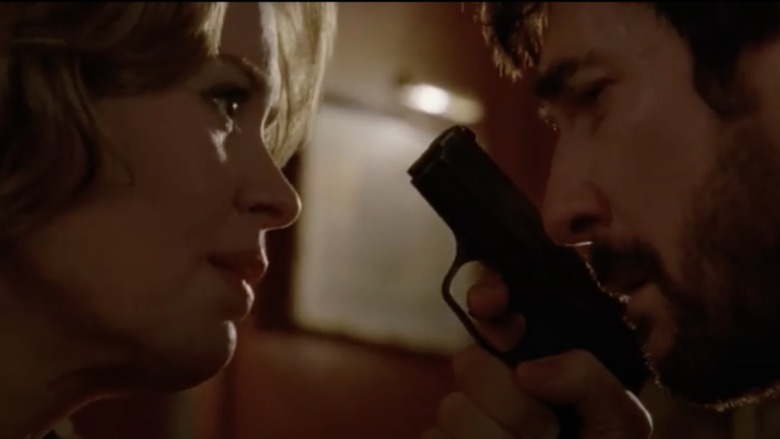 FX
Barbara Walters, aged 91 today, was born in September 1929. In 2013 — seven years ago, when "Asylum" was set in the present day — she would have been about 84 years old. Subtract two years, and Lana Winters would have been 82 for the interview in the season finale of "Asylum." She would also have been born in 1931. Placing the series within the American Horror Story timeline, the events at Briarcliff in "Asylum" took place mostly in 1964. She would have thus been about 33 years old. Lana published the autobiographical book "Maniac: One Woman's Story of Survival" in 1968, doing a book tour for it in 1969 — when she was 38. A fictional documentary called "Briarcliff Exposed" brought Lana back to the site in 1971, when she was 41 years old.
During the events of "Roanoke," when Lana comes out of retirement for a "Lana Winters Special," it's 2016. She was 87 years old when Lot Polk ambushed that interview and attacked Lee and Lana, hitting her with a gun. She lived, though others on the set did not, and that was the last fans have seen of Lana — so far. 
As for Paulson herself, she is 46 years old in 2021, making the actress in her late 30s at the time she filmed "Asylum" — and she's worn all those different ages well. While journalist Lana Winters might be getting on up there in years and happily retiring from the spotlight, viewers of "American Horror Story" will have plenty of time to enjoy Paulson's acting on the series (but maybe not as Lana!) in seasons to come, including the upcoming Season 10.