Netflix's Trollhunters: Rise Of The Titans Gets A Teaser And Release Date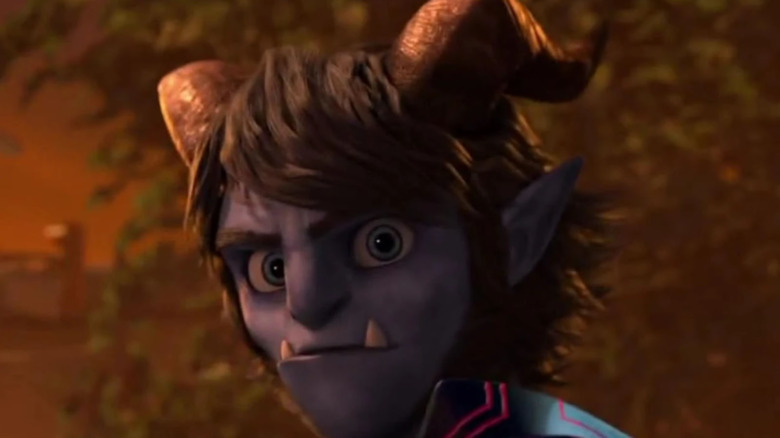 Netflix
If you're still not caught up on one of the best new children's fantasy series in recent years, you have just a few months left before Netflix releases the epic movie that will bring it all to a conclusion. Netflix just Tweeted the release date for "Trollhunters: Rise of the Titans," along with the official trailer. Based on the trailer, it looks like the world of Arcadia will be threatened like it never has before.
The movie has been in the making for almost 10 years. Creator and producer Guillermo del Toro originally imagined "Trollhunters" as a live-action series before switching to animation due to budgetary constraints. Unsurprisingly, the storied director's plan for the animated version was just as ambitious. "Team Trollhunters committed, about a decade ago, to try and push the boundaries of 3D CGI animation made for TV," del Toro told Colllider. "We outlined a vast trilogy of interconnecting mythology and characters that we always hoped could culminate with a massive 'all-stars' reunion."
That "all-stars reunion" will be the upcoming movie, and it will tie together all three TV series in the "Tales of Arcadia" anthology. The first TV series, "Trollhunters: Tales of Arcadia," launched in 2016 and tells the story of teenager Jim Lake Jr. (Anton Yelchin and, later, Emile Hirsch), who discovers that his town of Arcadia is home to a magical realm inhabited by trolls. It was followed by "3Below: Tales of Arcadia" in 2018, which is about two alien siblings, Princess Aja (Tatiana Maslany) and Prince Krel (Emile Hirsch), who flee their home planet and escape to Arcadia. Finally, "Wizards: Tales of Arcadia" (2020) brought in yet another main character, a wizard-in-training named Douxie Casperan (Colin O'Donoghue), who needs the Guardians of Arcadia to help him save medieval Camelot. 
So, a lot has happened already, but in the movie, Arcadia's entire existence will be threatened.
Something really big is coming to Arcadia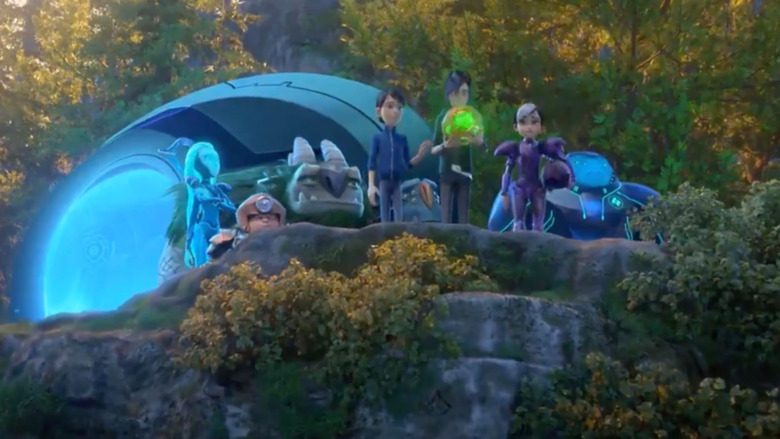 Netflix
As Netflix tweeted, the official release date for "Trollhunters: Rise of the Titans" is July 21, 2021. According to the Tweet and the accompanying trailer, "Rise of the Titans" will see the heroes from the first three TV series banding together to take on their biggest threat yet. The details remain ambiguous, but one shot in the trailer shows Jim, Princess Aja, Douxie, and their allies standing on a hill awaiting an oncoming enemy.
That enemy is likely the Arcane Order, a trio of three demigods who are the main antagonists of "Wizards: Tales of Arcadia." For thousands of years they've balanced the magical forces on Earth, but more recently they've decided Earth is beyond saving and want to destroy it. As for what the Titans are, that's not yet clear — although another shot in the trailer does show a magical lava-spewing mountain rising from the ocean. Seems pretty Titanic to us.
With trolls, aliens, wizards, other fantasy creatures, and ancient gods, "Trollhunters: Rise of the Titans" has a lot of threads to tie together, but if anyone's up to the task, it's Guillermo del Toro.