The Historical Reference You Might Have Missed In The Game Of Thrones Finale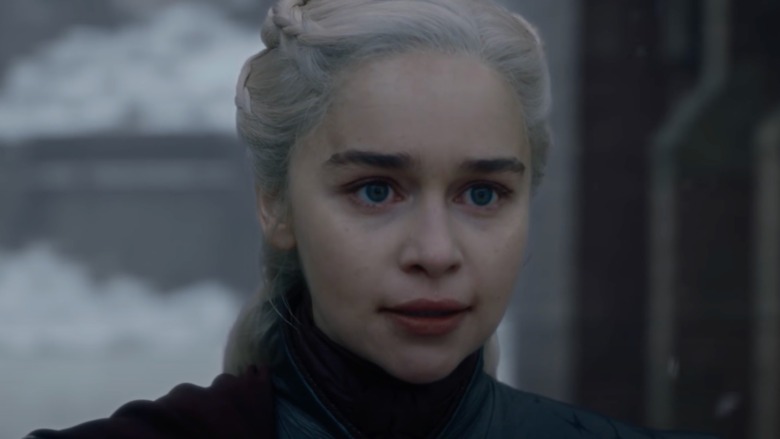 HBO
Despite the dragons, White Walkers, and three-eyed raven, HBO's "Game of Thrones" was still grounded in some reality. After all, George R. R. Martin used England's 15th-century Wars of the Roses as an inspiration for his fantasy epic "A Song of Ice and Fire." Keeping in that tradition, the creative team behind the HBO adaptation looked to another war to help frame the aftermath of a particularly harsh (and often criticized) scene in the series' final episodes.
In the Season 8 episode, "The Bells," Daenerys Targaryen (Emilia Clarke) makes her claim for the Iron Throne and follows in the footsteps of her father, the "Mad King" Aerys II Targaryen. Ignoring the signals of surrender from King's Landing, Daenerys uses her last surviving dragon, Drogon, to lay waste to the city, incinerating soldiers and civilians with equal and unbridled vengeance. The overwhelming display of destruction and slaughter turns the stomachs of even her closest allies.
Game of Throne's allusions to World War II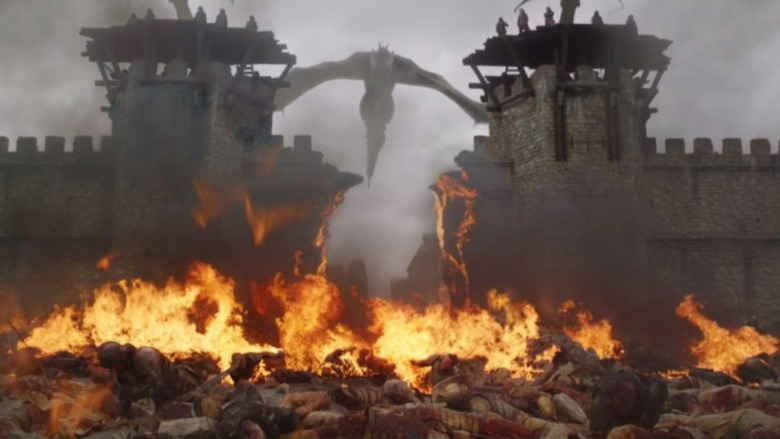 HBO
As the series finale "The Iron Throne" opens, we watch as Tyrion Lannister (Peter Dinklage) surveys the incredible devastation his queen has inflicted upon the city and its citizens. The notes in the script called for the scene to be shot in "'Son of Saul' style." Released in 2015, "Son of Saul" follows Saul Ausländer (Géza Röhrig), a prisoner in the Nazi World War II death camp Auschwitz. The film's style uses tight shots of Saul's face throughout, which allow the audience to read every emotion on the character's face as he witnesses the atrocities of humankind. Those same emotions are evident on Tyrion's face as he wanders the ruined city.
Additional script notes paint an even darker idea of the city's condition. The "Game of Thrones" creative team described the destruction Tyrion sees as "human silhouettes on the dragon-scorched ground where the ashes have blown away, the negative image of the Hiroshima silhouettes." As most know, the Japanese city of Hiroshima was the target of the first atomic weapon used in battle. The bomb killed some 140,000 people, approximately 40% of the city's population, with the large majority perishing upon the bomb's detonation and tens of thousands later dying due to the effects of the atomic weapon.
The events of World War II are some of the darkest in our history. It is no wonder that the writers of "Game of Thrones" drew upon those atrocities to realize the final, devastating battle in the series' last episodes.