Were Dot And Bette From American Horror Story: Freak Show Real?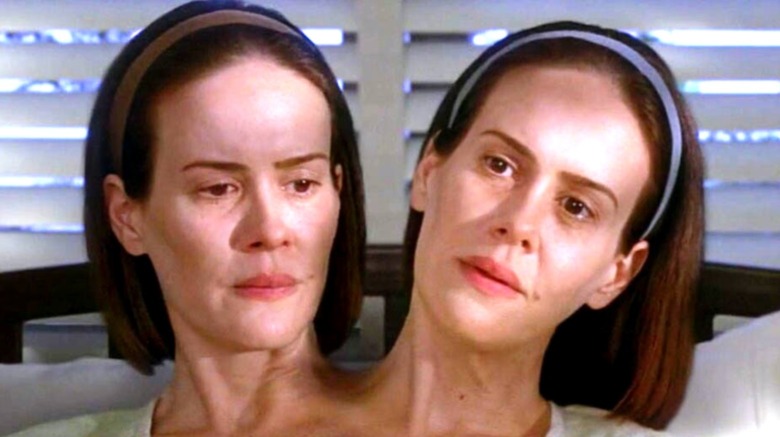 FX
Sarah Paulson is widely known for many roles, horrific and otherwise — including Nurse Ratched on "Ratched" and Marcia Clark, one of the key players on "The People v. O. J. Simpson: American Crime Story." As impactful as those roles were, however, she will always be best known for her enduring relationship to the "American Horror Story" franchise.
Since its debut in 2013 with "American Horror Story: Murder House," Paulson has appeared in almost every season of the anthology series (she skipped "1984"), playing different roles in each new story. Though she was only in three episodes of "Murder House" as Billie Dean Howard, she quickly became a regular in subsequent seasons. Her "AHS" roles have included Lana Winters in "Asylum," Cordelia Goode in "Coven," Bette and Dot Tattler in "Freak Show," Sally Mckenna in "Hotel," Audrey Tindall and Shelby Miller in "Roanoke," Ally Mayfair-Richards and Susan Atkins in "Cult," and Wilhemina Venable in "Apocalypse." Paulson has also reprised her "Murder House," "Asylum" and "Coven" roles in other seasons of the show. You get the point: She's a real fixture.
Paulson's involvement with "American Horror Story" put her under the microscope with fans, critics, and even Healthline Magazine. The magazine actually published an article in 2017 by Susan York which looked at "Freak Show," and the science behind Bette and Dot Tattler, the conjoined twins who share a body with two separate heads. Is such a condition even medically possible? The answer might surprise you.
Fictional and non-fictional conjoined twins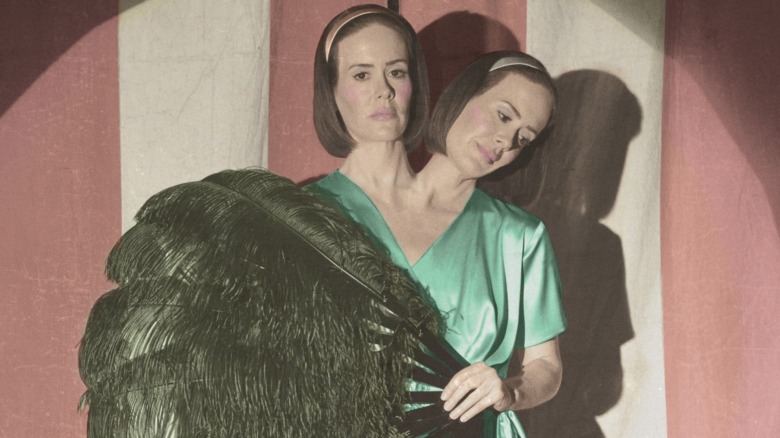 FX
In "Freak Show," Sarah Paulson plays Bette and Dot Tattler, conjoined twins that share a body, but have separate heads. Though they share a significant part of each other, the two could not be more different, with their separate brains and personalities. Bette is portrayed as being innocent, friendly, and on the hunt for fame. Her sister, however, is much more sullen, and her cynical attitude makes it difficult for her to trust anyone.
Healthline noted the similarities between Bette and Dot and Abigail and Brittany Hensel, real-life conjoined twins hailing from Minnesota. The girls were born in 1990 and, like Bette and Dot, they share two legs and two arms. However, they retain their own spinal cords, hearts, and brains. Though Bette is not always sensitive to her sister's needs and worries, she has no hesitance exploring their body at night, despite Dot's unease — that is not the case with the Hensel Twins. Though they can both move their limbs, the two work together to maintain bodily autonomy and respect each other's comfort.
Who are the Hensel Twins?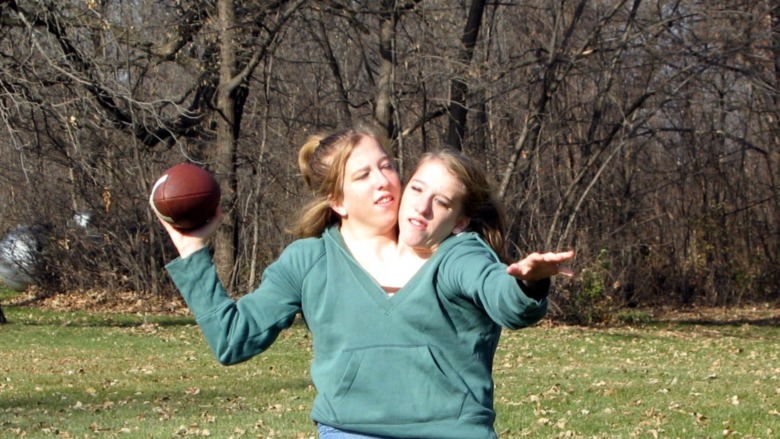 TLC
Abigail and Brittany Hensel caught the world's attention in 1996 when they appeared on "The Oprah Winfrey Show." That same year, they appeared on the cover of Time Magazine under the headline "One Body, Two Souls." They gained even more recognition on two short-lived reality programs,"Abby & Brittany" and "Abby and Brittany: Joined for Life," which aired in 2012 and 2013, respectively.
The Hensels are thriving in 2021 as fifth-grade teachers in Minnesota. According to Living 101, they hold an open forum every year on the first day of class. That way they can allow their curious students to ask questions and "clear the air so they can focus on schoolwork for the rest of the year."
Back in 2012, the twins spoke to The Mirror and expressed their desires to show the world that, though they share body, they are completely different people with different personalities. One other thing they reportedly share is a desire to get married and have children, though there is no current news on that front.