Why Tamlyn Tomita Brought Three Big Pieces Of Luggage To Cobra Kai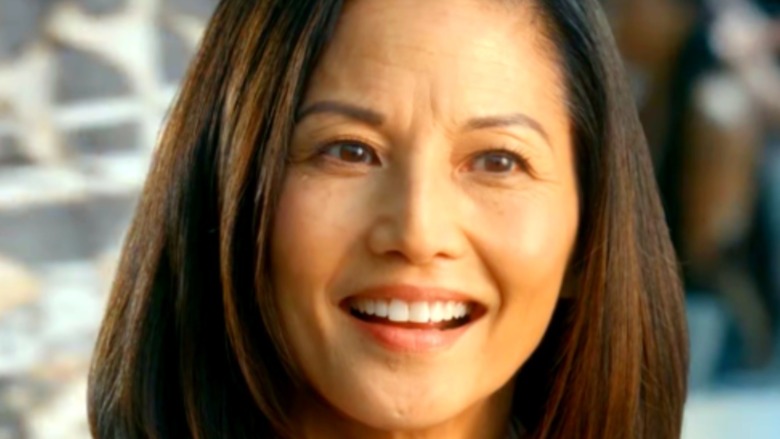 Tina Rowden/Netflix
For an actor, a highlight of revisiting an old role decades later is the opportunity to right wrongs you might never have expected to have the chance to fix.
Tamlyn Tomita got her start as an actor in the 1986 sequel "The Karate Kid Part II," playing Daniel LaRusso's (Ralph Macchio) erstwhile Okinawan love interest Kumiko. (Nobody would have believed him back in the Valley. "You wouldn't know her. She goes to a different school. It's in Japan.") But when the time came for her to reprise the role more than 30 years later on the spin-off series "Cobra Kai," Tomita wouldn't be moved by nostalgia or gratitude to accept without first setting a few conditions for the showrunners: She wanted the series to do a better job giving an authentic sense not just of Japanese but of specifically Okinawan culture than the film did. 
"I didn't know anything back then," Tomita told the Los Angeles Times of her involvement in The Karate Kid Part II, "and the only sense of Okinawa [in "The Karate Kid Part II"] is coming through [screenwriter] Robert Mark Kamen's interpretation of his time spent in Okinawa." Tomita commended the film's star Pat Morita for trying to influence the cultural depictions, but said there was only so much he could do at that time. Tomita, who was born on the island and raised in Los Angeles, vowed to better represent her homeland with her second chance in the franchise ... and she did just that in a pretty surprising way.
How Tamlyn Tomita brought pieces of Okinawan culture to Cobra Kai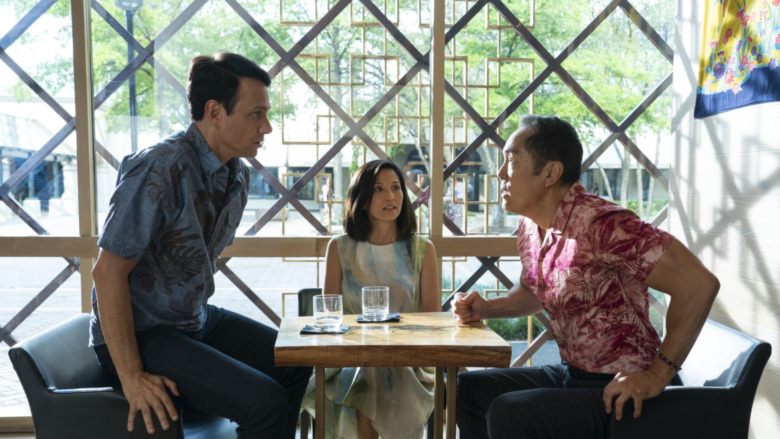 Tina Rowden/Netflix
Oahu stood in for Okinawa in "The Karate Kid: Part II." Macchio and Yuji Okumoto, reprising his role as LaRusso's Okinawan rival Chozen, filmed for a handful of days on Okinawa itself for "Cobra Kai," but Tomita's scenes were shot near the show's production base in Atlanta. She decided to bring a little piece — or, more accurately, several little pieces — of Okinawa with her to the show's shooting locations. Three suitcases worth, in fact.
As she told the Times, among the items she packed were arts and crafts from her own home, tchotchkes that she lent to the sets she and Macchio shot on in Atlanta to give them a more authentic Okinawan feel. She borrowed an Okinawan version of the shamisen, a three-stringed Japanese musical instrument, from an Okinawan cultural center. She sought input into the proper Okinawan choreography to the song "Tinsagu nu Hana," which filmmakers asked her to improvise back on the set of "The Karate Kid Part II." She even translated lines in the script from Japanese to hōgen, or Uchinanchu, an Okinawan dialect.
"I can't dictate that to the filmmakers or the creators or the storytellers," Tomita told the Times, "but if they are going to tell that story they have the responsibility to tell it as authentically as possible, and to reach out to folks who can help them achieve that vision with the knowledge that we're always going to bend to artistic license."