The Only Two Cobra Kai Actors Who Got To Travel To Okinawa For Season 3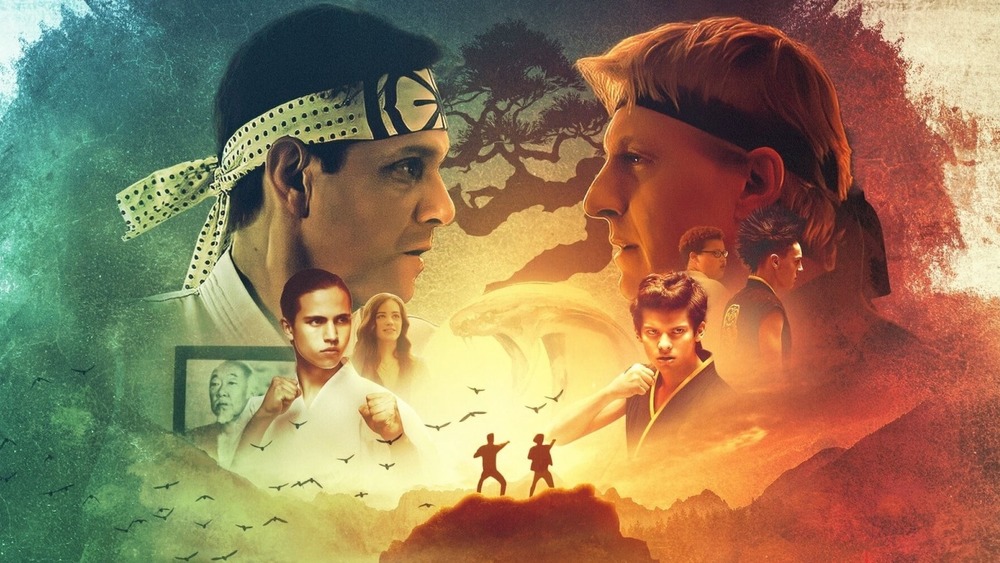 Netflix
Contains spoilers for Cobra Kai season 3
The Karate Kid Part II takes place on Okinawa Island, Japan — only, it was actually filmed in Hawaii. The Pacific locale is enough to fool the casual viewer, but there is a certain degree of authenticity missing because of it. After all, Mr. Miyagi (Pat Morita) and Daniel LaRusso (Ralph Macchio) don't go there just for a cosmetic change of scenery, but rather because Mr. Miyagi's father has fallen ill. It's a return home, a return to family, and a return to tradition.
Over 30 years later, in season 3 of the Karate Kid spin-off series Cobra Kai, Daniel heads back to Japan to see if there's anything he can do to prop up his collapsing business prospects. His visit to Tokyo unfortunately proves fruitless, so he travels to Okinawa to clear his mind before returning home to face his failure head-on. 
According to an interview with actress Tamlyn Tomita, who played Daniel's love interest Kumiko in The Karate Kid Part II, things were a bit different this time around when it came to capturing the scenes in Okinawa. The Cobra Kai team was actually able to shoot there (via Entertainment Tonight). The caveat, however, was that they only had the resources to send two actors to Mr. Miyagi's home island.
Old rivals, new friends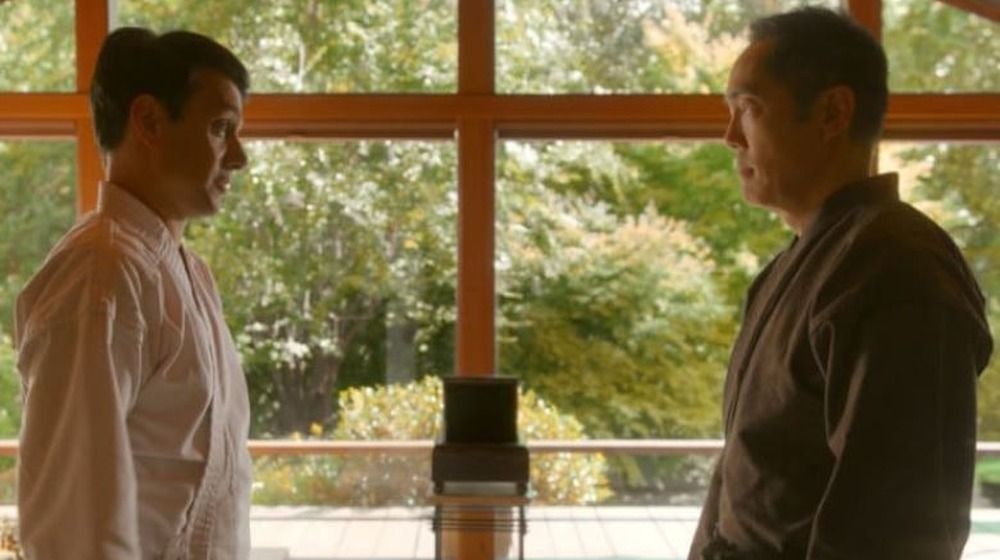 Netflix
To hear Tomita tell it, Atlanta, Georgia is Cobra Kai's primary filming location; it's where she filmed her scenes with Daniel actor Ralph Macchio, even though they're supposedly in Okinawa. However, it was a different story for actor Yuji Okumoto, who reprised his role as The Karate Kid Part II antagonist Chozen Toguchi in Cobra Kai season 3.
"They had enough money to send Ralph and Yuji to Okinawa for those scenes where they are overlooking the beautiful vista," Tomita told Entertainment Tonight. "That is Okinawa. [...] I know that the Okinawan community was so happy, so jazzed, to have both Ralph and Yuji."
They had two days to shoot the scenes they needed to shoot, but it absolutely paid off, honoring both the Karate Kid films' legacy and the legacy of Mr. Miyagi himself. Somewhere, Pat Morita is smiling.
Tomita's smiling, too — ecstatic that Cobra Kai finally injected the franchise with the authenticity that the original filming in Hawaii lacks. She, of course, shared that she wishes she could've gone back to Okinawa herself, but more importantly, "We were able to redeem ourselves a little bit in showing the true Okinawa. That's what coming back around can mean. [...] We can, not make up for our mistakes, but try to correct it to a more authentic picture."
She went on to say how proud she is that proper cultural representation has improved since The Karate Kid Part II, but that Hollywood has a ways to go yet. Indeed, one can only hope Cobra Kai's decision to shoot in Okinawa will signal the need for authenticity to filmmakers of all stripes.