Fans Weigh In On The Most Disturbing American Horror Story Scene To Date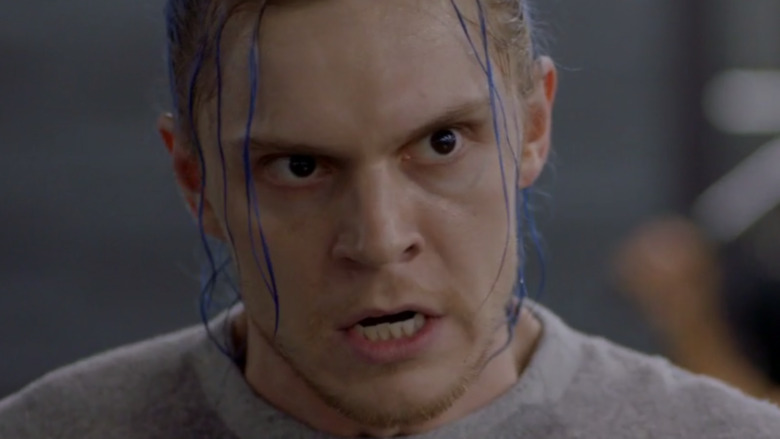 FX
Since its premiere in 2011, the horror anthology series "American Horror Story" has had its fair share of upsetting scenes. While each season tackles a different subject, ranging from a haunted hotel to a murderous cult, viewers can expect to be disturbed by at least one scene per episode. However, some moments from the show co-created by Ryan Murphy and Brad Falchuk are more deranged than others. 
Recently, Reddit user mbikr asked members of the "American Horror Story" subreddit to list what they believed to be "the most disturbing scene in the series." Fans flocked to the comments section to share their opinions on the matter. One of the common answers on the thread detailed a particularly horrific moment during the season premiere of "American Horror Story: Hotel." In the stomach-churning scene, heroin-addict Gabriel (Max Greenfield) is sexually assaulted by a faceless entity dubbed the Addiction Demon, while the ghost Sally (Sarah Paulson) looks on.
Max Greenfield spoke about the disturbing American Horror Story scene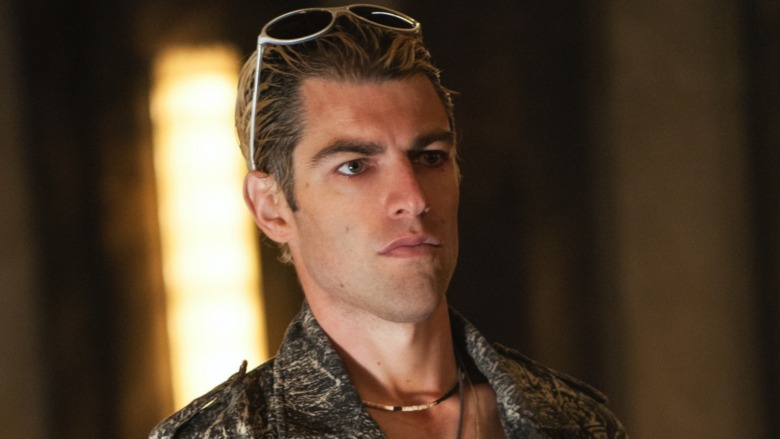 FX
One Reddit user named MiresWoW commented that this instance of sexual violence made them have a lower opinion of the season. "I can handle a lot, but this was way too much. If Ryan [Murphy] had a point to make, whatever that may be, he could have gone about it in a less graphic manner." The user went on to describe that this particular season is among the reasons why "Hotel" is their least favorite season. " 
Soon after the episode aired in 2015, Max Greenfield spoke to Vulture about the upsetting scene. "We really went for it. I think for what Ryan was trying to say with the scene and what he was trying to portray [was about] the kind of hold that addiction can have on a human being. He wanted it to be graphic, and I think he wanted it to be intense and to shock people," he said. Greenfield admitted he hadn't seen the scene at the time of the interview, but that his experience filming it gave him a pretty good idea how it made fans feel. "So I hope that it portrays that kind of terror and that hold that it has over people."
Another Upsetting Scene Happened In 'American Horror Story: Cult'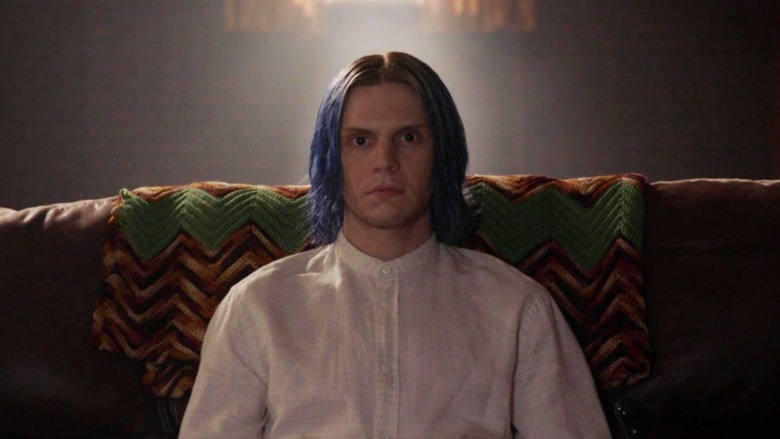 FX
Another popular answer on the Reddit thread entailed a gruesome moment from the fifth episode of "American Horror Story: Cult." The scene shows cult leader Kai (Evan Peters) convincing his devoted disciples to drive nails into fellow member R.J.'s (James Morosini) head to show their "loyalty and fidelity." Once each member has the opportunity to injure the tied-up cameraman using a nail gun, Kai decides to kill him. "It's been mentioned a couple of times but the nail gun scene in Cult still really gets to me. I think because it is such a quiet and drawn out scene it really makes me think of what that poor lad was having to endure," wrote user speakeasyslist.
During a 2017 interview with Entertainment Weekly, Peters, who is a series regular, briefly described how it was to film that particular scene, calling it "intense." "Everybody was upset and had to be upset about killing our friend. Makeup did a great job and made it very real and it was also performed very real," Peters said.
The upcoming 10th season of "American Horror Story" may be released later this year, as reported by Decider. We'll have to wait and see what other gruesome scenes Murphy and Falchuk have in store for us.