What Natalia Dyer Was Doing When She Landed Her Stranger Things Role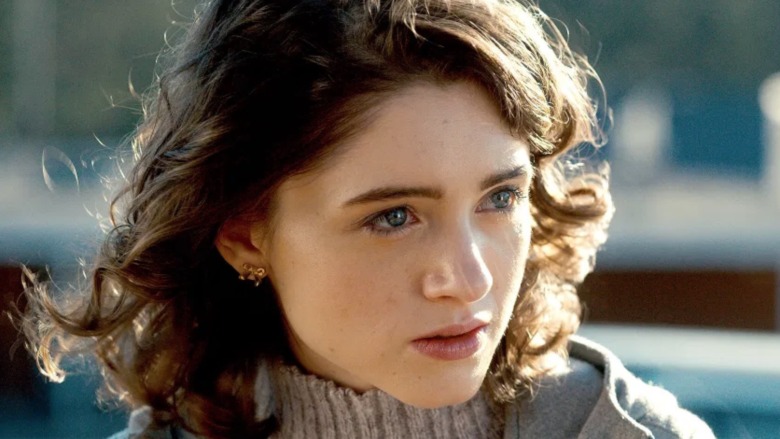 Netflix
Perhaps more than any original production that came before or after, it was "Stranger Things" that propelled Netflix into the cultural zeitgeist. Likewise, with three seasons wrapped and a fourth on the way, few Netflix series have proven more worthy of that honor, with "Stranger Things" continuing its lauded run as one of the most original, engrossing genre confections ever produced.
Of course, "Stranger Things" has also made overnight stars of its primary cast members, most of whom will call the series their big break for the rest of their careers. And while the likes of Millie Bobby Brown and Finn Wolfhard have arguably seen the biggest career upticks since "Stranger Things" debuted, Natalia Dyer (who plays Nancy Wheeler on the show) has also made the most of her breakout moment, though she's done so in less flashy fashion. And since "Stranger Things" became one of Netflix's biggest hits to date, Dyer has indeed gone on to appear in several feature films, including the streamer's underrated 2019 satire "Velvet Buzzsaw," and its soon to debut haunted house chiller "Things Heard & Seen."
Even in spite of those high profile projects, the actor and self-proclaimed introvert has managed to keep her personal life relatively low-profile, if only because she hasn't quite adjusted to being famous. Dyer admitted as much in a 2019 interview with Into the Gloss, telling the publication, "it's still weird to hear someone yelling 'Stranger Things' at me from across the street." Dyer goes on to allude to the overnight success of the show as a big part of that difficult adjustment, telling the publication the life-changing job also upended her prospects for higher education. 
Natalia Dyer was just another NYU coed when she landed her role on Stranger Things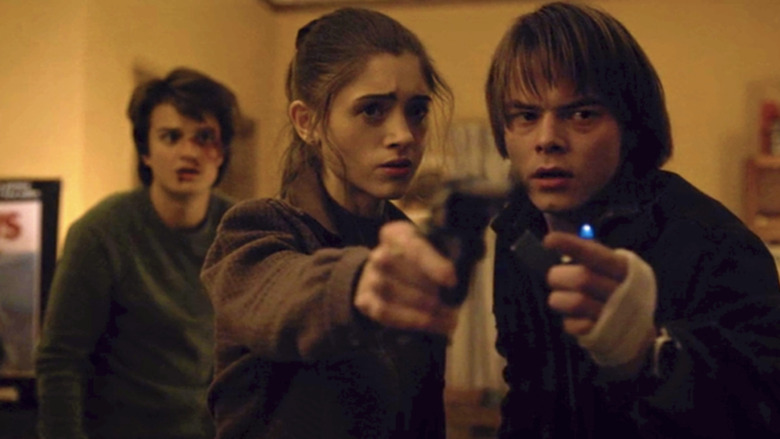 Netflix
As Natalia Dyer detailed in that interview, even after making her big screen debut at 14 in "Hannah Montana: The Movie," she still wasn't convinced acting would be her meal ticket. "Acting always felt really unpredictable and, financially, I figured I'd have a job-job and do it on the side." As such, Dyer was working towards a degree from New York University prior to landing the role of Nancy Wheeler. She was also taking that "on the side" approach to acting, fitting auditions in between classes ... until her "Stranger Things" test proved a legit game-changer.
Once the series got the official greenlight, Dyer promptly left her coed days behind. "I was midway through college at NYU when "Stranger Things" happened. It was just like any other audition — I knew Winona Ryder was in it and that it was for Netflix, which at the time obviously wasn't what it is now. I remember I had an emotional day, and I thought I really messed up the audition. Then I got a callback, and I didn't feel great about that either — it was only when I got to the screen test that I figured I must have been doing something right. Ultimately, I put a pause on my education to go film it."
Don't feel too bad about Natalia Dyer pausing her studies at NYU, by the way, as she was actually studying acting at the time, and things have obviously worked out for her on that front. In any case, Dyer claims she may one day return to complete her studies, "Sometimes I think about going back to school, but for now I'm getting a different education." At least that education will continue to involve alternate dimensions, monstrous demogorgons, and all manner of upside down things in between.