Watch This Before You See Things Heard And Seen
This content was paid for by Netflix and created by Looper.
What would you sacrifice for your family? For Catherine Claire, the answer is "Everything." When Catherine's husband, George, gets a new job as a professor at Saginaw College, a small liberal arts school in upstate New York, Catherine gives it all up — her dream job, her social circle, and life in the big city — to support George and his career.
But as Catherine, George, and their daughter, Franny, begin to settle into their new life, it quickly becomes clear that not everything as it seems. The class divide in the largely rural community is real and growing, and nearly everyone around the Claires seems to know more than they let on. Odd, unexplained occurrences at the Claires' old farmhouse keep them up at night. Most troubling, Catherine and George's marriage begins to disintegrate as new acquaintances come between the couple, while old secrets bubble to the surface.
Things Heard and Seen is part domestic drama, part thriller, part horror film, and entirely unexpected, featuring a truly all-star cast and plot twists that will keep you guessing until the very, very end. You may think you know where Things Heard and Seen is going, but trust us. You have absolutely no idea.
Things Heard and Seen's mysterious leads are up for anything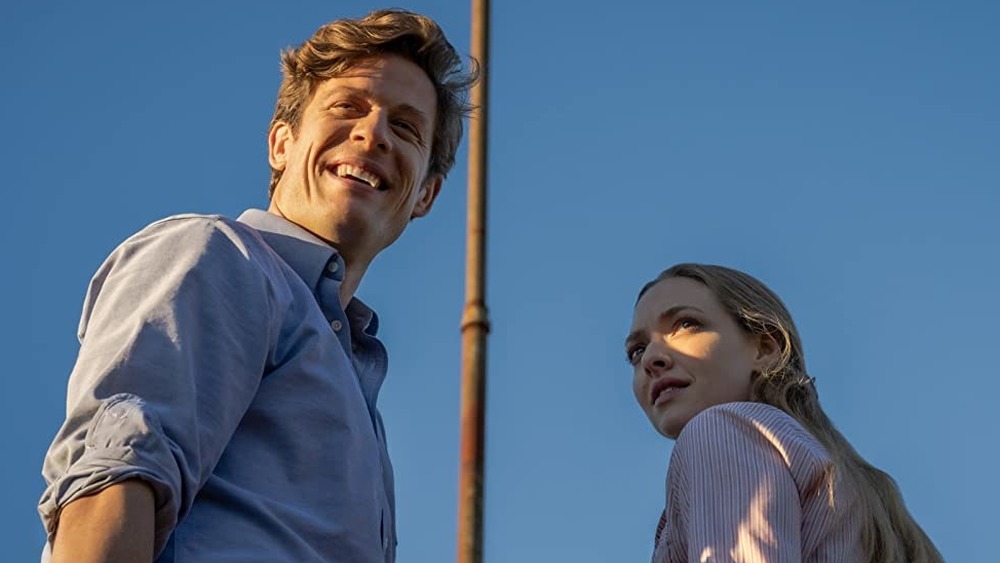 Things Heard and Seen's many mysteries will keep you glued to the screen, but it wouldn't work as well as it does without a strong cast. Thankfully, this film's performers are truly spectacular. Taking the lead as Catherine is none other than Amanda Seyfried, star of hits like Mamma Mia!, Les Misérables, and Mean Girls.
It's the first film that Seyfried has appeared in since earning an Academy Award nomination for supporting actress for her work in Mank, in which she played William Randolph Hearst's long-time mistress Marion Davies. As in that film, Seyfried plays a character in Things Heard and Seen who's strong, extremely vulnerable, and hopelessly trapped all at once. It doesn't matter if Catherine's demons are supernatural or personal — the young woman is prepared to fight them either way.
Meanwhile, Catherine's husband is an entirely different beast. Like he was in films like Little Women and War and Peace, James Norton is inherently amiable as George, and he certainly isn't lacking in natural charm. However, while George is easy to like, he's also hard to trust. Entitlement comes to George just as easily as a joke, and Norton masterfully leverages his natural charm into something much, much more mysterious.
Things Heard and Seen's supporting cast is full of legends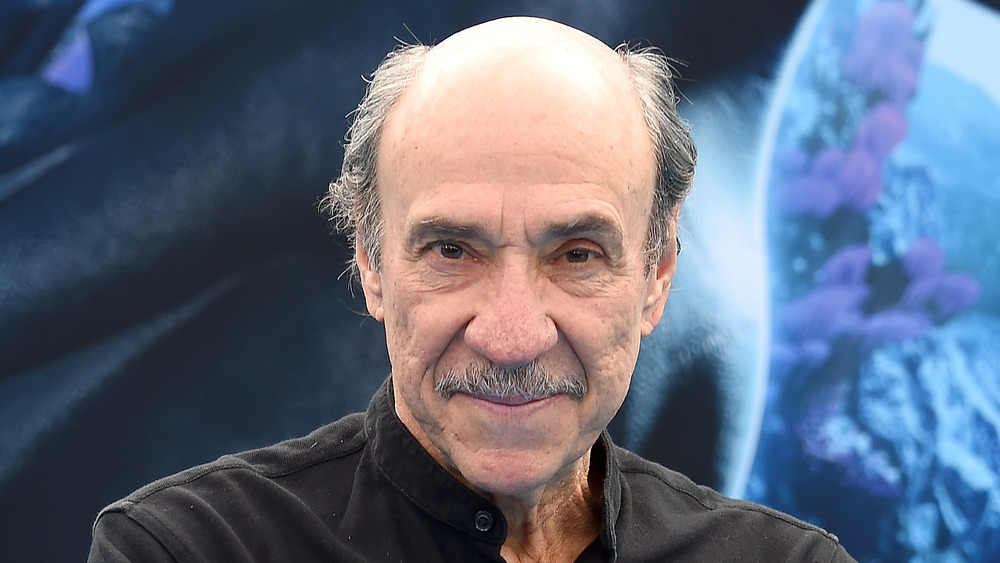 Gregg Deguire/Getty Images
Thankfully, Things Heard and Seen's supporting cast is just as capable as its two leads, coming together to create a roster of characters who you won't soon forget. Oscar-winner F. Murray Abraham makes an immediate impact as George's new boss, Floyd Debeers, an old-school academic who nonetheless has an open mind when it comes to more spiritual pursuits. Rhea Seehorn, who's quietly been turning in the best performance on television for years as Kim Wexler on Better Call Saul, shines as George's co-worker Justine, a woman who may be a little too interested in Catherine's well-being.
That's not all, though. Things Heard and Seen also features Stranger Things' Natalia Dyer as Willis, a pretty local college student who catches George's eye. Indiana Jones' very own Karen Allen appears in the movie as Mare Laughton, a real-estate agent who's awfully cagey about the history of the Claires' new house.
Then there's Alex Neustaedter as Eddie Lucks, a handsome young handyman with a secret connection to the old farmhouse, and Jack Gore as his little brother, Cole, who works as Franny's new babysitter. Veteran character actor Michael O'Keefe plays the local cop, while James Urbaniak brings the comic relief as Justine's husband, Bram.
When it comes to mashing up genres, Shari Springer Berman and Robert Pulcini are pros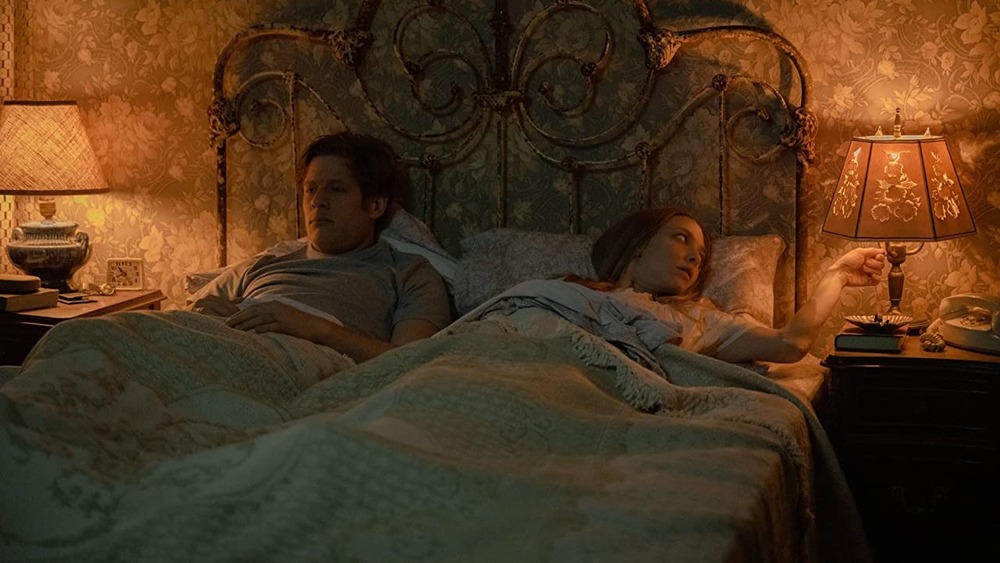 That's almost too much talent for one movie, but thankfully, Things Heard and Seen is built on a very solid foundation. The bones of the story come from Elizabeth Brundage's novel All Things Cease to Appear, which has earned critical acclaim from the likes of The New York Times, Entertainment Weekly, and the master of horror and suspense himself, Stephen King. It was adapted for the screen by the husband-and-wife team of Shari Springer Berman and Robert Pulcini, who also directed the film.
Things Heard and Seen is new territory for Berman and Pulcini, but that shouldn't come as a surprise to anyone who's been following their careers. In fact, the most consistent thing about the duo's filmography is their willingness to experiment. Berman and Pulcini's breakout feature, 2003's American Splendor, combined biopic with documentary to tell the story of Harvey Pekar, the curmudgeonly cartoonist known for his slice-of-life comics. Their HBO film Cinema Verite, which was nominated for nine Emmys, stars Diane Lane, Tim Robbins, and James Gandolfini, and chronicles the production of PBS' An American Family, one of the very first reality shows.
Clearly, Berman and Pulcini aren't afraid to play with different genres, which serves them well on Things Heard and Seen. It's a movie that draws equally from classic haunted house stories and gritty, domestic crime dramas, fusing both into something that's unlike anything you've seen — or heard — before.