Why Mare Loughton From Things Heard & Seen Looks So Familiar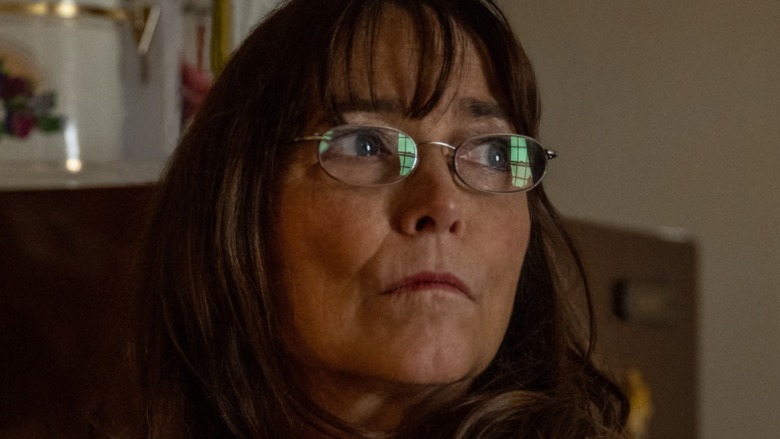 Netflix
It would be fair to say that streaming titan Netflix isn't just setting the pace in the original content game, but actually lapping its would-be competitors. In fact, Netflix is operating more like a major studio these days, with the streamer's latest high-profile flick arriving as a pseudo haunted house chiller by the name of Things Heard & Seen. Adapted from Elizabeth Brundage's lauded novel All Things Cease to Appear, the new film is directed by American Splendor helmers Shari Springer Bergman and Robert Pulcini, and tells the story of a brilliant Manhattan artist (Amanda Seyfried) who relocates to the quiet of the Hudson Valley with her family, only to find the dream home they've moved into has a sinister past.
That synopsis may not exactly scream "original" among horror enthusiasts, but trust that Things Heard & Seen has more than a few surprises in store for any who enter its doors. It also boasts an absurdly talented cast, featuring the very familiar faces of Seyfreid (Mank), Norton (The Nevers), Rhea Seehorn (Better Call Saul), and Natalia Dyer (Stranger Things). 
Savvy viewers will almost certainly recognize the face of the shady-ish real estate agent who sells the young couple that country home, too. It belongs to Karen Allen, and it's been front and center in a handful of major movies over the years. Here's why Mare Loughton from Things Heard & Seen looks so familiar.
Animal House saw Karen Allen earning some serious laughs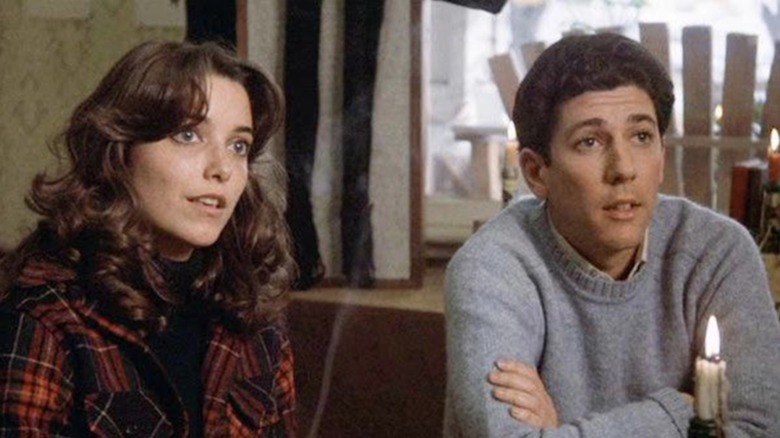 Universal Pictures
As it is, the name and distinctive features of Karen Allen undoubtedly conjure vivid cinematic memories for many. And if that's the case, it may well be because you're a fan of a certain late-seventies comedy classic about a ragtag band of frat boys sticking it to the various iterations of "the man" on their college campus. That film is none other than National Lampoon's Animal House, whose crass humor, cross language, and frank depictions of sexuality caught many off guard when it premiered in the summer of 1978.
Those culturally button-pushing aspects are part of what made Animal House a bona fide cultural sensation when it hit, as well, with the film legitimately pushing the realm of comedy into bold new territory. It also made breakout stars of many of the young actors in its cast, including Peter Riegert (Traffic), Tom Hulce (Amadeus), John Belushi (Saturday Night Live), Kevin Bacon (Tremors), and yes, Karen Allen. If you're having trouble placing Allen in the film, she portrayed Katy, the whip-smart girlfriend of Riegert's "Boon," who's eventually taken in by the sleazy new age charms of Donald Sutherland's dope-smoking Professor Jennings. And while her screen time was a bit a limited in the film, the young Allen still more than made her mark on the landmark comedy, which was indeed her very first screen credit. 
Karen Allen played a hard-drinking adventurer in Raiders of the Lost Ark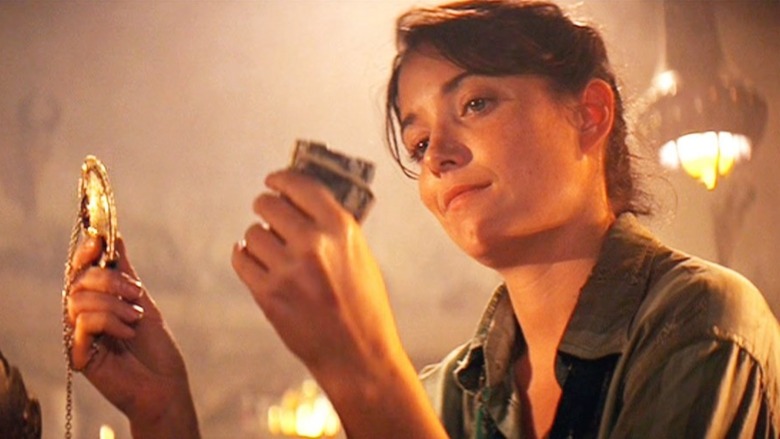 Paramount Pictures
Of course, any conversation about Karen Allen will quickly shift to the ninth project in her cinematic oeuvre. It's a safe bet that, for many, the conversation likely starts and ends with Raiders of the Lost Ark – because that film is about as iconic as it comes in the realm of blockbuster cinema. In truth, Allen's particular charms have never been quite as well utilized as they were in the smash hit 1981 adventure flick, with George Lucas (Star Wars) and Steven Spielberg (E.T.) casting the young actor in a role seemingly tailor fit to feature her fiery intellect, razor-sharp comedic timing, and distinctly tomboyish allure.  
As it was, those wiles played in perfect conjunction opposite Allen's Raiders of the Lost Ark screen partner Harrison Ford, who broke the B-movie serial mold as the affably swash-buckling archeologist the world came to know and love as Indiana Jones. So palpable was the pair's offbeat chemistry in that first Indiana Jones film, it was shocking when Allen's Marion Ravenwood wasn't around for either of the franchise's first two sequels, 1984's Temple of Doom and 1989's Last Crusade. 
But perhaps even more surprising than Allen's absence from those films was her triumphant return to franchise for 2008's Kingdom of the Crystal Skull, even if many would argue her return was one of the only pleasant surprises in that film.   
Karen Allen tried to save Bill Murray's soul in Scrooged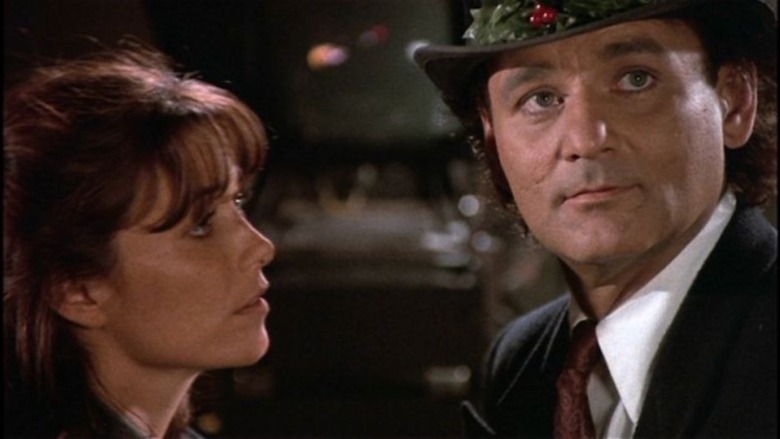 Paramount Pictures
Harrison Ford is not the only showbiz icon Karen Allen has shared the screen with in her now decades-long career, however, as the actor has also appeared alongside screen heavies like Al Pacino (Cruising), Jeff Bridges (Starman), and Denzel Washington (Malcom X). She added another icon to her oeuvre in 1988 when she signed onto a decidedly different sort of holiday fable, loosely based on a classic from Charles Dickens. The classic in question is Dickens' A Christmas Carol, which inspired the 1988 movie Scrooged. As for the screen icon Allen appeared with in that film? It was Mr. Bill Murray. 
Now, fans of Scrooged no doubt recall the film is very loosely based on Dickens' immortal classic, pitting Murray as a modern day Ebenezer Scrooge in the guise of a TV exec who's too busy massacring Dickens' work for a soulless network adaptation to appreciate the people in his life. The film does, however, cleverly utilize A Christmas Carol's "ghosts of past, present, and future" device to torture Murray's salvation-bound Frank Cross in often hilarious fashion.
Yes, that was indeed Karen Allen portraying Frank's do-gooding, shoulda-been paramour Claire Phillips in the film. And prior to Frank's own heartwarming enlightenment late in the film's otherwise venomous third act, Allen's tender turn as the kindly Claire really was the heart the entire film.
The Sandlot found Karen Allen playing a doting mom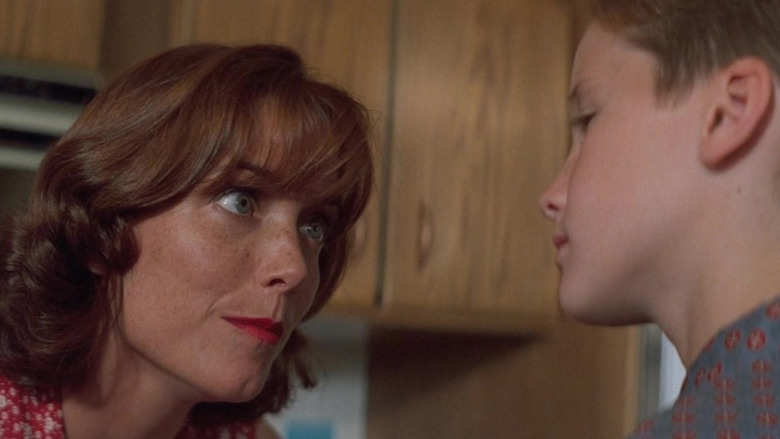 20th Century Studios
Even Karen Allen might agree her post-1980s output has been a bit hit or miss. But there have been a handful of legit hits for the actor in the ensuing years, and it's safe to say 1993's beloved coming of age baseball classic The Sandlot provided Allen one of her most unexpectedly enduring offerings.
As fans of the unabashedly nostalgia-drenched film recall, The Sandlot follows sports-challenged fifth grader Scotty Smalls (Tom Guiry) who, after moving to a Los Angeles suburb, attempts to make friends with the neighborhood kids by batting around with them at the titular backlot baseball diamond. While the bulk of the film is understandably centered around the hilarious, foul-mouthed shenanigans those kids get into circa the summer of 1962, The Sandlot does occasionally follow Scotty home, where he has a few heartwarming interactions with his doting, tough-love Mom.
While she doesn't get a ton of screen time in The Sandlot, Karen Allen really makes the most of her moments as Mrs. Smalls, imbuing the character, thus the film itself, with a boundless well of empathy that ensures her loving presence is felt even when she isn't around. So much so, in fact, that it's every bit as hard to imagine The Sandlot without Allen as it is to imagine it without its brilliant young cast members.