The Forgotten Lily James Period Drama Everyone's Watching On Netflix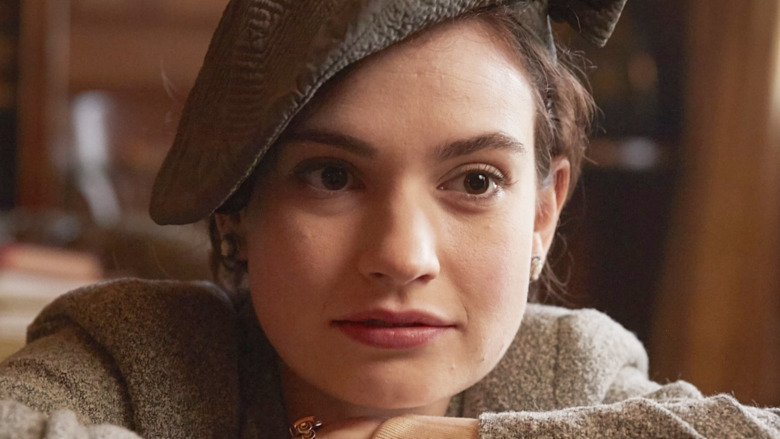 Netflix
Many actors find themselves within a given niche, a certain specialty that audiences tend to associate them with. For Lily James, it would appear that she's become the go-to actress when it comes to period dramas (when she's not belting out ABBA songs as a young Donna Sheridan, of course).
Sure, she's stayed in the 21st century with the likes of Baby Driver and Yesterday, but when you look at her filmography as a whole, it's astonishing how often she's had to go back in time. From playing Winston Churchill's secretary in Darkest Hour to uncovering the archaeological find of the decade in The Dig, James seems to look and feel right at home in years' past. There are even period dramas starring James that you may not have heard of before, and there's one that's proven itself as a total hidden gem: The Guernsey Literary and Potato Peel Pie Society. It may be a mouthful, but the 2018 Netflix Original film is definitely worth a watch.
The Guernsey Literary and Potato Peel Pie Society offers romance and old-school entertainment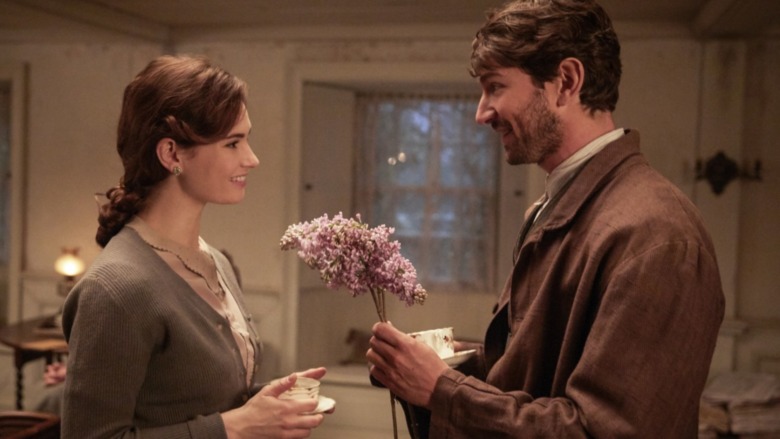 Netflix
The Guernsey Literary and Potato Peel Pie Society takes place in 1946, when author Juliet Ashton (James) undergoes an assignment to research the titular book club, which meets every Friday on a European island of Guernsey. Juliet sets forth to investigate — but not before her boyfriend Mark (Glen Powell) proposes to her, and she happily accepts. When she's on Guernsey island, Juliet learns how the book club was formed during German occupation of the island. As she talks to people and learns more for an article she wants to write, she ends up meeting Dawsey Adams (Michiel Huisman), whom she quickly develops an attraction toward. There's a lot going on in The Guernsey Literary and Potato Peel Pie Society, but if you dig movies like Eat Pray Love and Nights in Rodanthe, this will be right up your alley. 
The film was a big hit with critics when it first came out in 2018 — as evidenced by Matthew Norman of the London Evening Standard writing, "This handsomely shot, elegant and engaging film by and large avoids the cloying winsomeness of its title to paint a vivid portrait of an era." A good amount of praise from critics goes toward Lily James' lead performance that helps make the movie a light, breezy watch when you just need to unwind after a long week.
The Guernsey Literary and Potato Peel Pie Society has been on Netflix for a while, and even though new movies will come to Netflix every week in 2021, you should absolutely take a step back to make time for this film. Don't let this story fall to the wayside!