Here's Who Dave Bautista Really Wants To Play In The DC Universe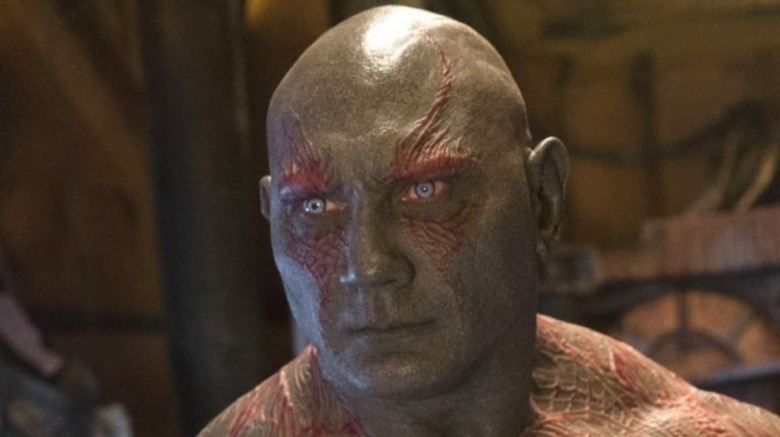 Disney/Marvel Studios
To most superhero fans, Dave Bautista is best known as the actor behind the tough but lovable Drax the Destroyer in the Marvel Cinematic Universe, first performing the role in 2014's Guardians of the Galaxy. He reprised it for Guardians of the Galaxy Vol. 2, Avengers: Infinity War, and Avengers: Endgame. Bautista immediately won over audiences for his comedic performance as the violent yet soft-hearted outlaw, and it's evolved into one of his most iconic roles.
However, Drax isn't the only role Bautista has taken since becoming synonymous with the MCU. He appeared in a scene with Ryan Gosling in Blade Runner 2049 and will star in the upcoming adaptation of Dune, his second collaboration with Denis Villeneuve.  Bautista also has his eyes on a certain character from another universe of superheroes. In an interview during Justice Con, a virtual convention raising money for the American Foundation for Suicide Prevention, Bautista answered a question about which other roles he would love to take. Here's the DC Universe character Dave Bautista wants to portray.
Dave Bautista wants to be Lobo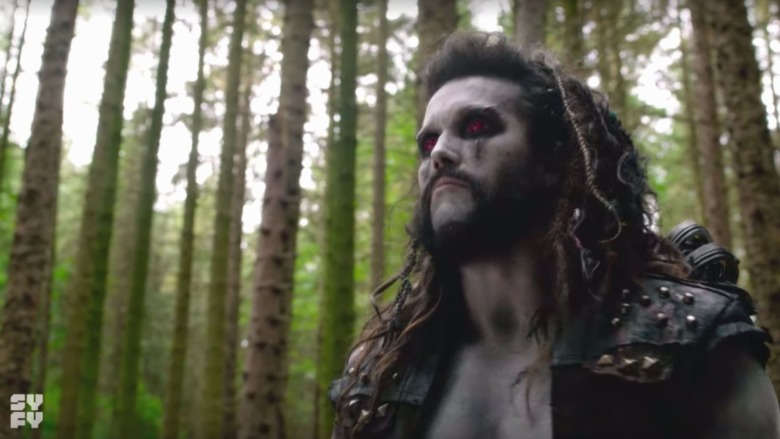 SyFy
Bautista said he would love to perform the role of Lobo, a lesser known villain inside the DC Universe of the Batman's many nemeses.
"I would really take a look at Lobo," Bautista admitted while appearing during Justice Con (via CBR). "I'd really be interested if somebody came up with a Lobo film. I'd be all over that."
Unlike a more prominent villain such as Bane, who's been portrayed by multiple actors including Robert Swenson, Tom Hardy, and Shane West in movies and TV, Lobo's only notable live-action appearance has been in the short-lived TV series Krypton, where he was played by Emmett J. Scanlan. 
Although we can't be sure that Bautista's dream of playing a supervillain comes true, the actor and retired professional wrestler has plenty of other roles on his plate in the meantime. The actor will play a new role in the upcoming Army of the Dead before returning to the MCU as Drax in 2022's Thor: Love and Thunder and 2023's Guardians of the Galaxy Vol. 3.