Things Only Adults Notice In Josie And The Pussycats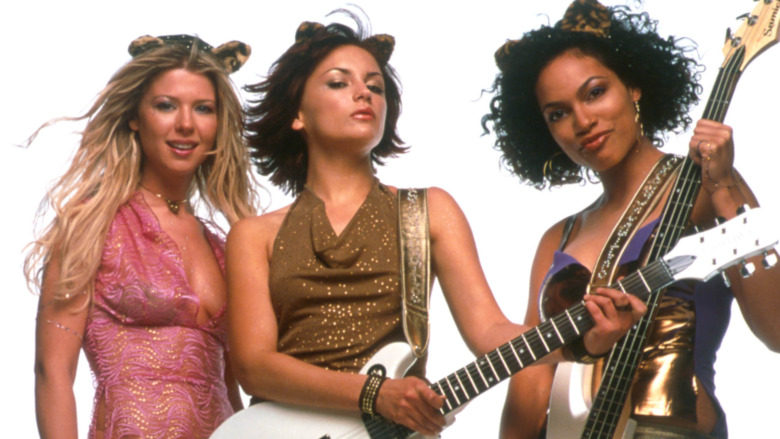 Getty Images/Getty Images
In 2001, directing duo Harry Elfont and Deborah Kaplan turned three Archie comics characters into one of the decade's most underappreciated comedies when they brought Josie and the Pussycats to the big screen, using the story of a plucky girl band to skewer consumerism in the funniest possible way. Led by Rachael Leigh Cook as Josie alongside Rosario Dawson and Tara Reid as her bandmates Valerie and Melody, the story takes several bizarre twists and turns before revealing a complex gambit about capitalism and monetizing pop stars, bringing the audience on a hilarious thrill ride.
In the decades since this movie came out, it's earned legions of new fans and has achieved cult status, but if you haven't revisited Josie and the Pussycats since it came out in the spring of 2001, you're seriously missing out. From not-so-subliminal messaging to the movie's amazing soundtrack to the famous faces who pop up throughout, here's everything you missed as a teen watching Josie and the Pussycats.
There's a lot more to DuJour than meets the eye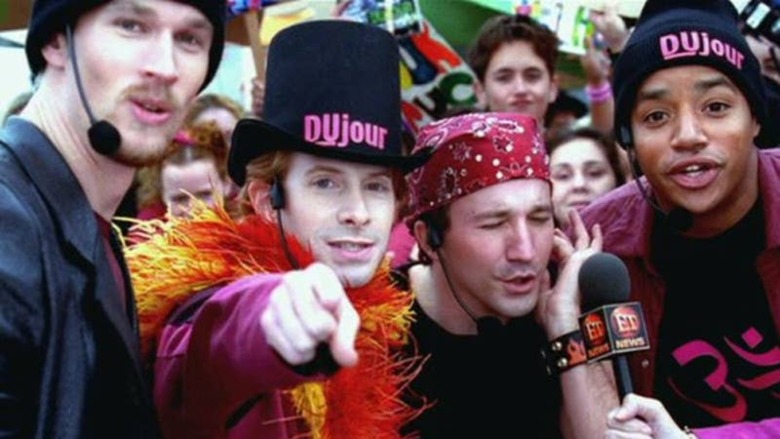 Universal Pictures
As the film opens, Josie and her band aren't the first pop group we meet — that honor belongs to DuJour, a boy band clearly spoofing '90s music sensations like the Backstreet Boys and N*SYNC. In advance of their first world tour, megastars DuJour perform their breakout hit "Backdoor Lover" (a song that has some... pretty interesting lyrics) on a tarmac before hopping in their plane. However, you might not have realized years ago that the members of DuJour are pretty famous.
The group is made up of Seth Green, Scrubs star Donald Faison, Clueless favorite Breckin Meyer, and Can't Hardly Wait's Alexander Martin (all of whom had worked with Elfont and Kaplan before). By this point, Green, Faison, and Meyer were already comedy staples when they appeared in this movie. However, there's a catch; probably due to scheduling issues, Green, Faison, and Meyer only appear in the beginning of the film, shortly before their plane goes down, seemingly killing them. When DuJour returns later, having survived the crash, Martin is the only DuJour member who's visible, while the others are wrapped in full bandages and body casts. 
Also, pay close attention to the band's name — "du jour" means "of the day" in French, meaning they're nothing more than a fleeting phenomenon.
Josie and the Pussycats is a seriously meta movie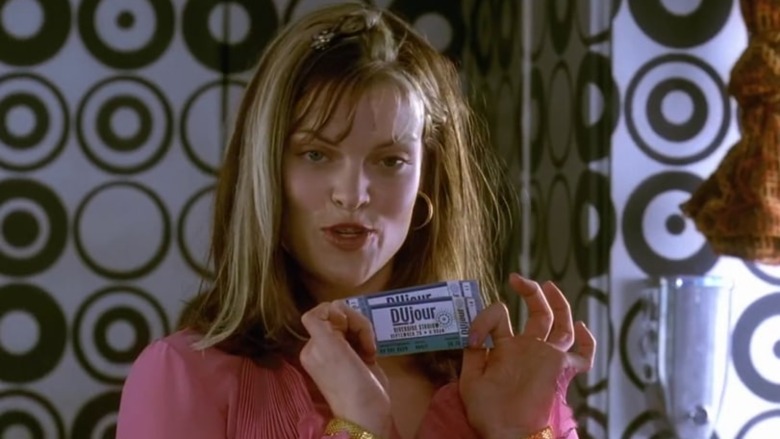 Universal Pictures
Part of Josie and the Pussycats' brilliance is its sharp, self-skewering tone, and throughout the film, it's incredibly aware of both its roots in the pages of Archie comics and its own jokes. One of the best examples comes courtesy of Missi Pyle, who plays Alexandra Cabot, the mean, stuck-up twin sister of band manager Alexander Cabot (Paulo Costanzo). 
After record executive Wyatt Frame (Alan Cumming) discovers the band and offers them a contract on the spot, both Cabots end up on a private jet paid for by MegaRecords — and if the audience is wondering why Alexandra is there, so is everybody else. When Alexander asks, Pyle's character responds quickly, "I'm here because I was in the comic book" — and when Alexander is confused, she says, "Never mind" before the scene moves on. Of course, this is a clever and extraordinarily brief reference to Alexandra's character in the original Archie comics, not to mention the fact that she serves no actual purpose in the context of the movie's story, as well as a hilarious and super meta moment.
The music in Josie and the Pussycats has a seriously talented team behind it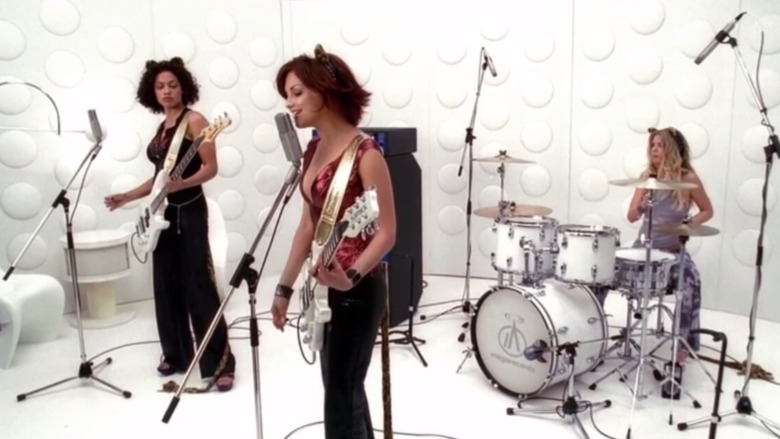 Universal Pictures
Anyone who loves Josie and the Pussycats knows that the secret to the movie's overall success comes down to one specific thing: the band featured in the movie is actually good. From the opening track "Three Small Words" to the band's overnight hit "Pretend to be Nice" to the closing number "Spin Around," the songs in Josie and the Pussycats are legitimately enjoyable for pretty much anybody, and that's thanks to a truly talented team behind the scenes.
Rachael Leigh Cook might play Josie, but she doesn't provide Josie's slightly raspy, compelling singing voice; that voice belongs to Kay Hanley, the lead singer of Letters to Cleo, who worked on the film's music. Other music all-stars who worked on the Josie soundtrack include Counting Crows frontman Adam Duritz, who helped write "Three Small Words," to Fountains of Wayne's Adam Schlesinger, who wrote and produced almost everything on the soundtrack. Tragically, Schlesinger passed away in 2020 after contracting COVID-19, but the Josie soundtrack — which was a huge hit — is just one of the many gifts the songwriter left behind.
The product placement in the movie is very real — but not very lucrative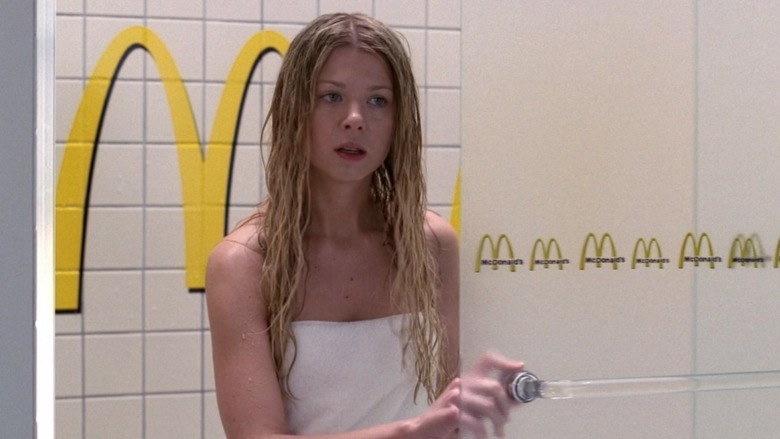 Universal Pictures
Right from the start, Josie and the Pussycats skewers capitalism and product placement, showing the audience how record giants like MegaRecords help sell things to teenagers that "they don't need." Throughout the film, however, you don't need to be particularly observant to see all of the product placement depicted in the background of pretty much every scene. All in all, Buzzfeed News reported, companies like Target, Coca-Cola, McDonalds, Apple, Starbucks, and many, many more appeared in the film.
However, Kaplan and Elfont revealed to the outlet that they received no money for this placement (though Kaplan clarified that some of the clothing companies, including Steve Madden and Puma, supplied costumes). "We didn't get money for it, and that was the big scandal, I guess, when the movie came out," Kaplan told Buzzfeed. "A lot of the reviews called us hypocrites: 'They're taking money from these corporations to put them in the movie and they're doing exactly what they say people shouldn't do.'" Kaplan and Elfont went to huge lengths to get their message across... but unfortunately, when the film was initially released, people took that message the wrong way.
Josie and her pussycats went to "band camp"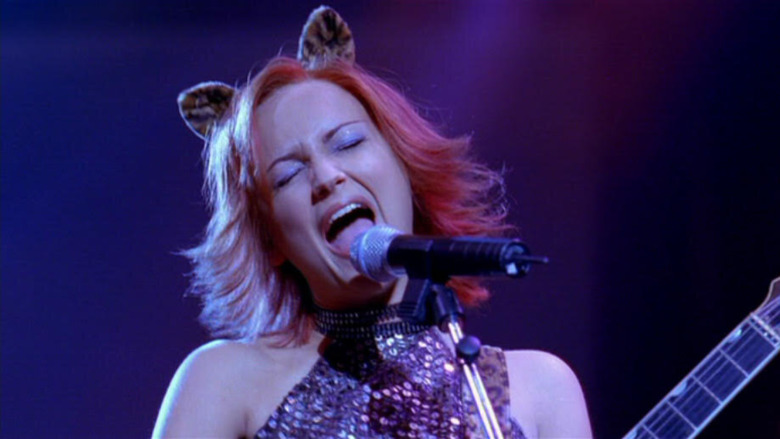 Universal Pictures
Josie and her band might look and sound like a pretty great rock band, but they were definitely green when filming began... and could barely play instruments. As Rachael Leigh Cook joked years later to The AV Club, "Somehow, they gave one of the title roles to me, and I cannot sing at all. I don't play guitar. I have no idea. [...] I feel like I have the equivalent of, like, survivor's guilt, that I somehow got this role. How did this happen?"
To help the three actresses look convincing onscreen, they pulled a full American Pie and headed to "band camp," where they learned to play the songs within the film realistically. As Tara Reid told The Fader in a piece about the movie's soundtrack, they really got into it: "We couldn't just go up there and fake it. I had to get drum lessons, Rachael had to get guitar lessons, Rosario had to get bass lessons. We did it every day for like a couple months." Ultimately, it paid off — the trio looks mostly at home with their respective instruments thanks to all of their effort.
"Can't Hardly Wait" makes an extremely subtle cameo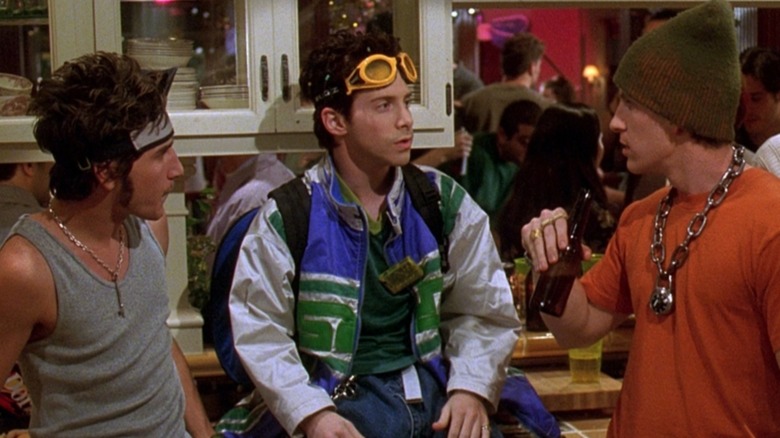 Sony Pictures
Eventually, Josie and the Pussycats reveals its central conceit: the head of MegaRecords, Fiona (Parker Posey), is using the company's music to distribute subliminal messaging and get America's teenagers to buy a ton of material goods they don't need. If a band or performer ever figures out the gambit, the recording industry "takes care" of them... and as Fiona points out, those stories then get turned into VH1's series Behind the Music (in one of the movie's darkest jokes). As she shows representatives of the United States Government and other collaborators, MegaRecords is home to an enormous control room filled with workers who decide what's "cool" for teens now, whether they're deciding that orange is the new pink or that the newest slang should be the newly created word "jerkin.'"
However, if you pay close attention to the scroll running through the headquarters with new ideas, you'll catch one very specific reference: "Can't Hardly Wait is underrated." It might seem weird that MegaRecords would promote this specific movie instead of consumer goods, but there's a reason for this; Elfont and Kaplan also wrote and directed Can't Hardly Wait a few years earlier in 1998.
Eugene Levy reunited with several collaborators on Josie and the Pussycats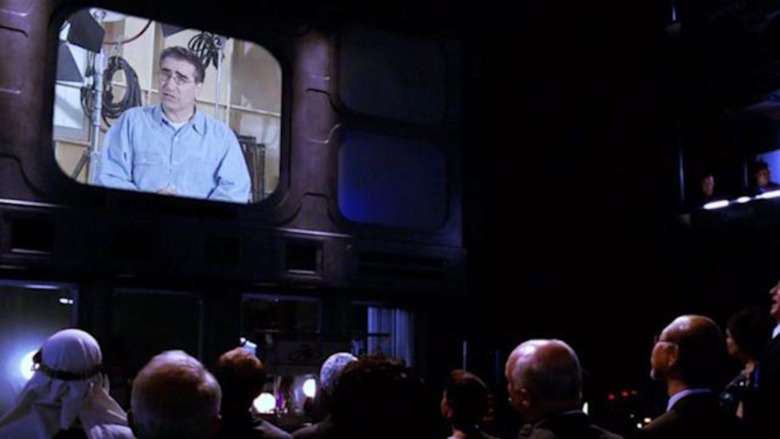 Universal Pictures
To illustrate MegaRecords' scheme, Fiona shows a brief, informational video to her new collaborators from various governments across the world about exactly how they use music to distribute subliminal messages to unsuspecting teenagers, which helps the American economy thrive. As a hilarious touch, the video stars Canadian comedy legend Eugene Levy appearing as himself, who walks the audience through the entire process.
Of course, if you're familiar with Levy — who recently earned even more recognition working with his son Daniel Levy in Schitt's Creek — you know that he's worked with several cast members of Josie and the Pussycats before. Levy most famously starred with Tara Reid in American Pie, where he played Jason Biggs' perpetually baffled father, but he's also worked with Posey in several Christopher Guest films, including Best in Show, Waiting for Guffman, and For Your Consideration — all three movies that landed on our list of must-watch mockumentaries. Levy's cameo is a perfect touch, especially because it reunites him with some of his funniest co-stars.
One of Wyatt's comments references a famous Alan Cumming role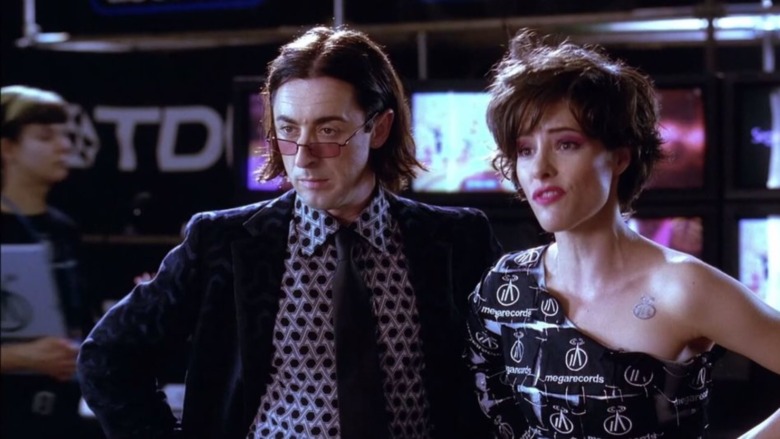 Universal Pictures
Throughout the film, Wyatt offers guidance and support to the Pussycats, trying all the while to cover up the fact that he and Fiona have some seriously sinister motivations. However, at the end of the movie, both Wyatt and Fiona reveal something even weirder than their subliminal messaging scheme: They went to the same high school and were two of the biggest outcasts in their class, thanks to Wyatt's albinism and Fiona's lisp. Earlier in the film, Wyatt briefly references his high school trauma... and in doing so, also makes a reference to one of Cumming's most famous roles.
When Josie, Melody, and Valerie's Riverdale bullies show up at their New York hotel room, reborn as their biggest fans, Wyatt scolds the Pussycats for being shocked, telling them that normally, people have to wait for their "ten year high school reunion for that sort of revenge." Of course, if you're familiar with Romy & Michele's High School Reunion, you'll remember that Cumming's character, Sandy Frink, does exactly that, showing up at his high school reunion handsome and wealthy and getting revenge on the people who tormented him during his teenage years.
Josie and the Pussycats led to a Hollywood romance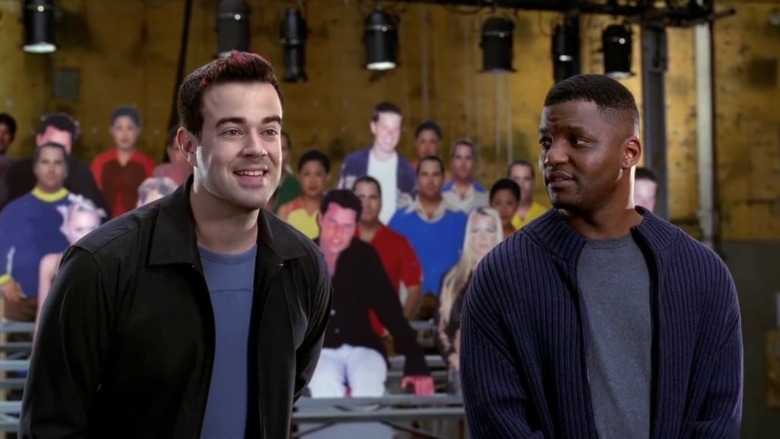 Universal Pictures
In one of the movie's strangest and most surreal scenes, Melody and Valerie are separated from Josie — while Josie is fed cruel subliminal messages about her two closest friends to drive a wedge between the three — and are told that they've been invited to appear on MTV's Total Request Live, a show that was once one of the most effective music-promotion vehicles for pop stars. However, when Melody and Valerie show up, the set is stocked with cardboard cutouts of celebrities and looks extraordinarily shoddy, and when they're greeted by a guy claiming to be host Carson Daly who is definitely not Carson Daly, they start to get suspicious. Eventually, the real Daly shows up, but things go downhill from there when the two men try and kill Melody and Valentine with baseball bats.
This might not seem like the best circumstance for a meet-cute, but in real life, Tara Reid and Daly dated for a while after meeting on the set of Josie and the Pussycats (mirroring a bit in the movie where they briefly flirt before Melody knocks Daly out with a cutout of Matt Damon). The two even briefly got engaged but ultimately split shortly after the film's release, but they'll always have that scene in Josie and the Pussycats.
It took years for Josie and the Pussycats to become a huge hit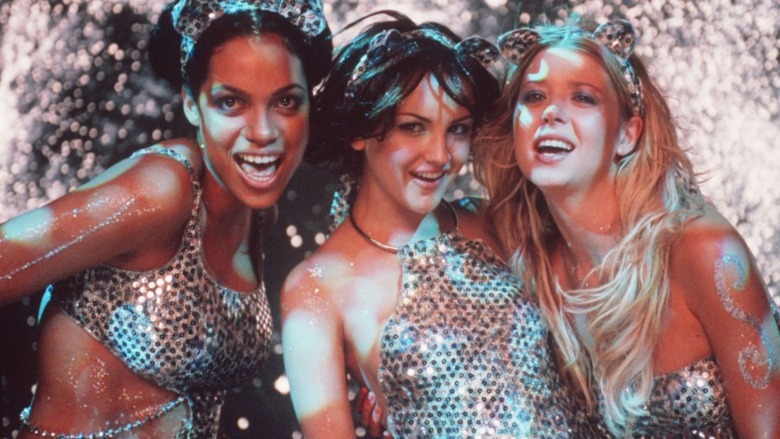 Universal Pictures
Josie and the Pussycats has aged extraordinarily well over the past few decades, but when it was first released in April 2001, it was a critical and commercial bomb by any standard, earning terrible reviews from critics like Roger Ebert and falling well short of its budget at the box office. However, in the years since, critics and fans revisited this movie... and decided that not only is it actually a pretty good movie, but that its message about capitalism and consumerism have only become more relevant in the years since its release.
Luckily for the movie, its product placement and criticism of consumer culture, which were initially viewed as hypocritical, was seen as prescient in later years, with critics like Nathan Rabin eventually calling the movie a "a sly, sustained spoof of consumerism" and a "secret success." Now, the movie is more popular than ever; small companies like Super Yaki regularly sell out of Josie and the Pussycats merchandise, an oral history of the film is set to hit bookshelves, and when the soundtrack was reissued on vinyl, a concert was held featuring Cook, Dawson, Reid, and Hanley. Josie and the Pussycats might have been underappreciated when it was released, but now, it's a bona-fide cult classic.
A movie about subliminal messaging has its own subliminal message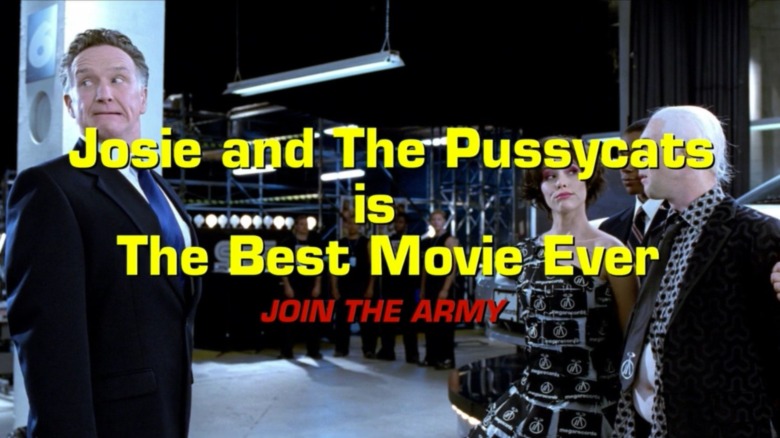 Universal Pictures
Josie and the Pussycats is an extremely self-referential movie, and as it draws to a close and Fiona and Wyatt are punished for their crimes — by their own collaborator, government official Agent Kelly (Tom Butler) — it sneaks one more meta moment in before Josie and the band play their triumphant final concert. After Josie tells Agent Kelly, who was in on the whole scheme from the beginning, that Fiona and Wyatt are indoctrinating teens through MegaRecords' music — and he pretends to be shocked — he tells his men to arrest the two record executives.
Fiona, of course, is baffled, thanks to Agent Kelly's complete complicity up until this point ... until he whispers to her that the United States government was going to shut down the entire operation anyway thanks to their discovery that subliminal messaging is much more effective in movies. Right on cue, the screen flashes with its own "subliminal message," with text across the screen as well as narration reading, "Josie and the Pussycats is the best movie ever" followed in smaller text with "Join the Army." Fittingly, this movie followed right on the heels of the Simpsons episode "New Kids on the Blecch," where a Springfield boy band's song contains the mysterious phrase "Yvan Eht Nioj..." which, backwards, says "Join the Navy."