Who Stars In The Maserati: Two Of A Kind Commercial?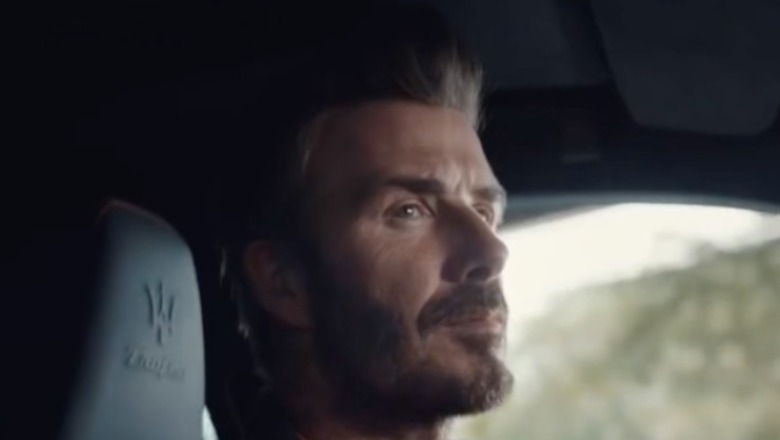 Maserati
Maserati, the iconic Italian car manufacturer, makes one of the world's fastest SUVs. The 2021 Levante Trofeo goes from 0-60 miles per hour in 3.8 seconds, with a top speed of 187 mph, according to Maserati's website. It has a ton of power, with 580 units of horsepower coming out of its V8 engine. To help sell the luxury SUV, the automaker enlisted the help of advertising agency Droga5 for a stylish new commercial.
The ad is set in Miami, starring a handsome, tattooed man in the world's most fashionable Hawaiian shirt. It's early in the morning, and his phone is reading him his packed schedule of meetings for the day. It sounds grueling. He wants to blow off a little steam –- literally. He gets in the car and starts ripping donuts on the pavement. He laughs while his phone keeps saying "meeting, meeting, meeting." For a moment, he's free. The Maserati created that moment. It's a fun ad that will make you want to ignore the "Do Not Attempt" warning that car commercials always have.
The guy in the commercial is very famous, and many people will recognize him right away. Others may have no frame of reference for soccer or celebrity and may be wondering who he is. If you're in the latter group, we have the answer you're looking for.
David Beckham does his own stunts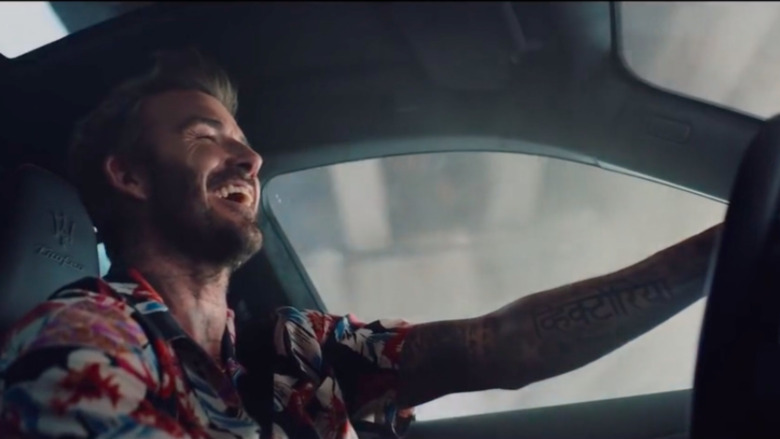 Maserati
The ad features David Beckham, one of England's greatest soccer players. The title of sports comedy classic Bend It Like Beckham refers to his famous ability to "bend" the arc of a kicked soccer ball's trajectory to keep it away from defenders.
Beckham's accomplishments on the field have made him one of the most famous and highly-regarded British soccer players ever, and the highest-paid soccer player in the world in 2013, according to Forbes. As a player for Manchester United, he won six Premier League titles. He also won championships in Spain while playing for Real Madrid, in France for Paris Saint-Germain, and in the United States while captaining the LA Galaxy of Major League Soccer. He was inducted into the English Football Hall of Fame in 2008. The only thing missing on Beckham's trophy rack is a World Cup victory.
He's also famous for his marriage to former Spice Girl Victoria Beckham, and the ups and downs of their relationship have kept them in the tabloids for over 20 years. He's also known as a style icon and sex symbol. In 2015, GQ named him "The Most Stylish Man Alive."
He retired from soccer several years ago, but he's still involved in the game. The Maserati commercial is set in Miami because Beckham co-owns Inter Miami CF, an MLS team that began playing in 2020.
It's a cool commercial overall, but the best part is that David Beckham is actually in the driver's seat, according to the News Wheel. He's a man of many talents.