The Piece Of Movie Memorabilia On Pawn Stars That Turned Out To Be Fake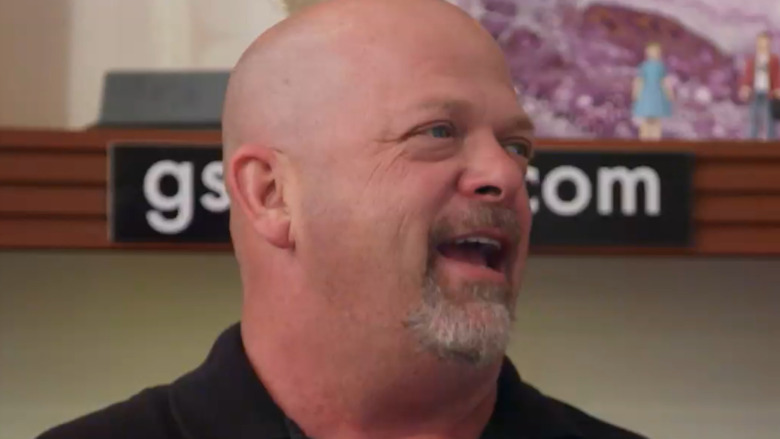 History
When someone brings in a framed autographed soundtrack of one of the greatest movies ever made to the Pawn Stars, they hope to make a lot of money from it. Unfortunately for one customer in season 18, episode 11, "Rick's Big Shot," that's not exactly how the transaction went down. This turns out to be even more surprising because owner Rick Harrison admits this movie is one of his all-time favorites.
Every signature that comes into The World Famous Gold & Silver Pawn Shop is required to have a certificate or letter of authenticity, according to their website. If not, Rick will have his signature expert evaluate the autograph on the spot. This guarantees the guys at Pawn Stars aren't buying anything fake. At the same time, this could crush the dreams of hopeful customers hoping to make a quick buck while in Las Vegas.
Nothing in life is guaranteed, including an appearance on Pawn Stars that ends in a successful transaction. This piece of movie memorabilia was, unfortunately, dead on arrival.
This soundtrack on Pawn Stars has fake autographs
When a man approaches Rick with an autographed soundtrack from the 1973 movie The Sting, he is thrilled. It's allegedly signed by Paul Newman and Robert Redford, the two stars from the movie. The customer asks for $600, but Rick has to get the signatures authenticated before he can make an offer.
Rick calls in the pawn shop's autograph expert, Steve Grad, principal authenticator at Beckett Authentication Services. Grad brings in a few official signatures from the two actors to prove their legitimacy. Before that, he reminds everyone of the significance of The Sting. The film won seven Academy Awards, and Gradalso reminds everyone that it was the same awards ceremony where a streaker made a surprise appearance.
After Grad takes a look at the autographs, he quickly realizes both of the signatures are fake. First, he comments on Redford's signature, explaining that his signatures are quick and sloppy. The one on the soundtrack looks detailed, like someone spent a lot of time on it. Grad even notices that the name might be misspelled. The next signature, Newman's, is supposed to be robust and purposeful. Newman cared about his signature, and the one on the soundtrack looks sloppy with all the wrong details.
Both the customer and Rick are upset the signatures aren't legitimate, and no deal is made. On top of that, the customer has to live with the fact that he was conned at a memorabilia shop over 20 years ago. This may have been one of the biggest busts on that given day in Las Vegas.