Exclusive Clip: Get A Sneak Peek At Storage Wars' Long-Awaited Season 13 Premiere
Are you ready for more Storage Wars? 
Though that may seem like a rhetorical question, as Storage Wars fans have been anxiously awaiting the series' return for over two years now, viewers may not be fully prepared for the awesomeness that's approaching. The hit A&E reality TV series is set to premiere its 13th season on Tuesday, April 20, and when it does, it'll bring not one but two episodes packed with all the auction-set antics one would expect from Storage Wars. 
Ahead of Storage Wars' season 13 premiere, Looper is excited to share an exclusive clip from one of the episodes. 
The clip kicks off with Dan and Laura Dotson, auctioneers extraordinaire, doing what they do best: talking fast and getting bidders ready for the storage locker auction of the day. Since we're still living in the era of COVID-19, everyone at the auction is taking precautions to remain safe — wearing masks and standing six feet apart from one another. 
When the door to the abandoned storage locker gets lifted, a quick look inside suggests to the untrained eye that there isn't much to it; some woodworking and drum-making equipment as well as a few tools to produce music make up the majority of the container's contents. However, Darrell Sheets spots something in the back of the locker that he thinks no one else will: a red, white, and blue Evel Knievel helmet. Brandi Passante proves his theory wrong and notices the helmet right away, but she says that she's more interested in the air compressor than anything else. Kenny Crossley is keen on all the drum equipment, making this auction a fight between him, Brandi, and Darrell.
They're back and 'bidder' than ever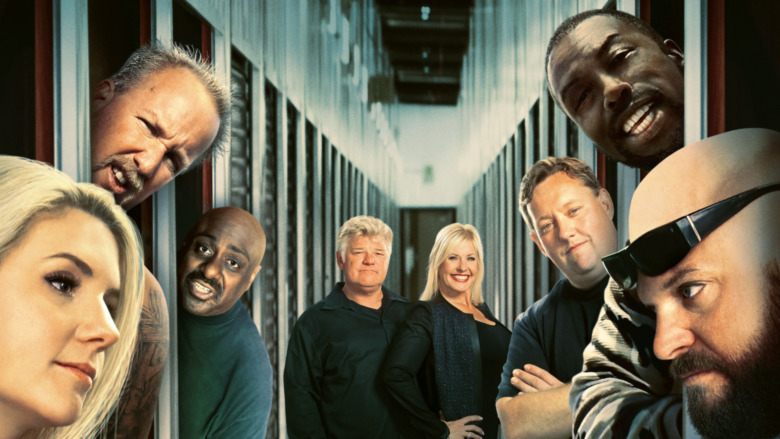 A&E
Given its been two years since Storage Wars aired its last episode — the season 12 finale that premiered on January 30, 2019 — fans are understandably thrilled that season 13 is on the horizon. "I just got way too excited learning there is a new season of Storage Wars coming out," one fan wrote on Twitter. Another added that they "can't wait for the new season," especially after re-watching old episodes. 
The new season of Storage Wars is bound to satisfy longtime fans and even draw newbies into the sprawling reality TV series. Expect to see some familiar faces — including Jarrod Schultz, Rene and Casey Nezhoda, and Ivy Calvin (plus his sons, too!) — and prepare for some intense auctions up ahead. Who will find treasure, and who will be left with trash? Find out when Storage Wars season 13 premieres on Tuesday, April 20 at 9 PM ET on A&E.