Here's What Dan And Laura Dotson From Storage Wars Are Doing Now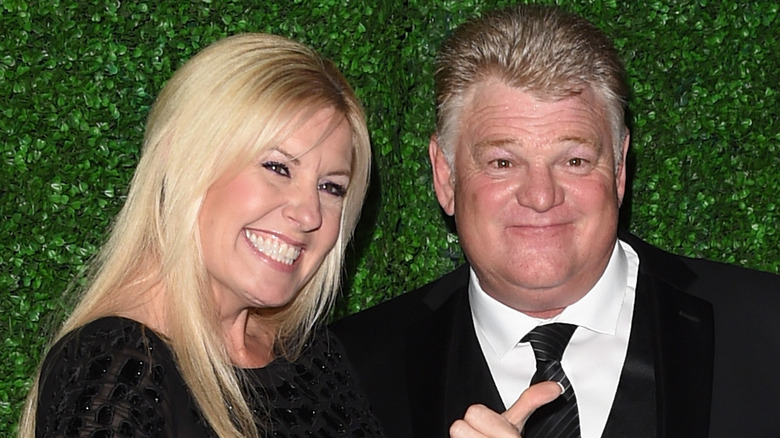 Jason Merritt/Getty Images
Husband and wife duo Dan and Laura Dotson shot to fame as the fast-talking, fan-favorite auctioneers on the popular A&E reality TV show Storage Wars, and it turns out that the couple is just as successful off-camera. 
The pair were the regular auctioneers for Storage Wars from the time the series premiered in 2010; it was a natural calling for Dan, who had dedicated his life to the auction industry from a young age. Sadly for fans, Dan and Laura made a sudden exit from the show in season 10 due to budget cuts. "We are still auctioneering and are a major part of this successful show. We believe that the budget was tight and the network had to make some changes," Dan said at the time. 
The pair endeared themselves to viewers early and often over those first ten seasons of Storage Wars, and they've kept themselves busy since their exit. Let's take a look at what they've been up to.
Dan and Laura Dotson are still in the auctioneering business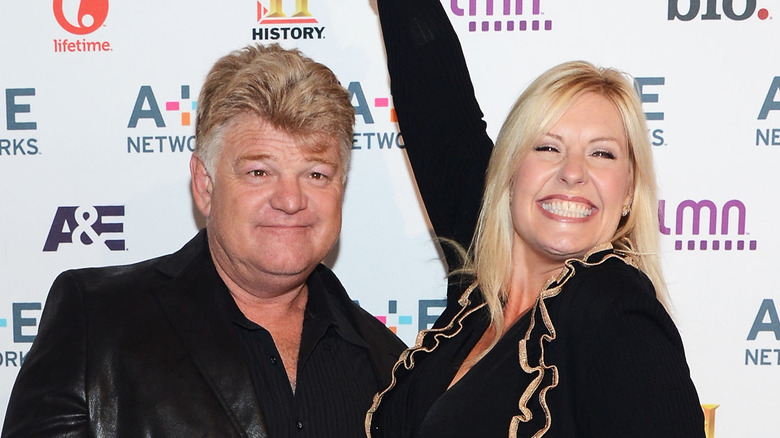 Jason Kempin/Getty Images
Despite their departure from the show, the couple are still very much active in the storage auction industry today, and have kept it their main business focus. Dan and Laura run American Auctioneers, a company that performs both online and live auctions and has been doing business since 1983. Dan started the business before meeting Laura, but she jumped in when their relationship turned serious. 
They also have a secondary site, StorageAuctions.net, that performs self-storage auctions all across the United States and Canada. When Dan married Laura, she became a co-owner of American Auctioneers; as the manager of the business, she has been instrumental in growing the company to the roaring success it has become in recent years. 
Despite the time they were obliged to dedicate to Storage Wars during their tenure on the show, the couple have seen American Auctioneers grow exponentially, to the point where it now runs over 3,000 auctions every year — making it the most successful auctioneering company in the country. The couple can often be found touring the country to promote the business, with Dan sharing photos to his Twitter account. 
Dan and Laura Dotson have a strong charitable streak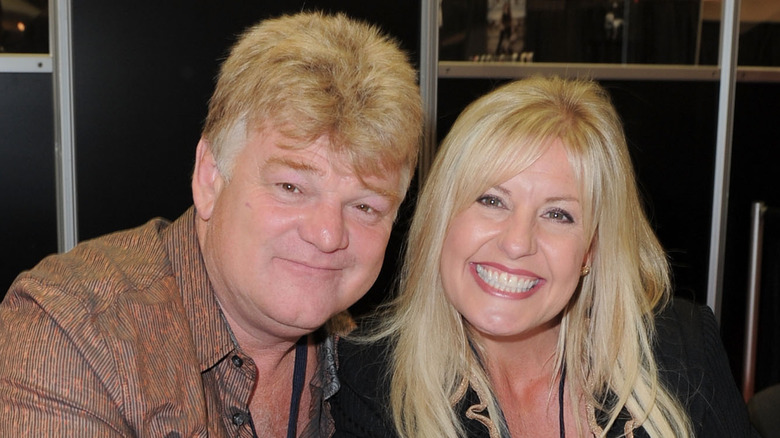 Alberto E. Rodriguez/Getty Images
When they're not working at their business or promoting it, they take time to give back to worthy causes that are close to their hearts. In August 2019, the couple hosted an auction to benefit the U.S. Navy on the USS Zumwalt Destroyer, sharing an amazing set of photos to Twitter after the event.
In November 2019 Dan and Laura hosted a fundraiser for Real Housewives of Beverly Hills star Kyle Richards at her home, helping to bring in over $100,000. Dan took to Twitter with a few pics of the event, praising the roaring success of the fundraiser and thanking Richards for having them be part of the evening. Dan and Laura were brought in by Bravo TV to host the auction, which was filmed for an episode of Real Housewives of Beverly Hills.
Dan and Laura Dotson know the value of learning CPR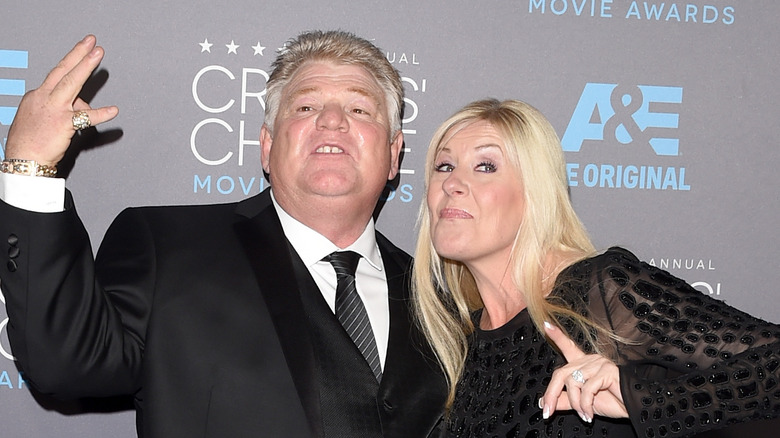 Jason Merritt/term/Getty Images
After Dan suffered a double aneurysm in 2014 and Laura saved his life by performing CPR, the pair have also become strong advocates for learning the technique. Laura first learned CPR when she was a member of the girl scouts, and Dan credits her quick thinking with saving his life. 
Laura has recounted that she caught Dan as he collapsed that morning, simultaneously reaching for the phone to call emergency services and calling for their 16-year-old son Garrett for help. She performed mouth-to-mouth resuscitation while instructing Garrett to perform chest compressions, and the auctioneer regained consciousness thanks to their combined efforts as paramedics arrived at the house. Dan's subsequent hospital stay was immortalized in the Storage Wars episode "The Daneurysm," during which Laura explained what had happened and how she had managed to react so quickly. 
Following the scare, the couple set up a number of public speaking engagements to spread the importance of learning CPR. They also organized some charity auctions to raise funds for the cause, using the platform to talk about recognizing the symptoms of an aneurysm. 
Dan and Laura Dotson literally struck it rich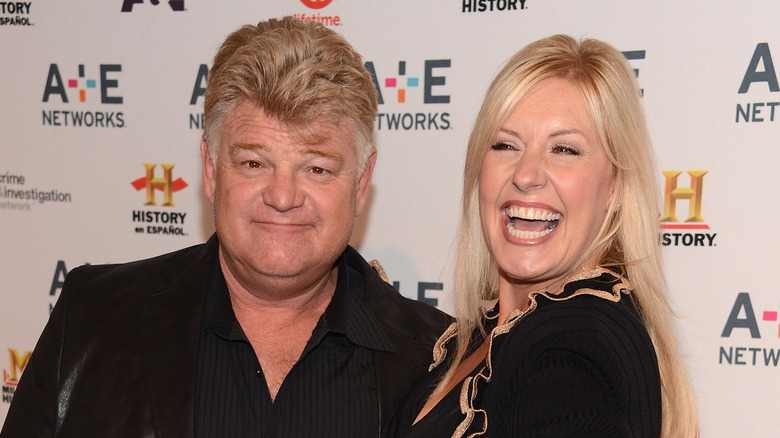 Dimitrios Kambouris/Getty Images
Aside from their incredible success as auctioneering royalty both in a business and charitable capacity, Dan and Laura have other ventures as well. In 2005, the couple bought a 60-acre investment property in Kentucky. At the time, they had no idea just what an investment it would turn out to be. 
In 2013 the couple struck oil on the property, according to International Business Times. They were thrilled when they realized just how much the land would turn out to be worth. A Facebook video showed them opening their first check after drilling commenced, with a euphoric Laura giggling in the background as Dan talked about the venture. 
Will we see Dan and Laura Dotson on Storage Wars again?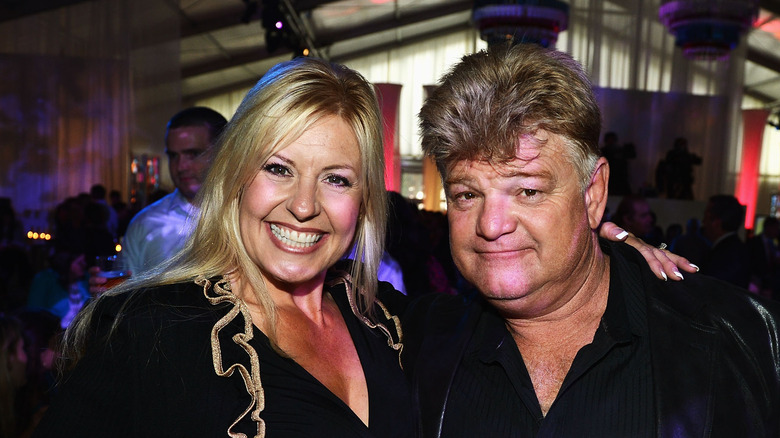 Andrew H. Walker/Getty Images
Coming from a long line of auctioneers, Dan clearly felt a natural inclination to try out the family business — and he did just that when he got involved in the mid-1970s, at just 11 years old. Dotson's grandfather, who was a well known cattle and farm auctioneer, took the youngster under his wing and trained him over four summers. Anyone who has watched the show would be hard pressed to disagree that he has a natural affinity for it. 
Laura didn't have the same family connection to the business, and was taught the "auction chant" by her husband when she joined him in the trade. Although she rarely took up auctioneering duties herself on Storage Wars, she had been known to request the chance to hone her skills from time to time, and Dan gracefully stepped aside to let his wife take center stage. 
There is still no confirmation on whether or not Storage Wars will be returning for a thirteenth season, but Dan and Laura are still doing plenty of promotion work for A&E on their respective Twitter accounts. Despite their sudden exit in season 10, the pair have still helped out behind the scenes as the show continued on, and Dan has stated he hopes his and Laura's departure won't be permanent. As such, it's just possible that we could see the fast-talking couple back in action once again if Storage Wars re-ups for another season.