The Biggest Vin Diesel Movies Of All-Time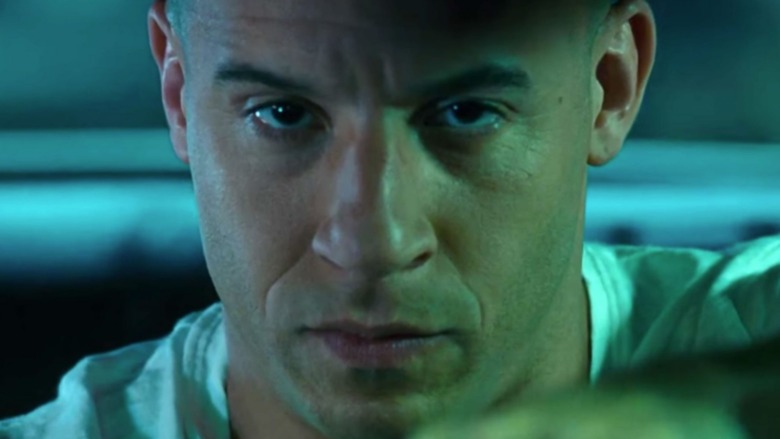 Vin Diesel has been acting in movies for four decades now, and since his breakthrough in 1998's Saving Private Ryan, he has managed to headline his fair share of box office hits. 
Many of these hits have been the result of Diesel attaching himself to two of the biggest movie franchises of all-time: The Fast and The Furious and the Marvel Cinematic Universe. Through portraying Dominic Toretto and Groot, Diesel has managed to headline features that have kept him an A-lister, even as off-brand titles like Bloodshot and The Last Witch Hunter have failed to make much of an impact. 
That brand-name-recognition has held strong over the decades, making other films like The Pacifier and the xXx movies hits from opening day. Sure, it doesn't hurt for him to be surrounded by Avengers or the Fast & Furious family, but Diesel has managed his fair share of successful solo outings, and the combined might of all his movies has proven extraordinary, as the man born Mark Sinclair has a current lifetime worldwide box office haul north of $11 billion.
The reasons behind the success of Diesel's biggest moneymakers vary greatly, even the ones that all belong to the same franchise. The circumstances that informed the gargantuan box office of Furious 7, for example, are not the same elements that fueled the roaring worldwide box office success of Fast & Furious 6. Whatever the reasons behind these massive worldwide box office grosses may be, the biggest movies of Vin Diesel's career reflect the qualities that have made this man one of the biggest movie stars in the modern Hollywood landscape. 
Vin Diesel sucked on success with "The Pacifier" (2005)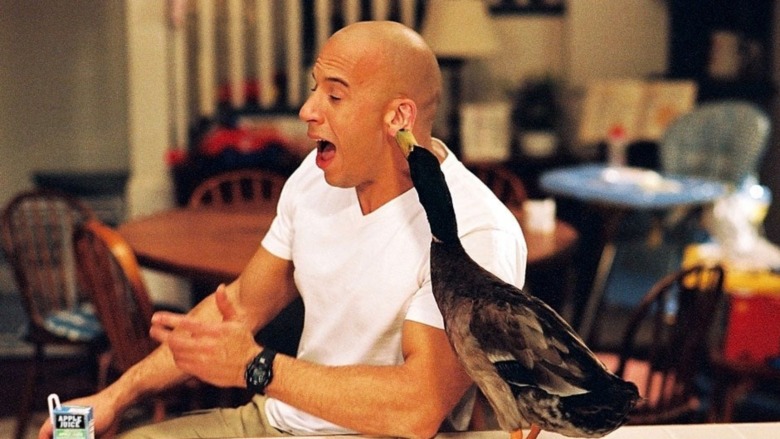 If you're a big tough action movie star in Hollywood, you're going to end up doing at least one cutesy kids movie. 
The juxtaposition of muscular dudes tangling with small children has proved a somewhat reliable formula for the box office over the years. It happened with Arnold Schwarzenegger on Kindergarten Cop. It happened a bit less successfully with Dave Bautista on My Spy. For Vin Diesel, his chance to engage with this sacred tradition came with The Pacifier. A 2005 kids movie from Disney, The Pacifier has now largely been forgotten by general pop culture, but at the time of its release, it was a juggernaut moneymaker for the Mouse House.
Opening in March 2005, Pacifier proved to be one of Diesel's bigger projects as he tried to make a name for himself beyond Dominic Toretto, Xander Cage and Riddick. Released in March, just when kids are getting out for spring break, The Pacifier proved to be a go-to option for families looking to get out of the house and watch Diesel get bitten by a duck. 
Filling that sort of void in the marketplace helped The Pacifier eventually score a lifetime $198 million worldwide gross, which was more than three times its $56 million budget. Meanwhile, its $113 million domestic gross made it the 17th biggest movie domestically in 2005. Though this film provided Diesel's first time operating in the world of family comedies, the reliable formula of action stars flabbergasted by precocious youngsters had struck gold again.
"The Fast and the Furious" (2001) birthed a hit franchise for Diesel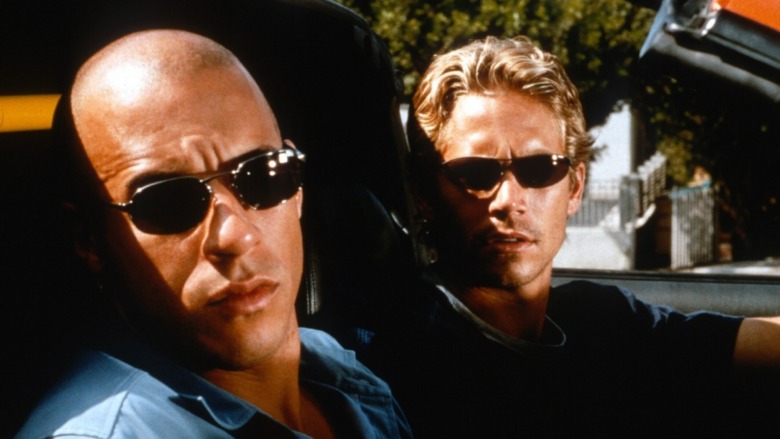 The Fast and the Furious was not meant to be a blockbuster. It was a classic case of counterprogramming, a smaller crime thriller carrying a budget of $38 million and no movie stars meant to play opposite big summer 2001 heavyweights like Angelina Jolie's first Tomb Raider movie. But then a funny thing happened on the way to the movie theater: audiences turned out for The Fast and the Furious, in droves.
Shattering all expectations, Furious revved up its engine to the eventual tune of $206.4 million worldwide. The qualities intended to make this project stand out as counterprogramming were eventually what made this one of the biggest hits of the summer. For example, in a summer populated by big-budget projects starring predominantly white lead characters, The Fast and the Furious and its diverse cast of street-racers allowed moviegoers of color the rare chance to see people like themselves on the big screen in a piece of escapist entertainment. 
The production further emphasized its uniqueness by offering up old-school, stunt-driven thrills, like cars going fast or pulling off daring crimes rather than just blowing up big cities. In a move that no one could have foreseen, this modest-minded action flick that got its title from a forgotten '50s Roger Corman film (which he gave Universal in exchange for stock footage) would end up spawning a cottage industry of spin-offs, rip-offs and sequels that continues to this day. 
In 2021, films influenced by the Furious franchise are everywhere. Which is ironic because back in 2001, The Fast and the Furious achieved box office glory by standing out as a one-of-a-kind model.
"xXx" (2002) was an extreme box office hit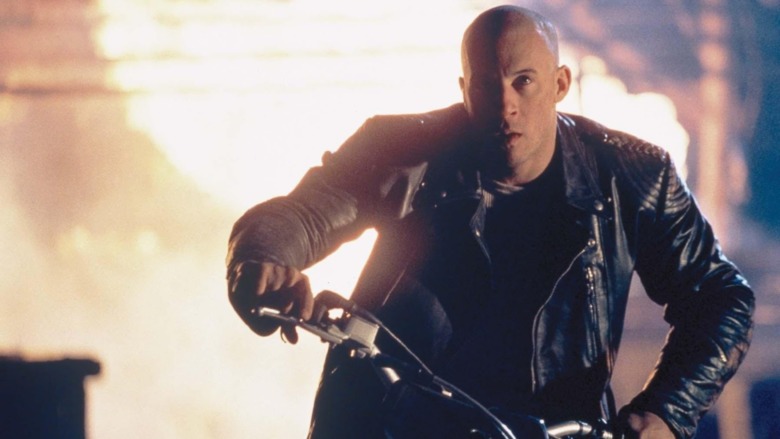 Back in the early 2000s, extreme sports were edgy and cool — and so was Vin Diesel. 
On paper, putting them together was a foolproof way to make some easy cash at the box office; as it turned out, financial reality exceeded expectation. xXx hit theaters just a year after The Fast and the Furious had turned Diesel into a box office force, reimagining him as James Bond for the X Games generation. 
Grossing $267.2 million worldwide, xXx owed a lot of its success to being Diesel's first star vehicle right after Furious had taken pop culture by storm. Marketing that emphasized the spectacle of Diesel engaging in all kinds of ridiculous extreme sports stunts also proved effective in luring in moviegoers. 
Like that summer's The Bourne Identity, xXx resonated with younger audiences who were looking for a new kind of spy movie to usurp a James Bond saga widely seen as beginning to show its age. But as it turned out, that year's Die Another Day ended up outgrossing both films by a wide margin, even if both upstarts were considered hugely successful. 
The box office gross of Diesel's extreme adventure opposite Asia Argento helped give birth to a new franchise Vin Diesel would famously abandon (Ice Cube stepped in for 2005's xXx: State of the Union), then return to (2017's xXx: Return of Xander Cage). Early 2000s culture got smashed into one movie with xXx, and the resulting box office was as extreme as any gnarly skateboarding trick.
"The Return of Xander Cage" (2017) revved up large box office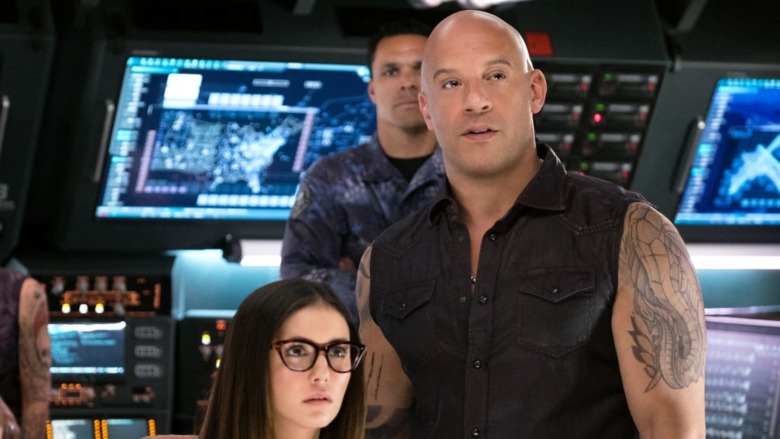 After 15 years, extreme Diesel was back with 2017's Return of Xander Cage. Sure, he had technically died off-screen in xXx: State of the Union, but would death really stop an actor like Vin Diesel? 
In many ways, Diesel's homecoming didn't mean much to domestic audiences. The film opened to just $20 million stateside, above the debuts of fellow post-2010 Diesel vehicles like Riddick and The Last Witch Hunter, but not great for a movie that cost $85 million to make.
Where The Return of Xander Cage truly thrived was overseas, where the film ended up making $301.4 million. More than half of that came from China, where it grossed a massive $164 million. When all was said and done, this new xXx movie grossed $344.1 million, a little more than four times its budget. Thanks to those lucrative international territories, Xander Cage had managed to produce another profitable adventure as well as the biggest entry worldwide in the xXx franchise so far. It had taken quite some time for the character to return, but Diesel proved here that there was still plenty of appeal in the Xander Cage character.
An old model got an injection of new life with "Fast & Furious" (2009)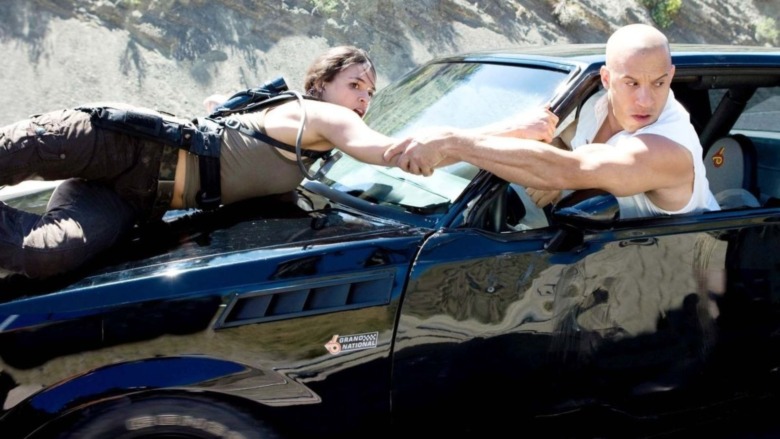 It's hard to imagine now, but there was a point in time where the Fast & Furious franchise looked like it was puttering out. 
After two follow-ups that both failed to get Vin Diesel and Paul Walker back together, not to mention Tokyo Drift hitting a lower box office haul than the preceding films, it looked like the series was headed for the direct-to-DVD bin. However, 2009's Fast & Furious managed to reunite all of the stars of the original movie for the first time since the initial installment in the series. This would be a true blue sequel to The Fast and the Furious and audiences responded to that prospect positively by showing up in droves for Fast & Furious.
This feature smashed onto the box office scene with a $70.5 million domestic opening weekend, significantly ahead of expectations and, at that point in time, by far the biggest debut for a movie opening in April. In the span of one weekend, the Fast & Furious franchise had gone from being on life support to recharged and ready to roll. By the time its theatrical run was finished, Fast & Furious had managed an impressive $359.3 million worldwide gross. With this movie, Vin Diesel had returned to the franchise that turned him into a movie star. In the process, Fast & Furious reaffirmed that, in the right project, Diesel was still a considerable box office draw.
"Saving Private Ryan" (1998) was victorious at the box office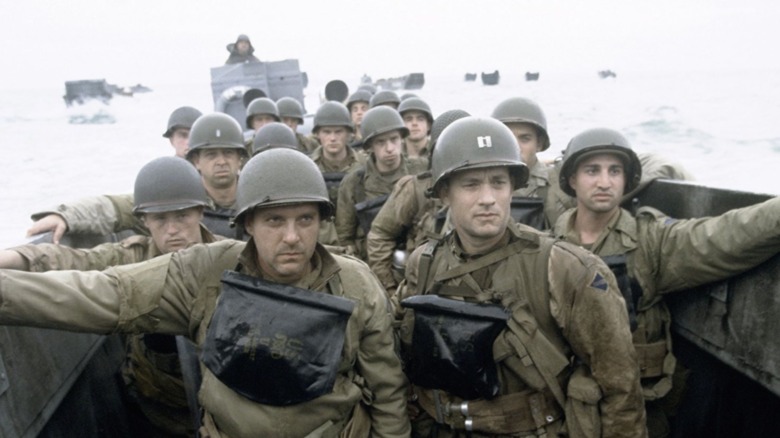 Believe it or not, there was once a time when a movie featuring Vin Diesel did not plaster the man's name all over its marketing materials. Such was the case with Saving Private Ryan, a Steven Spielberg hit that introduced Diesel to much of the world in the sixth-billed role of Private First Class Adrian Caparzo. This was three years before Furious would turn Diesel into a household name, Spielberg had seen his buzzed-about short film Multi-Facial, and wrote a role for the unknown actor who had dreamed of becoming the world's first "multi-cultural movie star" in his reverent story paying homage to the soldiers of World War II.
Saving Private Ryan wasn't just a hit by the standards of grim dramas released in the summer; it was a smash by any metric of box office success. Grossing $485 million, Ryan became that rare massive hit equally appealing to general moviegoers and award season voters alike. It also proved to be the last R-rated movie to top the yearly domestic box office until American Sniper arrived in 2014. 
Diesel's role was relatively small and not an integral part of Ryan's success, but it was the first time the then-unknown actor was associated with a studio film, and it could not have been any better a film (critically or box-office-wise) to be associated with. Of course, it wouldn't be the last time Diesel appeared in a box office hit, even if those ensuing successes would be quite different from Private Ryan in tone.
Vin Diesel zoomed to new box office highs with "Fast Five" (2011)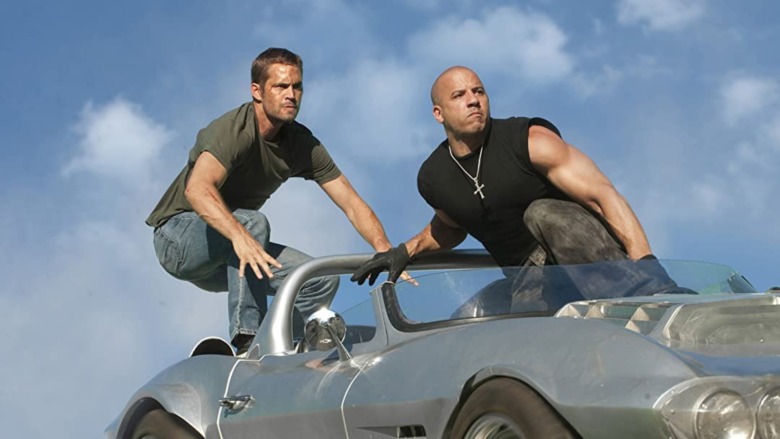 To get to the fifth installment in a series, you must be doing something right at the box office. Still, prior to Fast Five, the Fast & Furious movies hadn't been as big as, say, Star Wars or Spider-Man films worldwide. In fact, none of the first four movies cracked $360 million worldwide. They didn't need to, however, since they cost less to make than, say, a Transformers movie — but it was clear these Fast & Furious titles could go bigger at the worldwide box office.
Fast Five was the injection of superpowered box office that this franchise had been looking for. The feature grossed an enormous $630.1 million worldwide, a 75% increase over the worldwide gross of Fast & Furious. It also redefined the kind of box office success that movies released in April could be expected to deliver. 
How did Fast Five manage to revitalize a franchise an entire decade into its existence? The solution turned out to be upgrading certain parts of the Fast & Furious vehicle. Bringing all the action to Rio de Janiero rather than the American settings of many of the previous films also helped to expand its overseas appeal, as did shifting to larger-scale stunt work and a heist-movie tone. It also didn't hurt to have Dwayne Johnson around. 
The Fast and the Furious will forever be Vin Diesel's signature franchise, and with Fast Five, the franchise had hit a new high at the worldwide box office.
"Guardians of the Galaxy" (2014) smashed all expectations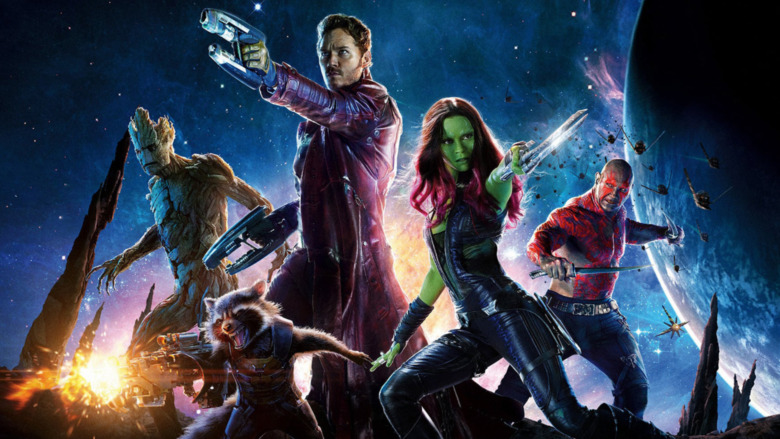 With Guardians of the Galaxy, Vin Diesel finally stepped into a Marvel Comics adaptation. However, unlike the majority of his film roles, Diesel would not be visible on screen in Guardians. Instead, Diesel would be providing voicework for the titular team's resident tree-alien Groot, who only says the words "I am Groot". Much like The Iron Giant, Diesel's deep baritone proved perfect for the character, and  Groot would offer Diesel the chance to debut the character in one of the most lucrative movies of his career.
Hitting movie theaters at the start of August 2014, Guardians of the Galaxy annihilated all expectations with a gargantuan $333.7 million domestic gross and a worldwide sum of $770.8 million. These unknown galactic superheroes had turned into household names overnight. The voicework of Diesel was widely-attributed as a key reason Groot had become so beloved by the general public. Much like with his Fast & Furious movies, Diesel saw the value of appearing in a larger ensemble cast rather than just embracing a one-man show just for himself. As a result of appearing alongside various other cosmic Marvel weirdos, Diesel secured one of his highest-grossing movies ever.
Vin Diesel rocked the summertime with "Fast & Furious 6" (2013)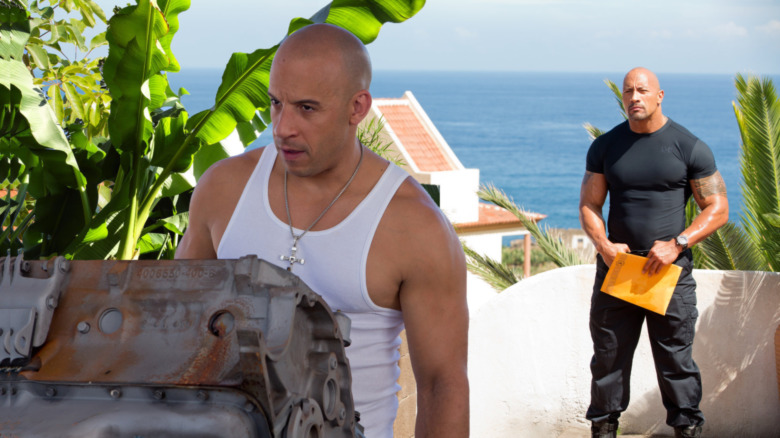 With Fast & Furious 6, the Furious franchise wasn't just going to London. It was also returning to the summertime, a domain where the first three entries premiered. However, starting with Fast & Furious, the series had found renewed box office dominance opening in April. Would going back to summer mean relinquishing the franchise's energized box office presence? It was a question that loomed large for the sixth installment as it prepared to zoom into a Memorial Day 2013 debut.
Turns out, there was no need to be concerned. Even while opening in a month that included Iron Man 3 and Star Trek Into Darkness, Fast & Furious 6 proved a massive force to be reckoned with at the box office. Grossing $789.3 million worldwide, the flick more than doubled the worldwide gross of Fast & Furious from just four years prior. Rather than harming the series, Fast & Furious 6 thrived in a summertime home. As a result, Vin Diesel's box office notoriety also flourished, with this movie becoming his first feature to ever crack $700 million worldwide.
"Guardians of the Galaxy Vol. 2" (2017) turned up the volume at the box office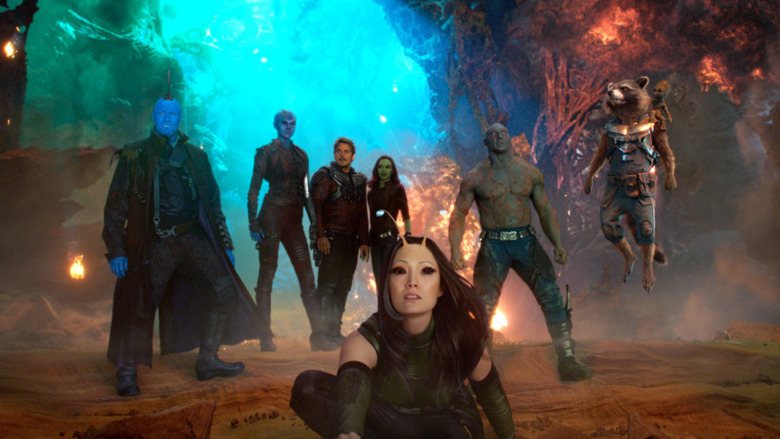 In the summer of 2014, Guardians of the Galaxy entered the box office as unknowns, a bunch of D-list comic book characters whose ability to pull in moviegoers was in question. One smash sleeper hit later, Guardians of the Galaxy Vol. 2 entered the summer of 2017 marketplace as a returning hero. Now, everyone knew who Star-Lord and Groot were, and D-list comic book fixtures had become A-list movie stars. 
Grossing $869.1 million worldwide, Vol. 2 improved on its predecessor's worldwide box office gross and cemented that these characters were no one-movie flukes. Guardians of the Galaxy Vol. 2 didn't rest on its laurels when it came to marketing, which leaned heavily on a new incarnation of Vin Diesel's Guardians character Groot. 
The adorable and precocious Baby Groot, still voiced by Diesel, was everywhere on toys, posters and TV spots for Guardians of the Galaxy Vol. 2. Capturing the hearts of moviegoers before the movie even opened, Diesel's Baby Groot helped to promise moviegoers that they wouldn't just be getting the first Guardians again with this new sequel. No wonder, then, that Guardians of the Galaxy Vol. 2 scored so much success at the box office that it became Diesel's biggest non-Fast & Furious movie of all-time.
Vin Diesel kept on chugging with "The Fate of the Furious" (2017)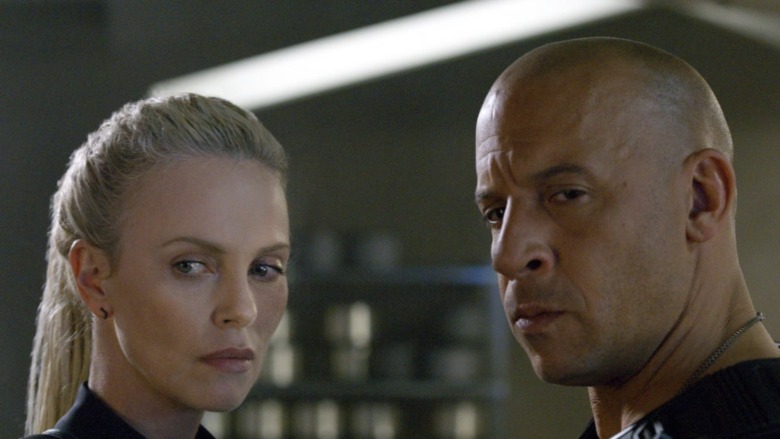 With the 2017 entry The Fate of the Furious, a Furious movie made less than its predecessor for the first time since The Fast and the Furious: Tokyo Drift in 2006. Although not an ideal turn of events, it was inevitable given that this film was following up on Furious 7, which had taken the franchise to new, astronomical box office heights. It was unreasonable to expect Vin Diesel's signature franchise to keep topping itself worldwide, but Fate still managed to do just fine on its own merits.
Grossing $1.2 billion worldwide, The Fate of the Furious was the second-biggest entry in the franchise by a massive margin. It also reaffirmed the franchise's appeal in China, as the feature grossed a staggering $392.8 million in the country. Domestically, Fate of the Furious still managed to score a large $226 million, the third-biggest domestic haul for any entry in the saga, only behind its two direct predecessors. Though Diesel's Furious movies were no longer consistently one-upping each other in terms of box office hauls, Fate showed that this series could still easily shift things into high gear and deliver impressive box office numbers.
Vin Diesel hit a box office high with "Furious 7" (2015)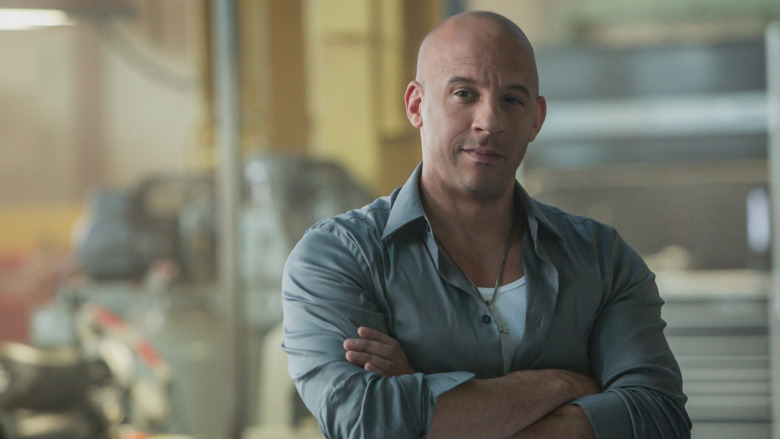 Though it was the seventh entry in the Furious saga, Furious 7 was far from a routine movie in the franchise. 
For one thing, this was the first entry in the series since 2 Fast 2 Furious to not be directed by Justin Lin, with James Wan instead sitting in the director's chair. Even more notably, though, was that this would be the last Furious title to feature Paul Walker's Brian O'Connor. After Walker's tragic death in November 2013, the original version of Furious 7 had been overhauled, and what was supposed to tie up loose plot threads from Fast & Furious 6 would now be a tribute to one of the franchise's main leads.
The headlines of this being Walker's final Furious movie lingered over the film's release, and Furious 7 showed fans were eager to see him one last time. Furious 7 far exceeded the normal box office for a Furious movie in numerous countries around the world, especially in China where it amassed a massive $391.1 million. When the dust had settled, Furious 7 had more than doubled the worldwide gross of Fast & Furious 6 to score $1.563 billion worldwide. 
Vin Diesel's highest-worldwide-grossing movie ever went far beyond the bank — allowing the leading man to pay tribute one last time to a friend  and co-star who had helped kick off his exceptional career.