The Character Everyone Forgets That Millie Bobby Brown Played On Grey's Anatomy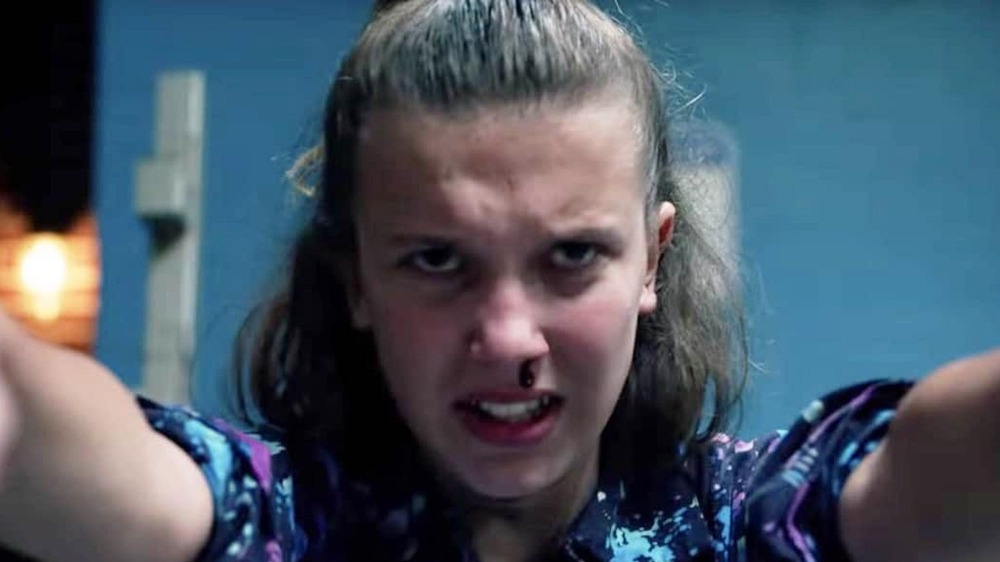 Netflix
Prior to summer 2016, few had ever heard the names of Matt and Ross Duffer, or Finn Wolfhard, or Millie Bobby Brown. Heck, even David Harbour was merely a little-known character actor, and the star of one-time Hollywood "It Girl" Winona Ryder had seemingly faded. That all changed about the time Netflix dropped season 1 of their sci-fi horror fantasia Stranger Things on the masses. The series became a literal overnight cultural sensation that put the Duffers on the Hollywood map, resurrected Ryder's career, and made an unexpected leading man out of Harbour.
It also made legit stars of its fresh-faced cast, though none of those youngsters saw quite as meteoric a rise as the actor who portrays Stranger Things' super-powered heroine Eleven. That actor, Millie Bobby Brown, claimed her breakthrough role on Stranger Things when she was just 12 years old. The young star's performance was instantly and widely praised by the masses, earning Brown an Emmy nomination and leading many to hail her as a preternaturally gifted star on the rise — one whom the Duffer Bros. had plucked from total obscurity.
Brown's star power has only grown over Stranger Things' ensuing seasons, though the series was far from Mille Bobby Brown's first on-camera gig. In fact, the actor scored a handful of impressive credits prior to her breakout. And while some eagle-eyed fans may recall her distinctive features from minor appearances on NCIS and Modern Family, Brown no doubt made a bigger impact in her one-off turn as Ruby on ABC's long-running medical drama Grey's Anatomy. 
Millie Bobby Brown made the most of her limited screen time as Ruby on Grey's Anatomy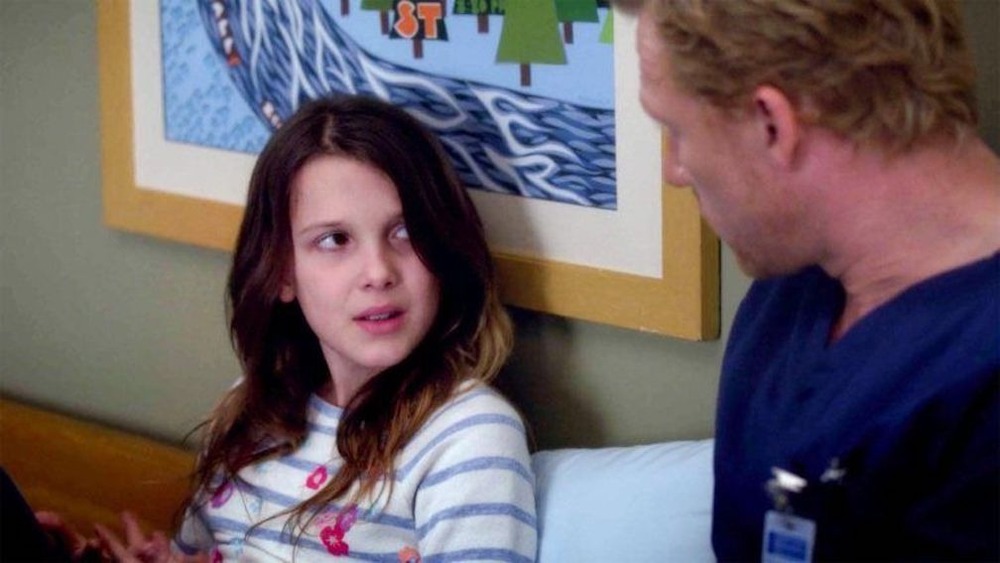 ABC
Millie Bobby Brown's single Grey's Anatomy appearance came a full year ahead of her Stranger Things breakout. And the youngster's already potent screen presence was very much on display, despite the fact that Brown largely appeared off-screen in the episode, delivering many of her lines over the phone. Still, Brown's mostly voice-over performance likely would've been enough for the Duffers to bring her in to read for Eleven because she's just that good even when she's not on camera.
If you're struggling to place Brown in the Grey's Anatomy landscape, she appeared in episode 15 of the series' 11th season. Titled "I Feel the Earth Move," that episode found Seattle's Grey Sloan Memorial Hospital dealing with the aftermath of an earthquake. And while the Grey Sloan team hustle to shore up their quarters and brace for the arrival of mass injuries, Dr. Owen Hunt (Kevin McKidd) fields a phone call from a frightened kid whose mother was seriously injured during the quake.
That's Brown's voice on the other end of the line as Ruby. And you can feel her emotional state changing by the second as Dr. Hunt essentially guides the child through a difficult medical procedure, then through CPR when the delicate procedure doesn't go exactly to plan. It's emotional stuff even via phone call, and it's safe to say the waterworks were in full effect for Grey's Anatomy fandom when Ruby finally finds her way to Grey Sloan Memorial hospital — particularly when she and Dr. Hunt have a tear-jerking face-to-face conversation. And that moment's piercing emotional impact lands thanks largely to surprisingly dexterous work of the then pint-sized Millie Bobby Brown.