Nadiya Bakes Season 2 - What We Know So Far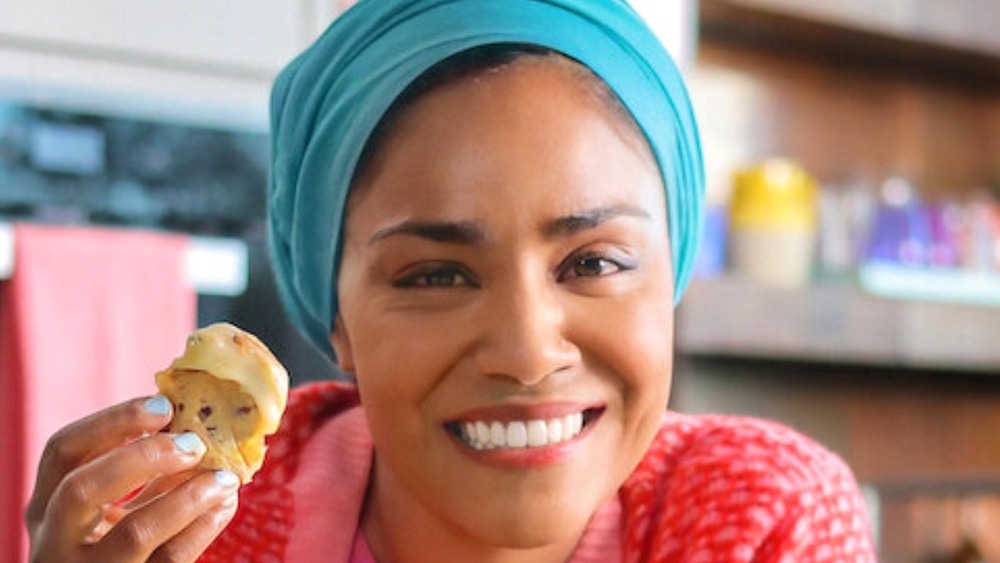 BBC/Netflix
After becoming the winner of the sixth season of The Great British Bake Off in 2015, Nadiya Hussain has only risen to more prominence for her baking expertise in the public eye. She's hosted and starred in multiple television cooking multi-episode specials for BBC, including Nadiya's British Food Adventure in 2017 and  Nadiya's Time to Eat in 2019, the latter of which is available to watch on Netflix.
In 2020, the first season of Nadiya Bakes premiered on BBC Two in the U.K.; in February of 2021, it became accessible to a wider audience when Netflix released the series to their streaming platform. Viewers got to see the beloved bakers prepare some delicious and unique recipes in the eight-episode series. Even though the series just came onto Netflix a couple of months ago, eight episodes can easily fly by and Hussain's fans are likely already itching for more of Nadiya Bakes. Here's what we know so far about an upcoming second season.
When will season 2 of Nadiya Bakes be released?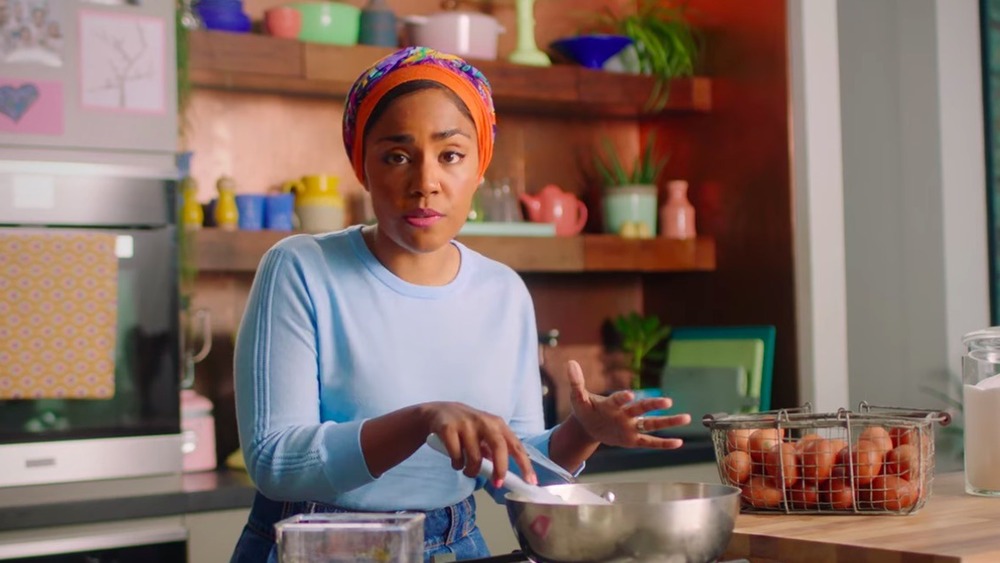 BBC/Netflix
As of now, Nadiya Bakes has not been renewed for a second season, so any potential release date is unclear. All of Nadiya's previous shows, such as the ones listed about like Nadiya's British Food Adventures, have only gotten one season and were more in the vein of miniseries. However, with Nadiya Bakes being on Netflix and open to a wider audience outside of the U.K., a growing popularity may lead to the possibility of a second season. Regardless, the fact that a second season hasn't been vetoed completely by Netflix does leave some hope for the possibility.
With the beginning of 2021 seeing everyone still in lockdown due to the pandemic, the release of Nadiya Bakes proved a more than welcome viewing experience since so many people have turned to baking during quarantine (via Eater). Hussain herself has spoken about how much baking acts as a comfort in times of crisis. She told the Guardian, "It's the thing that gives me comfort when I'm suffering with anxiety, especially over lockdown. Baking is the thing that allows you to focus, because you've got someone telling you exactly what you need to do and when you're doing it. And at the end of it you get cake."
Even once the pandemic is behind us, finding things that bring us comfort is still a necessity — and finding some comfort through another season of Nadiya Bakes would be seriously appreciated by baking enthusiasts or fans of Hussain, alike.
What dishes will be featured in season 2 of Nadiya Bakes?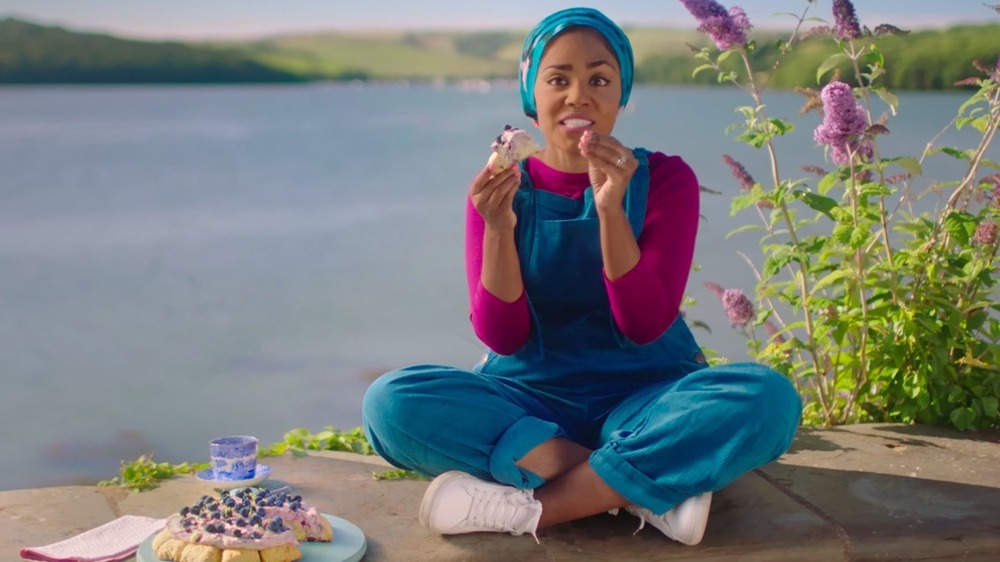 BBC/Netflix
In the eight episodes provided by season one, viewers saw Nadiya make some of her favorite baked dishes, both sweet and savory. Sweet tooth viewers were probably most drawn to featured recipes such as the blueberry scone pizza, chocolate caramel flan, or the tower made of biscuits. On the other side of the flavor aisle, her savory dishes included a pepperoni pull apart, a tomato galette, and onion pretzels.
Each of these recipes can also be found in Hussain's coinciding book, also titled Nadiya Bakes, which was released in the U.K. last September and will be released in the U.S. in July of 2021. If the show gets a second season, the dishes featured in the episodes will likely come from the Nadiya Bakes book, as well. Some of the other book's dishes, which were not already featured on the show, include a brownie recipe titled "Money Can't Buy You Happiness Brownies," as well as Rhubarb, Rosemary, and Olive Oil Polenta Cake (via TheHappyFoodie).
There's over 100 recipes in Hussain's book, meaning that there is plenty to pull from if a second season ends up getting renewed.
Who will be the guests in season 2 of Nadiya Bakes?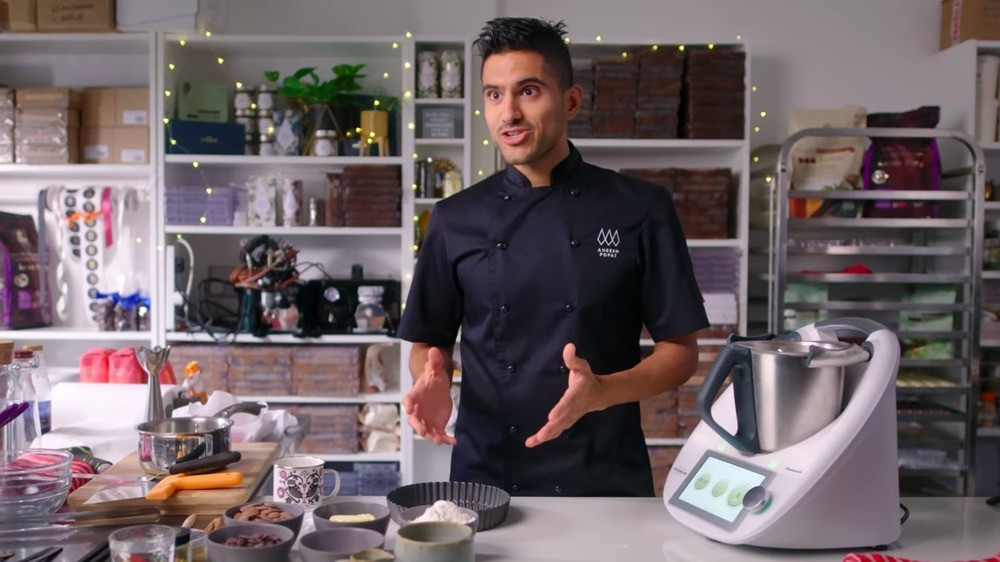 BBC / Netflix
In each of the episodes of Nadiya Bakes, Hussain brings in a fellow baker as a guest to bring attention to other work that's currently happening in the baking industry. Unfortunately, until there's more information regarding the possibility of a second season, we won't be hearing anything about which bakers will be joining Hussain in future episodes. But, if the first season is anything to go off of, then the guests will be another round of exciting and compelling bakers doing incredible work with food.
In season 1, the first featured guest was Julie Jones, who focuses on traditional pies and tarts — but styles them into artwork-like designs. Another guest, who appeared in the episode devoted to baking with chocolate, was "master chocolatier" Aneesh Popat. The award-winning Popat proceeded to showcase his chocolate tart, filled with chocolate ganache and accented with chocolate decorations.
If a second season does indeed come along, audiences can expect to see another batch of impressive, award-winning bakers, eager to showcase their unique work. For the sake of bakers of all levels, from at-home amateurs to Nadiya-level culinary creators, let's hope we get that second season after all.