David Harbour Gives Fans A Hilarious Update From Stranger Things Season 4 Set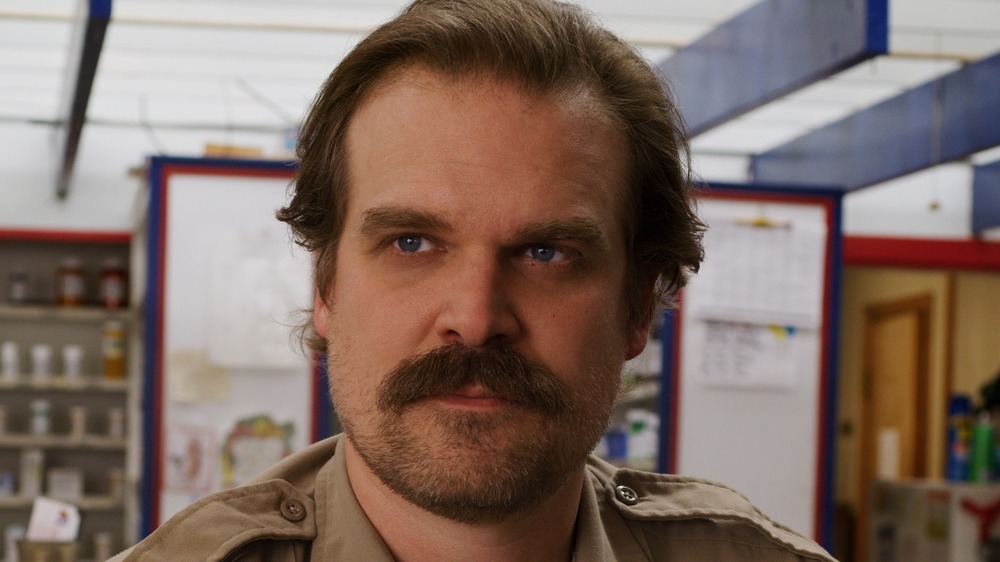 Netflix
It has been a long wait for fans of Stranger Things but the fourth season of the sci-fi horror series is thankfully on its way. It has been two years since season 3 aired and fans of the show are eager for any teases about what the next installment has in store (luckily, we already got details on some of the new characters). As is to be expected, Netflix is mostly keeping things under wraps. That is, so long as they can keep the stars of their show off social media.
David Harbour, who plays gruff but lovable police chief Jim Hopper, recently decided to go rogue and give fans a small peek behind-the-scenes while on the set for season 4. On April 7, he hopped on Instagram Live from his trailer while taking a short break from filming. "It's a very tough day today," he declares during the video, "I'm exhausted."
And he certainly looks it. Harbour appears to have come to the stream still in full costume and makeup. Or at least we hope that's the case, considering the bloody cuts on his head and dirty coat he's wearing in the video.
Partway through the stream, he appears to realize that his appearance itself might constitute a spoiler. "I don't think I'm supposed to be showing you these things," he says, before he jokingly asks, "Who wants to hear spoilers for season 4? Let me just read directly from the script."
One of his viewers who was very interested to know what kind of details he might be letting slip was none other than his co-star Millie Bobby Brown. She even called in to see exactly what kind of trouble Harbour was getting himself into.
Millie Bobby Brown has joined the chat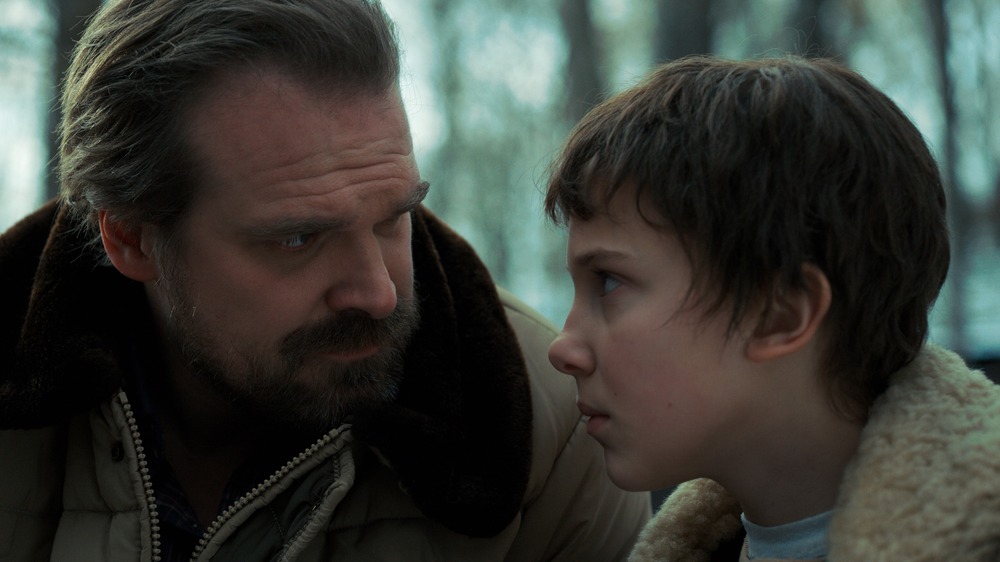 Netflix
It appears that while Brown wasn't filming at the same time as Harbour, she took a page from her character in Enola Holmes and figured out that he was letting things slip on Instagram Live. At one point during his stream, Harbour notices that she is among his many viewers and yelps, "Oh sh—, Millie. Oh no. Millie, don't tell Netflix."
After a little one-sided banter, Brown calls into the stream. While trying to stifle her laughter, she asks her co-star, "What are you doing?!" After confirming that he's on the set of Stranger Things, she playfully chides him by asking, "Are you in your costume?" Then, after a funny back and forth, she shrieks, "Get off of Live and go back to work!"
Although Harbour tries to defend his costume reveal, he ends up concluding, "I'm getting fired." Brown agrees, telling him he's probably "getting a phone call right now" from Netflix.
The ribbing is all in good fun. While Harbour's bloody and dishevelled appearance could constitute a small spoiler, considering the show in question is Stranger Things, it might actually be more shocking if he was looking cleaned up and healthy.
Before the stream ends, Harbour tells Brown, "I miss you, it's good to see you, you look great." He even says, "Congratulations on your movie this weekend, too," no doubt referring to Godzilla vs. Kong.
Even though it may have gotten him in hot water with Netflix (unlikely), fans were no doubt glad for Harbour's fun dispatch from the set of Stranger Things season 4.