Head Of The Class Star Dan Frischman Shares Fond Memories Of The Show And How He Really Feels About The Reboot - Exclusive Interview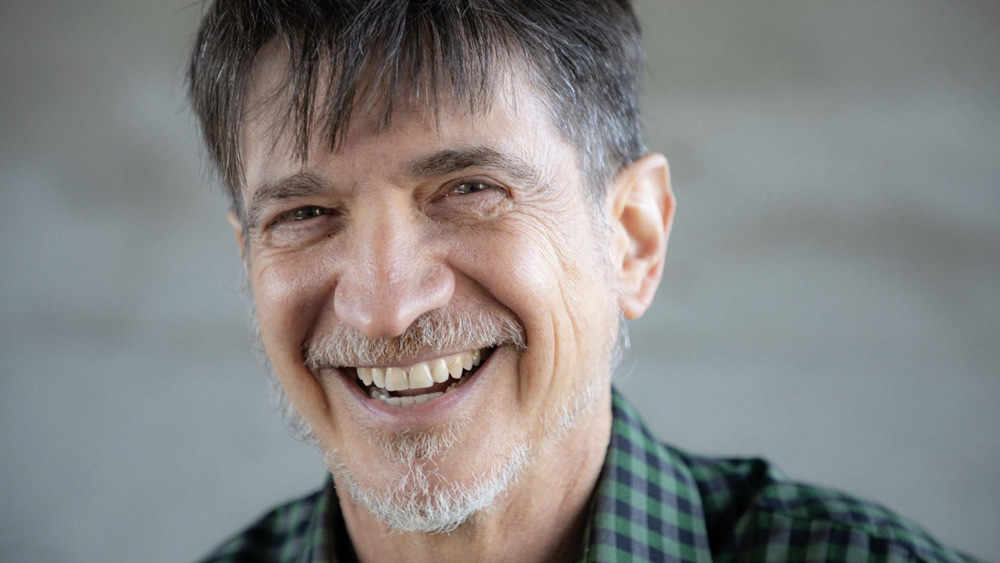 Suzan Spann Photography
If you click a link and buy a product or service from a merchant, we may be paid an affiliate commission.
When the high school sitcom Head of the Class debuted on ABC in 1986, the original concept centered on a somewhat iconoclastic history teacher, played by Howard Hesseman, and his efforts to make sure that his academically gifted students succeeded not just in their educations but in becoming fully rounded, emotionally developed human beings. As the show took off, however, the focus shifted away from Hesseman's character and more on the students themselves, one of whom — a brilliant yet nerdy math and science whiz named Arvid Engen — was played by Dan Frischman.
Born in Whippany, New Jersey, Frischman caught the performing bug at age eight when he learned how to do magic tricks and began doing magic shows for his friends. He moved to Los Angeles in the early 1980s, where he did stand-up comedy, improv and more magic while landing small roles in series such as The Facts of Life, Newhart, and Archie Bunker's Place. Even though he was in his mid-twenties, Frischman looked young enough to land the part of high school freshman Arvid on Head of the Class, a role he played for five seasons until the show ended its run in 1991.
Following that, his former Class co-stars Dan Schneider and Brian Robbins — both of whom evolved into successful producers and executives in the world of children's and teen television (though Schneider eventually left after some controversy) — cast him in the series Kenan & Kel, while Schneider later hired him as a director for three episodes of Sam & Cat, the Nickelodeon series starring then-budding superstar Ariana Grande.
In addition to being an actor, director, comedian, magician, and novelist, Frischman discovered a new role as a father and grandfather in 2019, having learned that year that he had a biological daughter — who had a child of her own — from a brief relationship he had in the mid-1980s. With a surprise family of his own now in his life, and interest in Head of the Class spiking thanks to HBO Max announcing a reboot of the show with an all-new cast, Looper spoke with the affable Frischman about his experiences as Arvid, what the show has meant to him, his newfound status as a dad, and more.

How Dan Frischman landed the role of Arvid on Head of the Class and how he feels about the reboot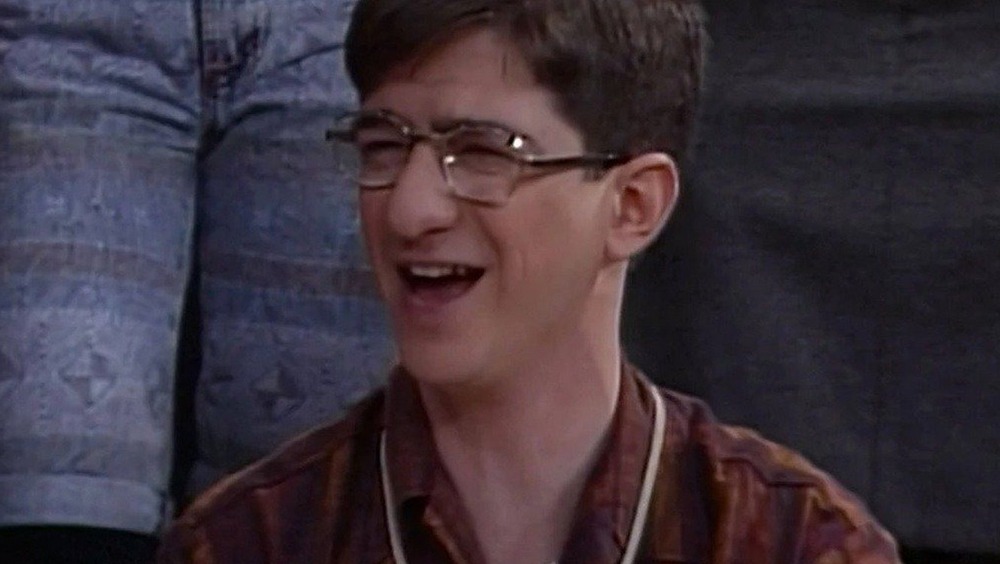 Have you gotten the sense that there is a newfound interest in Head of the Class and in the cast?
I'm getting a lot of Instagram posts from people, and all of a sudden, I'm getting more Facebook requests. I know that some particular episodes have aired on one of the cable channels. I know HBO Max has just put the entire series on their roster. Obviously, the fact that they're bringing it back [is] wonderful. I'm happy for the new generation of kids who are going to benefit from that. I felt very lucky back then, so I'm happy to see they're repeating it.
What were your thoughts on the reboot?
About two years ago one of my old castmates tried to pitch us somehow coming back as teachers as the reboot. I was on board with it if they were able to do it but I could not personally picture it happening. Why would we all be there? There wasn't a clear hook to it other than, "Hey, here's those people again!" So I didn't hold much hope for it.
This makes a whole lot more sense that they're going to start with a whole new cast of kids. Coming full circle, I have some friends who are theatrical managers for many kids and teens. They called asking if I would coach their clients for their auditions for the new Head of the Class. I ended up coaching about 12 kids. One of them had four or five callbacks for the show. So that was really fun.
It's kind of like, "Okay, this has come full circle, and I can hopefully personally help one of these kids get there." They're doing it this time with actual 13 and 14-year-olds, the actual ages of freshmen in high school. Whereas I was 27 when I started on Head of the Class. But thank goodness for my baby face I had that I was able to pull that off. I was prepared to lie at the audition and, indeed, the first thing they asked me was, "How old are you?" And I said, "22," which I thought was still a little old to be a high school student but I figured I could pull that off.
At our 100th episode party, by this time everyone knew how old I was — I was like 30 and playing a junior at high school — and I asked one of the producers, "If you had known how old I was, would you have cast me?" And he said, "Well, let me put it this way, I never asked you again." In other words, he said, "No."
I was the oldest. I think Tony O'Dell was a year younger than me. The youngest was actually Tannis Vallely, who played a 13-year-old. She was actually 13. But everybody else was in their 20s to begin with. I think they had tried to do it with actual teenagers originally but they couldn't find what they wanted.
Have they reached out to you or the others about cameos or anything like that?
No. One of the associate producers was also a producer on the original, and I've reached out to her about directing it. But I can imagine in the third season that they would just do a promotion where they cart us out for some reason. Maybe there's a reunion that we show up at or something to that effect. I could see that happening, but I don't think that's on their minds at the moment.
Dan Frischman on why Head of the Class holds up, and his favorite episodes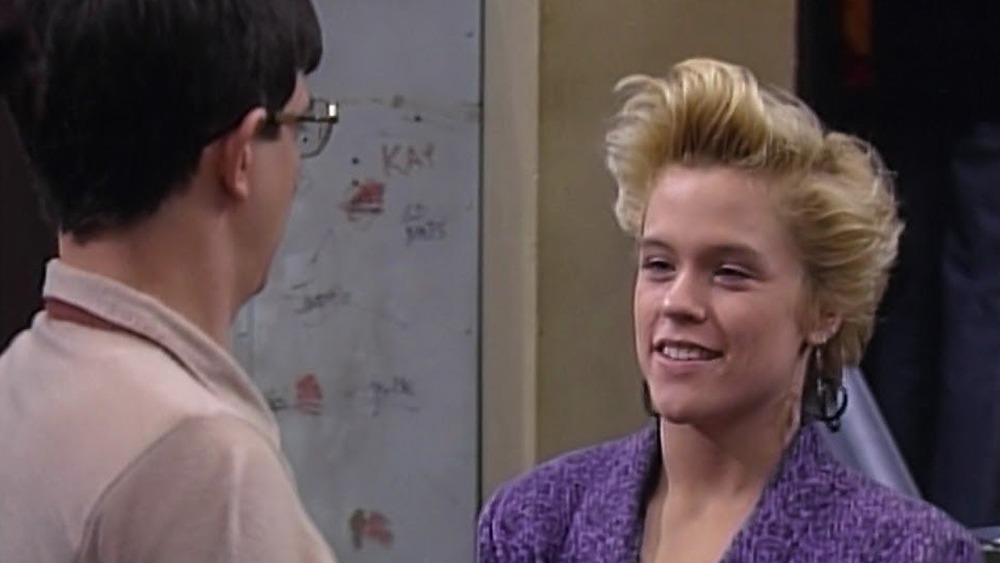 What are your thoughts on why Head of the Class has held up and why do you think it still touches people?
It was an intelligent show. It's about kids who are applying themselves, so I think parents back then, and kids from back then who are now parents today, want to show their kids students who enjoy learning and excel at what they're doing by working hard. Certainly sometimes we would head into the silly and the farcical, but the main stories were usually something that resonated intellectually.
Do you have a favorite episode?
I have two. One was called "Arvid's Sure Thing," which guest starred Christine Elise as kind of the class floozy who decides that Arvid is going to be her man of the week — and she lets him know it. So Arvid gets really nervous, and he knows what's going to happen when he goes to her parents' apartment. Her parents, of course, are out for the weekend. I get to do the classic buying-the-condoms scene in a pharmacy. That was my favorite because I also had a nice long scene with Christine, who was immediately a terrific actress to work with.
The other was when the kids put on Little Shop of Horrors. It had been a dream of mine to play Seymour and in fact I had auditioned for the original Los Angeles production of Little Shop and was told through my agent that I was too young for the part. But then there I was on television doing almost the whole show and for as many people — maybe a close second to the number of people who saw the movie. That was particularly exciting.
When we were doing the pre-record for the show at the Warner Bros. music studio, there was a knock at the studio door. Rick Moranis came in with Harold Ramis because they were walking by and heard me singing "Suddenly Seymour." They were doing Ghostbusters 2 and they were walking by and they had to see what was going on. So I got to meet him and joke around with him while I was recording his song.
Working with Howard Hesseman, and how much of Arvid was actually Dan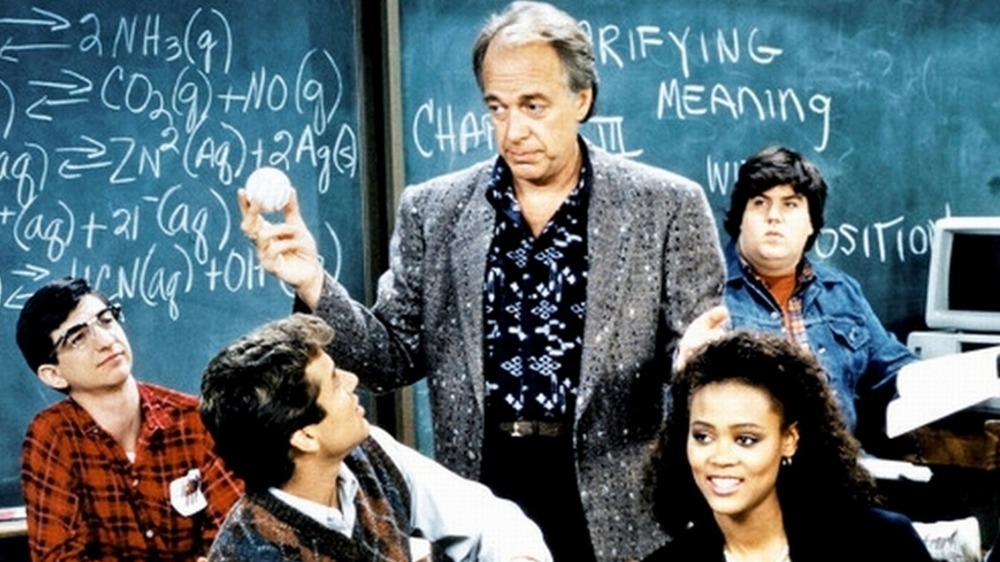 Any other memories?
I was probably the closest to being friends with Howard Hesseman, who disliked the show. He thought it was going to be more of a hard-hitting issue show based around his character with the kids as a group. Once it became more about the kids, he was really unhappy and let everybody know about it. But at the same time, whenever the cameras turned on, there was no one more professional to work with, because he loved acting. He tried to get the producers fired at one point early on in the show, but it didn't work.
How much of you was Arvid and how much of Arvid became you over the course of five years?
There was certainly a lot of Arvid in me. More so when I was in high school. It was very easy to don the glasses and pocket protector and just think, "Girls, grades, acne" and go. The nerdiness came a little too easily to me perhaps. I had a really wonderful family and high school but it was a very, I'd say, kind of conservative, Christian-based public high school that I went to, in Whippany Park, New Jersey. As a kind of funny-looking Jewish boy, I felt like a bit of an outsider. But I found my confidence in high school on stage in the school plays and then doing magic shows, which I started when I was eight years old. So I became well known in high school as "The Great Houdanny" and did stage productions with illusions and floating students, cutting women in thirds, that sort of thing.
I had enough confidence in high school, but there was that underlying feeling of insecurity and not being one of the cool kids, certainly. How do you become a great magician when you're in high school? Well, you just suck at sports, so then you'll find yourself with a magic kit. I did a lot of comedy improv after I left Whippany and moved to Los Angeles. I was in improv groups and I did a one-man show. In all these shows, I always inevitably would end up playing a nerdy character. So when it came time to audition for Head of the Class I already had that in my back pocket. I just walked in and strutted my stuff with characters I'd already played on stage for ad infinitum. So it was a natural fit.
What Dan Frischman did after Head of the Class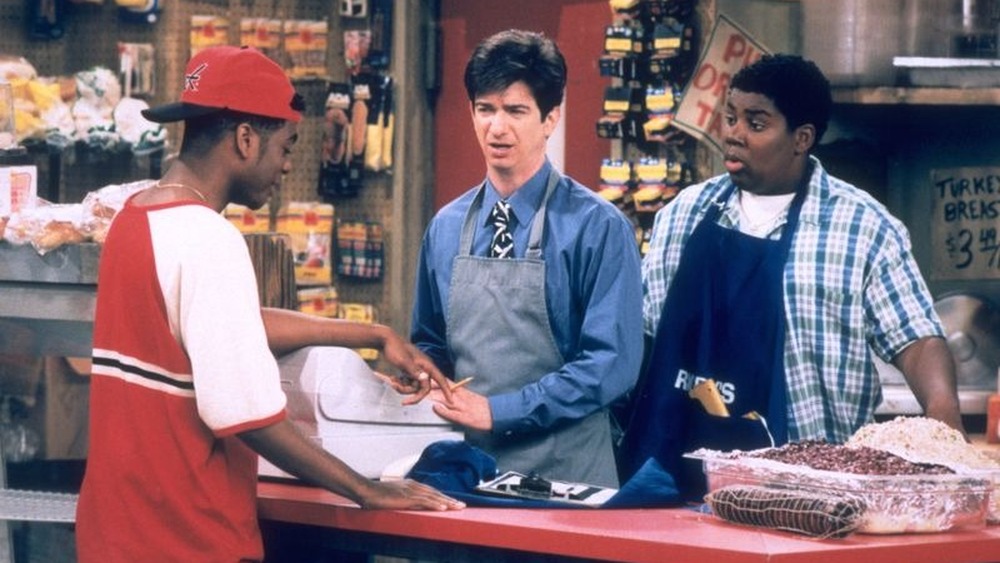 After Head of the Class, your next big TV stint was on Kenan & Kel. What are your overall general memories of that?
Yeah, that was really exciting and fun. I got that part because my Head of the Class cast members Dan Schneider and Brian Robbins created and executive produced it. However, I was not foremost in their minds for that part. As a matter of fact, they were looking for a Chris Elliott type. Dan called me asking, "Do you know a Chris Elliott type?" He knew I was taking acting classes, which I did for years, even after Head of the Class, and ended up teaching classes. But I told him I would think about it. Then it had to be like five, six months later that Dan took me for a ride to look at a computer he wanted, and then said, "Oh by the way, we haven't found the guy for that part but we think we know exactly who it should be." And I said, "Well, who?" And he goes, "You!" I was kind of blown away by that.
The kids were great to work with. Kenan Thompson and Kel Mitchell were both just fun. Kenan was kind of the quieter one, as you might imagine. Kel always was kind of "on." And I got along with all of them. It was just a lot of fun to do, and getting to work with Dan and Brian was kind of a dream.
After that show, you did less on the TV front, and instead went back to theater, improv, and magic.
You know, at that point I was so well known as a TV nerd that unless lightning struck that's all I was going to play and I wasn't looking forward to the next TV nerd character. So I did go back to acting class, and I made a conscious decision just to concentrate on performance. I wrote a book, Jackson & Jenks: Master Magicians, a novel for kids which got into Barnes & Noble stores, and is still on Amazon. So I was going around the country to Barnes & Noble stores doing book signings and they would advertise a magic show. I would do a magic show and then people would buy the book that I'd written. So that was like, "And now for something completely different" — but still in the entertainment world.
How Dan Frischman made Ariana Grande cry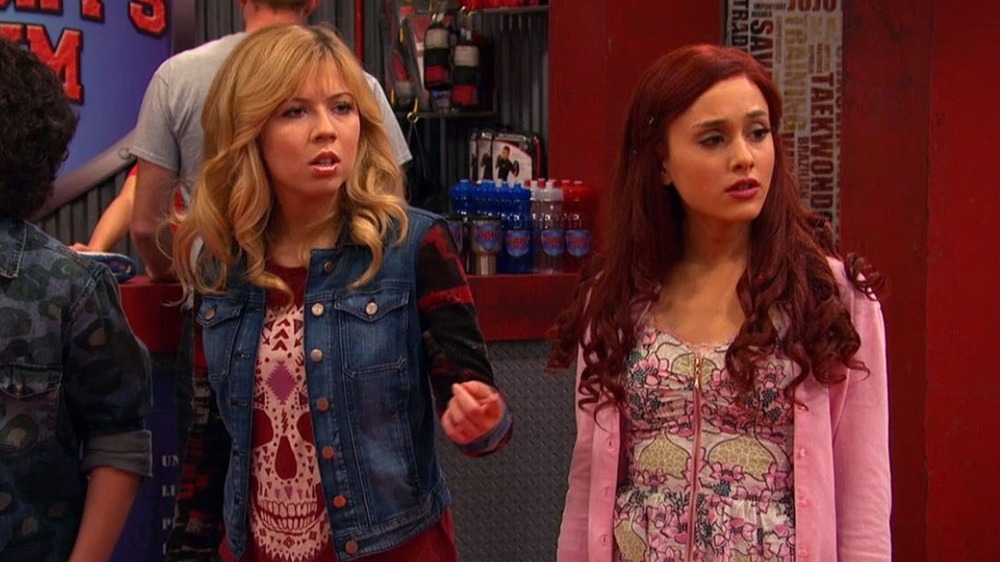 You've done some directing as well.
I directed Ariana Grande and Jennette McCurdy in Sam and Cat. I can tell you that I'm probably the only TV director who has made Ariana Grande cry. I was a first-time director and there was a kid on the show who was also into magic, and we kind of bonded and showed each other tricks and things. His mother asked if I would take him and his family to the Magic Castle. I said sure, because they have family brunch events for families, because I'm a member and you need to be a member to go to the Magic Castle in Hollywood.
So then she kept coming to me with, "Oh, so-and-so also wants to go." So I said, "You know what, just give me a list of all the people who want to go and I'll just call it in." So she came up with a list of at least a dozen people. I noticed that Ariana was not on the list. Jennette was. But it made sense to me that Ariana was not on the list because she was really already working hard on her singing career — as a matter of fact, the first day I directed she had to go home because she had some work to do at the music studio. So I just thought, "Oh, she's busy on the weekends."
So I took a dozen people to the Magic Castle and there were pictures taken and posted on social media. The next week, Dan Schneider called me in. He said, "I understand you took a bunch of people to the Magic Castle?" And I said, "Yeah." And he said, "Well, who went?" I told him, and he goes, "So not Ariana?" And I said, "No... I just got a list of people who wanted to go, and I called them in. I had nothing to do with inviting people." And he said, "Well, Ariana's in her dressing room, she won't come down, and she's crying because she said 'Dan Frischman had a cast party for everybody on the show and I wasn't invited.'"
I was shocked. I said, "Let me go talk to her and apologize." But Dan said, "I don't know how she'll react to you and I need her on the set, so call her mother." So I went home and I called her. I talked to the mother for 15 minutes or so and explained to her what happened. Her mother said she understood that I had done nothing wrong, but meanwhile she had a teenager crying. And I said, "Well, let me talk to her." She says, "No, no, no, I know how to handle this." So I never actually apologized to Ariana Grande for making her cry. But I'm sure she understood in the end that it had nothing to do with me.
You were working on that show with Ariana right as she became this music superstar. What was it like to work with her as an actress?
Whenever she was on the set she was very dedicated. You could tell between takes she was busy going and doing other things. Her mother was her manager, so there was lots for her to do. But yeah, she was a dream to work with. That whole cast was a dream to work with. As a matter of fact, one of the episodes I did was called "Stuck in a Box." Because of her career she was only going to be able to make it to the set on one day, so they did this episode out of necessity where she spent the entire episode stuck in a box. She just did voiceover one day, so it would appear that she was in the show throughout, but she was never in the box, of course. It was a magic box, so that was particularly fun for me to direct too because a lot of it took place in a magic shop.
Dan Frischman on why he loves magic
This leads nicely into talking about your magic career, which is something you've been doing since childhood and you're still doing today.
I started when I was eight years old. It gave me a lot of confidence, and it gave me a career. When most kids were out playing baseball and having friends, I was in my room practicing a one-handed cut of cards in a mirror and playing with sponge balls. It really gave me a focus. It's one of those things that's just innate. It's in you or it's not, the performance bug. I did my first show for Kenny Ward up the block from me. I got three dollars and I knew all the kids I was performing for, and one of them knew all the tricks and started screaming the solutions to them. But I kept going. I thought, "Okay, well, that means I need better tricks." I always had that "comeback kid" way about me.
By the time I was 14 I was doing four or five magic shows a weekend, and that helped pay for my trip when I moved out to Los Angeles, I had money for rent to start with, thanks to the magic shows. And I never had to do the waiter job. I immediately started doing the magic shows when I was out here. So it was a passion for me, and a means of keeping a roof over my head while I was a struggling actor. It's just a hobby now. I just have fun doing it. I'll do charity events and things, but it's nothing I do for a living.
I used to pull a bunny out of a box, until I was about 17 and became allergic to rabbits. No other animals. I have a cat. Only rabbits, so I had to switch to floating the birthday girl in the air at the end for the finale. I almost set a birthday girl on fire once doing that floating girl trick. I was doing a birthday party show in somebody's living room, and I always had a flashpot to make a puff of smoke before I pulled a cloth up over the girl who was lying on a board so that people would see there was nothing under the cloth and she was floating in the air.
Well, the flashpot caught fire to the cloth, so I pulled the cloth up over her and there's a flame. I didn't notice at first and the kids were saying, "She's on fire! Cindy's on fire!" And sure enough there's like a flame getting very close to her person, and thank goodness she had to have her eyes closed, so she couldn't see it. I just put my hand right over the flame and quashed it with my hand. Luckily the parents were in another room. And afterwards the kids were saying, "Mommy, the magician set Cindy on fire." And the parents were like, "Oh, and was it scary?" And, of course, yes it was scary. But the parents were none the wiser.
How Dan Frischman found out he had a daughter and a grandson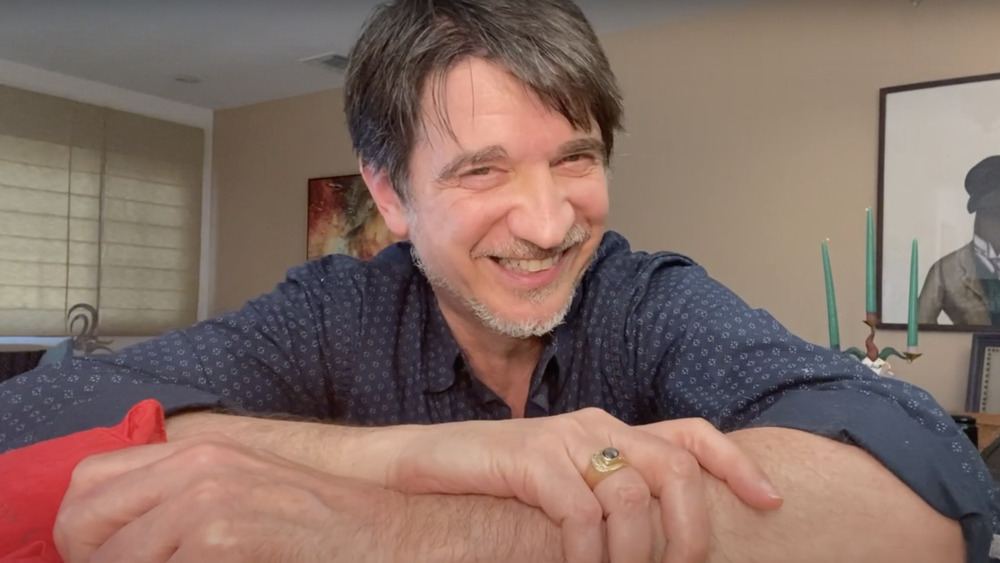 You have a relatively new career as a father and a grandfather.
This is probably the most interesting thing about me at the moment. I lived in New York for two years and I'd just moved back [to Los Angeles] and was having my house redone, so I was staying with my brother and sister-in-law only about 15 minutes away from me in Van Nuys. A cousin named Larry had done the 23andMe test and said that he found a first cousin and he was following up to find out who it was.
Then he texts me and my brothers and says, "One of you is going to get a text, a private message from a woman named Emily and she won't tell me how she's related to you. But she is somehow related to one of you." The email said, "Dan, you don't know me but when you were much younger you had a brief relationship with..." — she named the birth mother — "and it produced a child and that is me." And that daughter had a one-year-old. It was a mind-blowing moment.
I was ecstatic. We spoke on the phone and slowly we've built a close relationship. They live in Portland. My son-in-law is a professional chef. He had a job in Normandy, France and I went to visit them there. I have visited them twice in Portland. I met the adoptive mother, a very sweet woman. And it's working out really nicely and now, as of four months ago, I have a granddaughter as well, named Ella. So that's the most amazing part of my life right now.
How did you end up with a daughter?
What happened is that her biological mother and I dated for three months when I was living in a house with seven comedians. She had a good friend who was doing comedy improv at the Comedy Store. So the birth mom would hang around, and she and I started dating. She was only 18 or 19. And after a couple of months she had enough of me — she didn't need reasons, it was just time to move on. But when she realized she was pregnant, she moved up to her parents' house in upstate California where she had the baby and put it up for adoption to two wonderful parents in Santa Clara. And that baby grew up to be my now 39-year-old daughter Emily. I have not spoken with [the biological mother]. She doesn't want to talk, which I respect. She lives in Los Angeles and she's married.
My brothers were jealous. They both have two kids apiece and here comes single little brother Dan, the first to have grandkids. One of my cousins said, "Wow, Danny's passed them by without any effort whatsoever."
That time Dan Frischman met Bob Dylan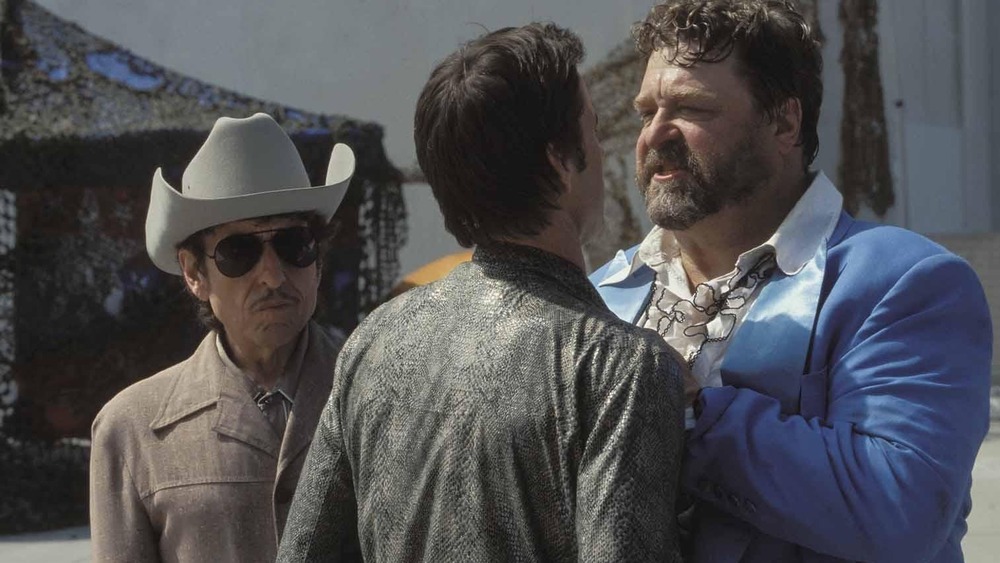 Any other interesting stories you want to share with us?
I did a couple of movies between Head of the Class and Kenan & Kel, and then I did a film called Masked and Anonymous that was co-written by Bob Dylan, who also starred in it, and the director Larry Charles, who also did Borat and wrote many of the Seinfeld episodes. I only had two scenes but they were with Bob Dylan. The morning I had my scenes with Mr. Dylan, I'm driving to the set, and I'm playing a Bob Dylan song, "Simple Twist of Fate," on my cassette player. I get to the set, and I walk to the make-up trailer, and there is just Bob Dylan alone getting his hair done. I started to say, "Hello," and his personal hairdresser looks at me and says, "Good morning. Have a seat. Carol will be with you in just a moment" — in other words, "Sit down, shut up, no one speaks, certainly not to Mr. Dylan."
So I just sat down in the barber chair next to him. A woman comes out to do my hair. It's very quiet. I'm sitting next to this music legend and I couldn't stand it. So out loud, nice and loud, I said, "You know, this is one of those rare moments where you will have a Bob Dylan song in your head but you don't want to sing it because Bob Dylan's sitting next to you." My hairdresser laughed. His hairdresser looked at me with the eyes of Beelzebub — I actually broke the code of silence.
Dylan for his part didn't make a move. But then, 10 seconds later, as if it took a while for my message to get through the synapses, all of a sudden he turns and looks at me and he goes, "Kind of unnerving, isn't it?" Which made me laugh. But then I was done, I was like, "Okay, I had my moment. He threw it back at me and we're done."
But then he started asking me about — I was playing a ventriloquist on the show and he started asking me about ventriloquism. He even said, in his Bob Dylan drawl, "Is it real or is it an illusion?" So I talked about it for a couple of minutes, and then maybe five, 10 minutes later, the hairdresser was done with me. I started to walk out and I gave him a nod, and all of a sudden I hear, "Oh hey." And I turn around and he's looking at me in the mirror, and he goes, "What was the song?" And I said, "Simple Twist of Fate." He just kind of nodded, and that was it. I never said another word to him. When we would finish our scene, which is only in the DVD extras of Masked and Anonymous, this very odd movie that came out in '93, he would give me a little nod. So that was my brush with greatness.
Dan Frischman can be seen as Arvid Engen on all five seasons of Head of the Class, currently available on HBO Max.