Whatever Happened To Chris Elliott?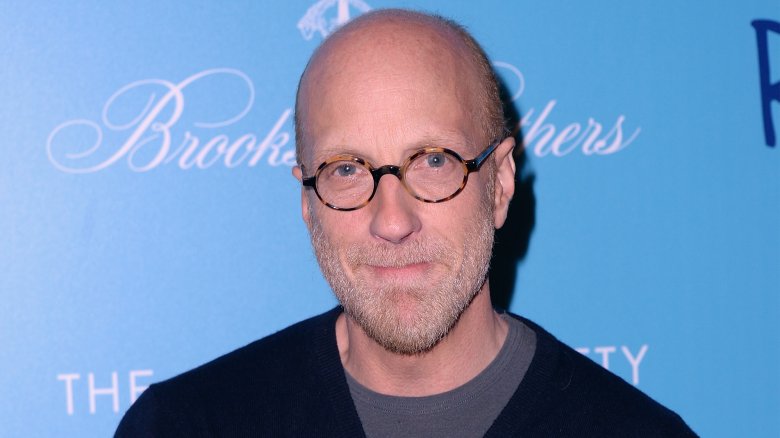 Getty Images
We may receive a commission on purchases made from links.
After a chance encounter with a young David Letterman, Chris Elliott went from being a mild-mannered NBC gofer to a writer and performer on Late Night with David Letterman.  From 1982 to 1989, Elliott honed his craft, helping Letterman to earn multiple Emmys for Outstanding Writing in a Variety Series.
These early years helped to pave the way for the quirky actor, who's best known for his memorable roles in Groundhog Day, Kingpin, Scary Movie 2 and, of course, There's Something About Mary. Since making it on the big screen for the Wayans and Farrelly Brothers alike, it feels as if Elliott has mostly disappeared from the spotlight. So what has Chris Elliott been up to? In truth, the man never left.
Early career misses paved the way for cult stardom
In 1990, Elliott teamed with fellow Late Night alum Adam Resnick and David Mirkin (Newhart, The Simpsons) to bring the short-lived sitcom Get a Life to Fox. Featuring writers like Bob Odenkirk (Mr. Show with Bob and David) and Charlie Kaufman (Being John Malkovich), it's safe to say the program was different from anything on TV.
Telling the surreal story of 30-year-old paperboy Chris Peterson (Elliott), the series followed the wacky man-child as he faced many odd life challenges: violent beheadings, robotic paperboys, and in one particular episode—the E.T. parody "Spewey and Me"—Chris eats an alien. Combine that with the fact that the lead died in every episode, and it isn't hard to understand why Fox pulled the plug after just two seasons. 
Two years later, Elliott starred in another strange piece of entertainment: the Tim Burton-produced comedy Cabin Boy. Still trying to find his niche, Elliott starred as snobby aristocrat-turned sea captain Nathaniel Mayweather in what may be the weirdest movie of his career.
Burton was originally set to direct the feature, but bailed last minute to helm Ed Wood. In an interview with the New York Post, co-writer Adam Resnick pointed to the exact moment everything went downhill, saying, "When he and his producers came to me and encouraged me to take it over, I refused. I didn't know anything about directing. If I was going to write a script for me to direct, the last thing I would've come up with was Cabin Boy."
Chris Elliott, writer of books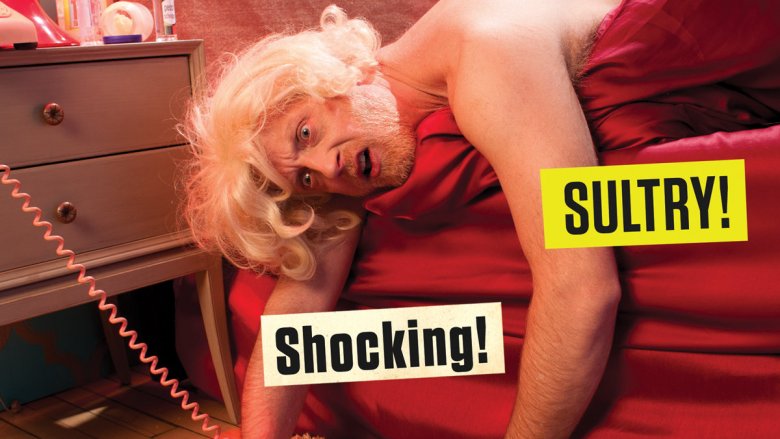 Many know Chris Elliott as the loser anti-heroes he's played throughout his varied career. But what would you say if we told you he was a bestselling author as well? In 1989, he published his first book, Daddy's Boy: A Son's Shocking Account of Life with a Famous Father—a memoir recounting his relationship with his comedy legend father, Bob Elliott.
Since then, Elliott has released three other books. In 2006, he released a fictional twist on the Jack the Ripper story titled The Shroud of the Thwacker; in 2007, his survivalist spoof, Into Hot Air: Mounting Mount Everest hit the shelves. In 2012 he turned his attention inward, releasing The Guy Under the Sheets: The Unauthorized Autobiography.
​​Comedy runs in the family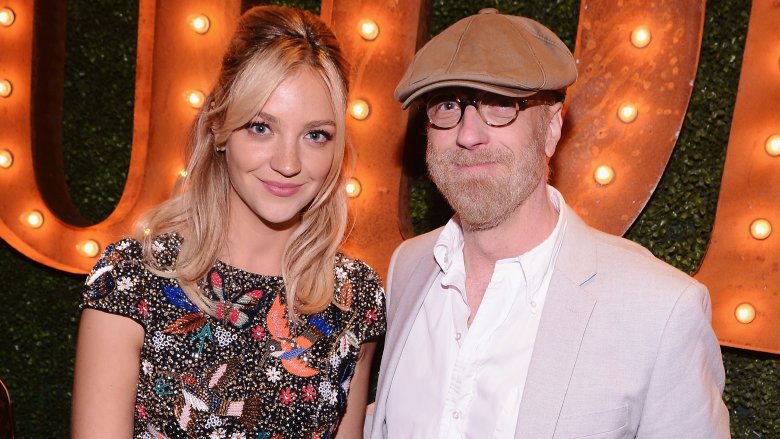 Getty Images
In 2012, Chris Elliott was a guest on Marc Maron's WTF podcast, and while the conversation explored the actor's varied career, one of the most compelling aspects of the episode focused on Elliott's family. His father, Bob Elliott, was a popular comedian and radio personality most notable for his legendary work with comedy partner Ray Goulding; Letterman's love for Bob's work helped Chris get his career-changing opportunity at Late Night. Elliott ended up paying it forward, hiring his real dad to play his fake TV father on Get a Life.
Now it seems the roles have changed for Elliott, who's passing the entertainment torch to his two daughters Abby and Bridey.  Like her father before her, Abby appeared as a cast member on Saturday Night Live—from 2008 to 2012—making her the first ever second-generation performer on the long-running sketch series. Further following in her dad's footsteps, she voiced a few ancillary characters on King of the Hill and had a recurring role as Ted's (Josh Radnor) ex-girlfriend Jeanette Peterson on How I Met Your Mother. Bridey Elliott, on the other hand, has worked a lot in the world of stand-up comedy. Honing her craft on stage has probably helped her on-camera work, which includes parts in the TBS comedy series Search Party, HBO's Silicon Valley, and the Emma Stone/Steve Carell movie Battle of the Sexes.
A guest star's work is never done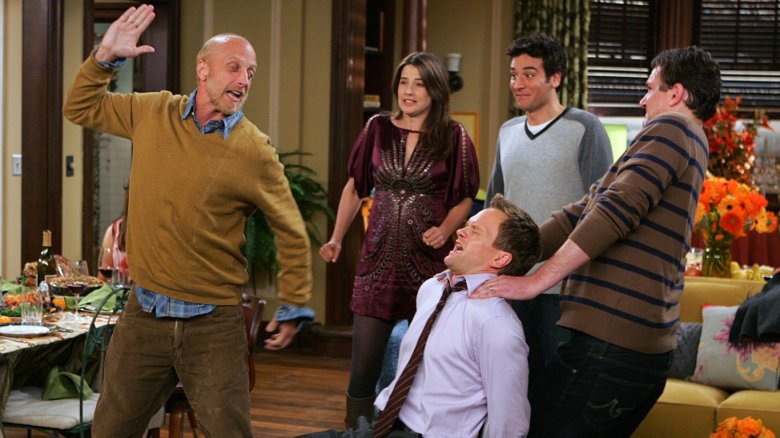 After gaining popularity for the weird characters he played in There's Something About Mary and Scary Movie 2, Elliott seemed to turn his attention back to television, doing guest-starring stints on a number of popular sitcoms and dramas. 
He played Reverend Pierson in a three-episode story arc on the Jim Belushi sitcom According to Jim and appeared in ten episodes of Everybody Loves Raymond as Amy's (Monica Horan) comic book-loving older brother Peter MacDougall. He also found some new small-screen traction with his portrayal of Lily's father, Mickey Aldrin, throughout multiple seasons of How I Met Your Mother. With smaller roles on Law & Order: SVU, Fresh Off the Boat, Friends from College, Difficult People, and The Good Wife, Elliott has worked regularly, remaining relevant through multiple genres and mediums.
A failed family sitcom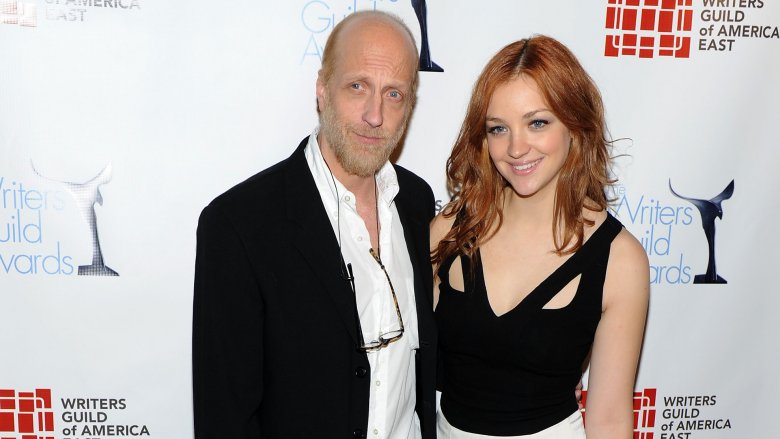 Getty Images
In 2006, Elliott had plans to bring his family to television with the sitcom You've Reached the Elliotts. Co-created with screenwriter Rob DesHotel (That 70's Show, Buffy the Vampire Slayer), the CBS series was to follow Elliott, a husband and father of two struggling with the balance of raising a family in Connecticut as he pursued a B-list acting career in Hollywood. 
Splitsider best described the concept as Get a Life crossed with Everybody Loves Raymond. The series would've taken a meta look at Elliott's real life—he really lives in Connecticut with his wife Paula—through a cringe-inducing comedic lens. While this sounds like a winning formula, with meta-comedy hits like Curb Your Enthusiasm and Louie changing the small-screen landscape, the project was ultimately passed on by the network.
A brief return to Late Night
Chris Elliott returned to Late Night with David Letterman during the 2007/2008 season. With over two decades since his Emmy-winning work on the CBS variety series, Elliott's reunion with Letterman helped add some welcome energy to a rather odd year for TV entertainment. Competition was coming at Letterman from all sides: Jon Stewart and Stephen Colbert had surged in popularity at Comedy Central, heavy hitters Conan O'Brien and Jay Leno provided heated nightly competition, and newcomer Jimmy Kimmel was steadily coming into his own, crowding the late-night landscape.  
With the looming stress of the pending 2007/2008 SAG Writers Strike and a polarizing presidential campaign taking root, Elliott's return to Letterman came at the right time. Bringing his comedic element to the show felt familiar, yet delightfully new. The comedian appeared in multiple sketches throughout the year as recurring characters Mac Computer, President John Adams, and of course, Skink the Bounty Hunter.  
His unique brand of comedy finds its place
When Adult Swim's Eagleheart came calling, things came a bit full circle for Chris Elliott. The show's creator, Jim Woliner (Human Giant), was a big fan of Elliott's work in both Get a Life and Cabin Boy; as Woliner told Paper, the script for the series wasn't written with Elliott in mind, but after meeting with people like Tom Sizemore and Rowdy Roddy Piper, things were reworked a bit, and Elliott joined the cast.
What started as a parody of Walker Texas Ranger—Elliott used Chuck Norris's Cordell Walker as inspiration for his character, U.S. Marshal Chris Monsanto—evolved into a deeply layered series built on pop culture references and bizarre story twists. The series ran for just three seasons, but the growing popularity of Adult Swim's underground lineup introduced Chris Elliott's alt-comedy stylings to a whole new audience, giving his career a new boost.
A Canadian comedy sabbatical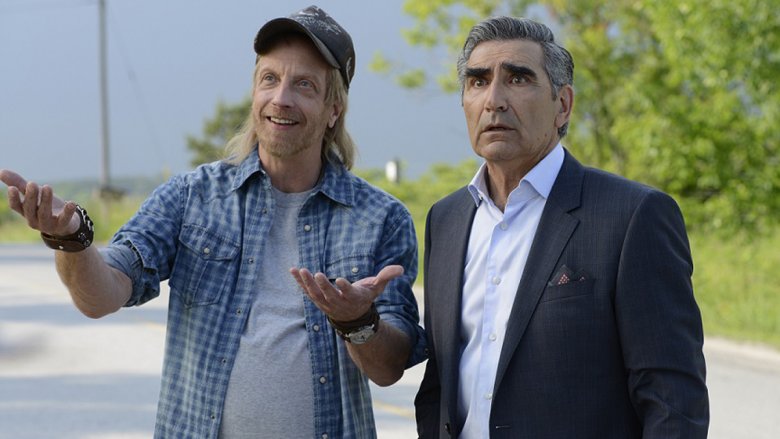 Don't be surprised if you've never heard of the sitcom Schitt's Creek: the series from father and son team Dan and Eugene Levy (American Pie, Best in Show) is a Canadian project, housed at the Pop Network. Since hitting Netflix, it's found a new audience, and with the show's recent season four renewal, it's clear it's hitting its stride.
The series follows the Rose family as their wealthy existence is suddenly uprooted, causing them to relocate to a small town named Schitt's Creek. The Christopher Guest-style comedy reunites Catherine O'Hara (Beetlejuice, Home Alone) with Levy as the formerly wealthy magnates in question. The hilarity is capped off by Chris Elliott's performance as Roland Schitt, the white trash, mullet-wearing, beer-guzzling mayor of the Roses' new home. 
Going mobile with Amy Sedaris
In 2016, Chris Elliott starred alongside Amy Sedaris in the comedy series Thanksgiving, which aired exclusively on Verizon's OTT service Go90. The series was co-created Daniel Powell—the creator of Comedy Central's Inside Amy Schumer—and followed a dysfunctional family getting together during the holiday season.
Elliott and Sedaris played Don and Cathy Morgan, the oddball leaders of the Morgan Family. Chris's daughter, Bridey, co-starred in all eight-episodes of the web series, which premiered to rave reviews during the 2016 holiday season.
A castaway in the comedy apocalypse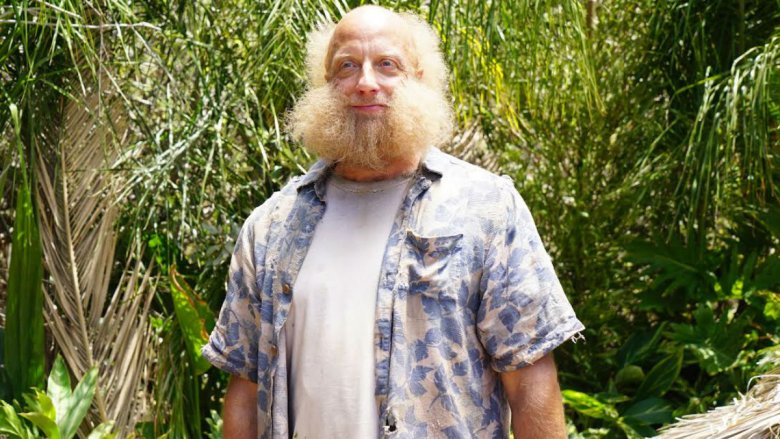 On Oct. 8, 2017, Chris Elliott made his guest-starring debut on Fox's apocalypse-themed comedy The Last Man on Earth. When the gang gets stranded on a deserted island in the episode "Stocko Syndrome," they happen upon a castaway by the name of Glenn (Elliott).
This multiple-episode arc will showcase a different side to the actor—one many audiences may not be familiar with. Since Will Forte's Tandy is the outlandish one in the group, Elliott's Glenn will offer a subdued wisdom drawing more on drama than comedy. His role should fit perfectly in a show that has, in and of itself, often been considered a cult television hit amid the broader entertainment landscape.