5 Movies Like Legally Blonde That You'll Love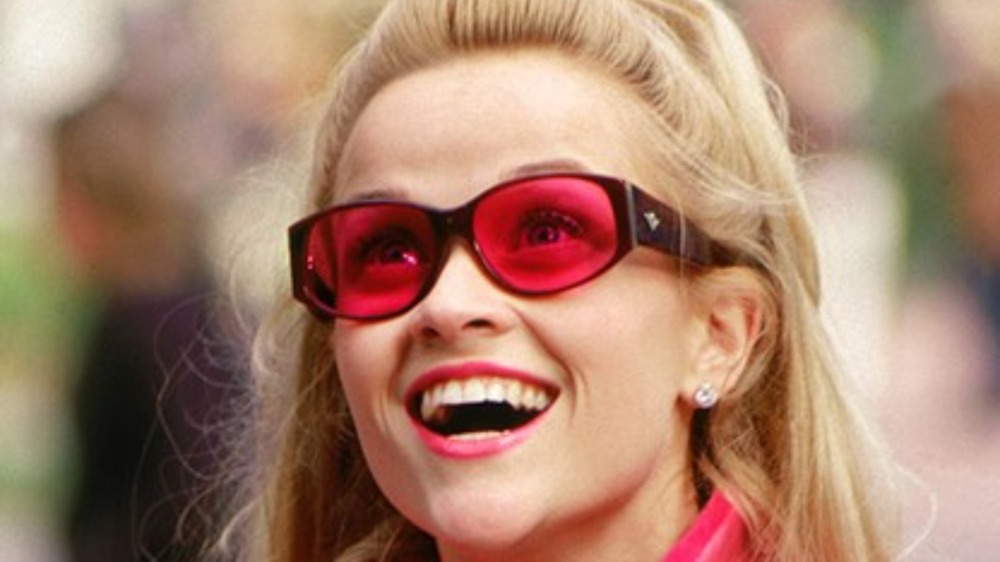 MGM
Elle Woods has been inspiring viewers to embrace the truest versions of themselves since 2001, but by now, you likely know all of Legally Blonde's iconic lines by heart. And believe it or not, Hollywood has released more than a few movies like Legally Blonde since then (and before) that even Elle would give her stamp of approval to — and no, we're not just talking about the sequel. At its core, the Reese Witherspoon classic is a story about a woman defying society's preconceived ideas about who and what she should be without caving to the pressure to change her personality.
The legendary Elle Woods loves pink, romance, and putting positive energy out into the world. But she's also a bright Harvard graduate with killer instincts in the courtroom. Basically, she eats stereotypes for breakfast — and there are quite a few other leading ladies out there who have followed in her footsteps. From a shy CIA analyst whose coworkers deem her unsuitable for field work to a female comedy writer shaking up the late night game, the five movies on this list all feature women defying expectations and making Elle proud in the process.
Melissa McCarthy goes from desk jockey to CIA superstar in Spy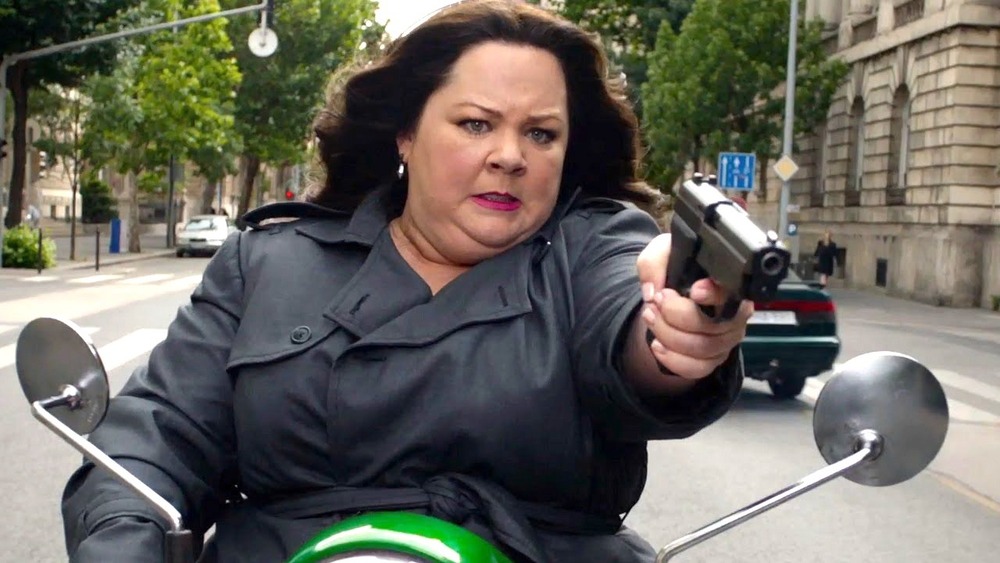 20th Century Studios
Every other McCarthy comedy lives in the shadow of 2015's Spy for a reason: No other comedic project has so perfectly capitalized on the actress' ability to drop killer one-liners, pull off masterful physical comedy, and create a character who feels like a fully fleshed out person. In Spy, she plays Susan Cooper, who is trapped at a desk even though she's the mastermind behind agent Bradley Fine's (Jude Law) many successes in the field. It's not until Bradley is taken out of commission that Susan is given a chance to show the full range of her abilities and take down an international arms dealer in the process.
Much like Elle, Susan is unfairly judged based on her outward appearance and personality. She doesn't look like a traditional spy, and her coworkers rarely let her forget it. However, when she's given a chance to do the job she's been trained to do, she knocks it out of the park, proving the naysayers wrong and emboldening herself to stand up against anyone who tries to hold her back based on their own snap judgments about how capable she is.
Sandra Bullock learns the importance of female friendship in Miss Congeniality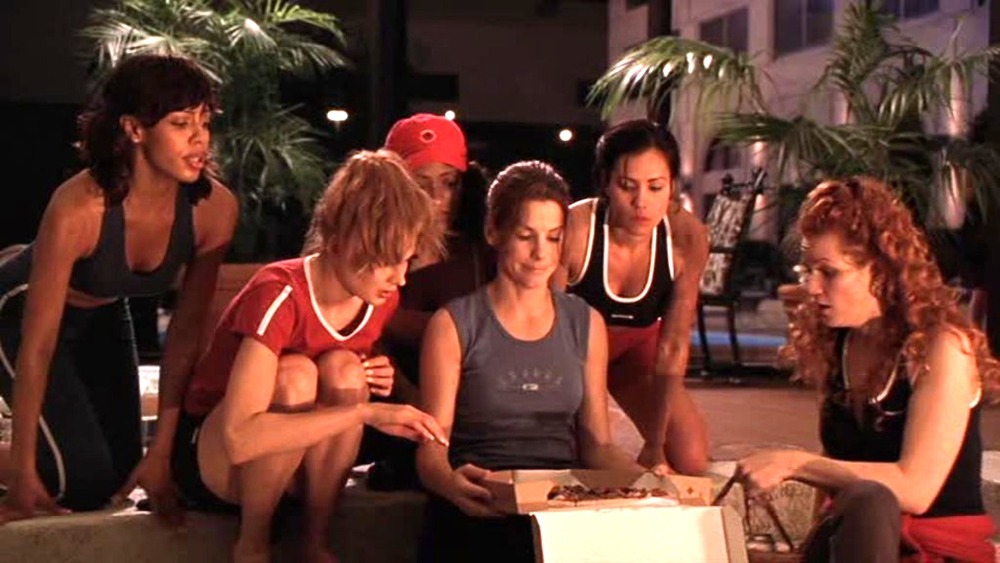 Warner Bros. Pictures
Bullock's Gracie Hart is more Vivian (Selma Blair) than she is Elle, but Miss Congeniality is still similar in tone to Legally Blonde. FBI agent Gracie has built her career around being one of the guys. The way she sees it, the only way to be taken seriously in a male-dominated field is to eschew femininity at all costs.
It's not until she's forced to go undercover in the Miss United States pageant that Gracie begins to embrace the importance of having other women in her life. The movie, which actually beat Legally Blonde to theaters by a year, doesn't focus on Gracie's transformation into a beauty queen (although her coworkers delight in teasing her when they see her in a dress), so much as it delves into her realizing how distancing herself from other women has actually left a hole in her life. Much like Legally Blonde, Miss Congeniality works both as a celebration of women embracing their diverse personalities, and an ode to bolstering other women instead of tearing them down.
A female host learns the importance of having other women on her team in Late Night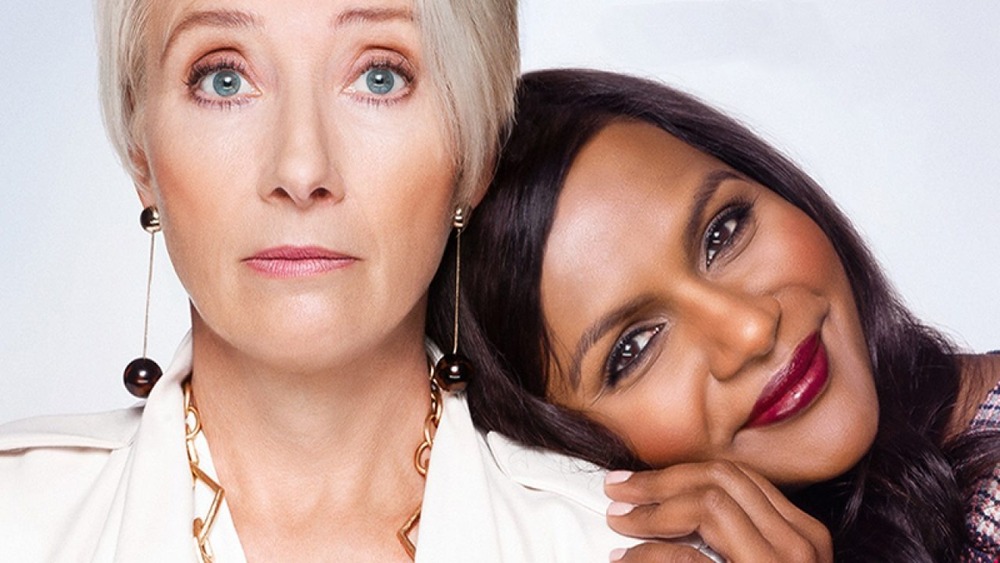 Amazon Studios
The little-seen Late Night starring Emma Thompson and Mindy Kaling is a true hidden gem. Thompson stars as Katherine Newbury, a trailblazing female late night host whose popularity is waning. Enter Kaling's Molly Patel, the first female writer on the show's writing staff, who faces discrimination from her coworkers both for being a woman and an Indian American. As the behind-the-scenes bro club attempts to dismiss her talents, Molly quickly emerges as Katherine's saving grace. 
Much like Gracie in Miss Congeniality, Katherine has built her career around the idea that she needs to be one of the guys in order to succeed, but Molly is definitely someone who lives by the principles Elle set forth in Legally Blonde. She has zero time for people who try to dismiss her talents, and she recognizes that if the show is going to continue, then it's time for Katherine to reevaluate her tired schtick and enter the 21st century
13 Going on 30 is every bit as sweet and charming as Legally Blonde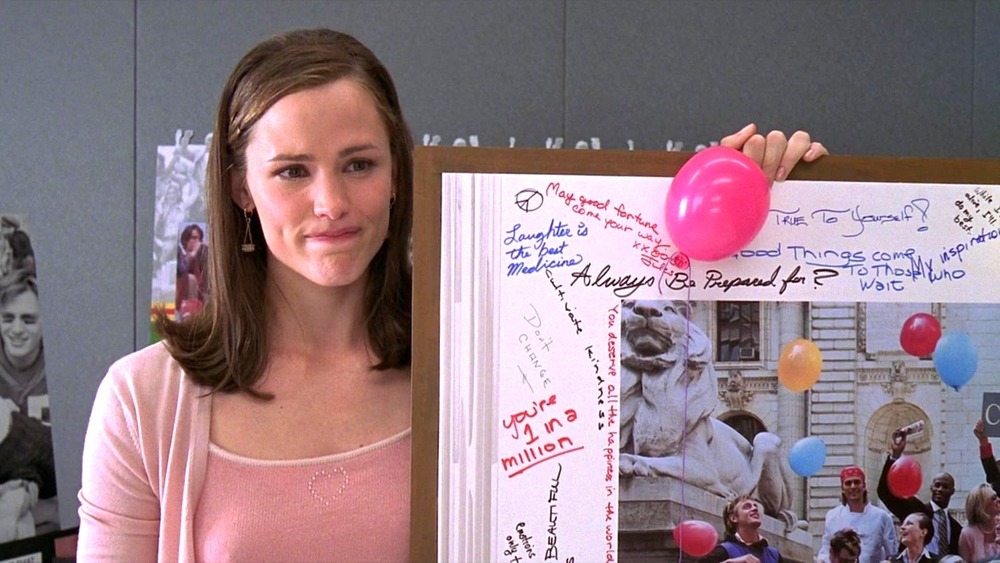 Sony Pictures
If you're looking for a movie with the same sweet energy as Legally Blonde, then you need to cue up 13 Going on 30 immediately. The Jennifer Garner movie is an adorable rom-com about a 13-year-old who gets a glimpse of her future, and doesn't like what she sees. After a disastrous birthday party, Jenna Rink wakes up to discover she's magically been transported 17 years in the future. 
At first, her life as a 30-year-old seems great: She has a stunning New York City apartment and her dream job at Poise magazine. But soon Jenna discovers she's lost her true self along the way, and worse yet, she's become something of a mean girl in the process. Once she realizes how much she stands to lose if she continues on her current path, she stops trying to be "cool" in favor of embracing her true self — no matter what her so-called friends think of her.
How to Build a Girl is all about a young woman finding her footing in the world of journalism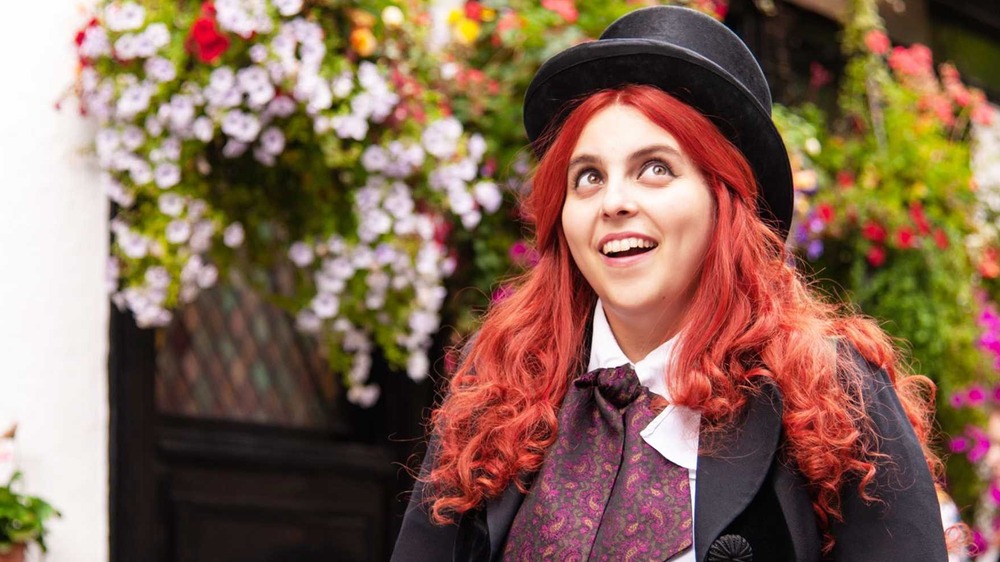 IFC Films
Think of How to Build a Girl as Legally Blonde's edgier little sister. Even though it's a little more serious than the other movies on this list, it still has all of the heart and pluck of Legally Blonde. The movie centers on 16-year-old Johanna Morrigan (Beanie Feldstein) as she makes her dreams of becoming a writer for a music magazine a reality. Unlike Elle, Johanna isn't fully self-assured yet, and as a result, she tries on a number of different personas in hopes of breaking into the boys club at the magazine.
But her experimentation is all part of her coming of age story, which ultimately sees her embracing the things that make her different, including being a young woman from a low income family. Johanna is essentially a British, punk rock teen version of Elle with the same love for romantic ideals and passion for leaving her mark on the world. Ultimately, she's a little bit rougher around the edges, but that's all part of her — and the movie's — charm.
Legally Blonde is a one of a kind classic, but that doesn't mean there aren't plenty of movies out there with the same empowering energy just waiting for you to pick one of them for your next movie night.