Wyatt Russell On What It's Really Like Working With His Falcon And Winter Soldier Co-Stars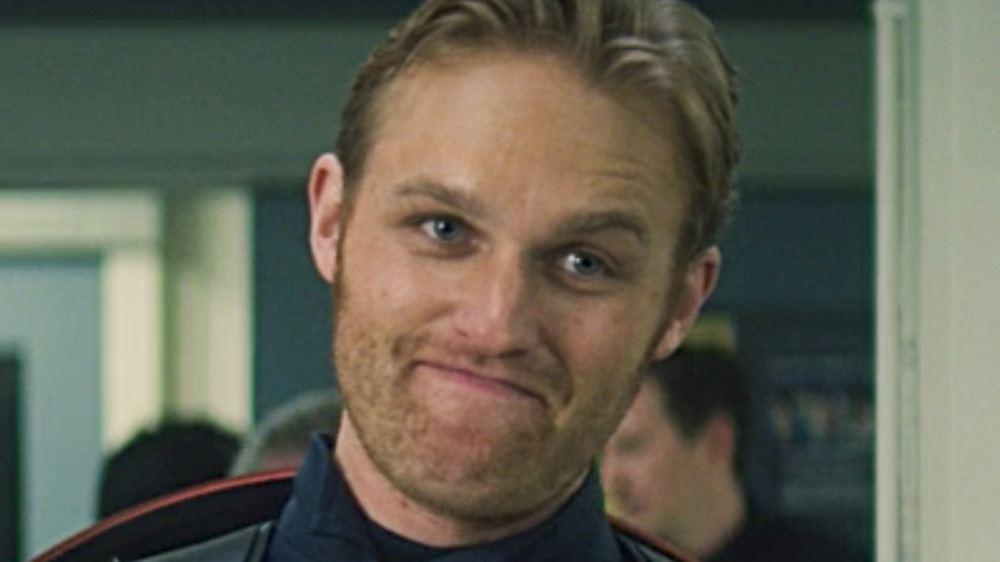 Marvel Studios/Disney+
The Marvel Cinematic Universe is soon to be flush with fresh faces and new supers via an astonishing slate of upcoming film and streaming projects. WandaVision already set Monica Rambeau (Teyonah Parris) on the path to becoming one of her mighty personas, and The Falcon and the Winter Soldier has added another new character to the mix: Wyatt Russell's John Walker, otherwise known as the new Captain America.
Russell — who actually auditioned to play Captain America more than a decade ago — is relishing his chance to wield the first Avenger's iconic shield, even if he's doing it in streaming land and not in theaters. Unfortunately, Russell's MCU character has already rubbed Steve Rogers' co-besties and tentative frenemies Sam Wilson (Anthony Mackie) and Bucky Barnes (Sebastian Stan) the wrong way.
Given the Falcon's and the Winter Soldier's deep-rooted ties to the original Cap, that's hardly unexpected. The immediate tension bustling between the three should make it fascinating to see how (or even if) they can all find a way to work together moving forward. Luckily, it seems those same tensions weren't a problem behind the scenes of the Disney+ show. 
Wyatt Russell really enjoyed working with The Falcon and the Winter Soldier team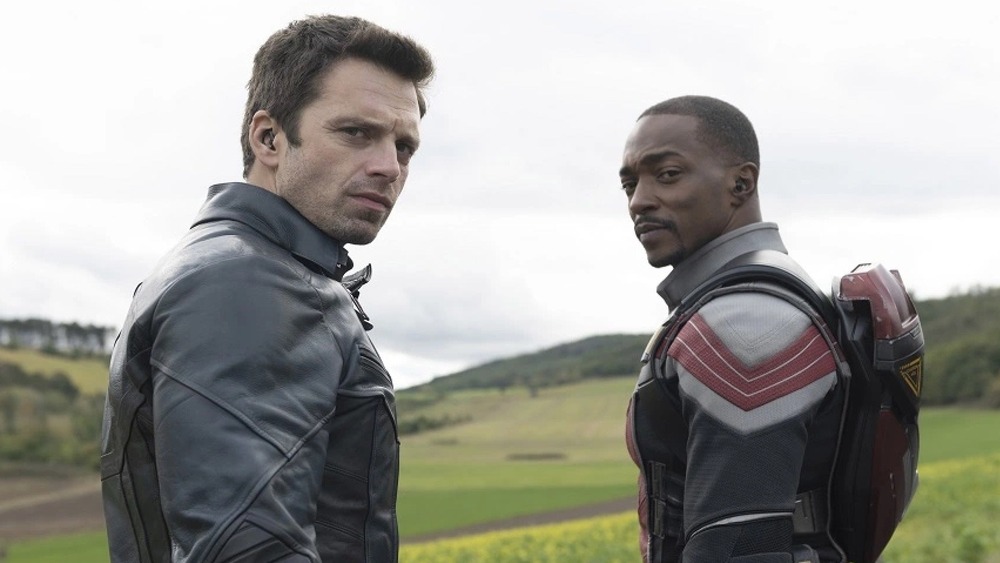 Marvel Studios/Disney+
During a recent appearance on SiriusXM's The Jess Cagle Show, Russell shared that he couldn't have had a better time working with his MCU co-stars, despite feeling a bit overwhelmed in the early days.
"The first time I met Anthony was at D23 [...] and you come out on stage and wave, and I was totally lost, no idea what I'm doing, [being] ushered around. They're much more seasoned at being in the MCU, so they know what to say, what not to say. [...] And I'm there [thinking], 'I've got no idea what the hell I'm doing," Russell said. "So I was just observing their relationship, and Anthony just kept telling Sebastian to take his shirt off in this interview. And I was [thinking], 'Oh my God, what have I gotten myself into?' [...] As soon as he gets to know me, I'm toast!'"
Once he got to know his co-stars, a fruitful working dynamic soon developed, and Russell has nothing but nice things to say about Mackie and Stan.
"You get to know Anthony very well, very quickly. He's got one of the greatest senses of humor. He's super funny. He is such a great guy, and he's very personable and all the things that you think he is, he is," Russell said with a smile. "Sebastian is great to talk to. We had some great conversations, actually. [...] He's a wonderful person, wonderful actor."
Overall, Russell is grateful that he's now a member of the MCU, and is thrilled he got to become one in a series starring Mackie and Stan. "It's just easy. I felt very lucky when I joined the universe [...] that I was able to come in with those guys because they were so easy to be around. They're welcoming, just easy people. It's hard to explain better than that," he said. "Same with Daniel Brühl [who plays Helmut Zemo], just wonderful people. They're just easy to be around, fun to be around. You enjoy going to work every day because you're going to see them, and that's exciting. That's fun. It makes working fun. It's not a laborious, horrible process. [...] The dynamic is honestly great. I really thought it was great. I loved it."
Fans can look forward to seeing more of Sam, Bucky, and John Walker antics when new episodes of The Falcon and the Winter Soldier hit Disney+ on Fridays at 12 AM PT / 3 AM ET.