The Home Improvement Character You Didn't Know Actually Existed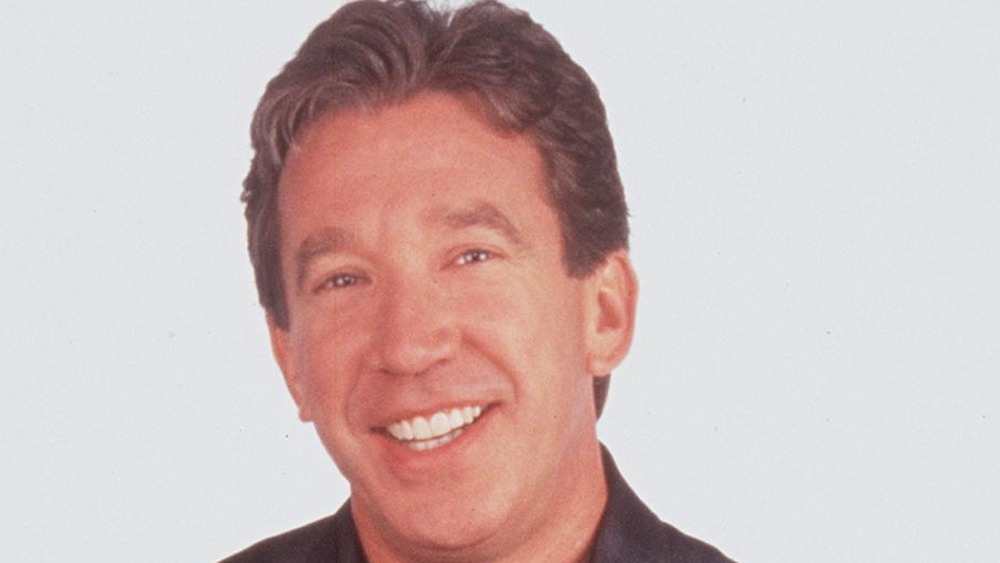 Getty Images/Getty Images
Home Improvement was known for its many characters, but some of them were unseen by viewers. The Tim Allen sitcom, which aired for eight seasons on ABC from 1991 to 1999, balanced out the eye candy –- aka future Baywatch bombshell Pamela Anderson, who played early Tool Time girl Lisa –- with a guy whose face was always hidden by a fence. (That'd be next-door neighbor Wilson, played by the late Earl Hindman.) But another unseen character was actually a real person.
Fans may recall that during his Tool Time show tapings, Allen's character, Tim Taylor, regularly directed an off-camera person named "Klaus" to queue up the music during the segments of his television handyman show. Because the mystery character was never shown onscreen, it was assumed that Klaus was fictional. But as it turns out, Klaus was actually the name of Home Improvement's real-life sound engineer, Klaus Landsberg, according to ScreenRant.
It was more of an inside joke. Since Home Improvement viewers were clueless, the show-within-a-show stopped short of actually breaking the fourth wall. But Klaus was on the set and taking direction from Allen —just way behind the scenes. The mention of "Klaus" was an extension of Allen's penchant for meshing his real life with his stand-up schtick, and it became an ongoing gag on the set of the long-running sitcom.
Landsberg has a ton of TV credits and even worked on Allen's follow-up TV show
Matt Winkelmeyer/Getty Images
Landsberg started out his TV career way back in the early 1980s on an episode of The Facts of Life. He built his career behind the scenes on popular shows such as Silver Spoons, Growing Pains, Night Court, and more. 
He was also extensively involved in TV specials, working as a sound mixer on everything from the Victoria's Secret Fashion Show to MTV's Video Music Awards. In addition to scoring multiple Primetime Emmy nominations for his work on Home Improvement, over his decades-long career Landsberg was nominated for multiple Emmy Awards for his work as a sound engineer on Grammy Awards productions. In 2008, he won a shared Primetime Emmy for Outstanding Sound Mixing for a Variety, Music Series, or a Special, according to the official Emmys website.
Landsberg didn't permanently part ways with Allen when Home Improvement wrapped in 1999. He went on to work on Allen's follow-up sitcom, Last Man Standing. More than 10 years after working as the music man on Home Improvement, the seasoned engineer was listed as a production sound mixer for Last Man Standing's pilot episode, which aired in 2011, per his IMDb page.