The Rick And Morty Season 5 Trailer Has Finally Arrived
We no longer have a reason to be shouting "wubba lubba dub dub!" — which, if you don't remember, translates to "I am in great pain. Please help me." That's because we finally have the official trailer for Rick and Morty season 5, as well as a premiere date that's a lot sooner than fans were probably anticipating. 
It's become a bit of a running joke in the Rick and Morty fandom that it takes forever for new episodes to come out. In the past, well over a year has gone by between seasons, so when season 4 ended in May 2020, there was good reason for fans to worry it might be a long time before they'd see their favorite alcoholic genius and his timid grandson return to their television sets. Thanks to the newly released trailer for Rick and Morty season 5, we now know more adventures throughout infinite realities will resume on Sunday, June 20. 
Adult Swim dropped the trailer on March 30, pairing with it the tongue-and-cheek message, "Now you can start asking us about season 6." After the series' massive 70-episode renewal that came in May 2018, ahead of season 4, there's plenty more Rick and Morty to look forward to in the future. It's just a shame Rick (voiced by the show's co-creator Justin Roiland) has no interest in time travel so that we can fast-forward to see what season 10 of the animated sci-fi sitcom is like. But we're not complaining: The upcoming season looks like it's keeping with the grand tradition of irreverent humor combined with copious amounts of pop culture references.
More wacky sci-fi hijinks are coming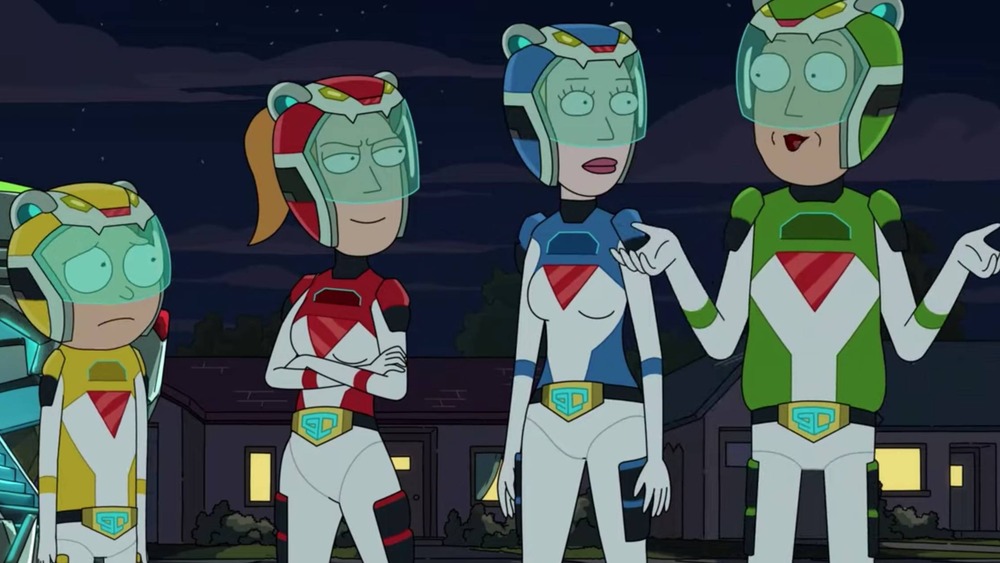 Adult Swim
In the season 4 episode "Never Ricking Morty," the titular duo find themselves aboard a Story Train, which is basically used as an excuse for them to talk about how much they're not really interested in hardcore serialization. While some fans may want the show to focus on high-concept intergalactic battles, it's clear that Rick and Morty is going to focus on silly adventures while only occasionally picking up the threads of loose story arcs. Judging from this new trailer, Rick and Morty co-creators Justin Roiland and Dan Harmon are sending the Smith family through various hilarious trials and tribulations in season 5.
One of the most intriguing plots teased in the season 5 trailer picks up from what fans previously saw in an unfinished animatic that premiered during a July 2020 stream with Harmon. In the clip, Rick has to confront his long-time nemesis Mister Nimbus, who's basically a Namor-esque character who rules over the sea. It looks like after Rick inadvertently shows up in Nimbus' domain, he goes to the surface to take the fight to Rick's house.
Humanoid dogs, Voltron-like suits, and glimpses into realities in which Rick and Morty (also voiced by Roiland) are versions of Marvel's Blade are just some of the other concepts fans can expect from season 5. Of course, we likely can't see the full picture just quite yet. Will "Interdimensional Cable" come back into the fold, or will the show pursue a different type of anthology format? Will Evil Morty return to cause Rick C-137 more trouble? And most importantly, will we ever see Rick just decide to make his favorite Szechuan sauce at home? June 20 can't come soon enough.