First-Look Rick And Morty Season 5 Clip Reveals Something Huge
That 100-years-of-Rick-and-Morty dream won't be without a nightmare. 
Never one to stick to the status quo or do what others do, Rick and Morty co-creator Dan Harmon recently hosted a non-Comic-Con@Home stream on Twitch while other shows and movies presented panels for the annual pop culture convention. During this Twitch-streamed presentation on Friday, July 24, 2020, Harmon — joined by Rick and Morty voice actors Sarah Chalke (Beth Smith), Spencer Grammer (Summer Smith), and Chris Parnell (Jerry Smith) — unveiled the first-ever sneak peek at Rick and Morty season 5. 
Though the footage is only roughly animated, indicating it's essentially a draft version of the scene, it reveals something Rick and Morty fans never knew: Rick Sanchez (voiced by Rick and Morty co-creator Justin Roiland) has a nemesis named Mister Nimbus, an ocean-dwelling sort-of-human self-described as Rick's "once and eternal foe."
The Rick and Morty season 5 first-look clip begins with Morty Smith (Roiland) carrying a badly wounded Rick to safety as a tentacled creature causes chaos all around them. When the grandfather-grandson duo reach Rick's ship, Rick laments the fact that he's "wasted" his years on Earth (and across other dimensions) without doing anything significant or leaving behind a meaningful legacy. Morty promises aloud that he'll get them out of the terrible situation in which they're stuck, but quickly accepts that he and Rick may die once the ship's systems start failing. As they hurtle through space toward Earth, flames flittering off the ship, Morty calls his longtime crush Jessica (Kari Wahlgren) to tell her his true feelings. Jessica surprisingly agrees to a date with Morty, kindly asking him to watch a movie with her that very night.
This pushes Morty to forgo the idea of death, yanking the steering wheel upward to prevent a fatal crash and landing the ship in the ocean. Rick immediately starts freaking out when he regains consciousness and realizes where they are, telling Morty that they have to leave as quickly as possible. "We have to go right f***ing now! You touched the ocean, Morty! Oh, f***!" he says in a panic.
It's then that a massive clamshell emerges from the ocean, opening up to reveal a half-man, half-fish entity who addresses Rick as "Richard." He declares, "You have desecrated the sacred treaty betwixt land and sea. Now, face the wrath of your once and eternal foe, Mister Nimbus!"
Morty is completely confused, asking who the heck this guy even is and why he has such a goofy name. Rick and Morty season 5 should reveal the answers to these questions, but fans shouldn't be surprised if the flamboyant Mister Nimbus causes trouble for Rick on more than just a single episode.

More good news for Rick and Morty season 5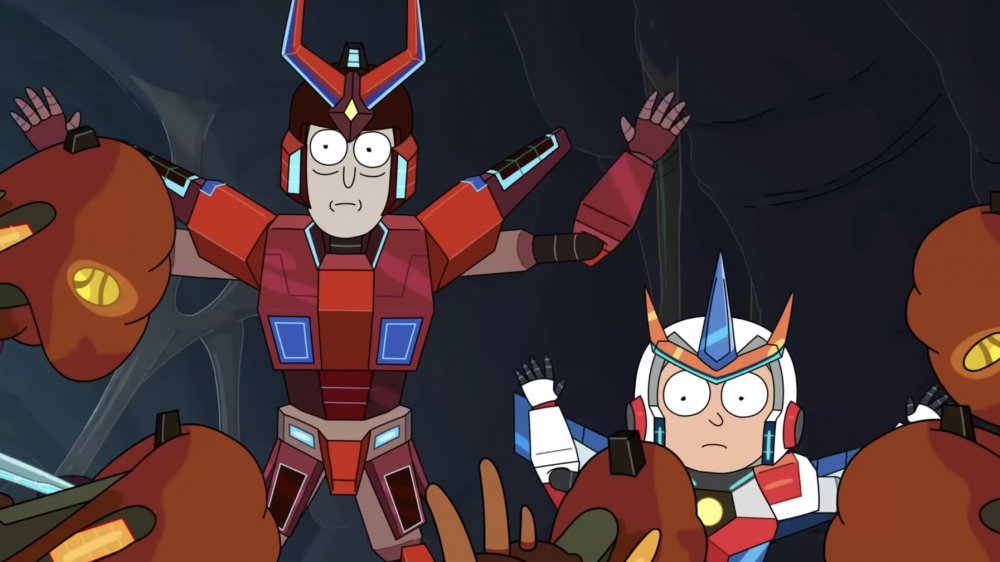 Adult Swim
To accompany this first-look clip, Harmon also provided an update on Rick and Morty season 5. He shared that every single episode of the upcoming season has been written, and that the series' creative team has now moved on to writing Rick and Morty season 6. 
This is pretty incredible news considering how long the renewal for season 4, which premiered over two years after season 3 aired its final episode, took and how intensive the writing and animating process was. Of course, locking in scripts is just the first step of creating a new season of a show. Animation is another, and there's no telling how long that will take to complete and refine. Still, it's a great sign that the minds behind Rick and Morty are working at such a quick pace; it suggests that they have great ideas that they're pleased with, and lends credence to the notion that the series will return for season 5 in the relatively near future. 
Off that, back in June 2018, Rick and Morty co-creator Roiland promised fans that there would be no more lengthy gaps between new seasons of the show — which is locked in to run for close to 100 episodes total, per the enormous 70-episode renewal Adult Swim handed the series in May 2018.
"We want the episodes to stay good, but we do also want to try to turn them around a little quicker now that we have this big order. I think it gives us the ability to be faster," Roiland told Polygon. "We're not going to do these long breaks, these chasms, in between seasons anymore. We're going to schedule vacation time and just keep the machine going. It's going to be really cool."
Chances seem good that Rick and Morty may return for another 10 episodes of interstellar, dimension-hopping antics — and a smattering of Mister Nimbus-involved nemesis-on-nemesis battles — sometime in 2021.