Why Alita From Alita: Battle Angel Looks So Familiar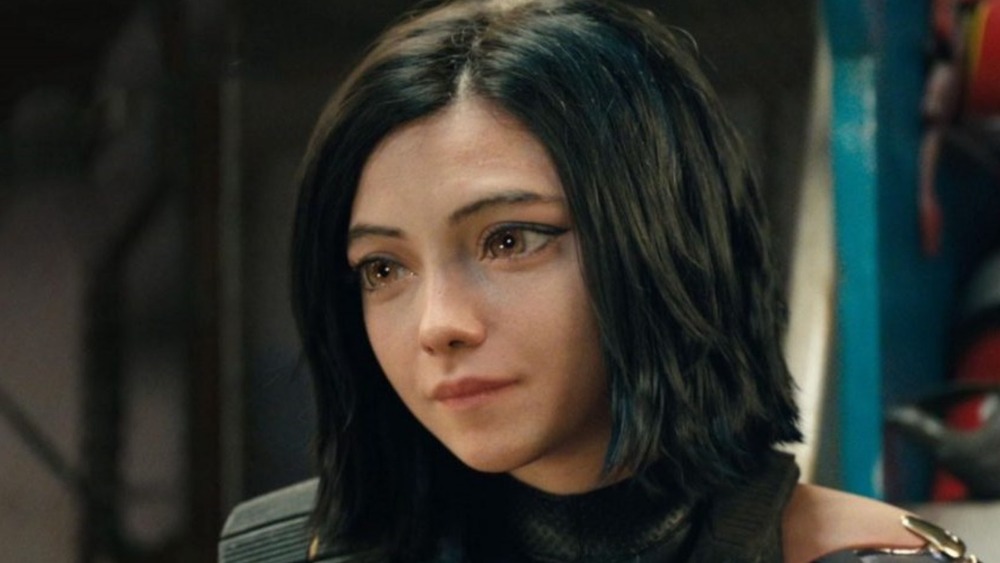 20th Century Fox
In the two years since its release, Alita: Battle Angel has had one of the unlikeliest redemption arcs of the blockbuster era of Hollywood. A sizable flop in the United States and Canada, garnering mixed reviews and grossing $86 million against a $170 million budget, it was saved from incurring major financial losses for Fox by its success in Asian markets, especially China, where it beat out such American juggernauts as The Lion King and Frozen II for a total intake of US $133 million.
Then, as other, more profitable Hollywood tentpoles faded from our collective memory, the Alita Army rose. Priding themselves on their positivity, sense of unity, and undying love for Robert Rodriguez's sci-fi cyberpunk extravaganza, the Alita fanbase already flaunts such achievements as funding billboards demanding a sequel, convincing Cinemark to set up a theatrical re-release, and being warmly acknowledged by the filmmakers themselves.
Although the franchise's future is uncertain in the wake of 20th Century Fox's acquisition by Disney, many new viewers continue to be drawn to Alita: Battle Angel by its sheer cultural presence. If you're one of those viewers, the unique look and screen presence of the CGI/live-action hybrid title character might have made you wonder, "Who is she and where do I know her from?"
In addition to her brilliant motion-capture performance as Alita, this Peruvian-Canadian actress has worked consistently in film and television over the past decade. Let's take a look at some of her most memorable appearances.
Rosa Salazar could be seen on old CollegeHumor sketches (2010-2012)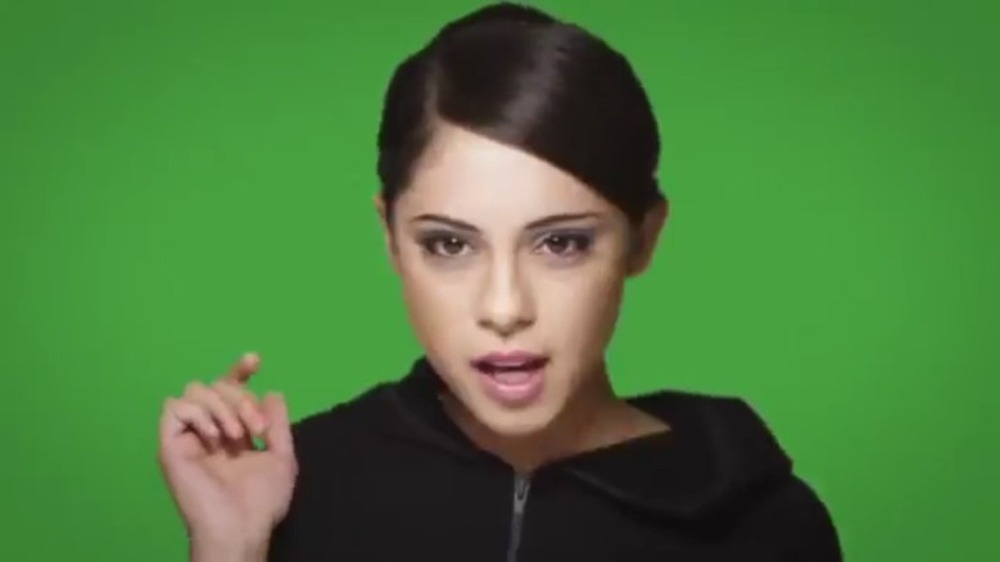 CollegeHumor
Before focusing on dramatic acting, Rosa Salazar actually began her career as a comedian (via The Hollywood Reporter), doing stand-up and acting on short sketches. Much like fellow blockbuster breakout Kelly Marie Tran, she made frequent appearances on CollegeHumor, a juggernaut of the early years of YouTube before the phrase "viral video" entered the mainstream vocabulary. 
Among the sketches you may remember Salazar for are "Secret Girl Language," an absurdist send-up of "boys vs. girls" humor in which she stars opposite Ashley Benson and Milana Vayntrub. This video features the trio as a group of girls who communicate with each other through bizarre grunts and shrieks, and "Stoner Countdown," a pretty self-explanatory parody of Beyoncé's "Countdown" music video where Salazar gets the spotlight all to herself. Salazar racked up an impressive resume long before the theatrical release of Alita was pitched to Hollywood.
Rosa Salazar was a house ghost on American Horror Story: Murder House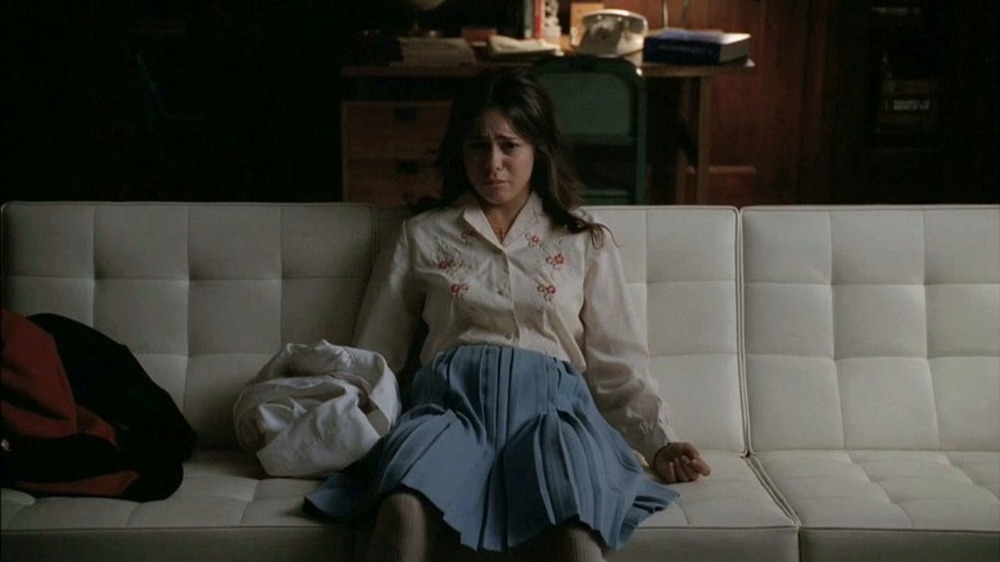 FX
Rosa Salazar was a key figure in the second episode in the history of the American Horror Story franchise, Murder House's "Home Invasion." As Maria, the devout Christian nursing student who makes the mistake of letting in serial killer R. Franklin (Jamie Harris) in 1968, she becomes the victim of one of the gruesome murders Franklin's copycats later attempt to re-enact.
In addition to hanging around the Murder House with the rest of the trapped ghosts during the show's present timeline, Maria gets to have some retribution when she joins forces with fellow victim and ghost Gladys (Celia Finkelstein) to kill two R. Franklin copycat intruders. Later in the season, she also fulfills her nurse duties by assisting the birth of Vivien (Connie Britton)'s twins. Although she was not yet a household name, forming part of the ensemble that became the huge success of American Horror Story ensured further opportunities for Salazar.
Rosa Salazar was at the center of a Parenthood arc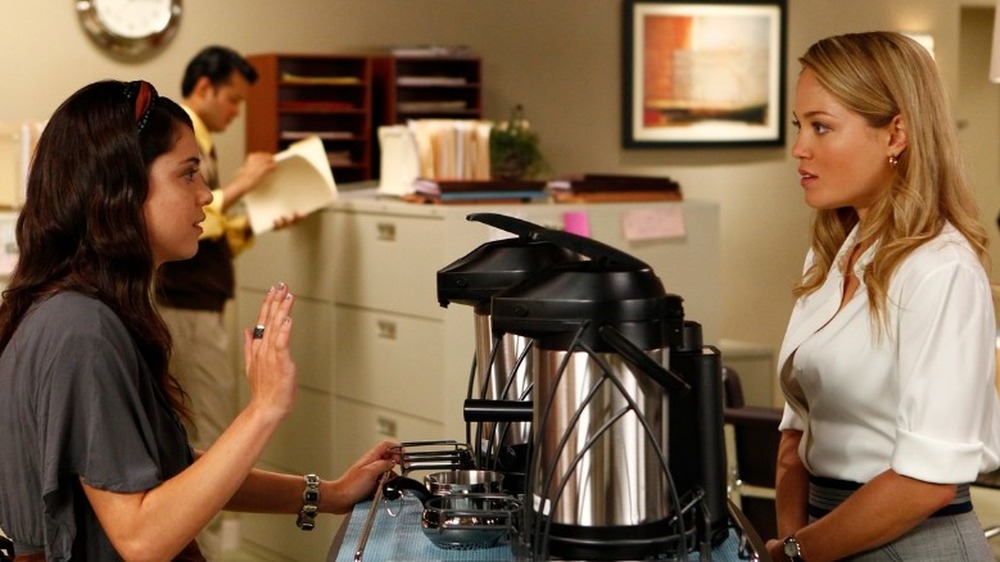 NBC
Fans of the NBC family drama Parenthood got an early taste of Rosa Salazar's remarkable talent when she appeared in the show's third season as Zoe, the pregnant girl whose child Julia (Erika Christensen) and Joel (Sam Jaeger) plan to adopt. Introduced as the coffee girl at Julia's law firm, she gets suckered right into the middle of Julia and Joel's trying-to-have-a-child drama, changes her mind about giving up her child multiple times throughout the season, deals with all sorts of outside pressure to "get her life together," and ultimately forms an unlikely, ironclad bond with Julia.
Zoe's arc was a major moment for Parenthood, both because it finally gave Julia a storyline up to the standard of the rest of the Bravermans, and because it proved to be yet another instance of the show's knack for showcasing young, as-yet-unsang talent, following Michael B. Jordan's breakthrough a season earlier. At the time, A.V. Club critic Emily VanDerWerff remarked, "I can't wait for someone to realize that Rosa Salazar is just phenomenal and put her in the lead on some cool new drama." Though Alita: Battle Angel may not be exactly what that critic had in mind, it's still great to see how far Salazar has come since then.
Rosa Salazar played a fan-favorite character in the Maze Runner films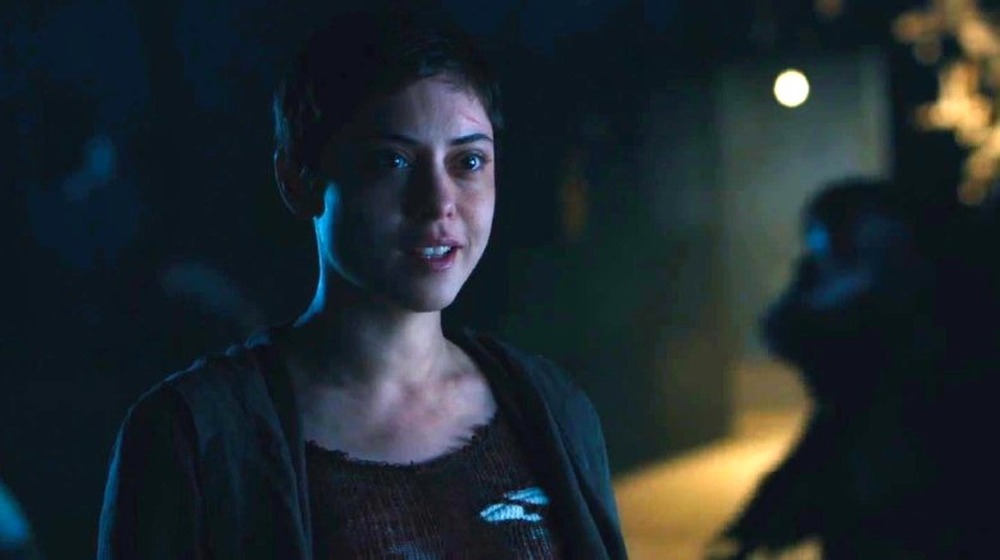 20th Century Fox
After the success of 2014's The Maze Runner, speculation ran wild about who would be cast as the book characters who had not appeared in the first film. Fans of the saga were particularly eager to find out who was going to play Brenda, the teenage co-leader of the group of outlaws the heroes encounter after escaping the maze.
Though Rosa Salazar's casting and styling for Maze Runner: The Scorch Trials sparked some controversy due to the decision to give her short hair, she had just the spunk and wit needed to make Brenda as much of a badass on screen as she was on the page. In both The Scorch Trials and final installment The Death Cure, Salazar got the chance to flex her action star muscles before they were put on full display in Alita. It was a huge sign of things to come.
Rosa Salazar pissed us all off in Bird Box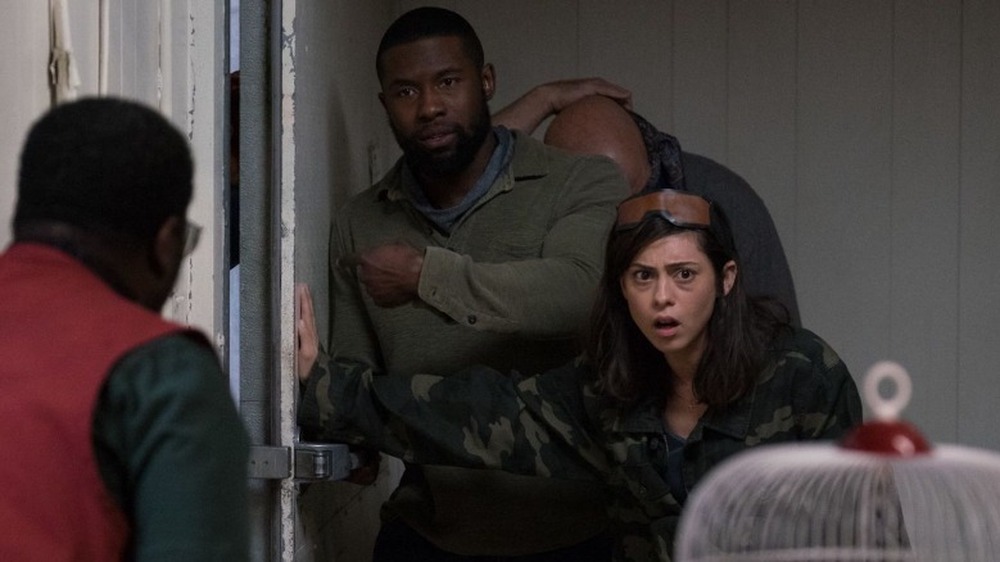 Netflix
The big exposure Rosa Salazar got just before Alita came in the form of Susanne Bier's smash hit Netflix film Bird Box, in which she played one of the survivors holing up in a house during the apocalypse along with heroine Malorie Hayes (Sandra Bullock). If you've seen Bird Box, you may remember Salazar's character Lucy for the infuriating decision she makes to steal the car in the garage and drive away along with Felix (Machine Gun Kelly), leaving the group without any means of transportation.
As it turns out (via THR), Salazar might have been done a bit dirty. She agreed to do the movie on the condition that her character, who was not in the novel, would be given a backstory and an arc that interested her as an actor. But in the end, almost all of her scenes as Lucy were cut, leaving only the underdeveloped tertiary character we got. Salazar was so disappointed by her character's reduced role that she's even pitched a Bonnie and Clyde-style sequel focusing on her and Kelly's characters. Whether Netflix will adapt author Josh Malerman's follow-up book into a second movie remains to be seen, but for all we know, there might be a "Bier cut" of Bird Box out there somewhere that finally explains what the heck Lucy and Felix were thinking.
Alita isn't the only sci-fi cult favorite with an animated Rosa Salazar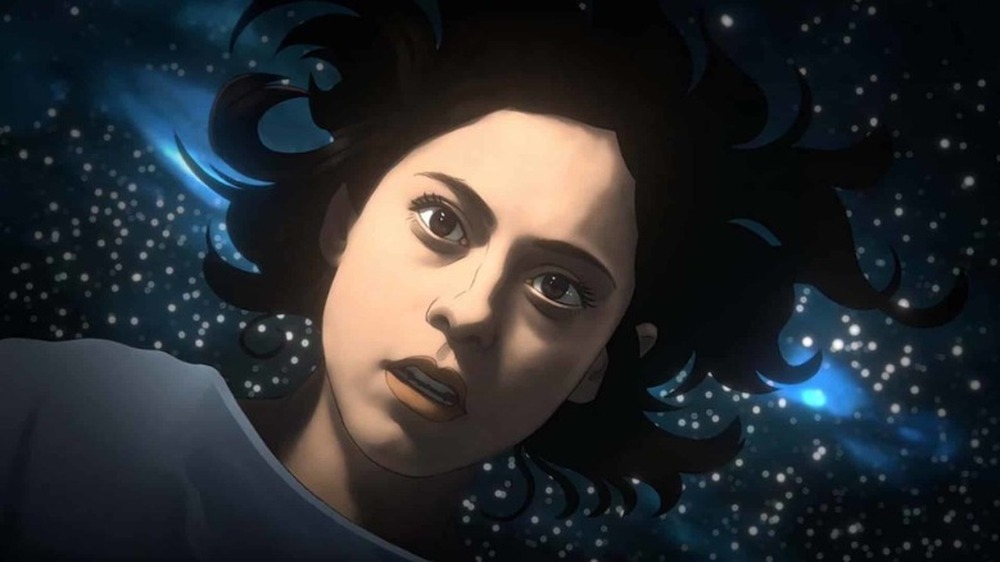 Amazon Studios
Rosa Salazar's biggest role outside of Alita, by far, has been on the Amazon original sci-fi/fantasy series Undone, which is set to return for a sophomore season at some point in the future. Salazar plays Alma, a woman who develops strange time-bending abilities and begins to communicate with her dead father Jacob (Bob Odenkirk) after surviving a car crash. Undone follows Alma's efforts to make sense of her abilities and solve the mystery of her father's murder without losing her grip on reality.
Like Alita, the show features Salazar's likeness, but not exactly her flesh-and-bone presence: Undone is an animated series that uses the rotoscoping technique, in which scenes are shot in live-action and then traced over. This technique allows for grounded, recognizably human visuals, such as Salazar's expressive eyes, to be combined with all kinds of trippy psychedelia.
That's one of the most interesting ways Undone sets itself apart as a fantasy series, but it's not the only one. Its singular world-building, psychological complexity, dark sense of humor, and mind-blowing philosophical themes have earned it cult favorite status and widespread critical acclaim, with The New York Times calling it "magnificent art." If you're a fan of the more contemplative and existential parts of Alita, or just somebody who likes thought-provoking sci-fi stories in general, you owe it to yourself to watch Undone and see just how far Salazar can take her acting prowess.