Why General Lane From Superman And Lois Looks Familiar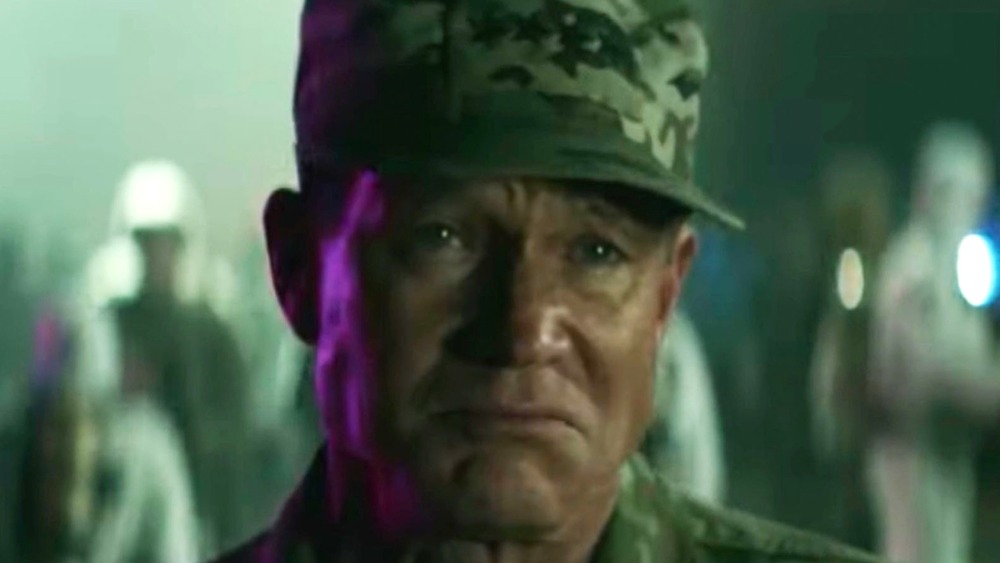 The CW
It's been about ten years since Smallville aired its finale in 2011, which means it's time for another Superman TV show. This time, it's Superman & Lois, an hour-long drama on The CW. Just like Lois & Clark in the 1990s, Superman & Lois focuses on the relationship between Superman/Clark Kent (Tyler Hoechlin) and Pulitzer Prize-winning journalist Lois Lane (Bitsie Tulloch). Only this time, Lois and Clark don't live in Metropolis. Instead, they move back to Smallville and raise a child together. 
Once again, Lois' father, General Sam Lane, plays a major role in the series. General Lane gets in the way of Lois and Clark's relationship, as he sees Superman as both his son-in-law as well as one of his soldiers (per CBR). Many actors have portrayed General Lane over the years, and this time it's Dylan Walsh.
Most fans probably recognize Dylan Walsh from his performance as Dr. Sean McNamara, the relatively uptight half of the pair of plastic surgeons from Nip/Tuck. But the FX dramedy covered just seven years of Walsh's career, which began in 1987. Walsh has been a regular fixture on both network and cable dramas, and he's starred in his fair share of movies, too. Here's where you might recognize him from.
Mayor Peter Chase, Blue Bloods (2019-present)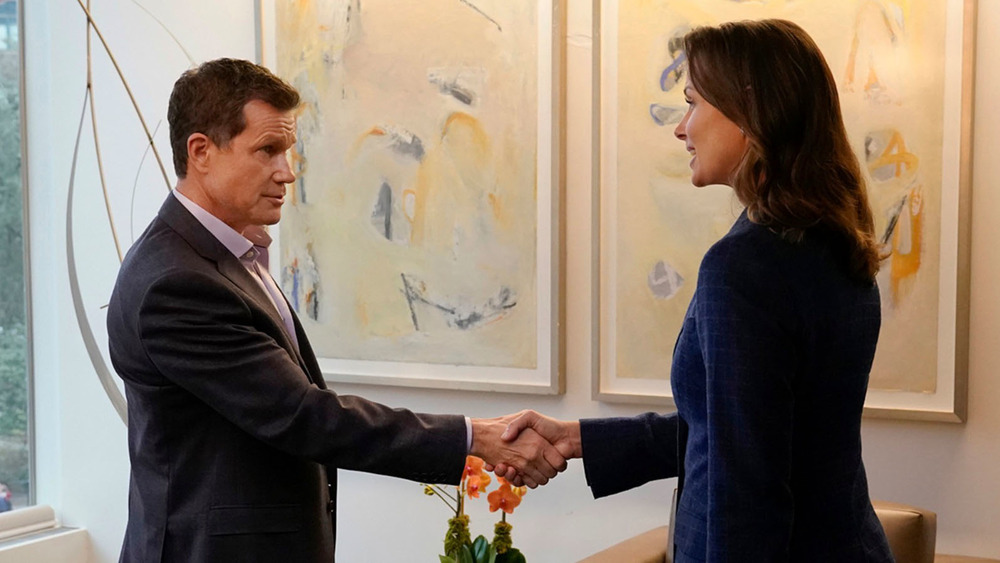 CBS
Dylan Walsh joined the cast of Blue Bloods in 2019 for its tenth season, in which he plays the newly elected mayor of New York City, Peter Chase. The character is a billionaire described as "socially liberal but fiscally conservative," so it's pretty obviously based on real-life former New York mayor Michael Bloomberg.
His arrival has major consequences for the Reagan family. Frank (Tom Selleck), the commissioner of the NYPD, takes a hardline approach to policing, meaning he supports widely criticized policies like stop-and-frisk. The new mayor shares these views but takes them a bit further than even Frank would like. He's also already persuaded Frank's daughter Erin (Bridget Moynahan) to run for district attorney. 
Walsh said he was excited for the role because it allowed him to go toe-to-toe with Selleck. "The mayor is shorter than Frank [5'10" vs. 6'4″], but he has more power and he won by a huge margin," he told TV Insider. "My sense is that he has good intentions. He's a fixer."
Al Burns, Unforgettable (2011-2016)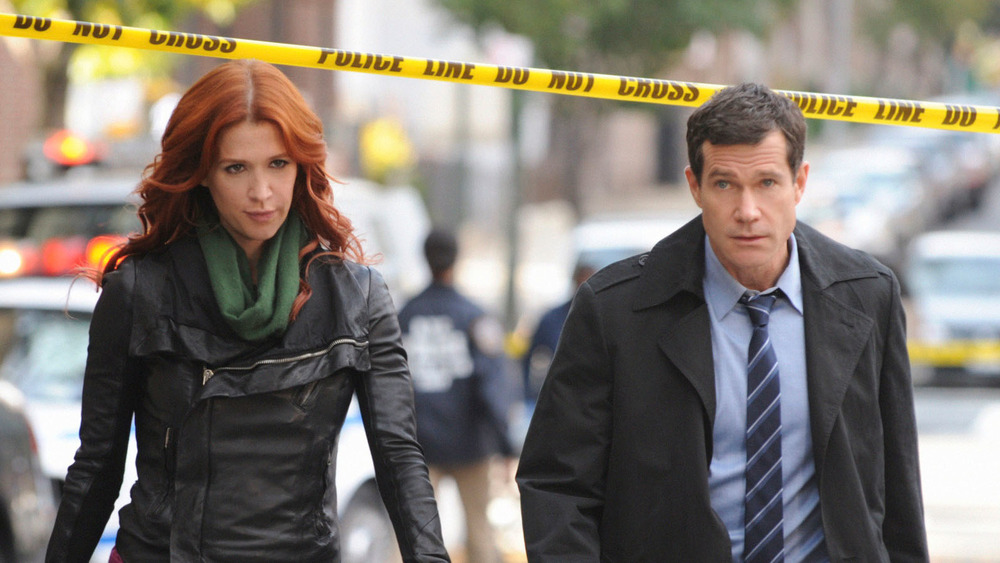 CBS
Before Blue Bloods, Dylan Walsh landed a co-starring role on another CBS police drama. Unforgettable premiered in 2011 and ran for four seasons before concluding in 2016. The show followed Detective Carrie Wells (Poppy Montgomery), a homicide investigator with hyperthymesia, a rare medical condition that allowed her to remember nearly everything she experienced. Walsh played Lieutenant Al Burns, a Queens-based cop and Carrie's former boyfriend who invited her to bring her unique gift to the NYPD. 
The role was familiar territory for Walsh, who had already played police officers several times in his career. He accepted the role shortly after Nip/Tuck ended because it was so different from his Nip/Tuck character, Dr. Sean McNamara. "I'm standing outside on the sidewalk now, and people are waving at me," he told The Columbus Dispatch. "They're waving at me for Nip/Tuck, not Unforgettable. That's why I took another series so fast. I want to put it behind me. I need to get Sean ... out of my system."
David Harris, The Stepfather (2009)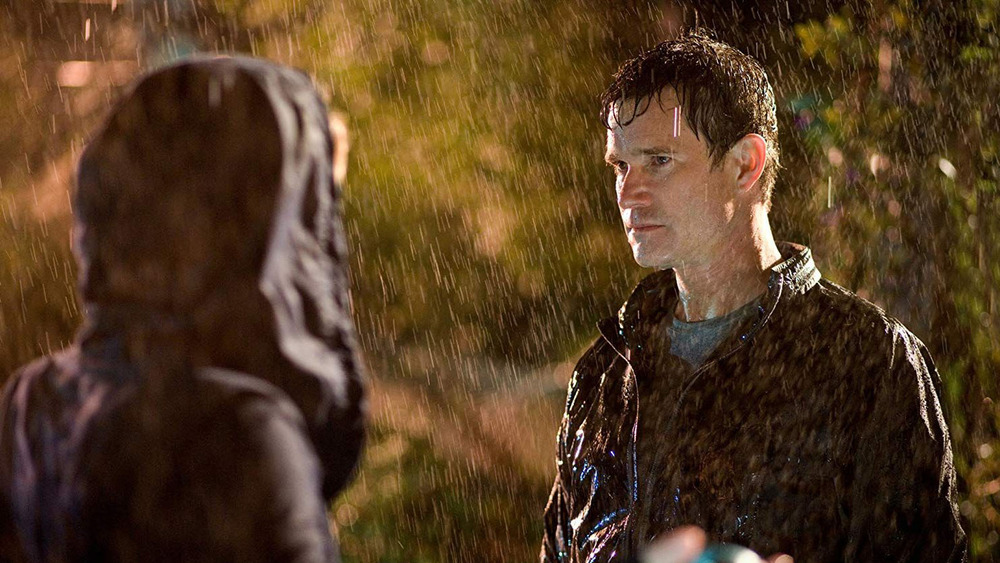 Sony Pictures Releasing
While playing Dr. Sean McNamara on Nip/Tuck, Dylan Walsh also took roles in films that allowed him to showcase his range. In 2009, Walsh had the starring role in The Stepfather, a remake of the 1987 horror film about a seemingly perfect stepdad who's actually a serial killer, insinuating his way into broken families and then wiping them out. His co-stars were Sela Ward, Penn Badgley, Amber Heard, and Jon Tenney. 
The role was a major departure for Walsh, who typically plays clean-cut, morally upstanding "good guys," like Dr. McNamara. And Walsh loved it. "I am having so much fun doing this, because in Nip/Tuck you are never going to portray what [David Harris] is," he told SyFy. "But here, it's like, in a moment, you can go back and forth between these two, the genre film, and then the part of it that is just this family story. It's fun. It's liberating."
Dr. Sean McNamara, Nip/Tuck (2003-2010)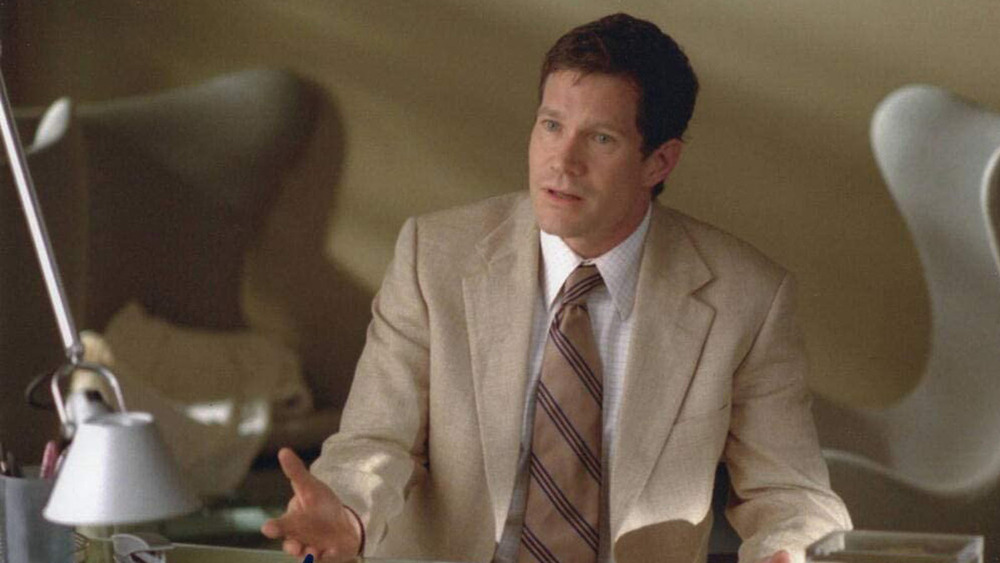 FX
Most viewers probably recognize Dylan Walsh from this role, the co-lead character on Ryan Murphy's soapy FX dramedy Nip/Tuck, which ran for six seasons. Walsh appeared in all 100 episodes as Dr. Sean McNamara, one half of the duo who ran the McNamara/Troy plastic surgery center.
Dr. McNamara was the more straight-laced and "square" partner of the pair, in contrast with his partner Dr. Christian Troy, who wasn't as shy about enjoying the life of a rich and successful doctor. Many of Dr. McNamara's stories involved corralling Dr. Troy, but Dr. McNamara also faced plenty of temptation as a married man whose patients would regularly hit on him. And sometimes he gave in. (Nobody said the doctors were super ethical.) 
Walsh and his co-star Julian McMahon were the heart of the show, and the doctors' bromance felt real because the actors became great friends. "Without Nip/Tuck ever coming along, I don't think that our spheres would have intersected enough for us to become friends," Walsh told Brief Take. "That's not to say that I would have met him and not liked him, we're soooo different, I don't think that we ever would have tried."
Dr. Peter Elliot, Congo (1995)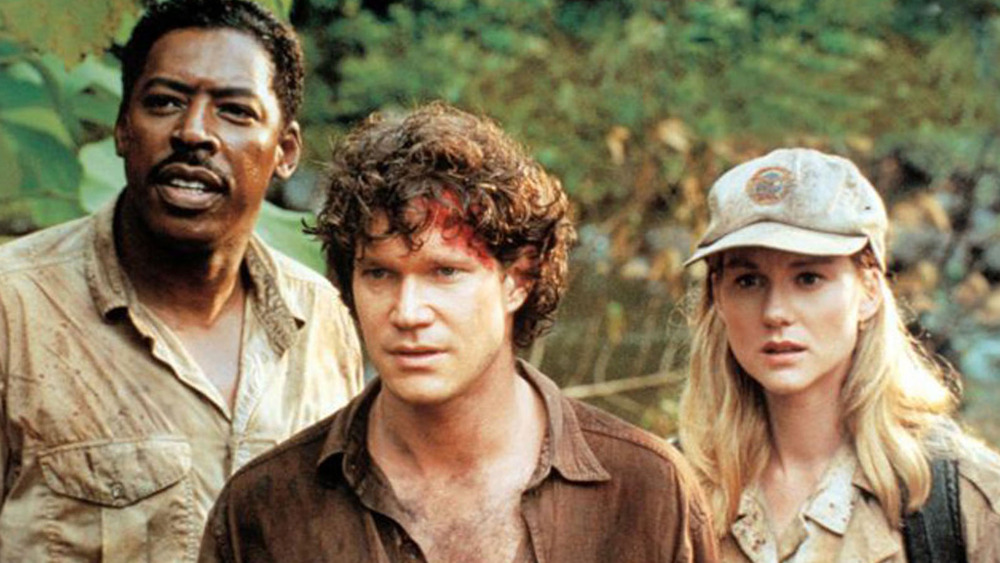 Paramount Pictures
Before Nip/Tuck, most viewers probably recognized Walsh from his co-lead role in the 1995 action-adventure thriller Congo, about an expedition that ventures into the Congo jungle looking for diamonds, only to discover a lost city overrun by gray apes that have been bred to kill humans. The characters all had different reasons for joining the expedition. Dr. Peter Elliot was a primate researcher teaching sign language to a gorilla named Amy, and he tagged along hoping to return her to her native habitat. 
For Walsh, the big challenge was acting alongside Amy, who was actually played by two 19-year-old gymnasts who took turns inside the gorilla suit, which could perform facial expressions operated by 27 different motors. "You check your ego at the door with this kind of film," Walsh told The Virginian Pilot. "Amy was the real star. The human actors don't get much attention. Amy had an entourage following her and taking care of her."