Why King Shark From The Suicide Squad Sounds So Familiar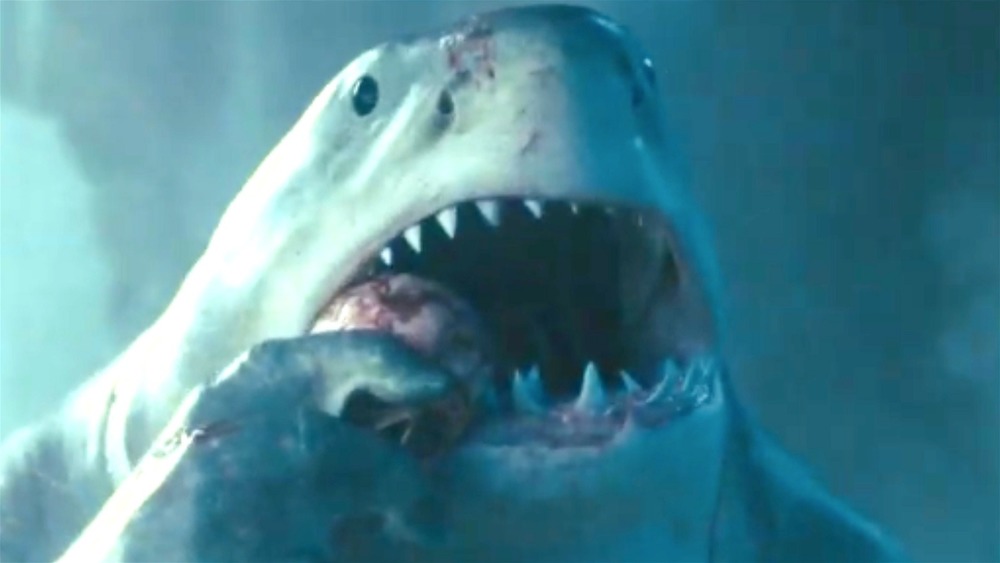 Warner Bros. Pictures
If you click a link and buy a product or service from a merchant, we may be paid an affiliate commission.
The first trailer for James Gunn's The Suicide Squad has dropped, and it's all the Internet is talking about. The non-sequel follow-up to 2016's Suicide Squad will be bringing back much of the gang from the first film, including Harley Quinn (Margot Robbie), Rick Flag (Joel Kinnaman), Captain Boomerang (Jai Courtney), and Task Force X boss Amanda Waller (Viola Davis). And since several team members died in the last film — they are called "the Suicide Squad," after all — the new movie is replenishing their ranks with lots of new faces.
The newest members include: Bloodsport (Idris Elba), Peacemaker (John Cena), Sol Soria (Alice Braga), Thinker (Peter Capaldi), Savant (Michael Rooker), Polka-Dot Man (David Dastmalchian), Ratcatcher 2 (Daniela Melchior), Blackguard (Pete Davidson), Mongal (Mayling Ng), T.D.K. (Nathan Fillion), Javelin (Flula Borg), and Weasel (Sean Gunn).
And last but not least, there's King Shark, a well-established character from DC Comics. The "humanoid shark" made his first appearance back in 1994 as an enemy of Aqua Man, and he's also been part of many supervillain teams in the comics. Before The Suicide Squad, he's appeared in both The Flash on The CW, where he was voiced by Metal Gear Solid's David Hayter, and in the Harley Quinn animated series on DC Universe, where he was voiced by comedian Ron Funches.
But this time, King Shark will be voiced by one of the biggest stars of all time. If you've seen a movie in the past 50 years, you probably recognized his voice in the trailer.
He's played everything else, so why not a shark-man?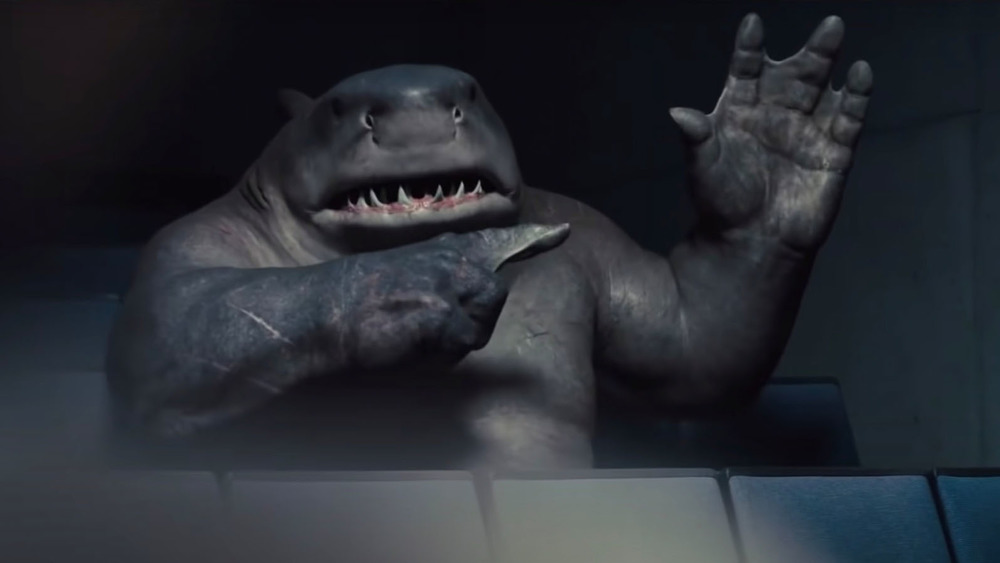 Warner Bros. Pictures
Yep, it's none other than Rocky Balboa and John Rambo himself, Sylvester Stallone. Gunn and Stallone both confirmed the news on Twitter shortly after the trailer dropped. Although King Shark had already been confirmed as one of the new members of the Squad, the news that Stallone is playing him came as a surprise — Gunn had revealed that Stallone would be in the film back in Nov. 2020 but didn't specify who he would be playing. Previously, fans had speculated that Stallone's The Suicide Squad co-star Taika Waititi would be voicing King Shark. Waititi's character is still unannounced.
This is the second collaboration between Gunn and Stallone, who worked together on Gunn's The Guardians of the Galaxy Vol. 2 back in 2017. Stallone played Stakar Ogord, leader of the Stakar clan of the Ravagers, the galaxy-spanning criminal syndicate from that series. 
It's also not the first time Stallone has provided his voice for a major movie. Previously, he's played Weaver in the 1998 animated comedy Antz, Joe the Lion in the 2011 Kevin James vehicle Zookeeper, and Victor in the 2016 video game adaptation Ratchet & Clank. 
Based on the trailer, it looks like King Shark will require Stallone to use both his intensity and his comedic skills. The Suicide Squad will premiere in theaters and on HBO Max on Aug. 6, 2021, so it won't be much longer before we meet this lovable lunkhead with a taste for human flesh.