The Underrated Mother-Daughter Dramedy You Can Stream On Netflix
Netflix
The heartwarming mother-daughter dramedy Dumplin' is finally getting the love it deserves. Based on the 2015 young adult novel by the same name, Dumplin' is about a self-proclaimed fat girl named Willowdean "Will" Dickson (Danielle Macdonald). She also goes by the nickname Dumplin', which her beauty pageant mother Rosie Dickson (Jennifer Aniston) bestowed upon her. Following the death of her beloved aunt, Will enrolls in a local beauty pageant as an act of protest, on a mission to prove that she deserves to be on the stage just as much as any thin girl does.
Dumplin is a movie about family, self-acceptance, and friendship — not to mention a tribute to Dolly Parton. In fact, it's been nominated for CinEuphoria Awards, a Golden Globe, and a Grammy Award thanks to its talented cast and original soundtrack. For those who haven't gotten the opportunity to watch this latest YA novel adaptation, Dumplin' is available to stream on Netflix, so you can add to the abundance of praise it's getting from fans and film critics alike.
Dumplin' got positive reviews across the board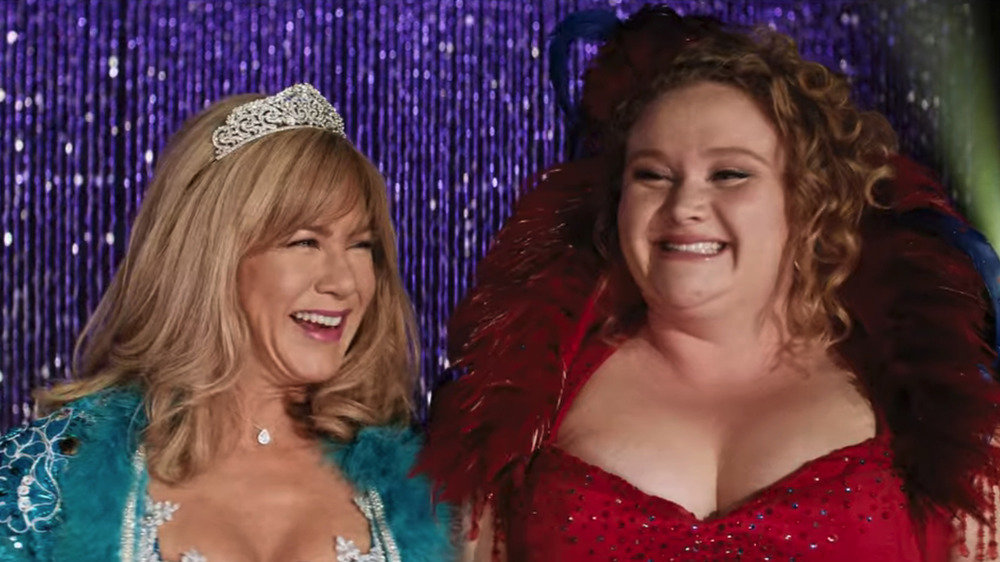 Netflix
Aside from the many nominations Dumplin' received, it has also gotten a plethora of positive reviews. With a current 86% Tomatometer rating and 73% Audience Score on Rotten Tomatoes, critics and viewers have overwhelmingly good things to say about the touching film. Kimber Myers of The Playlist wrote, "Dumplin' will mean a lot to a lot of young women who struggle to see themselves in TV and movies, and this feel-good comedy reminds them that they're beautiful just the way they are." Additionally, Sophie Gilbert of The Atlantic praised it for being "open to the idea that beauty itself is more expansive and subjective."
While some critics weren't impressed by the young adult themes, it's important to remember that it started out as just that — a successful young adult novel. Many reviewers noted that it's loved because of that exact reason. Bilge Ebiri New York Magazine/Vulture said, "On its surface, Dumplin' is a slight, charming comedy about beauty pageants and learning to be yourself, but watch closely enough and you might see some of the new moves it brings to an otherwise predictable routine." The lighthearted approach to important topics like body positivity makes it accessible to teens and adults, which is also likely why it's doing so well on streaming platforms today.
The next time you're browsing Netflix for an uplifting reminder that you're perfect as you are, know that Dumplin' is a movie you can't miss.