Hollywood Pays Tribute To Jessica Walter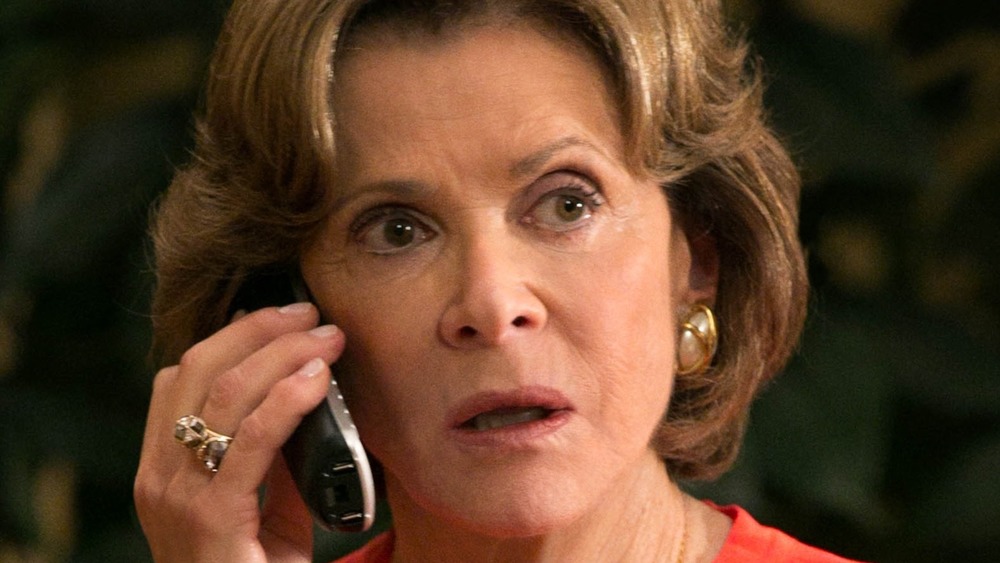 Mike Yarish/Netflix
Jessica Walter, who played acerbic and iconic mothers in Arrested Development, Archer, and Dinosaurs, died in her sleep on Wednesday, March 24, 2021. She was 80 years old.
Walter had an incredible Hollywood career that spanned decades and genres. As a young actress, she commanded in dramas like Grand Prix, Number One, and Play Misty for Me. But she became beloved by audiences (and GIF enthusiasts) as Lucille Bluth in the sitcom Arrested Development. The Bluth family matriarch suffuses all our normal day-to-day activities, such as buying bananas and day drinking, to spend recklessly, lead a generally lavish (and illegal) lifestyle, evade the SEC, and even become an accidental horror movie icon called "Gangie." She also made a huge mark in the animated TV realm as the voice of Malory Archer, the mother of Sterling Archer in — you guessed it — FX's Archer.
In light of Walter's passing, many celebrities have expressed their grief and honored her memory.
"I have laughed some of my hardest laughs because of Jessica Walter," tweeted figure skater Adam Rippon. Scott Pilgrim vs. the World director Edgar Wright tweeted about his love of Walter's comedic and dramatic work, writing, "Knowing her mostly from dramatic work in films like 'Play Misty For Me' just made the comic genius of her turn in 'Arrested Development' even more delightful. You can watch her reactions shots on a loop. Lucille Bluth Forever." 
Even journalists marked the passing of such an amazing performer. The New York Times White House correspondent Maggie Haberman remembered Walter not just for her comedic timing, but also for her polite but firm emails. "RIP and a true story," she wrote on Twitter, "when I made her Arrested Development character my Twitter avatar, she sent me an email asking me to take it down."
Walter's Archer castmate Aisha Tyler, the voice of Lana Kane, tweeted in tribute to the actress, "Jessica Walter was a queen in every way: kind, classy, incredibly talented, generous with love & support. And so insanely funny. She was the brilliant center of our @archerfxx universe. Sweet flight to you, dear Jessica. You were so loved, and we were so lucky to know you." H. Jon Benjamin, the Sterling Archer to Walter's Malory Archer, also wrote on Twitter, "Jessica Walter was an unparalleled talent. So funny. So insanely good in everything she was in. Wonderful to be around. I will miss her."
Arrested Development stars remember Gangie
Walter's Arrested Development co-stars also paid their respects to the legend. "OH NO ...We worked together for years on ARRESTED DEVELOPMENT," tweeted Henry Winkler, who played incompetent Bluth lawyer Barry Zuckercorn. "It was an honor to watch her comedy explode from the very first row." Arrested Development writer John Levenstein praised Walter's comedic chops, writing, "Jessica Walter never missed. If she didn't get a laugh, there was a problem with the script."
Arrested Development leading man Jason Bateman, who portrayed Lucille's level-headed and dry-humored son Michael Bluth, also took to Twitter to pay tribute to Walter. "R. I. P. Jessica Walter. What an incredible career, filled with amazing performances," he wrote. "I will forever remember my time with her, watching her bring Lucille Bluth to life. She was one of a kind. All my love and thoughts to her family."
Walter's other on-screen son, Gob Bluth actor Will Arnett, shared a sweet message on Twitter as well: "Jessica Walter was a deeply talented person. We first met on a pilot in '96 and I was instantly blown away. I'm fortunate to have had a front row seat to her brilliance for 25 years. My thoughts are with her daughter Brooke and grandson Micah today. Farewell Jessica, you'll be missed."
Alia Shawkat, Arrested Development's Maeby Fünke, shared on Instagram a photo of Walter in her earlier years, writing in the caption, "love you Gangie" with a broken heart emoji. 
David Cross, who played Lucille's son-in-law Tobias Onyango Fünke, tweeted, "I consider myself privileged and very lucky to have been able to work with her. Lucille Bluth is one of TV's greatest characters." And Tony Hale, who played favorite son Buster Bluth, posted to Twitter a photo with his on-screen mother, captioning it, "She was a force, and her talent and timing were unmatched. Rest In Peace Mama Bluth."