Henry Golding Cast In G.I. Joe Spin-Off Snake Eyes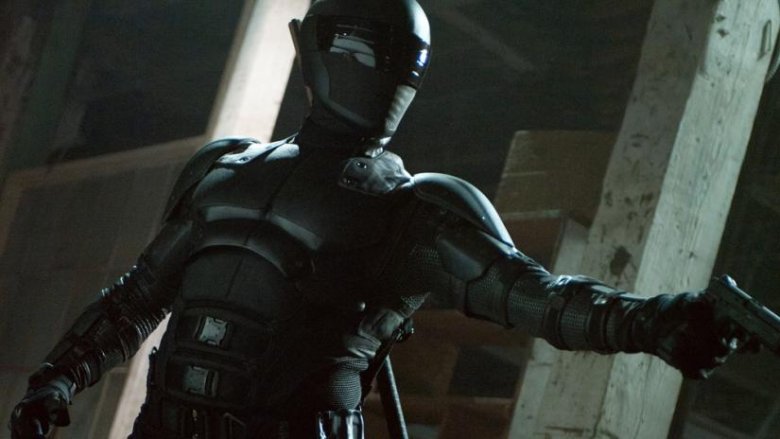 MGM
G.I. Joe spin-off Snake Eyes has found its man behind the mask.
Henry Golding, who starred in last year's smash hit Crazy Rich Asians, is in negotiations for the lead role in the production. Golding will be tasked with lending his natural charisma to a character who is, by design, something of a blank slate. (via The Hollywood Reporter)
We first reported on the Snake Eyes solo flick in May of last year, and since then, there hasn't been a great deal of movement on the project. With Golding looking to jump on board, though, it looks like production on the flick will be ramping up sooner rather than later. The script was penned by Evan Spiliotopoulos (Beauty and the Beast) with Robert Schwentke (Divergent, Allegiant) in the director's chair.
Snake Eyes is perhaps the most well-known character to come out of Hasbro's early '80s revival of the G.I. Joe toy line, and his mysterious appearance and characterization — he's a commando and master ninja who dresses all in black, hides his face behind a menacing-looking visor, and never speaks — came about as a result of the toy maker's desire to save a few pennies per unit on its action figures. The Snake Eyes figures were molded from black plastic with no paint detail, and his lack of facial features made the toys easier and cheaper to cast than other figures in the line. He wasn't exactly meant to become an icon, but we all know how young boys love their ninjas, and the character's lack of speech and devastating skill set quickly made him the hands-down favorite among the relaunched line.
Snake Eyes was featured prominently in 2011's G.I. Joe: The Rise of Cobra and 2013's G.I. Joe: Retaliation, portrayed in both films by Scottish actor and martial artist Ray Park (perhaps still best known for bringing his livewire physicality to the role of Darth Maul in Star Wars Episode I: The Phantom Menace). But the solo flick is to be an origin story featuring a younger version of the character, and Park (who, of course, never showed his face in the first two movies) was deemed to be a bit too long in the tooth to return to the part. (via IGN)
Presumably, Golding will actually get to show his face and speak in the film. While Hasbro's backstory stated that Snake Eyes had been involved in a horrible accident during his first mission for G.I. Joe — which permanently disfigured him, and damaged his vocal cords beyond repair — this backstory was retconned for the films, with the character said to have taken a vow of silence. It's not clear, though, why he hides his face; perhaps he just thinks that his mask looks really cool. Because, you know, it does.
Golding's star is definitely on the rise. Crazy Rich Asians was a cultural phenomenon, garnering a $238 million dollar worldwide take at the international box office and instantly raising the stock of the entirety of its talented cast, which also included Constance Wu (Fresh Off the Boat), Gemma Chan (Captain Marvel), and Awkwafina, the rapper-turned-actor who has been cast in roughly a dozen films and television series (including her own eponymous Comedy Central vehicle) in the wake of the movie's success.
Golding has since appeared in director Paul Feig's crime comedy A Simple Favor opposite Anna Kendrick and Blake Lively, and this year's Monsoon, a romantic drama from writer/director Hong Khaou. On tap for the star are this winter's rom-com Last Christmas (which will reunite him with Feig) and The Gentlemen, a crime actioner from director Guy Ritchie which is due to hit screens early next year. 
As previously mentioned, casting and production news around Snake Eyes has been incredibly slim, but we expect that to change very soon. Originally slated for release this coming March, the flick was recently pushed back to October 16, 2020, which should give the filmmakers plenty of time to fill out the cast and knock out principal photography while still leaving some breathing room for those pesky but inevitable reshoots. 
Here's hoping that the solo vehicle for its most awesome character can reinvigorate the G.I. Joe franchise, which has been stagnant for six years and never exactly posted eye-watering box office numbers. Of course, if you were a kid in the '80s, you probably remember collecting a phalanx of G.I. Joe action figures, only to push them all aside after a few minutes in favor of sending Snake Eyes on a solo adventure. We're thinking it was probably wise in the extreme for Hollywood to follow suit.