The Forgotten Viggo Mortensen Dark Comedy You Need To Watch On Netflix
Bleecker Street
In the age of streaming services new content is coming out all the time, especially in the case of Netflix. As the streamer promises to deliver new movies and television every week, like the new release Zero Chill, viewers can get a bit distracted by all of that, not noticing the great older content available on the site. Still, there are a lot of Netflix subscribers with a lot of time on their hands, leading older, underrated movies and television to get a second chance. 
On top of that, you can discover movies and television from your favorite actors that you might not even have known existed. This could be the case with actor Viggo Mortensen, best known for playing Aragorn in The Lord of the Rings trilogy. Unfortunately, the high fantasy films are not available on Netflix, but one of his lesser-known indie projects is — Captain Fantastic. The drama film originally came out in 2016 and also stars George MacKay, Kathryn Hahn, Erin Moriarty, and Steve Zahn.
Captain Fantastic is about Mortensen's character Ben, the patriarch of a large family that lives an isolated, rustic life out in the woods. When Leslie (Trin Miller), his wife and the mother of their six children, dies by suicide, Ben must drag his kids into the real world to fulfill their mother's last wish to be cremated. Captain Fantastic has an 82% on Rotten Tomatoes, and Mortensen was nominated for a Golden Globe, Academy Award, and BAFTA for his performance.
Luckily for people who missed the movie when it first came out, Captain Fantastic is available to stream on Netflix right now.
Captain Fantastic stars Viggo Mortensen as a father raising his kids in the woods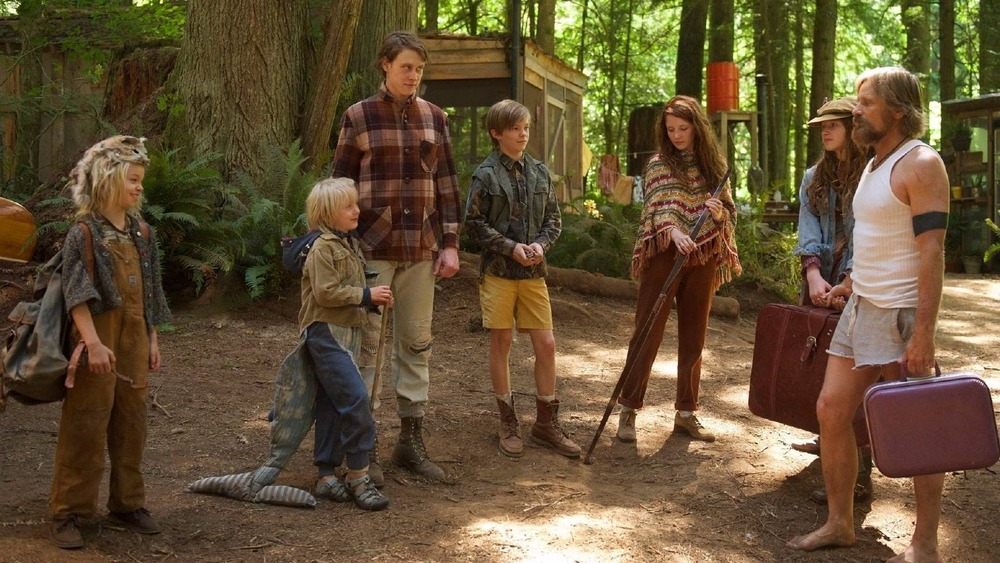 Bleecker Street
Captain Fantastic is a complex story that takes on a lot of very poignant questions about life and raising children. Leslie deals with bipolar disorder and other mental health issues before her death, and afterwards, some of the kids question whether their father did enough to help their mother through it. The family is homeschooled and reads college-level books at a young age, but because of their secluded childhood, many of the children are socially inept when they finally enter the "real world."
Some of the older kids, like MacKay's Bodevan, start resenting the way they were raised and wanting to have more "normal" experiences, such as going away to college. But Ben is hesitant to let his kids out into the world that he believes is the cause of his wife's pain and death. This all comes to a head when Leslie's conservative parents attempt to stop Ben and the kids from coming to the traditional funeral they are having for their daughter, which kickstarts a monumental road trip. Along the way, as the kids — and Ben — begin to realize how sheltered there life in the woods really is, Ben is forced to make a big decision about his kids' future.
The critical response for Captain Fantastic was positive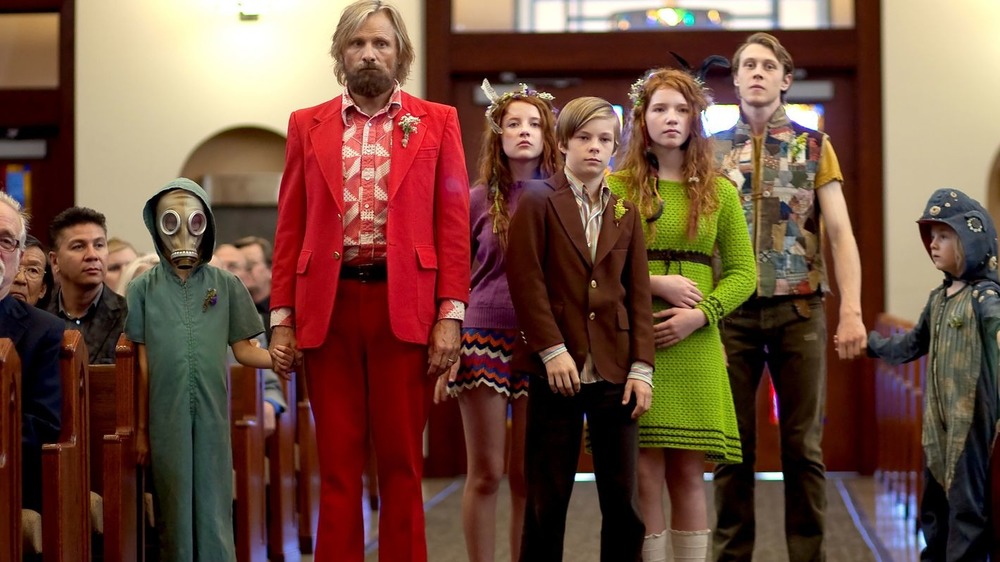 Bleecker Street
The reviews for Captain Fantastic were mainly positive, with many praising the actors' performances, and Mortensen's in particular. Peter Travers of Rolling Stone said that Mortensen "gets under the skin of this loving father who is unafraid to face the world naked and yet touchingly ready to grapple by the possibility that his arrogant, free spirit might actually do harm to his children." He also ranked this performance as one of Mortensen's best, on the same level of Aragorn in The Lord of the Rings and Tom Stall in A History of Violence. Many of the young actors who portray Ben's children received similar praise. Some people might recognize MacKay, who plays the eldest son, for his later work in the Oscar-winning film 1917.
The more negative responses targeted the film's themes and overall message, with Leslie Felperin of The Hollywood Reporter stating that "The children are idealized and implausible sock puppets, as unrealistic as the little prodigies in Wes Anderson's films, but without the accompanying stylized flair that marks the latter's pics out as straight-up dream worlds." While almost everyone found the film thought-provoking and unique, some took issue with how little the movie truly criticizes Ben's intense parenting, which some viewers might categorize as abusive. 
No matter what you think about the movie's message, Captain Fantastic is a heartwarming, reflective, and surprisingly funny movie, perfect for anyone looking for a hidden gem to watch. Check it out now on Netflix.