Exclusive Clip: Sheriff Nedley Drops A Truth Bomb On Nicole In Wynonna Earp's Next Episode
With the newest episode of Wynonna Earp, Randy Nedley just might be able to add "linguist" to his list of honorifics. 
Wynonna Earp is barreling toward its next installment — season 4, episode 9, intriguingly titled "Crazy" — and ahead of its debut on Syfy on Friday, March 19, Looper can share with all the Earpers out there an exclusive sneak peek from the episode. 
The clip opens on Nicole Haught (Katherine Barrell) sitting at the bar in Shorty's Saloon, reaching over to the tap to pour herself a cold pint of beer. Sheriff Nedley (Greg Lawson), one wooden chair in hand and another slung over his shoulder, tells Nicole to keep her mitts off the tap, as "only active-duty police drink for free" at the saloon. When Nicole quips that she's "sheriff emeritus," meaning she's retired from her position as Purgatory's deputy sheriff but still retains the title as an honor, Nedley fires back, "Sheriff avoidus, more like it." 
Nicole somewhat reluctantly agrees to help Nedley out with setting up for Trivia Night at Shorty's, but she asks him to cut all the sheriff talk since everyone keeps asking her about her current status within the Purgatory Sheriff's Department. Nedley doesn't relent, though, dropping a truth bomb on Nicole when she insists that law enforcement just isn't for her anymore: "You know? That sounds like a fancy way of saying you're butthurt." 
There's no denying Nicole's talents as a sheriff — Nedley even reminds her that she's the local deputy who had "the highest clearance rate in the Ghost River Triangle of the past ten years" — but she may need more than a verbal push from Nedley to take up the badge again. And besides, Nicole already has her hands full with planning her wedding with Waverly Earp (Dominique Provost-Chalkley) and taking care of Rachel Valdez (Martina Ortiz-Luis).
Purgatory's Trivia Night will be totally chaotic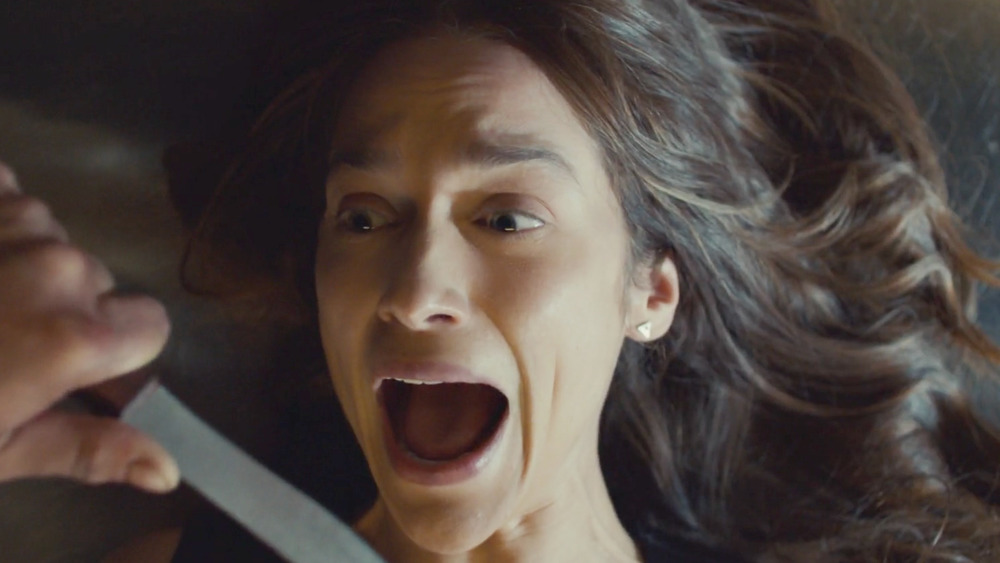 Syfy
Of course, Wynonna Earp wouldn't be Wynonna Earp if it was only candid conversations and characters' contemplation. The upcoming episode of the series is focused on trivia night in Purgatory, with none other than Sheriff Nedley leading the event as the all-knowing Quizmaster. But don't expect an evening like one you might have at your local pub, where the worst that happens is someone has a bit too much to drink and blurts out the wrong answer to the game-deciding question. Oh, no – Wynonna Earp season 4, episode 9 will deliver a Trivia Night filled with "murder, mayhem, and brain sandwiches," according to the episode's logline. 
Another clip from the episode, shared on SYFY Wire, shows Waverly and Jeremy Chetri (Varun Saranga) investigating a brainless corpse, Waverly declaring that she's going to crush Jeremy during Trivia Night, Doc Holliday (Tim Rozon) saying in a voiceover that he believes Wynonna to be in "grave danger," and an unseen figure off screen holding a knife up to Wynonna's throat. Let's just hope that in Nedley's Trivia Night rules, there's a phone-a-friend-for-help option — Wynonna and the gang are surely going to need it.
Tune into the next episode of Wynonna Earp, co-produced by IDW Entertainment, on Friday, March 19 at 10 PM ET / 9 PM Central on Syfy.