Why Jeremy Chetri From Wynonna Earp Looks So Familiar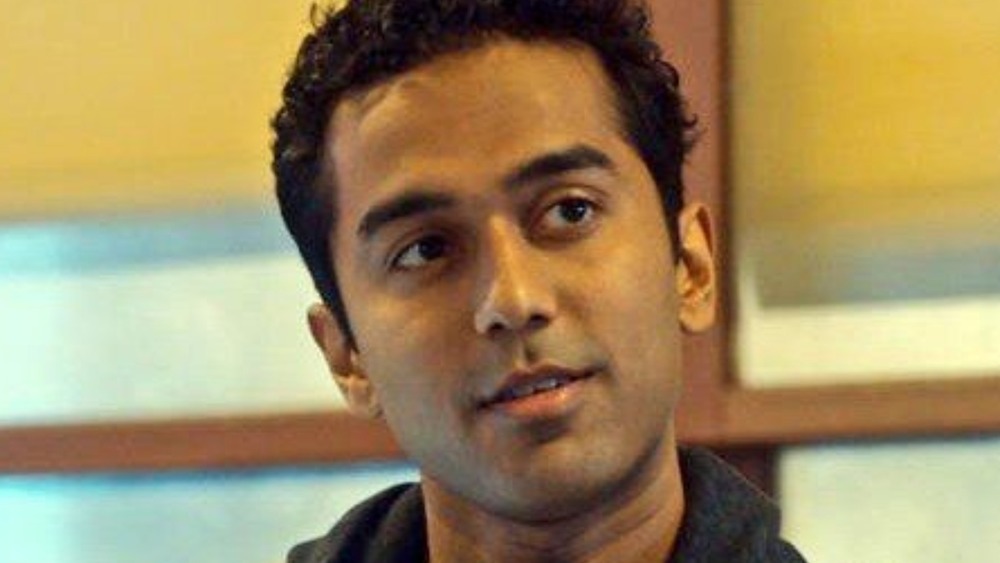 SyFy
Last week marked the return of the hit SyFy show Wynonna Earp, a Western-meets-supernatural romp beloved for its LGBTQ representation and its depiction of strong, complex, deliciously imperfect, and ultimately badass women. The show's fourth season began airing last summer, but midway through production, COVID forced a shutdown, cutting off the season's run. After six months of waiting, fans finally got to watch the story continue, with the seventh episode airing last Friday night.
Wynonna Earp is about the titular character embracing her role as a demon-hunter in a small, rural town called Purgatory and fighting the evil alongside a ragtag team: immortal cowboy-turned-vampire Doc Holliday, Wynonna's genius, bubbly-yet-fierce sister Waverly, Waverly's girlfriend and local police officer Nicole Haught, Sheriff Randy Nedley, and secret government agency scientist Jeremy Chetri (with some others popping in to help, too). Fans rejoiced Friday night seeing the gang back in action, but missing from the episode was Jeremy Chetri.
Jeremy was introduced in season 2 when Wynonna and company infiltrate the secret government agency Black Badge Division to rescue her mentor/partner Dolls. In her part of the mission, Waverly stumbles upon Jeremy, and he gets caught up in the scheme. Jeremy eventually becomes a full-fledged part of team Wynonna, gets a boyfriend, and plays a critical role in saving multiple team members' lives. The adorkable scientist's presence on-screen this season has been scarce, but promos show he is very much a part of the rest of the season. While we wait to see what his role in the story to come might be, let's talk about the man who plays Chetri, Varun Saranga.
Wynonna Earp fans adore Saranga, and for many, the show was their introduction to the actor. However, Saranga has plenty more roles to his name, so it's not unlikely that people — Wynonna fans or otherwise — have seen his handsome, sweet face elsewhere. Here's why Jeremy Chetri might look familiar. 
Varun Saranga has appeared on several hit Canadian shows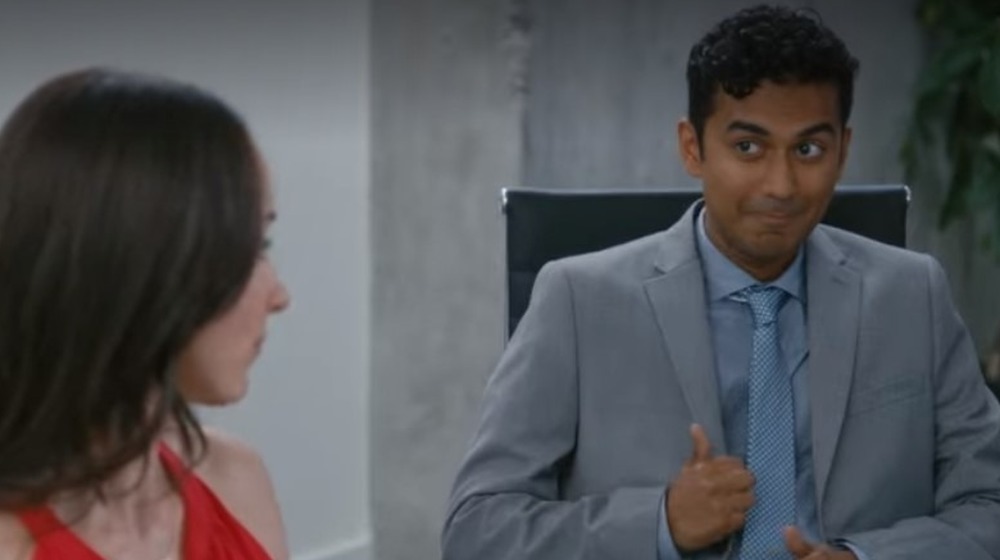 CBC Television
Fans of Canadian television have noticed and taken to joking about how the nation's film industry seems to rely on a small carousel of actors, with many of the same faces popping up in various works. Varun Saranga is seemingly part of that carousel, as he has landed roles in a bevy of Canadian shows over the course of the last decade-plus. Some of the earliest were YTV's teen show How to Be Indie (2009-11) and CBC's 2014 miniseries comedy The Best Laid Plans, based on the political satire book of the same name.
Saranga also appeared in a 2017 episode of the critically acclaimed Canadian cult hit drama Orphan Black – he played Neal in the fourth episode of the show's fifth season. He then went on to land a two-episode arc in 2017-18 in Schitt's Creek, a comedy which has flown under the radar throughout its run but finally broke through to the mainstream in the last year and became an awards darling. In his role as a driving test official named Gary, Saranga worked alongside show star Dan Levy. Besides that experience, the role gave Saranga another shared show credit with Wynonna Earp co-star Tim Rozon (Doc Holliday), as Rozon played recurring character Mutt Schitt on 23 episodes from 2015 to 2018 (though Rozon and Saranga didn't actually appear together in the show).
Around the same time, he worked on Schitt's Creek, Saranga also appeared in another breakout Canadian comedy, Workin' Moms, which stars fellow Wynonna Earp peers Dani Kind and, in a smaller part, Katherine Barrell. Through eight episodes from 2017 to 2018, Saranga plays Chad, co-worker of star Catherine Reitman's public relations firm executive character Kate Foster. More recently, Saranga had a recurring role in 2019 in the legal drama Burden of Truth, a 2018-19 role in the Jerry O'Connell-led police dramedy Carter, and a role in the teen sci-fi show Endlings in 2020.
Needless to say, Canadian television has kept Saranga plenty busy — luckily for him and fans of his effortless charm.
Varun Saranga has also been involved in U.S. network projects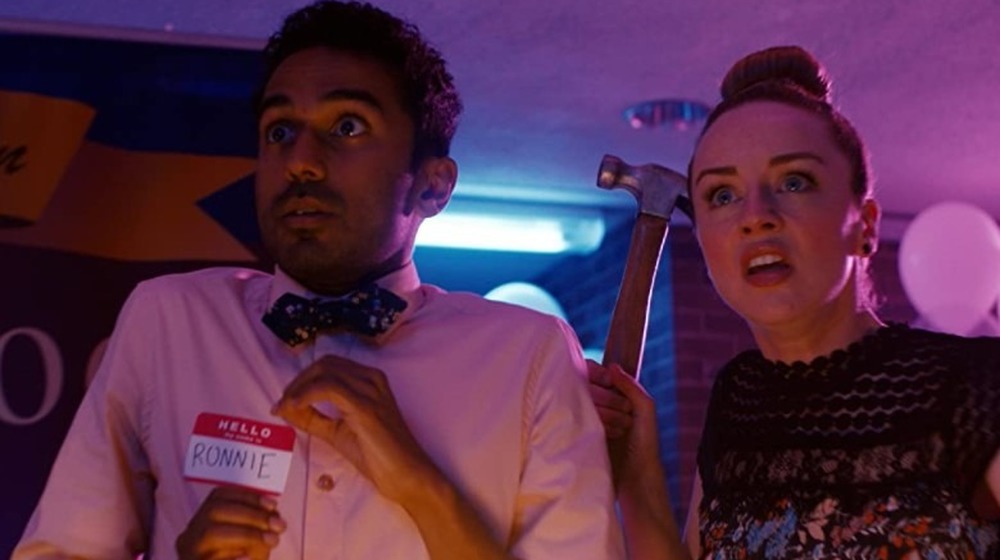 SyFy
In 2018, Varun Saranga got a chance to reach more SyFy fans, thanks to a role in the network's original horror-comedy film Killer High. Starring Humberly González and Kacey Rohl, the movie is about a high school reunion that goes awry when the school's cursed mascot comes to life and starts killing students. Saranga plays Ronnie, one of the unlucky former students who must try to survive the massacre. You can catch the movie on Hulu now.
Last year, Saranga added a U.S. television show to his résumé, appearing in three episodes of the new NBC medical drama Nurses. He had an arc as the character Dev Sikka, the cousin of Veer Sikka, who's a patient of one of the show's main nurses, Nazneen "Naz" Khan. According to TV Fanatic, over the course of the episodes, viewers learn more about Naz's background as she bonds with Veer and Dev.
Whatever Varun Saranga does, he brings endearing charm, quick wit, and fun to a role. Fans of Wynonna Earp and whichever projects you've seen him in before are lucky to know him and have good reason to look forward to his return in Wynonna as Jeremy Chetri ... and what might come next for the actor.