The Espionage Action Hidden Gem Series You Can Binge On Hulu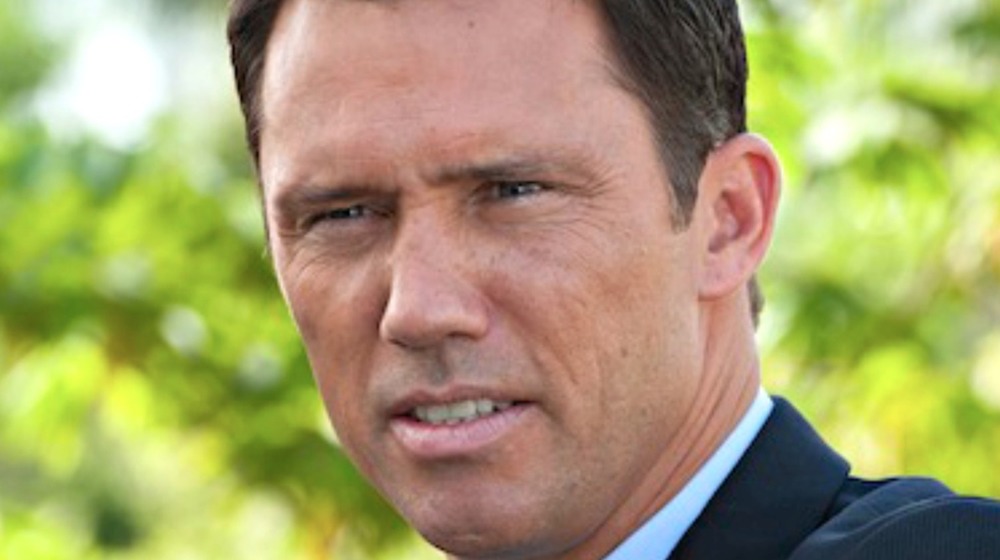 USA Network
USA Network is one of television's most enigmatic networks. Bought by NBC Universal in 2003, the network has put out several cult hit shows — like Psych, White Collar, and Suits — and it's responsible for multiple awards-buzzy, high-profile shows like Mr. Robot and Dirty John. But it also, more so than its parent company's namesake network and NBC's major rivals, has had many shows fly under the radar, building a resume of both quiet failures and quiet successes.
Among its quiet successes is the sensational spy drama Burn Notice. The series followed Michael Westen (Jeffrey Donovan), a suit-and-sunglasses-rocking spy with a fierce smolder and an even more fierce attitude. When Westen gets a burn notice — in other words he's shut out of the spy game — prematurely and unexpectedly, he sets out in his hometown of Miami to figure out who burned him and why. He has to investigate without access to his usual resources, but finds a few trusty allies to work with along the way.
Despite never quite being part of the mainstream conversation, Burn Notice lived a relatively long life, lasting seven seasons and more than 100 episodes. It debuted in June 2007 for a 12-episode first season and wrapped in September 2013 with the 13th episode of its final season. For those who missed this espionage action hidden gem series when it was on, or who saw it and simply want to watch it again, Burn Notice is now available on Hulu. 
Burn Notice has a sublime cast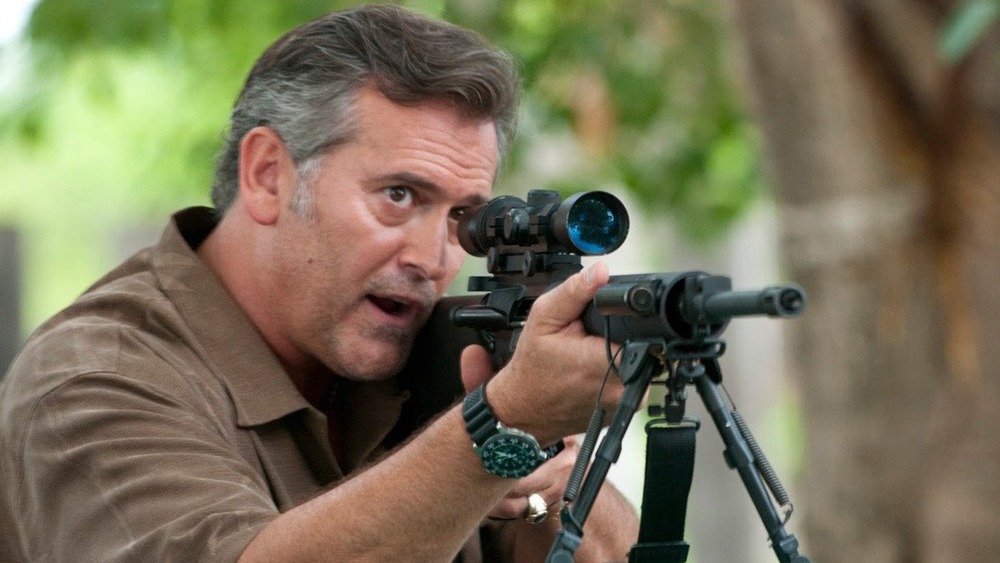 20th Television
Essential to the show's — and Westen's — success were the people who helped him in his quest, and all three main pieces of his support system were played by proven television gems. Actress Sharon Gless played Madeline Westen, Michael's mother. Madeline wasn't exactly mission-critical but she provided substantial emotional grounding for Michael. Gless came to the role after decades in television, including 1970s medical drama Marcus Welby, M.D. and multiple television mini-series in the 80s. Gless also starred as Sergeant Christine Cagney in the iconic 80s crime drama Cagney & Lacey and appeared in the groundbreaking early aughts romantic drama Queer as Folk.
Michael's friend Sam Axe, a former spy and Michael's trusted friend, was played by Bruce Campbell. Prior to Burn Notice, Campbell already had a devoted fan base thanks partly to his role as Autolycus in the legendary 90s fantasy shows Xena: Warrior Princess and Hercules: The Legendary Journeys, and especially to his involvement with the Evil Dead franchise.
Gabrielle Anwar brought years of experience to Burn Notice, too, in her role as Fiona, a former IRA operative and Michael's ex-girlfriend. Anwar got her start in a 1986 mini-series Hideaway and appeared in the BBC fantasy drama Prince Caspian and the Voyage of the Dawn Treader, based on the Chronicles of Narnia book series. Following a slew of other television roles and film roles through the 90s and early aughts, she appeared in the Showtime period drama Tudors as Princess Margaret in 2007, just as Burn Notice debuted.
Donovan was probably the least recognizable of the bunch, though he appeared in several television shows over the course of the decade preceding Burn Notice. These included sci-fi drama The Pretender, two episodes of Law & Order, and the medical drama Crossing Jordan. His limited background only makes it more exciting to watch him soar as Michael Westen.
The show was critically acclaimed throughout its run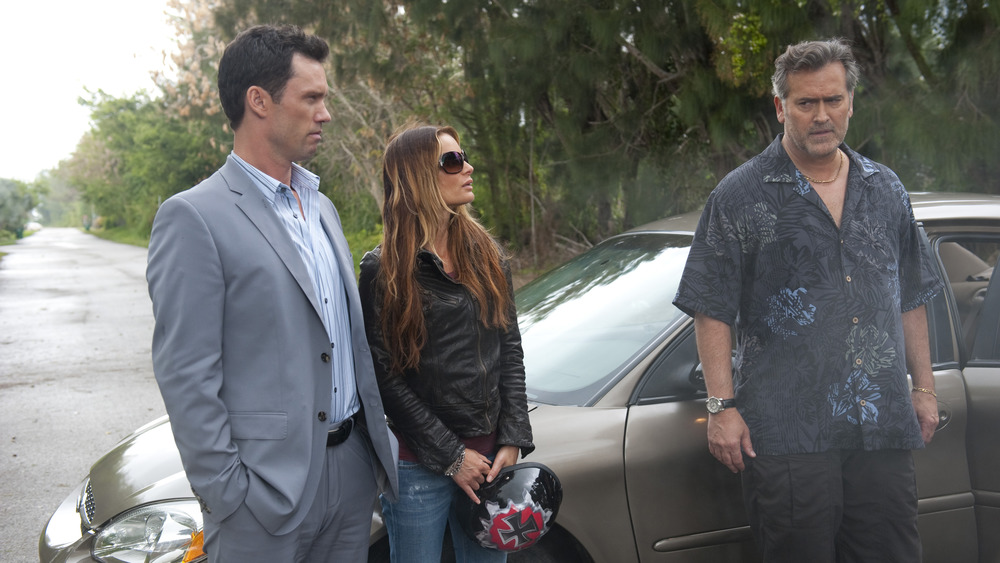 20th Television
Although it flew under too many television viewers' radars, Burn Notice is overall a critical darling. Upon its debut, NPR called it a "refreshingly retro spy caper" and at its end, the Los Angeles Times lavished the series in praise, describing it as a game-changer for USA. Burn Notice enjoys an 88% critical score on Rotten Tomatoes and a 94 % audience score. The show wasn't just a hit with critics and fans; it also received significant awards attention throughout its run (via IMDb). Burn Notice was nominated multiple times for the Emmy for Outstanding Sound Mixing for a Comedy or Drama Series. It also garnered an Emmy nomination for Outstanding Stunt Coordination (2009) and landed Gless a nomination for Outstanding Supporting Actress in a Drama Series (2010). Additionally, the stunt team was nominated for a Screen Actors Guild Award in 2011. Perhaps symbolizing the height of its power when it comes to the general public, though, is its 2010 Teen Choice Awards nominations for Choice TV Actor (Donovan), Choice TV Actress (Anwar) and Choice TV Show.
Viewers can check out Burn Notice on Hulu to revisit the show that made teens, journalists, and fans alike pay attention to USA Network.