The Netflix Original That Changed Brad William Henke's Life - Exclusive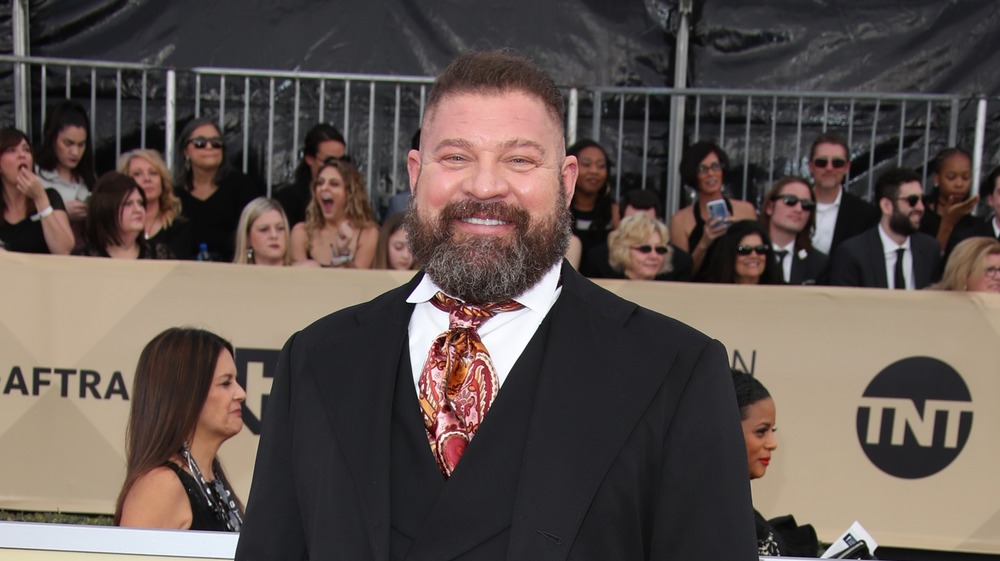 Dan Macmedan/Getty Images
He's been a part of some of the biggest series on broadcast, cable, and streaming TV, but actor Brad William Henke can tell you exactly which one of those jobs marked a significant turning point in his career.
Henke is currently appearing in CBS All Access' limited series The Stand, a nine-part drama based on Stephen King's epic post-apocalyptic novel. In The Stand, Henke plays  plays the good-natured Tom Cullen, who has learning disabilities. It's the latest role for Henke in a high-profile TV project or series, following guest, regular, or recurring stints on shows like Dexter, Lost, Law and Order, Shameless, Justified, and, most recently, Manhunt: Deadly Games.
Henke started acting in 1994 — after quitting a career as a professional football player — and landed a fairly steady stream of movie and TV roles for the next 20 years. But he tells Looper in an exclusive interview that one show in particular advanced him to a new level of recognition both in the industry and with the public: "Orange Is the New Black, by far."
Orange is the New Black was a 'culture shock' for Brad William Henke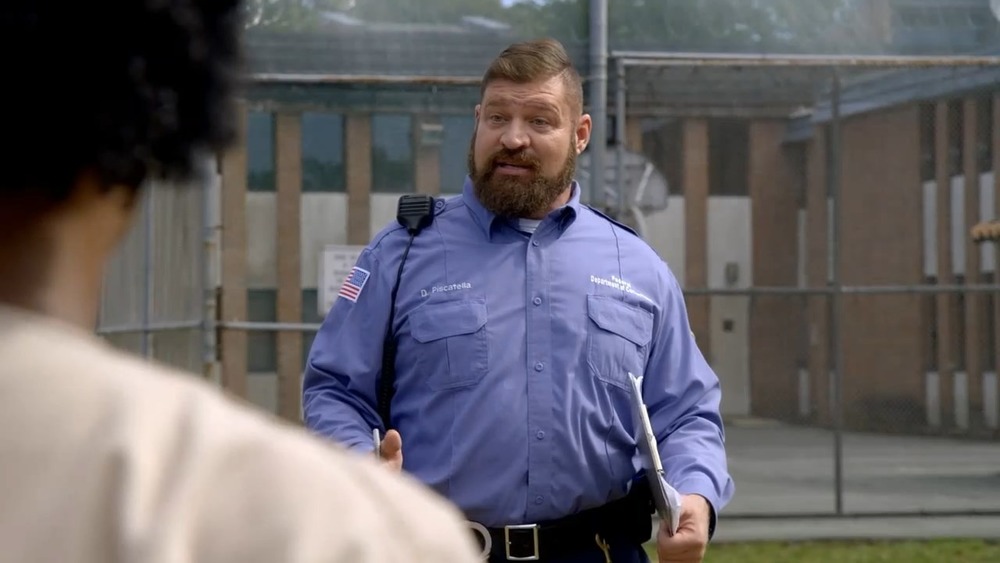 Netflix
Henke played prison guard Desi Piscatella on the acclaimed, groundbreaking comedy-drama Orange Is the New Black, appearing in 26 episodes over the course of the Netflix show's fourth, fifth, and sixth seasons. His complex, frightening, yet sensitive portrayal of Piscatella — an openly gay man whose tragic, scandalous past at a men's prison turns him into a brutal, even sadistic villain toward the women of Litchfield Penitentiary — saw Henke nabbing a 2016 Screen Actors Guild Award for Outstanding Performance by an Ensemble in a Comedy Series.
The role also earned him a major boost in both his public and professional profile. As Henke explains to Looper, "My whole life, after a while, I feel like I was respected as an actor. You know, in L.A., it would be like, 'Oh, I saw you in this Sundance movie,' or this or that. Then in New York, you would get more like — they saw you on one episode of Law and Order or something. You know what I mean?"
He continues, "But when Orange came out, I was in New York shooting my second season of Orange, and literally every ten feet, someone was stopping me and taking a picture. It was a whole culture shock."
While Orange Is the New Black, along with Henke's subsequent work on Manhunt and now The Stand, has furthered his career in a positive way, the actor says he's in the process of "trying to get a show made" that would ostensibly be a dream project for him.
"I really just want to get a show made that is to me what The Sopranos was to James Gandolfini," Henke shares with Looper. "Something that will be able to showcase me and push me and let people see what I can really do over a long period of time. I love working. I love working 15 hours and having to get back up the next day at (4am). I love finding time to rehearse. I love acting, so I want to be challenged and super tired and do something that effects some type of positive change."
New episodes of The Stand premiere on Thursdays on CBS All Access.