How American Horror Story Fans Really Feel About Michael Langdon
FX
American Horror Story: Apocalypse is pretty much no fan's favorite season of the horror anthology, but it does tie together a number of characters from previous seasons. Guests include the ghosts of season 1's Murder House and the powerful witches of Coven. The season even brought back actress Sarah Paulson's Hollywood medium character, Billy Dean Howard. She's hanging out at the Murder House, and, more importantly, one of her predictions has come true.
Remember when Billie predicted the coming of the antichrist? It was a small detail in season 1, and eight years later, American Horror Story: Apocalypse brings that prediction full circle with one handsome devil — Michael Langdon (Cody Fern). Despite his resistance, Michael fulfills his destiny as the bringer of the end of days. Although he's literally the son of Satan, American Horror Story fans don't consider him to be the evilest character on the show by far, especially compared to his dad.
Michael Langdon wasn't necessarily destined to be evil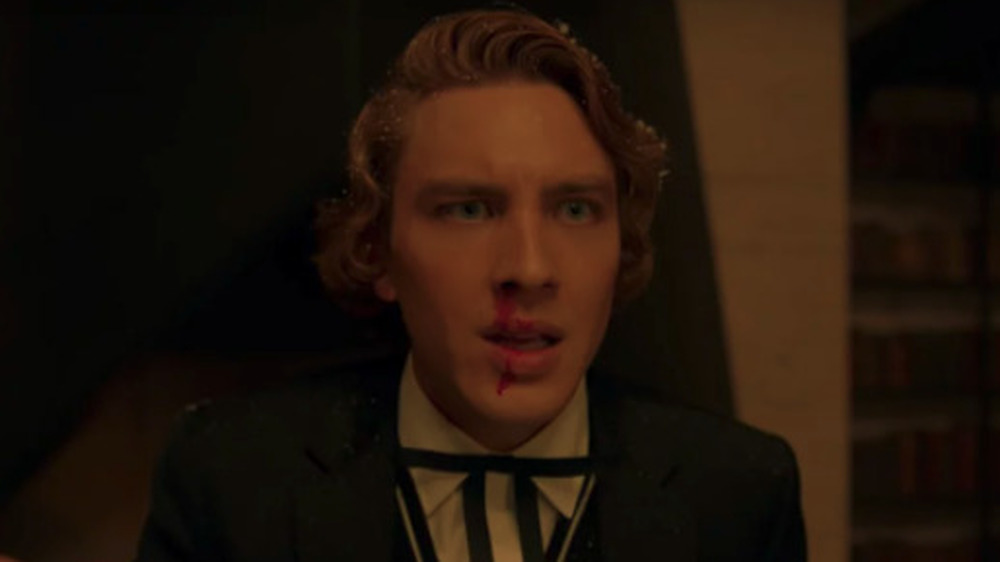 FX
If Michael's last name sounds familiar, it should. Michael was conceived during AHS: Murder House, when Tate Langdon (Evan Peters), a ghost, mated with human Vivien Harmon (Connie Britton). Such a union, Billie Dean warned, would bring about the antichrist, as predicted by the Book of Revelations in the Bible. Lo and behold, from his conception Michael wreaks havoc. He kills his twin while in utero and takes his mother's life during childbirth. His grandmother, Constance Langdon (Jessica Lange), raises him despite his instinctual need to kill, as evidenced by him slitting his nanny's throat while just a toddler.
We don't see Michael again until season 8. Now a grown man, Michael is fully aware of his unnatural instincts and tries to control them as best he can. Regardless, his evil nature drives his grandmother to suicide and prompts the afterlife to refuse him. Tate rejects him, and finally, Ben Harmon (Dylan McDermott) gives up on him. After being shunned by the people he loves, Michael falls deeper into darkness, growing angry and hopeless.
He comes into contact with several forces who help propel what they consider his destiny, including the warlocks of the Hawthorne School for Exceptional Young Men, The Cooperative (aka the Illuminati), his foster mother Miriam Mead (Kathy Bates), Satanists, and, of course, messages from daddy Satan. Fans who believe Michael is not the ultimate evil point to the fact that for most of his journey, he fights against what he has been prophesized to become. Redditor gloweringgoose posited their theory about Michael's misguidance: "... Michael was hardly even evil. He was mostly just kinda stupid and had his powers taken advantage of by a lot of people."
Michael does have a lot of chances to turn back, though: Both Cordelia Goode from AHS: Coven and the Archangel Michael himself extend a helping hand to him before Michael goes full evil.
How Michael measures up to the "other" devil in AHS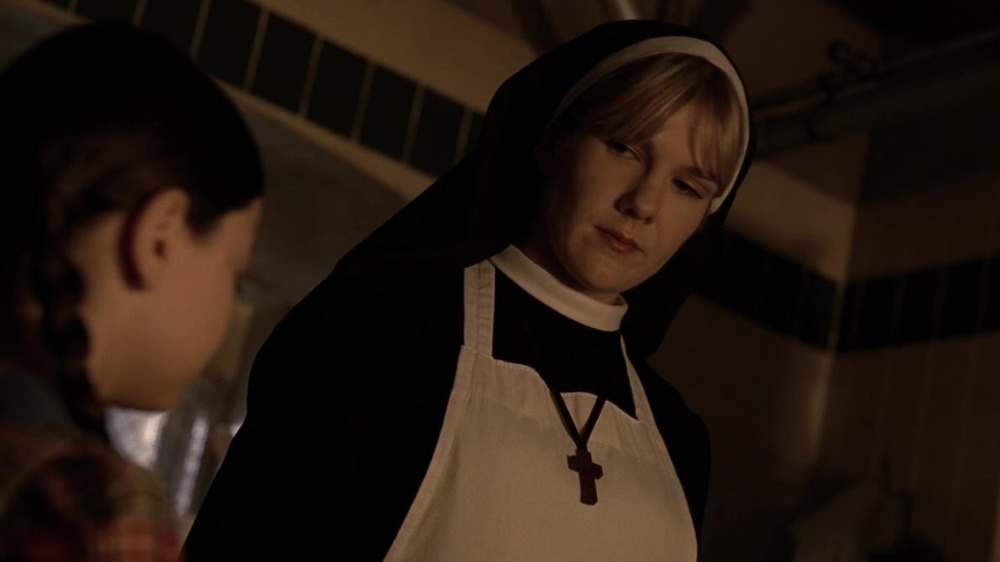 FX
Satan makes his first appearance in season 2, American Horror Story: Asylum, when he possesses Sister Mary Eunice (Lily Rabe) and wreaks havoc at Briarcliff Asylum. That being said, technically we're talking about a father versus son scenario. As Reddit user eodieumi comments, "... we have to remember that he isn't the same devil that possessed Mary-Eunice. He's the devil's son..."
Michael Langdon's powers as the antichrist are vast, including enhanced strength and power negation, but he still has weaknesses that his father surpasses. While Michael is susceptible to human pain, evidenced by the witches' takedown of him with a machine gun and a car, Satan as Sister Mary Eunice swiftly heals after being shot at by Dr. Arthur Arden (James Cromwell).
Michael is ultimately a vehicle for what his father wants, and unlike many of the characters on the show, he doesn't have a desire of his own to fulfill.
Fans named other characters that rival Michael's level of evil, including the deranged and controlling Dandy Mott from American Horror Story: Freak Show, Kyle's mom in Coven (a moment that arguably went too far), and among her many roles, Kathy Bates' portrayal of real-life killer Madame Delphine Lalaurie. But all these characters had clear goals, albeit horrible ones. Like gloweringgoose said in regard to Michael, "not to excuse his actions, obviously, but I really wish the evil of his character was better written."
No doubt we'll see another embodiment of pure evil in American Horror Story's future, as the show has been renewed for three seasons and has at least one spinoff in the works.