Kathy Bates' American Horror Story Characters Ranked Worst To Best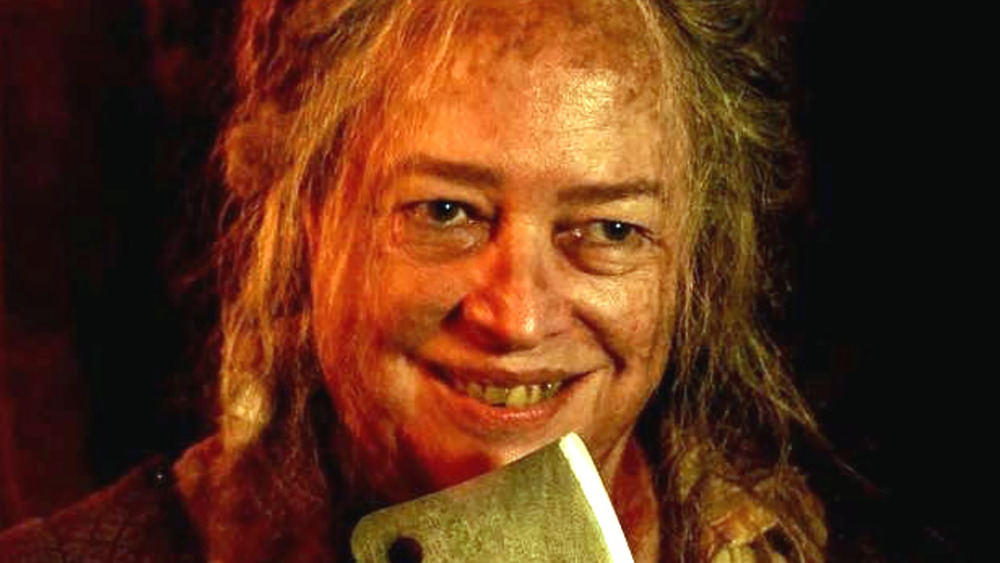 FX
After nine seasons and with a tenth on the way, Ryan Murphy's American Horror Story is considered one of FX's best series of all time. Everything from the creative storylines to the terrifying intros and, of course, the iconic characters are expertly crafted and always entertain. For a time, Evan Peters, Jessica Lange, and Sarah Paulson were amongst Ryan Murphy's go-to actors, but as of season 3's Coven, Kathy Bates, known for her iconic roles in Misery and Titanic, joined the cast and never left.
From season 3 on, Bates has been dominating the screen with her wide range of deliciously good characters, and she won an Emmy for her work in Coven. Bates' skills are apparent in each and every narrative she's given, and even though she has had quite an impressive career that spans back to her first role on All My Children in 1970, some of her best work in the 2010s has been on the set of American Horror Story. So which of Murphy's terrifying and complex character creations has Bates excelled in? Here they are, ranked worst to best.
Apocalypse: Miriam Mead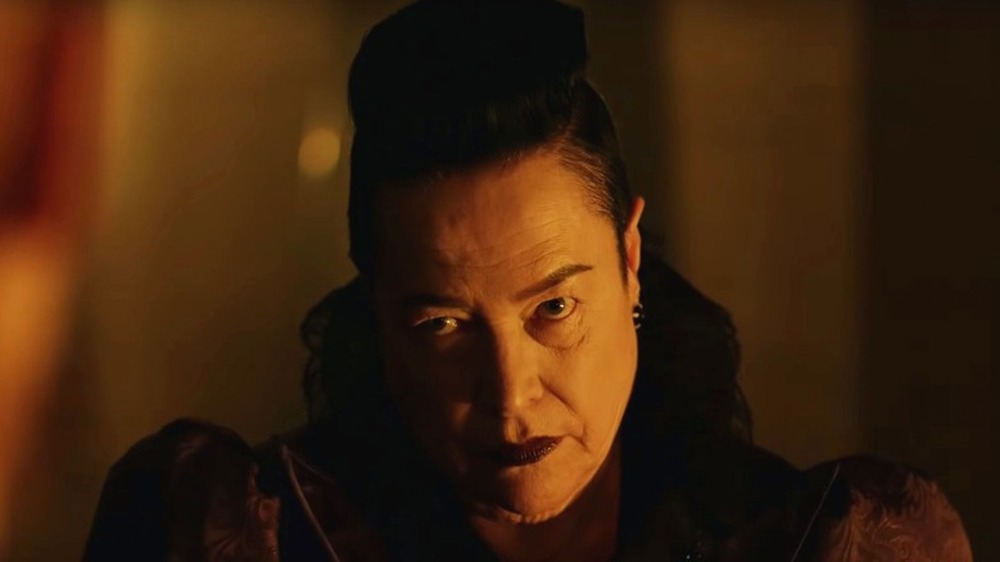 FX
AHS fans can collectively agree that Apocalypse wasn't the best season, but it still has its moments. After viewing several episodes, it seems like there are so many characters vying for the spotlight that it's hard to really focus on one over another. So, Kathy Bates' role as Miriam Mead wasn't terrible — it just didn't have that "wow factor" as her other characters do.
Ms. Miriam Mead is a so-called "henchwoman" to Michael Langdon (Cody Fern) and is ruthless and sadistic throughout the season. She has authority in Outpost 3, the shelter she and the other survivors live in, and it's obvious she enjoys the "decontamination" process when inviting new survivors in. She was once a part of the Church of Satan and has said that, "Killing is in my DNA." This would seem like a front-runner for Bates' best character on AHS, but again, there are too many cooks in the kitchen.
Freak Show: Ethel Darling is the voice of reason, but her persona was hard to follow at times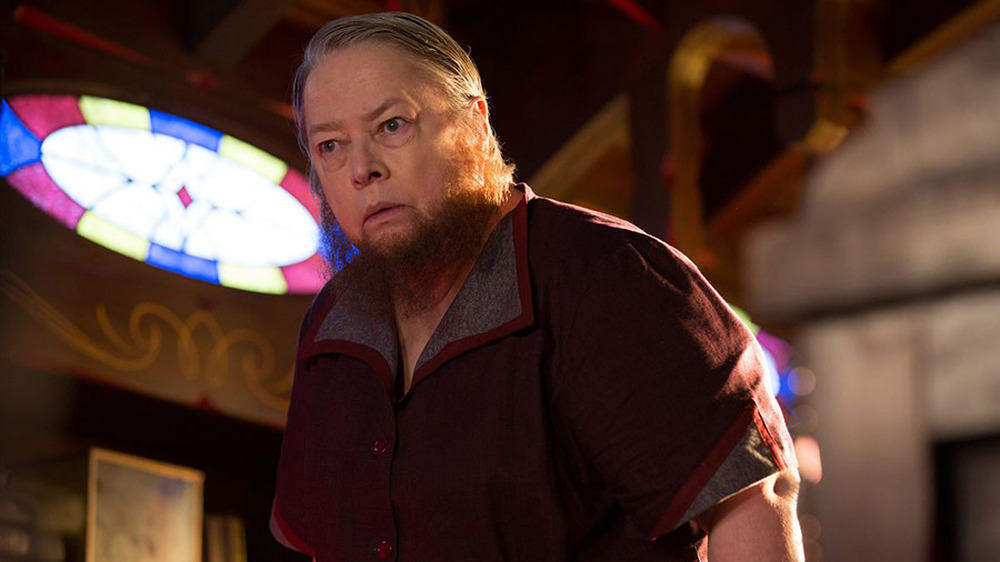 Michele K. Short/FX
In true AHS fashion, season 4's Freak Show has quite a few villains with ulterior motives up their sleeves, for one reason or another. As for Kathy Bates, though, her character Ethel Darling is quite the opposite. Looking back at the characters Bates has played so far, Ethel Darling is the most innocent and has a solid voice of reason. Darling is the bearded lady at Fräulein Elsa's Cabinet of Curiosities in Jupiter, FL, and has a son named Jimmy (Evan Peters) and a hotheaded ex-husband named Dell (Michael Chiklis) who is still around. Darling was a popular woman prior to marrying Dell and was only shamed once Dell pushed her to seek other venues to perform at. Since then, she's become a mother figure to not only Jimmy but the other freaks, too.
Again, Bates did her best to bring the character of Ethel Darling to life, but the Bostonian accent she portrayed throughout the season overshadowed her character's potential. Overall, Bates' performance was still pretty solid, and her need for purpose and acceptance was incredibly sad, yet relatable, in ways.
Hotel: Iris is the face of Hotel Cortez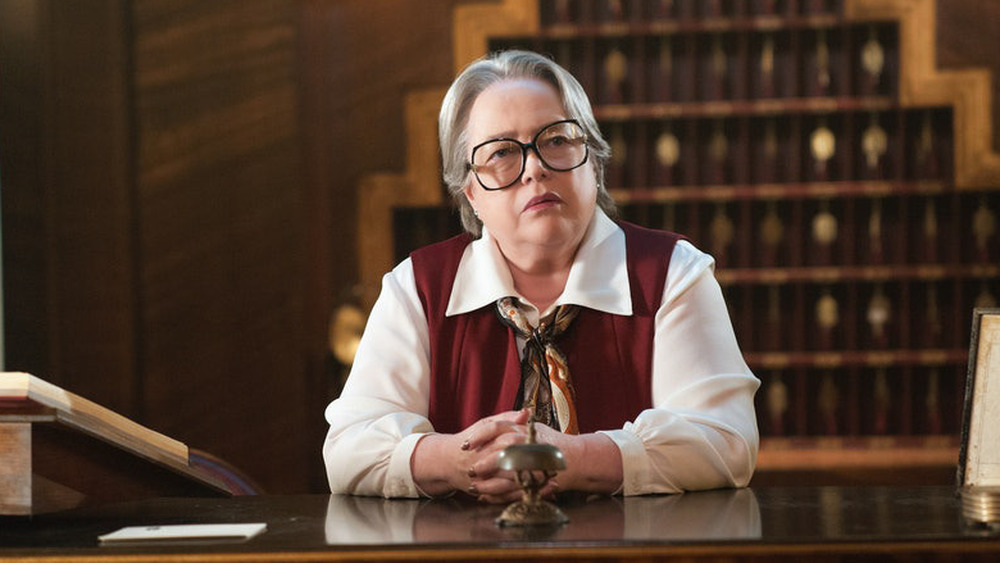 FX
Even though Kathy Bates received an Emmy nomination for her portrayal of Iris in AHS: Hotel, this role isn't her most memorable for a few reasons. For one, Lady Gaga, who played the Countess, was a huge presence, and Iris seemed more of a wallflower for a huge chunk of the season. Of course, this all changed once she got her first taste of blood, literally, and her role changed. She went from working the front desk of Hotel Cortez to remain close to her son Donavan (Matt Bomer), to pushing Sally McKenna (Sarah Paulson) out of a window for supplying deadly drugs to her son, to shooting up the Countess' penthouse for ownership of the hotel.
Certainly, Iris was a character that could win the medal for "Most Improved," but Bates still has other, more mentionable character contenders up her sleeve.
Roanoke: The Butcher was delightfully deranged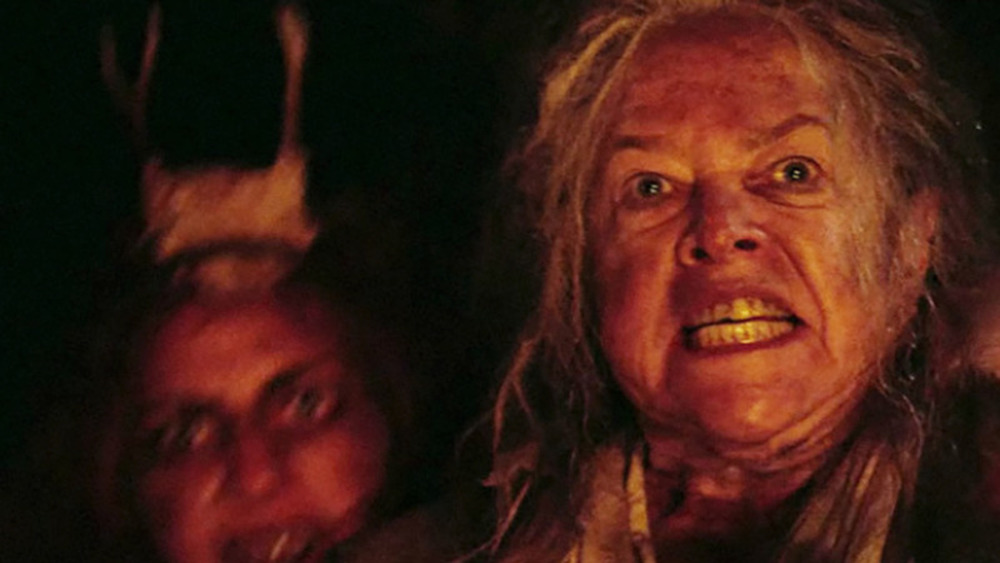 FX
In Season 5's Roanoke, Kathy Bates had not one, but two complex and very different characters. The first one to rear its deranged head was her role as the Butcher in the season's fictional reality series, My Roanoke Nightmare. According to Ranker, there are several real-life inspirations for this bloody good character. The first is the origin of the Butcher's power, which comes from an Irish mythological figure, the Scáthach, played by Lady Gaga in My Roanoke Nightmare. The second is witchcraft, which was used by the Butcher, aka colonial woman Thomasin White. Witchcraft was becoming more apparent in the time of Roanoke, and AHS portrayed that beautifully. Finally, Roanoke took a lot of historical nods from the real Roanoke colony mystery, which makes this season and Bates' role all the more creepy.
Bates' role as the Butcher was bloody, vengeful, satanic, and fun to watch. AHS: Roanoke took a wild turn from a cheesy reality show role to an actual woodsy cult living in the woods and demanding bloodshed.
Roanoke: Agnes Mary Winstead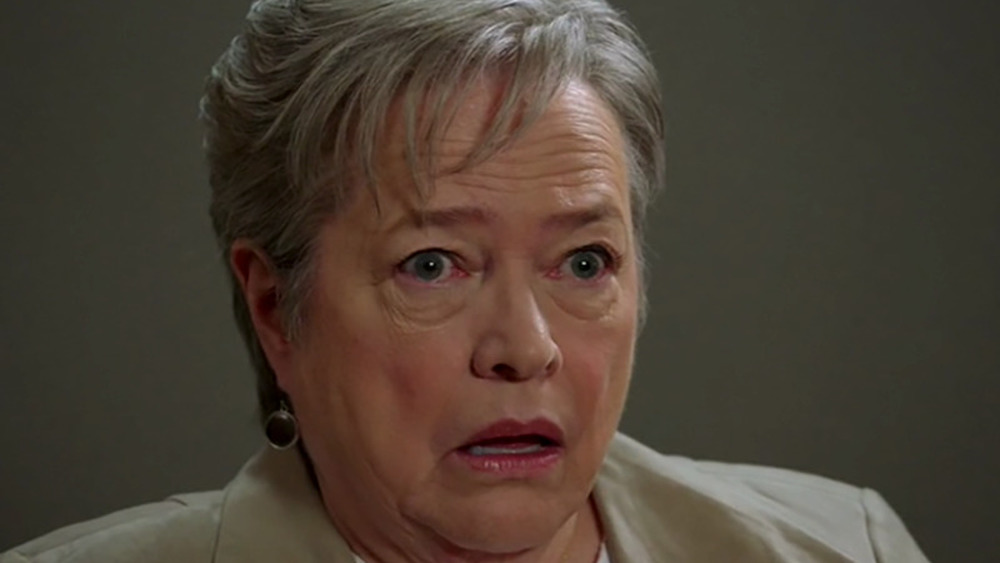 FX
Agnes Mary Winstead (Kathy Bates) was awarded the role of the Butcher, also known as Thomasin White, in My Roanoke Nightmare. She seems perfect for the role but becomes obsessed with it, thinking she has some sort of "connection" to the actual colonial woman. Throughout the season, viewers can see Winstead's psychotic downfall, as she takes to the streets in her garb, running around Los Angeles with a cleaver.
Winstead creates good drama for the reality series portrayed in Roanoke, but she becomes unhinged and is eventually forbidden to visit the reality show set. In the end, the real Butcher, Thomasin White, played by Susan Berger, ends up killing her, which is kind of trippy since, in a way, Bates played both characters. Overall, these characters must've been fun to play, and by the looks of Bates' performances, she was the perfect actress to do it.
Coven/Apocalypse: Madame Delphine LaLaurie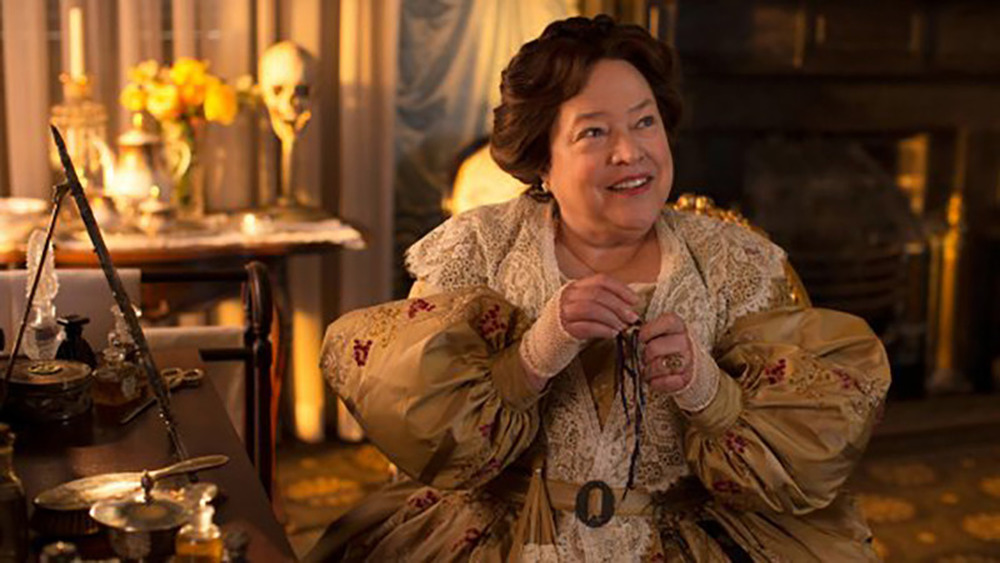 FX
The time has come to talk about Kathy Bates' best role to date on American Horror Story. Appearing in Coven and Apocalypse, Madame Delphine LaLaurie, who is based on the actual woman often nicknamed "Madame Blanque," is played by Bates, and boy does she deliver. This was Bates' first role in AHS, and she even won an Emmy for it. Ryan Murphy knew he had something special when he cast Bates, as well as the entire female cast of the season. LaLaurie was known for being all kinds of despicable, and Bates doesn't let up for one moment as she portrays her acts on-screen. From the brutal killing scenes to her moments with Marie Laveau (Angela Bassett) and Fiona (Jessica Lange), this whole season was perfectly rounded, with Bates' performance of LaLaurie as the cherry on top.
Murphy has announced that Bates will be back for season 10 and hints that she'll have a unique relationship with newcomer Macaulay Culkin.