Colm Meaney Reveals What Makes Pixie A Truly Irish Film - Exclusive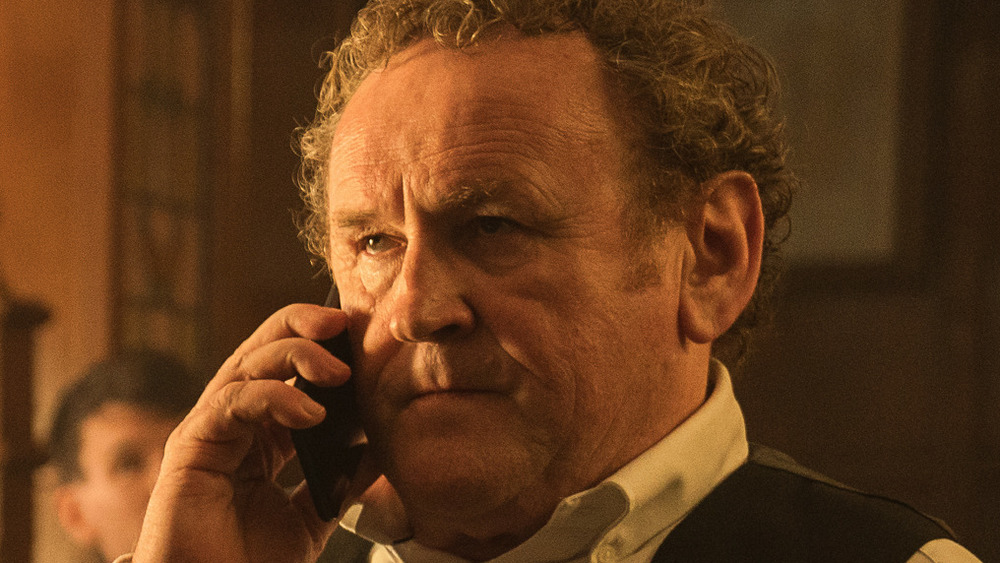 Paramount Pictures
One of the most striking things about Pixie, a new genre-hopping crime thriller and black comedy film set in Ireland, is the sheer beauty of the actual Irish locations that director Barnaby Thompson utilizes in the film. Most of them are on the West Coast of the country, which may be one of the most awe-inspiring spots on the planet. The film was inspired by a drive that Thompson and his son, Pixie screenwriter Preston Thompson, took through the area.
"It's where [poet] W.B. Yeats grew up, and it's particularly spectacular there," says Irish actor Colm Meaney when speaking with Looper in an exclusive interview. In Pixie, Meaney plays Dermot O'Brien, a crime boss in the town of Sligo whose stepdaughter Pixie (Olivia Cooke) isn't just the title character, but also the center of the fast-paced film's twisty and often rollicking narrative.
"The scenery in Ireland [...] the fact that it's an island, the fact that you're always close to the ocean, or close-ish, affects the weather [and] the light," Meaney tells Looper. "Very often, there's not a whole lot of light, but what light is there is very interesting. And of course, because of the weather, you have the 40 shades of green that they talk about."
Meaney, who splits most of his time between homes in Los Angeles and Spain (he's been staying in the latter country for a year now due to COVID restrictions), always looks forward to a chance to work in his native land, especially on a film that other cast members have dubbed "authentically Irish."
Pixie avoids the usual Irish stereotypes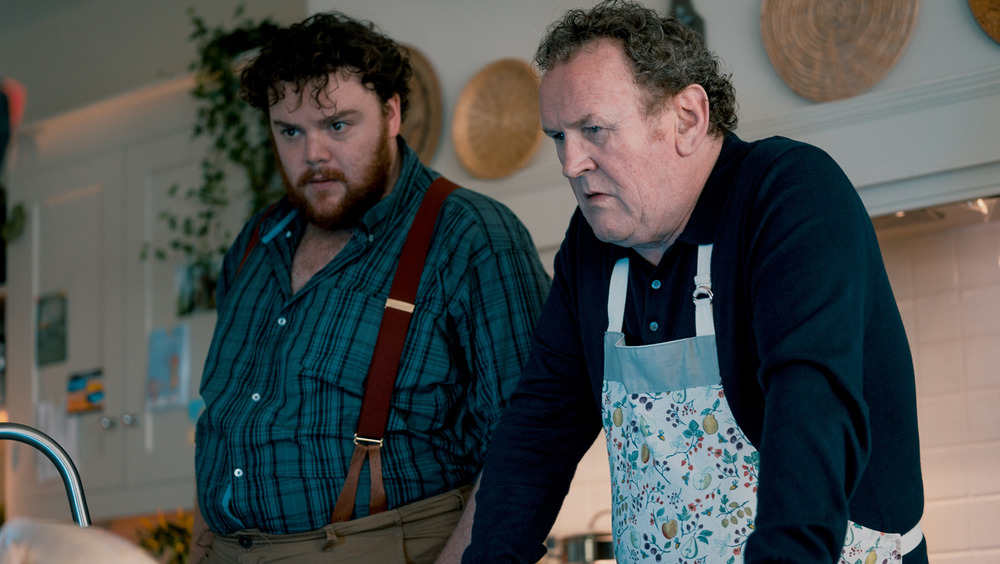 Paramount Pictures
Two of Meaney's cast mates, Irish actor Daryl McCormack and American actor Alec Baldwin (who's of Irish ancestry), praise Pixie in the film's production notes, with McCormack calling it "an authentically Irish" movie and Baldwin referring to the picture as "a real Irish comedy." Meaney tells Looper that he understands what his fellow actors mean, and agrees with their assessment. "I think what they mean there [is that] there's no descent into what we sometimes call in Ireland 'paddy-whackery,'" he says. "Where it's the Darby O'Gill stuff — 'top of the morning' and all that. There's none of that, not a hint of that, indeed in the script or in the film."
The actor cites Wild Mountain Thyme, a recent romantic comedy starring Northern Irish actor Jamie Dornan and English actress Emily Blunt, as an example of the kind of film that portrays Ireland in a more stereotypical light. "It was hammered [by critics and viewers] because it was full of that kind of sentimental American view of Ireland, which is sort of like the shamrocks, the shillelaghs, the leprechauns, all that," Meaney notes.
"Modern Ireland is very different to that. Modern Ireland is very like this film," he continues. "So I think that's what [McCormack and Baldwin] mean, that Pixie manages to be funny and moving and wonderfully entertaining, but in no way descending into sort of sentimentality or the 'old sod weeping into your drink' kind of attitudes."
Colm Meaney says the script for Pixie was "off the wall"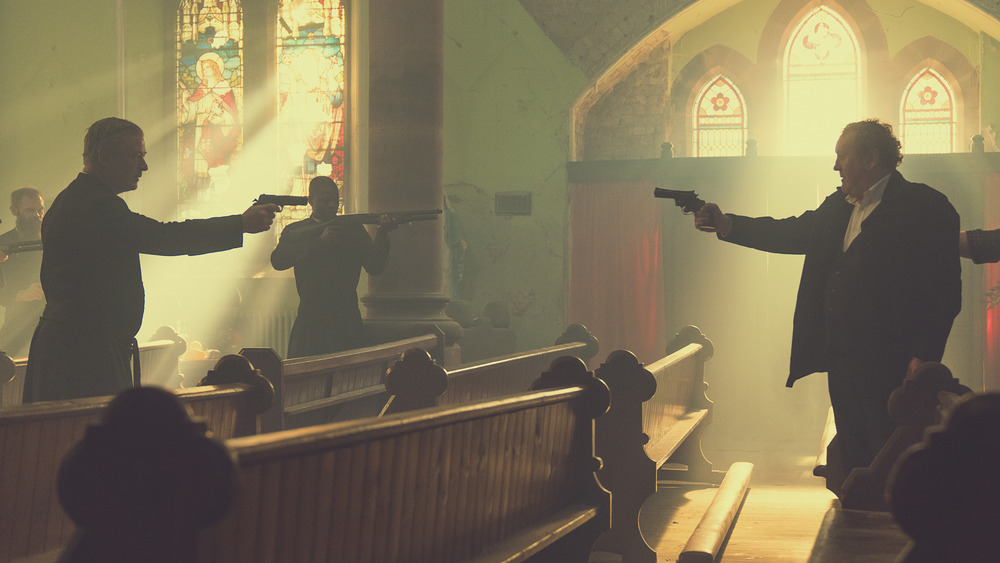 Paramount Pictures
As in most crime films, everyone in Pixie has an agenda: Pixie is out to avenge the suspicious death of her mother, and also plans to leave the town of Sligo behind forever and start a new life in the States. To do that, she needs money, and her plan to steal a hefty sum soon involves not just her reluctant stepdad and his gang, but also a rival criminal organization of priests and nuns headed up by Father Hector McGrath (Baldwin), various drug dealers and hitmen, and two low-level wannabe gangsters who are both in over their heads and head over heels for their new boss: you guessed it, Pixie.
"The whole script was so off the wall," says Meaney. "It was the script I probably most enjoyed reading in many, many years. I mean, it was a real page-turner, but it also made me laugh out loud, which attracted me to the project."
The actor — who is perhaps best known to American audiences as engineer Miles O'Brien from Star Trek: The Next Generation and Star Trek: Deep Space Nine, as well as "Doc" Durant from Hell on Wheels — also relished playing a crime boss who's more interested in opera and cooking than murder and heists.
"The opera and the cooking and all that is fabulous, but what I particularly loved was that he's a guy who's just kind of tired of it all. It's just kind of like, 'Oh, do I have to go out and kick the s**t out of this guy? I'd really much rather stay at home and make a nice soufflé, you know?'" he explains with a smile. "It's wonderful to play that. It's a wonderful character."
Pixie is out now in select theaters, on digital, and on demand.