The Sean Connery Disney Movie You Probably Didn't Know Existed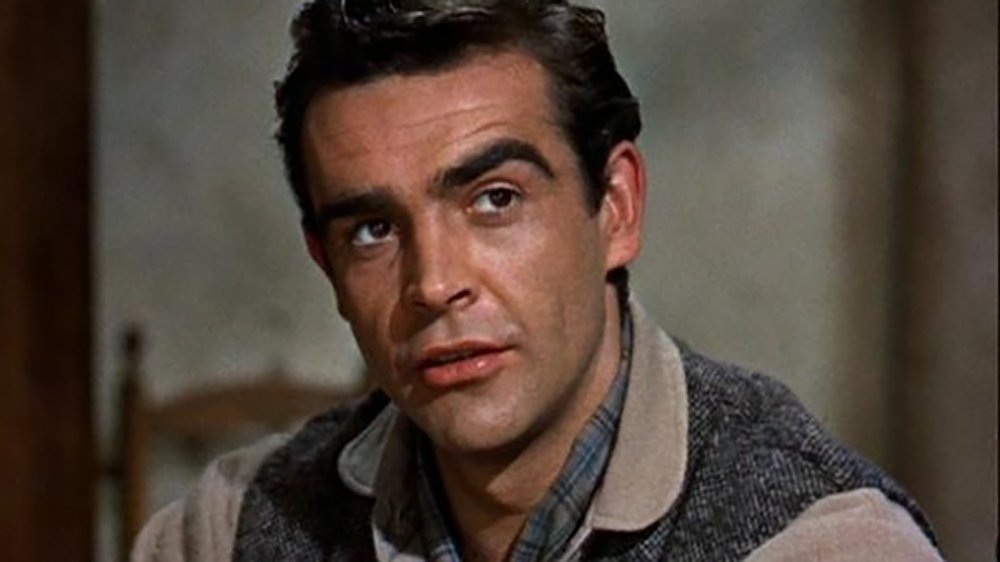 Walt Disney Pictures
He may be best remembered as the first man who brought James Bond to life on the big screen, but the late Sir Sean Connery did much more than carry out missions as the British MI6 agent codenamed 007. Sure, Connery (who tragically passed away on October 31, 2020 at 90 years old) did a lot of action-adventure-adjacent activities in movies like The Man Who Would Be King, Highlander, The Untouchables, The Hunt for Red October, Dragonheart, and The Rock — but did you know he also starred in a Disney movie?
Released in 1959, Darby O'Gill and the Little People features Connery in the role of a strapping young Irish man named Michael McBride. He appears opposite Albert Sharpe as the titular Darby O'Gill, the aging caretaker of an Irish estate in the cozy town of Rathcullen who's trying to capture leprechauns, and Janet Munro as Katie O'Gill, Darby's daughter. When Lord Fitzpatrick (Walter Fitzgerald), the estate owner, lets Darby go from his position and hires Michael to take his place, Darby makes a plea to Michael to not tell Katie of the situation. On his way back home, Darby's life is turned upside down yet again — this time in an even bigger way. 
He falls through a portal and enters the land of the leprechauns, where their king, Brian (Jimmy O'Dea), seizes Darby and brings him up to his mountain dwelling. After Darby escapes and subsequently traps King Brian, the latter grants the former three wishes. What unfolds as Darby uses up his wishes is nothing sort of grin-inducing fun.
It seems everyone loves Darby O'Gill and the Little People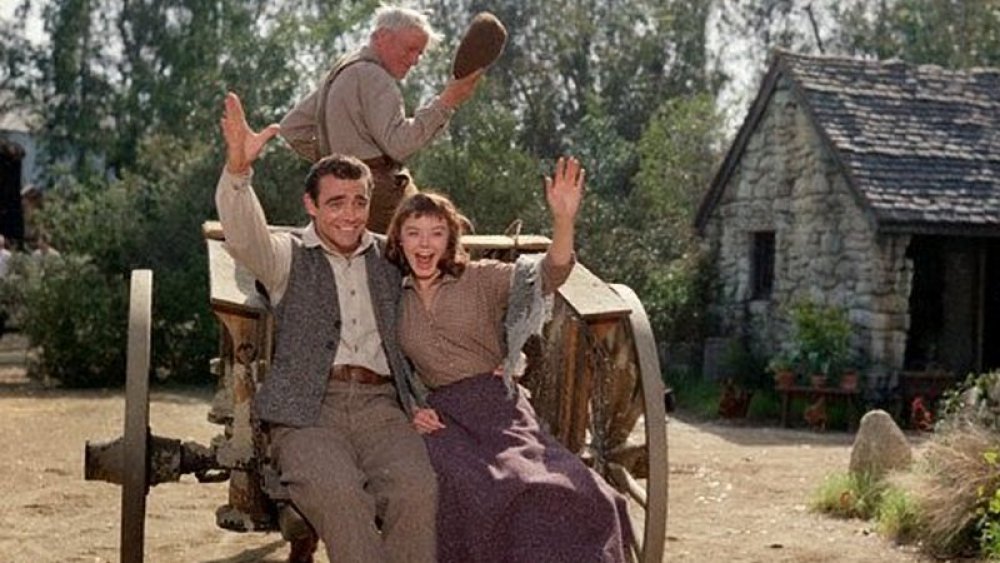 Walt Disney Pictures
Ask anyone who's seen Darby O'Gill and the Little People, and they'll likely tell you it's charming, soul-warming, and all around splendid. As of this writing, the film has a perfect 100-percent rating on Rotten Tomatoes.
TV Guide staff gave the film a four-star rating, heaping praise upon it and encouraging everyone — adults and children alike — to watch Darby O'Gill and the Little People to escape into a world of wonder.
"This wonderful tale is told with a brisk, imaginative pace and the special effects — whereby Darby interacts with the tiny leprechauns — are marvelously executed, and sometimes frightening. Sharp camerawork is enhanced with brilliant colors and the music (by Oliver Wallace and Lawrence E. Watkin) is delightfully and capriciously Irish. Young Sean Connery is a breathtaking feast for the eyes, and Munro makes a fetching colleen," the outlet writes. "Any child who hasn't seen Darby O'Gill and the Little People has missed an important bit of fancy, and that goes for adults too."
If you need more proof of the film's merits, take the word of A.H. Weiler from The New York Times. He described Darby O'Gill and the Little People as an "overpoweringly charming concoction of standard Gaelic tall stories, fantasy, and romance." Later in his review, Weiler said that Walt Disney "and his Hollywood folklorists have dressed their fable up in lovely colors" and a truly dazzling cast — notably Connery as the "tall, dark, and handsome" Michael.
Even now, Darby O'Gill and the Little People is considered one of the best and most underrated Disney movies ever made. Luckily for those who have yet to dive into the movie's many splendors, Darby O'Gill and the Little People is available to stream on Disney+ right now.