Where The Cast Of Star Trek: The Next Generation Is Today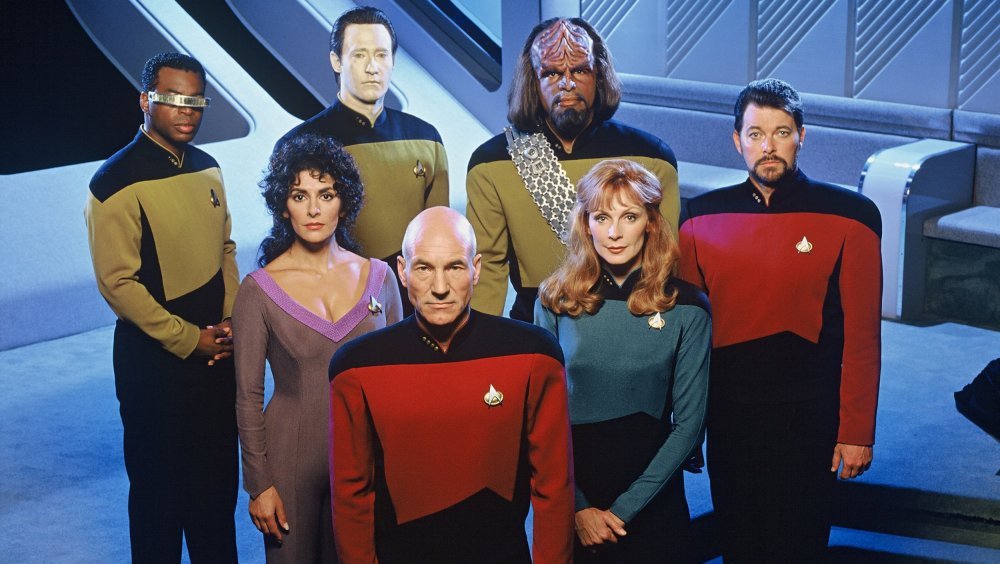 In 1987, after a series of successful feature films starring the Original Series cast, the Star Trek franchise decided to boldly go in a new direction. Star Trek: The Next Generation took the risk of creating an all-new cast of characters in an all-new era of the science fiction classic, and the risk paid off. More than 30 years after it debuted, Star Trek: The Next Generation remains one of the most beloved and influential sci-fi series of its era, and for many fans it grew to surpass its predecessor series in terms of quality, depth, and thematic complexity.
Because it was so warmly received and has such an impressive legacy, The Next Generation also made worldwide stars out of its ensemble cast, and they've all gone on to various levels of success beyond Star Trek in both film and television, working in front of and behind the camera. From Captain Picard to Lt. Yar, here's what the cast of Star Trek: The Next Generation is up to today.
Patrick Stewart - Jean-Luc Picard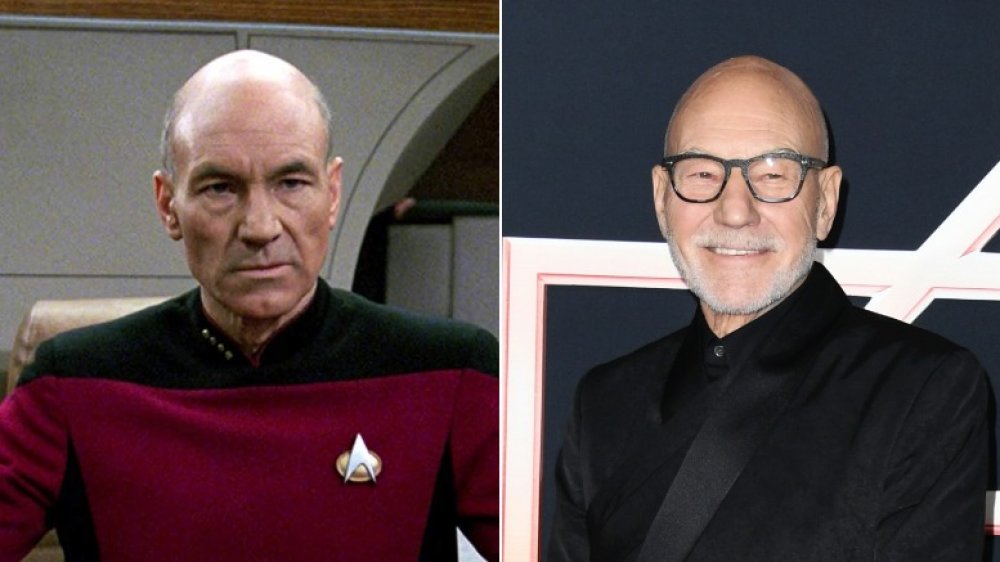 Jon Kopaloff/Getty Images
Sir Patrick Stewart had the unenviable task of following William Shatner's James T. Kirk as the next captain of the Enterprise in Star Trek canon. Somehow, as Captain Jean-Luc Picard, he not only pulled it off, but managed to become a science fiction icon to rival Kirk, leading the Enterprise crew with steely resolve and an always commanding presence.
Stewart's Shakespearean background made him what seemed like an unlikely fit for Star Trek, but The Next Generation propelled him to global stardom, and the notoriety that came with the series led to a number of other iconic roles, most notably as Professor Charles Xavier in the X-Men franchise. Stewart played that role from X-Men in 2000 all the way through to Logan in 2017, cementing his status as a titan in two major genre franchises. His other roles include a fan-favorite version of Ebenezer Scrooge in 1999's A Christmas Carol, a malevolent skinhead in Green Room, and Walter Blunt in the acclaimed series Blunt Talk. He's also continued to act on the stage, and returned to reprise his most iconic role in the CBS All Access series Star Trek: Picard.
Jonathan Frakes - William Riker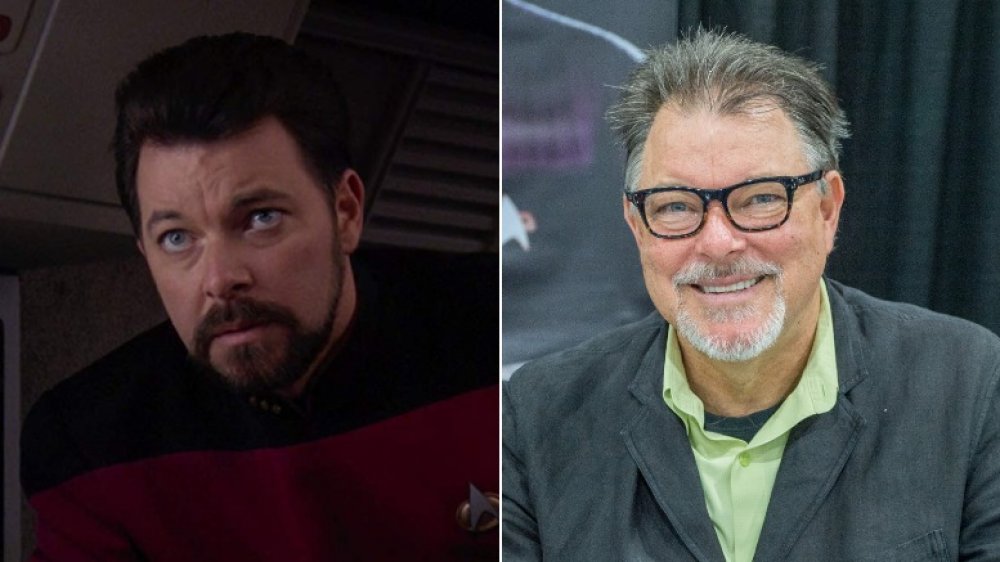 Roy Rochlin/Getty Images
A Captain with the presence of Jean-Luc Picard needed a First Office who could keep up, and in that capacity Jonathan Frakes shined in The Next Generation as William Riker. The two characters balance each other out throughout the run of the series, as Riker injected a sense of humor and a certain sense of cavalier passion into the command of the Enterprise.
After beginning his career in the 1970s with a series of small TV appearances, Frakes spent the '80s gaining increasingly larger roles on series like Paper Dolls, Falcon Crest, and North and South before landing the role of Riker. Since The Next Generation era ended he's continued to work as a voiceover actor for shows like Gargoyles, Adventure Time, and Guardians of the Galaxy, but he's also gained a passion for working behind the camera. Since making his directorial debut on The Next Generation (and directing both First Contact and Insurrection), he's continued to work regularly directing television, including episodes of Star Trek: Discovery and Star Trek: Picard. He also returned in front of the camera for Picard, reprising his role as Will Riker.
Brent Spiner - Data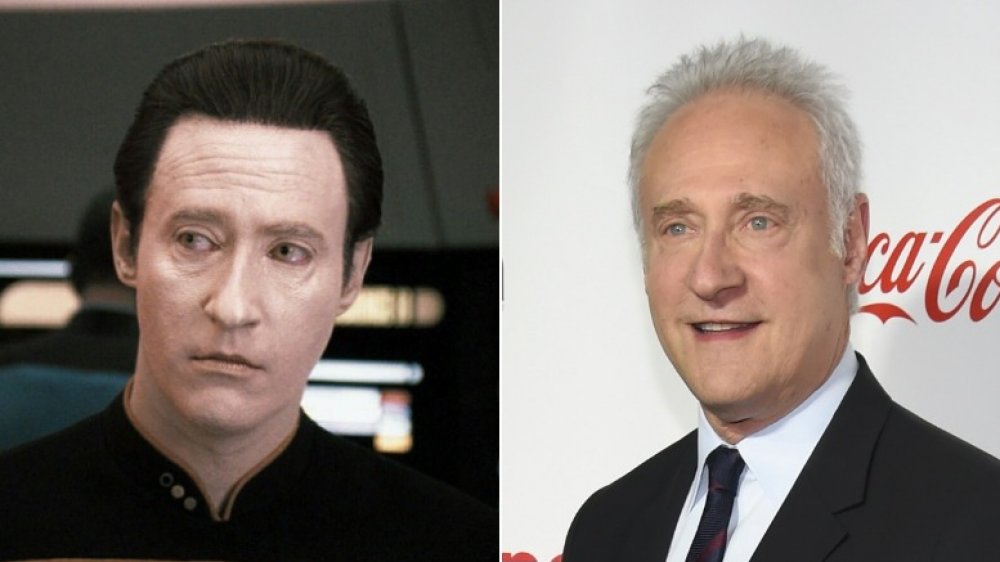 Ethan Miller/Getty Images
Just as The Original Series had Spock, The Next Generation had its own almost-human character there to inject a certain strangeness and different perspective into the crew's adventures. The role was Data, and it fell to Brent Spiner, who turned the aspirational android into one of the franchise's most beloved characters.
After a series of guest starring roles on television, Spiner became an icon when he was cast as Data in The Next Generation, a role he continued on the big screen while also branching out into related characters like Lore and B-4 in various stories. Since then he's continued to work regularly with roles in series like Threshold, Warehouse 13, Ray Donovan, Outcast and Star Trek: Enterprise. He's also been a prolific voice actor, with credits including Gargoyles, Justice League Action, Star Wars Rebels, Generator Rex, and many more. Finally, he reprised his role as Data in The Next Generation sequel series Star Trek: Picard, alongside many of his original castmates.
Marina Sirtis - Deanna Troi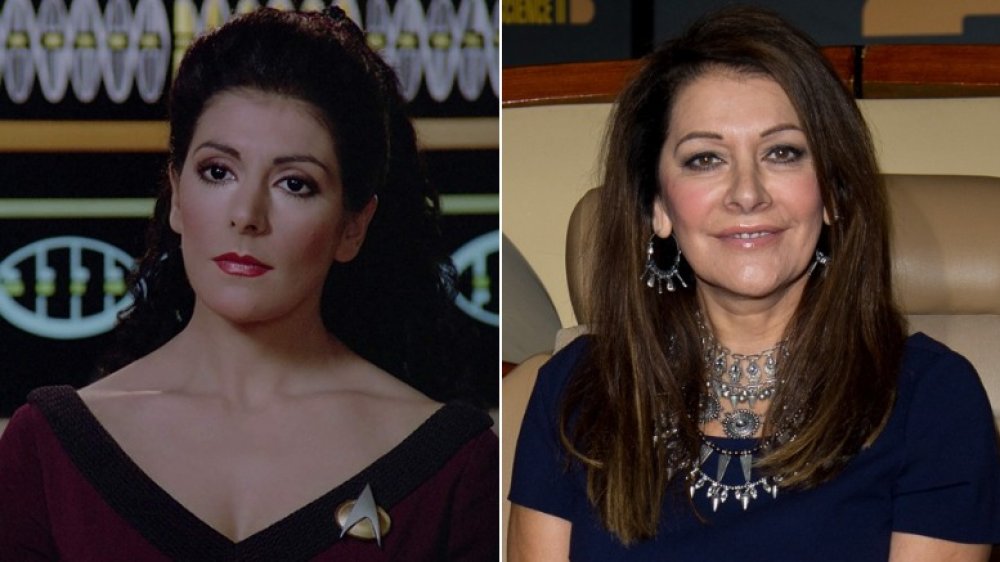 Ben A. Pruchnie/Getty Images
As counselor Deanna Troi, Marina Sirtis added an element to The Next Generation that even The Original Series never quite explored. She was in some ways the heir to Uhura, but in other's her position as counselor allowed her to inject a new sense of emotional and psychological depth to the series, and her relationship with William Riker may be the best romance in Trek history.
Sirtis' career began with a number of small film and TV roles in the U.S. and the U.K. before she landed Next Generation, and she went on to play Troi in four feature films and the Trek series Voyager and Enterprise (in a cameo only). Since TNG ended she's stayed busy with TV roles including Without a Trace, Riley Parra, and Girlfriends, as well as film roles including Crossing, For the Love of George, 5th Passenger, and more. She's also a prolific voice actress, with roles on Gargoyles, Young Justice, Adventure Time, Mass Effect and more. In 2020, she reprised her role as Deanna Troi on the TNG sequel series Star Trek: Picard.
Gates McFadden - Beverly Crusher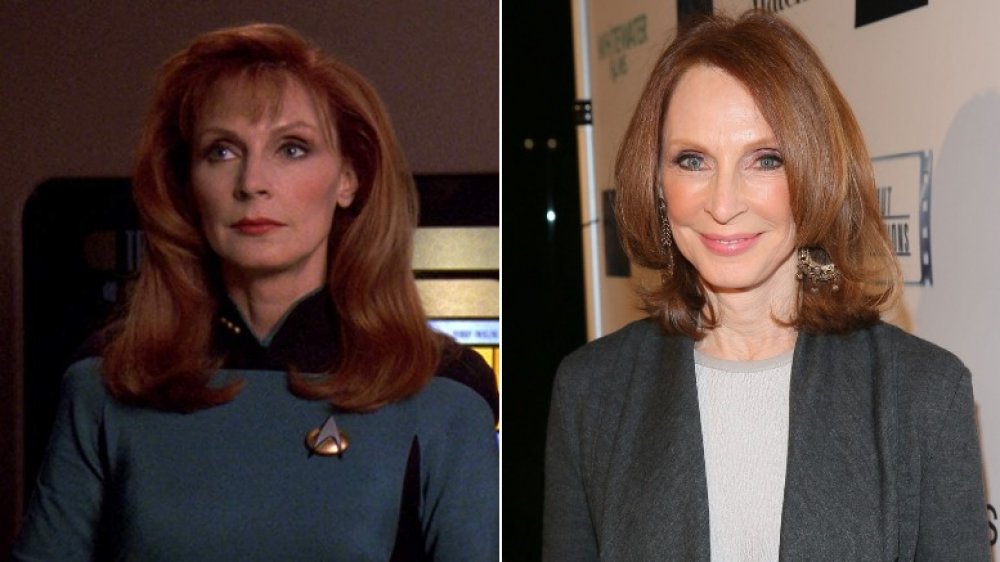 Mark Davis/Getty Images
The Original Series created an iconic Star Trek doctor in Leonard McCoy, so The Next Generation felt compelled to try and do the same. With Gates McFadden, the show found the perfect doctor for this new generation of the Enterprise crew. As Dr. Beverly Crusher, McFadden was the level-headed, always nurturing and caring presence aboard the starship, and while she sat out season 2 and wasn't always front and center in the cast, her absence was always felt, and she turned out to be an icon in all the ways McCoy wasn't.
McFadden landed the role of Crusher after a series of small roles in the 1980s, and has since appeared semi-regularly in various small film and TV roles. She remained part of the TNG cast through the feature film era, and her other roles since the series ended have included TV roles on Marker, Mad About You, The Practice, The Division, Franklin & Bash, The Handler and more. Her most recent screen acting appearance was in an episode of NCIS in 2017.
Michael Dorn - Worf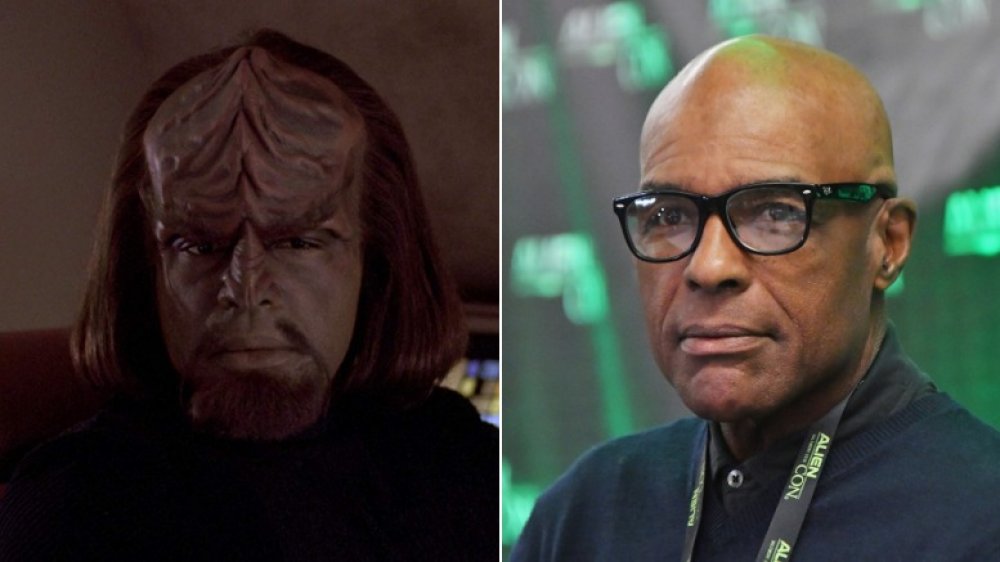 Michael Loccisano/Getty Images
One of the most important aspects of the future established by Star Trek: The Next Generation was the evolved relationship between humans and Klingons. This time around, the series put a Klingon on the Enterprise Bridge in the form of Worf, the intense warrior turned Federation office played by Michael Dorn. Dorn's portrayal of Worf made him perhaps the most popular Klingon in the history of the series.
Dorn's major breakthrough came in the late 1970s when he landed a recurring role on CHiPS, and he continued to work regularly through the 1980s via TV guest appearances. Once he landed the role of Worf, he held onto it in a way that even some of his TNG co-stars did not, playing the character through four feature films and a recurring role on the TNG follow-up series Star Trek: Deep Space Nine. Since then, he's continued acting regularly in live action and is an extremely prolific voice actor. His credits include The Santa Clause franchise, Gargoyles, Superman: The Animated Series, Castle, Teenage Mutant Ninja Turtles, Arrow, The Lion Guard, and much more.
Wil Wheaton - Wesley Crusher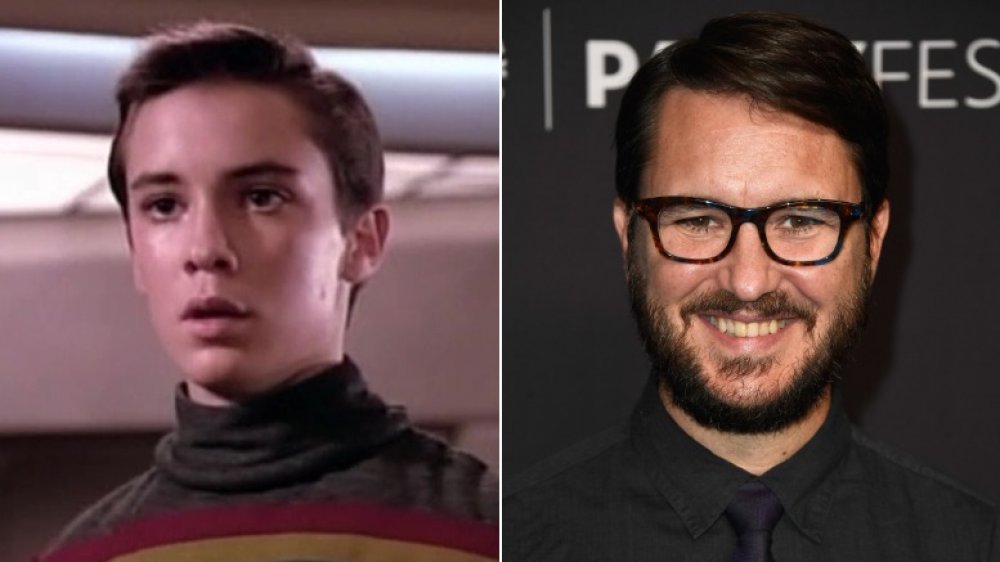 Alberto E. Rodriguez/Getty Images
Though he was only a teenager when he landed the role of Ensign Wesley Crusher on Star Trek: The Next Generation, Wil Wheaton was more famous than certain co-stars of his at the time thanks to roles in hit films like The Secret of NIMH, The Last Starfighter, and Stand by Me. As Wesley Crusher, he injected a teenage energy into Star Trek that hadn't been seen so frequently before, and as a result his character became a divisive topic among fans.
After appearing in the first four seasons as a regular, Wheaton left TNG to pursue other projects, returning as an occasional guest star while working on films like Toy Soldiers, The Liars' Club, and more. Since then he's continued to appear regularly onscreen, most famously as a fictionalized version of himself on The Big Bang Theory and as host of the YouTube gaming series Tabletop. He's also a prolific audiobook narrator and voiceover artist, with credits including Teen Titans, Legion of Super Heroes, Fantasy Hospital, Transformers: Power of the Primes, and much more.
LeVar Burton - Geordi La Forge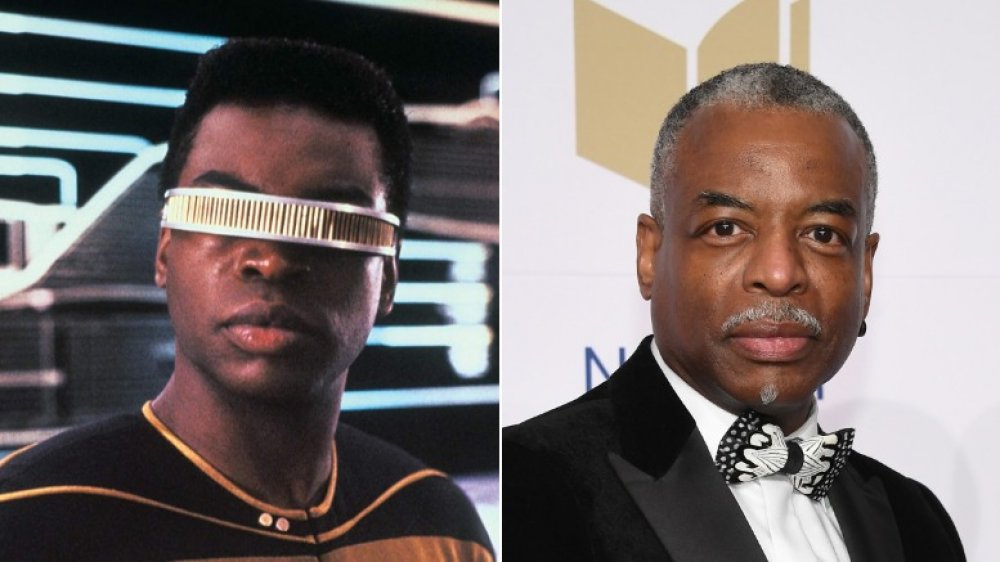 Dimitrios Kambouris/Getty Images
LeVar Burton was already a pop culture icon by the time Star Trek: The Next Generation rolled around, having starred in the hit miniseries Roots in 1977 and then becoming a prominent children's television star as the host of Reading Rainbow in 1983. As Geordi La Forge, he brought his own distinctive sense of humor and wonder to Star Trek, and his iconic visor made him one of the most instantly recognizable characters in the franchise.
Burton continued to play Geordi throughout the Next Generation era, and has worked regularly ever since. His post-TNG roles include continuing work on Reading Rainbow in its various forms, the TV series Christy, a voice acting role Captain Planet and the Planeteers, appearances as himself on The Big Bang Theory and Community, and the TV series Perception and Weird City. He will next be seen as himself in the film Definition Please, a dramedy revolving around the Scripps National Spelling Bee. He's also become a prolific director, working behind the camera on series including Star Trek: Enterprise, Charmed, and NCIS: New Orleans.
Colm Meaney - Miles O'Brien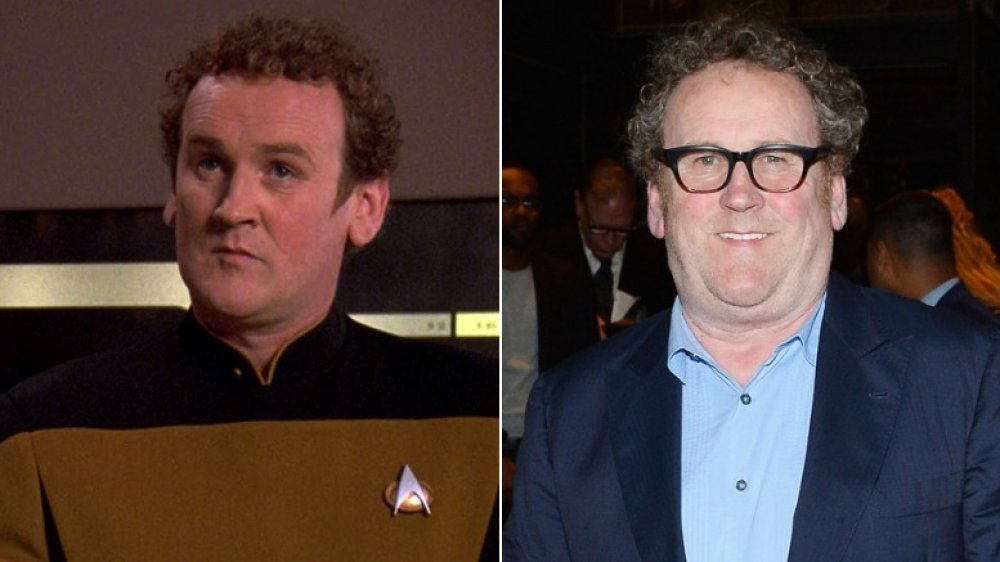 Noam Galai/Getty Images
Colm Meaney's career really began to take off in the early 1980s with a role in the miniseries Les roses de Dublin, and continued to pick up with recurring roles throughout the decade until he landed what was at first an unnamed character on Star Trek: The Next Generation. Before long, he had a name — Miles O'Brien — and while he wasn't ever quite as prominent as the main cast, he quickly became a fan favorite.
O'Brien was such a prominent supporting character on TNG that Meaney ultimately migrated over to take a major role on the follow-up series Star Trek: Deep Space Nine, where he continued to play O'Brien until that series ended in 1999. Since his Star Trek days Meaney has remained a prolific character actor, appearing in films like Con Air, Layer Cake, The Damned United, Get Him to the Greek, Alan Partridge, and many more. He's also a prolific TV actor with credits including Stargate: Atlantis, Men in Trees, Hell on Wheels, Will, and Gangs of London. He can also be seen in the TV series The Singapore Grip and the film Pixie.
Denise Crosby - Tasha Yar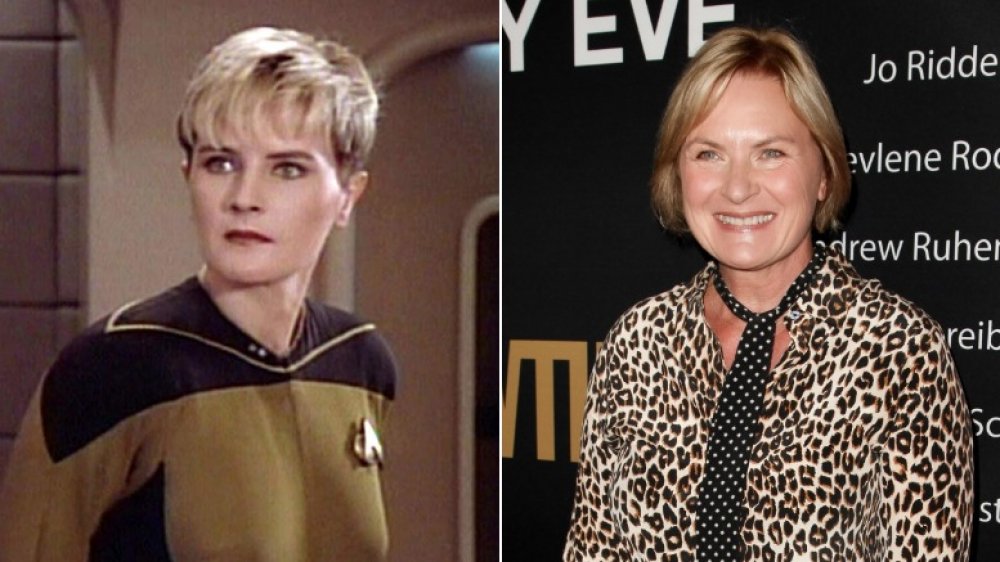 Tibrina Hobson/Getty Images
As the granddaughter of Bing Crosby, Denise Crosby was born Hollywood royalty, and began her screen acting career in the 1980s with roles in films like 48 Hrs., Curse of the Pink Panther, and The Man Who Loved Women. As Lt. Tasha Yar on The Next Generation, she made a distinct impression on fans despite only appearing as a regular cast member in the first season, and was able to return as her character's hybrid half-daughter, Sela, in subsequent seasons.
Since her relatively brief Star Trek tenure, Crosby has continued to work regularly in both film and television. In 1989 she appeared in the horror classic Pet Sematary, and her other film work includes Deep Impact, Legend of the Phantom Rider, The Watcher, and Itsy Bisty. She's also a prolific TV guest star with roles on series including The X-Files, Mad Men, Southland, Ray Donovan, The Walking Dead and, most recently, Suits. She has also continued to reprise her role as Tasha Yar via voice appearance in various Star Trek video games, including Star Trek Online in 2010.