Exclusive Clip: An Unforgettable Halloween Is Ahead In Wynonna Earp Season 4, Episode 8
The eighth episode of Wynonna Earp's fourth and final season is on the horizon — premiering on Syfy tonight, Friday, March 12 at 10 PM ET — and the excitement is nearly palpable, especially considering what went down in the midseason premiere last week. In that episode of the series, co-produced by IDW Entertainment, Waverly Earp (Dominique Provost-Chalkley) and Nicole Haught (Katherine Barrell) celebrate their engagement and begin to plan their wedding, while Wynonna (Melanie Scrofano) is still struggling to come to terms with the dissolution of her relationship with Doc Holliday (Tim Rozon), which broke apart after she shot Sheriff Hoyt (Ty Olsson) in the back in the midseason finale — a move that Doc found completely dishonorable.
In "Love's All Over," Wynonna takes her half-sister and her soon-to-be-sister-in-law to a bar to watch male exotic dancers perform — how's that for a spur-of-the-moment bachelorette party? — but things take an interesting turn when Waverly makes a bet with one of the dancers, who used to be a cupid, about the existence of love. Thanks to the magic inside the dancer's tiny bottle of love glitter, everyone in the bar goes ga-ga for someone else: Waverly gets the attention of both her fiancée and the normally-bigoted Bunny Loblaw (Jann Arden); Wynonna goes after Amon (Noam Jenkins), the bar's owner; and Doc strikes up a fling with the Magistrate of Purgatory herself, Cleo Clanton (Savannah Basley). The love-fest doesn't last forever, though, and when the ex-cupid lifts his spell, it becomes even more heartbreakingly real that Wynonna and Doc's relationship may never go back to the way it once was.
All that considered, it's easy to see why Earpers are keen to see what happens in the upcoming episode, entitled "Hell' Raisin' Good Time." Luckily for them, Looper can share an exclusive sneak-peek clip from the episode, which sees Wynonna wearing an ... interesting outfit while chatting with Jeremy Chetri (Varun Saranga) at the Purgatory Sheriff's Department.
A Halloween to remember in Wynonna Earp's "Hell' Raisin' Good Time"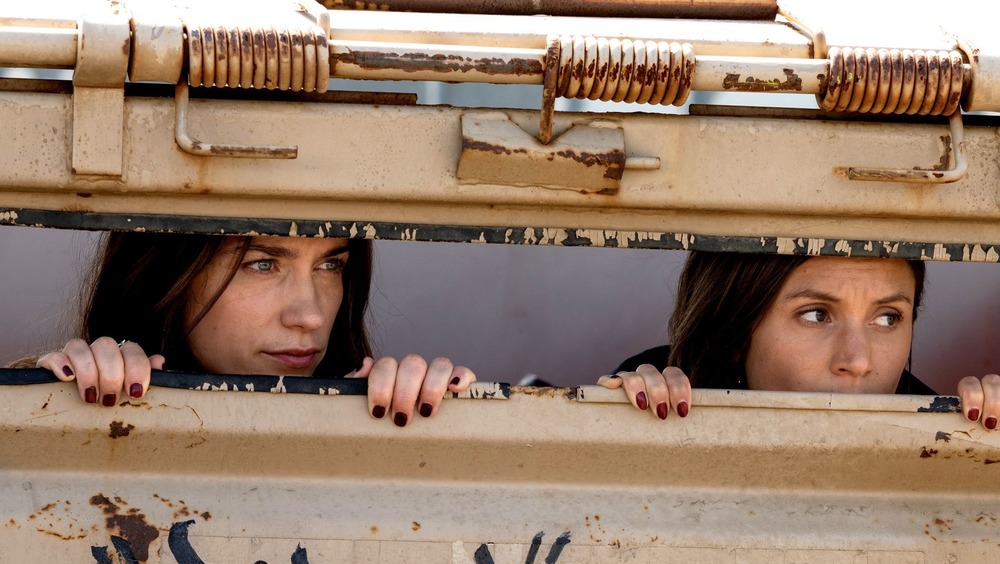 Michelle Faye/Syfy
First thing's first: Why the heck is Wynonna wrapped up in curtains at the Purgatory Sheriff's Department? Well, it's because it's now Halloween in Purgatory, and the demonic Rotten Jack is back in town. Naturally, the Black Badge Division want to rid Purgatory of Rotten Jack, but it's a task easier said than done. Wynonna and Waverly, the dynamic sister duo destined to do away with demons, go hunting for Rotten Jack — and what would such a mission be without Halloween costumes?
Of course, Wynonna's actual costume comes later in the episode, but for now, she's donning this daring (and daringly named) look as her "walk-of-shame muumuu" as she gets the scoop on the Rotten Jack situation. After her end-of-episode rendezvous with Amon last week, she must have plucked some curtains right off the wall, wrapped a black feather boa around her waist, and headed to the Purgatory Sheriff's Department to get down to business. A resourceful queen!
Whether or not Wynonna and Waverly will be successful in defeating the terrifying, terrorizing Rotten Jack remains to be seen, but one thing's for certain: This Halloween will be one for the history books.
Tune into Wynonna Earp season 4, episode 8, "Hell' Raisin' Good Time," tonight on Syfy at 10 PM ET, 9 PM Central.