The Untold Truth Of The Wild Samoans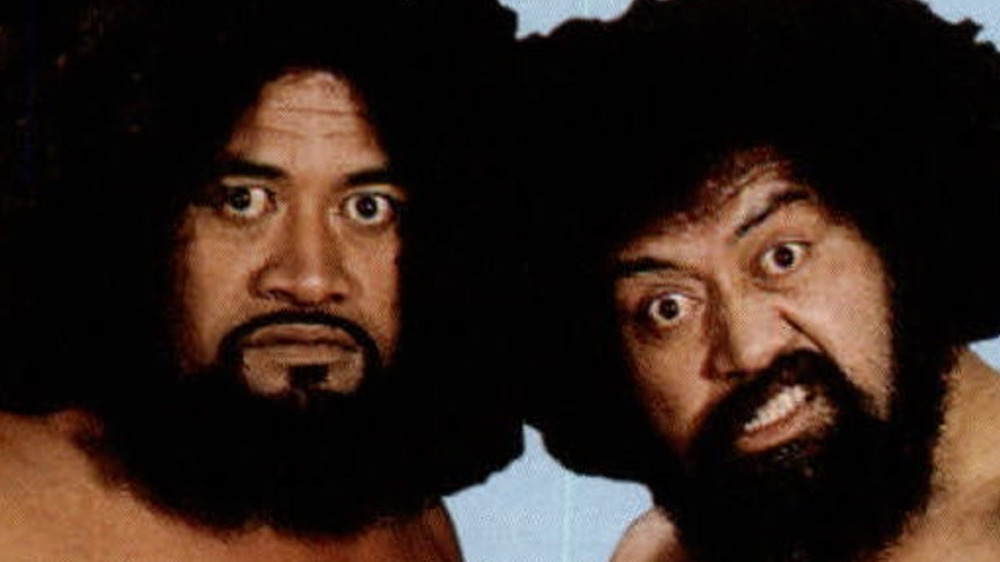 NBC's Young Rock is a show about the life of actor and suspected future presidential candidate Dwayne Johnson. It's also a show about professional wrestling — not only because Johnson first became a celebrity in the wrestling ring as the Rock, but because his family had roots in the wrestling industry before he was even born. Many of the characters who surround Johnson in Young Rock are wrestlers — popular (and notorious) stars from the 1980s like the Junkyard Dog, the Iron Sheik, and Andre the Giant appear in the show, as does Johnson's pro wrestler father, Rocky Johnson. But perhaps most interesting for wrestling aficionados is Johnson's maternal bloodline, which links him to the famous Anoa'i family, represented in Young Rock by Afa and Sika, the Wild Samoans.
The Wild Samoans are a legendary tag team, having held multiple tag team championships over the course of a single decade. They came up in the 1970s, back when the wrestling landscape consisted of a collection of loosely aligned territories as opposed to the sports entertainment monolith that exists today. Because their careers peaked just before Vince McMahon changed the wrestling industry in 1985 and put the other territories out of business, you won't hear their names mentioned often alongside the likes of Hulk Hogan or Randy Savage. But Afa and Sika had fascinating careers, and even people familiar with them probably don't understand the full extent to which they left their mark on wrestling history.
Coming to America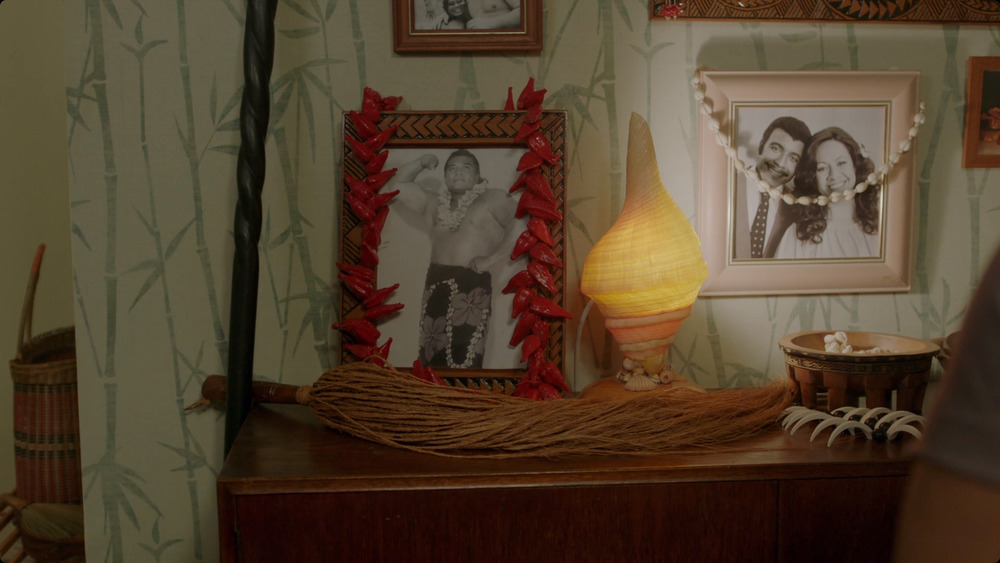 The legend of the Wild Samoans began when their father, Reverend Amituana'i Anoa'i, emigrated to the United States from his home of Western Samoa. In a 2017 interview with journalist Bill Apter, Afa relates the story of how his father traveled to San Francisco to open the nation's first Samoan church. According to Afa, the reverend won a contest against another Samoan priest which allowed him to choose the country in which his new church would be founded — he chose America over New Guinea. Amituana'i Anoa'i was not a wrestler, but his original journey to the United States nonetheless began with the idea of emerging victorious from a contest and claiming a prize.
It was a less direct member of the Anoa'i bloodline that would give Afa and Sika their entryway into the world of wrestling. Peter Maivia was a Samoan wrestler who had enjoyed success in Australia and New Zealand before making the jump to the United States. Known as the High Chief due to the fact that he came from a prestigious Samoan bloodline, he was also the blood brother of Amituana'i Anoa'i, and Afa and Sika considered him an uncle (additionally, his adopted daughter, Ata, is Johnson's mom). Seeing that the brothers were having difficulty in school due to the fact that they didn't speak English, Maivia (along with Rocky Johnson) trained Afa in wrestling, and Afa trained Sika (though both men received additional training from Kurt Von Steiger). The Wild Samoans were born.
Gold rush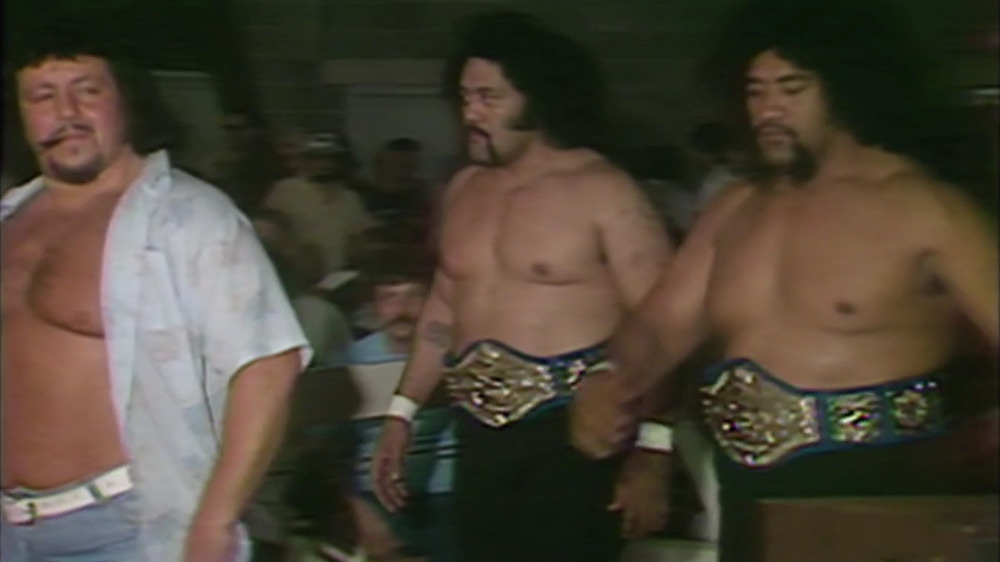 Considering their American origins in San Francisco, it's only appropriate that Afa and Sika would go on their own quest for gold. In their case, it would mean winning tag team championships throughout the wrestling territories. Much of their dominance came in the South, in territories like Gulf Coast Championship Wrestling, Georgia Championship Wrestling, and the Continental Wrestling Association. Before arriving in the World Wrestling Federation (WWF), they had the most success in a promotion called Mid-South Wrestling, one of the WWF's earliest competitors. Run out of Shreveport, Louisiana by notorious promoter "Cowboy" Bill Watts, Mid-South is credited with revolutionizing several aspects of wrestling storytelling, particularly on television. The Samoans would win the Mid-South Tag Team Championship three times from June 1981 to March 1982, though none of their reigns lasted very long, and all three of them ended at the hands of the Junkyard Dog (with a different partner each time).
But it wasn't just the South, or even America, that felt the Wild Samoans' wrath. They won titles in Big Time Wrestling in Detroit, All-Star Wrestling in Vancouver, and Stampede Wrestling in Calgary, home territory of the legendary Hart family. They also captured championships in Puerto Rican promotion World Wrestling Council and Japanese promotion International Wrestling Enterprise. And of course, they became three-time WWF World Tag Team champions, with their final reign lasting more than eight months and ending at the hands of the company's first Black tag team champions, Tony Atlas and Rocky Johnson.
Raw fish and crazy hair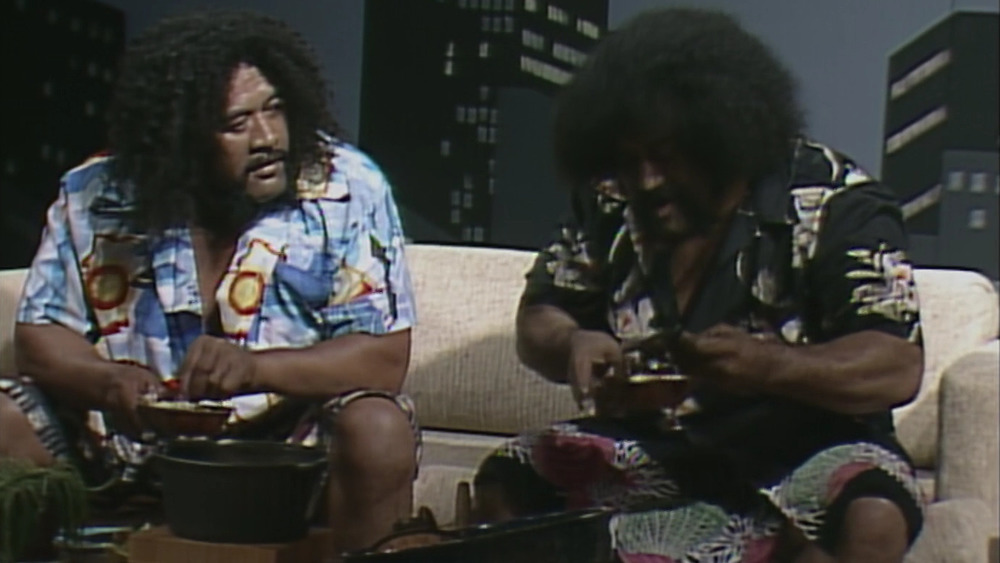 A professional wrestler's in-ring character is referred to as their gimmick, and wrestling has a long history of gimmicks with distinctly regional flavors. While this trend has largely been phased out of modern wrestling, it was especially prevalent in the WWF in the 1970s and 1980s with characters like the Italian Bruno Sammartino, the Russian Nikolai Volkoff, and the Iranian Iron Sheik. While Afa and Sika originally went by their real names as the Anoa'i Brothers, they quickly embraced basing their characters on their culture, calling themselves the Islanders, then simply the Samoans, and finally the Wild Samoans. Vince McMahon added the "wild" adjective, partially because of the brothers' famously wild hair. Afa told Bill Apter that while he and Sika were working for Watts in Louisiana, they went to get a haircut in a small town outside Baton Rouge. But the barber refused to serve them, saying he didn't cut "your kind of hair." That was the last barbershop the Wild Samoans entered.
The brothers' stint in Louisiana occurred after their first run in WWF. When they returned to the company in 1982, the word "wild" wasn't the only change McMahon made to their characters. They also kicked the stereotypical savagery up a notch, grunting in a primitive imitation of speech and eating raw fish as part of their act (which, according to Afa, was something they did in real life). Offensive, especially to modern sensibilities? Probably. But it also made them memorable.
Captain Lou Albano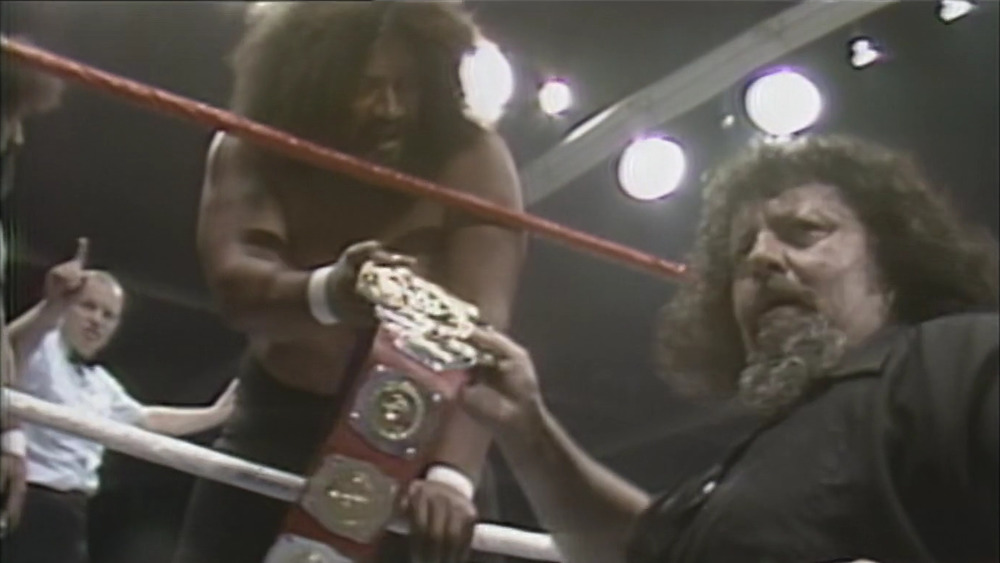 Beyond the stereotypical portrayal of Pacific Islanders, there was another, more understandable reason that Afa and Sika didn't speak very much English during their performances: They didn't actually speak very much English. In wrestling, this can be a problem — the ability to talk, using promos and interviews to further stories and promote shows, is almost as crucial as the ability to wrestle. Fortunately, wrestling also has a built-in method of dealing with performers who struggle with English (or simply struggle with acting): Give them a manager, a non-wrestling character who job is to speak on their behalf. And the Wild Samoans were fortunate enough to work with one of the most gifted managers of all time.
Captain Lou Albano was a consummate talker, an expert at playing the villainous loudmouth and siccing his clients on the nearest morally upstanding wrestling hero. He's also a pivotal historical figure, and not just because of the sheer number of wrestlers — and champions — he managed. Albano is indirectly responsible for the events that led to the first Wrestlemania; after meeting singer Cyndi Lauper on a plane in 1984, he wound up in the music video for "Girls Just Want To Have Fun," which led to a partnership between WWF and MTV. If not for this deal, Wrestlemania might never have happened, and Vince McMahon's company might never have become what it became. Thanks to their association with Albano, the Wild Samoans are connected to yet another major piece of wrestling history.
Missing Mania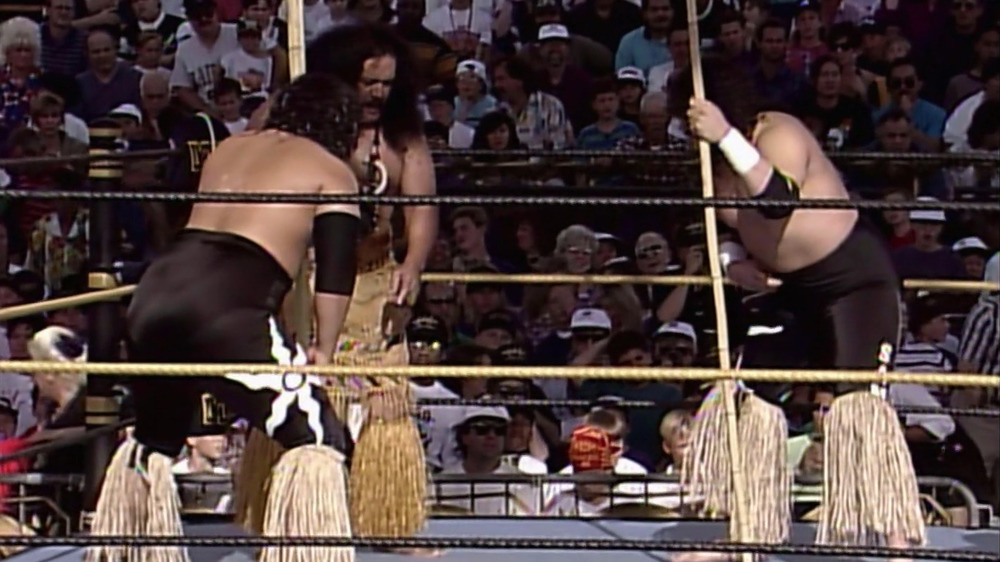 Their manager might have played a role in the first Wrestlemania, but unfortunately, the Wild Samoans did not. They left the WWF (or possibly were fired) early in 1985, missing out on the show by mere months. This was a bigger deal than you might think — Wrestlemania, the first wrestling pay-per-view event, was seen by over a million viewers on closed-circuit television, and its success turned Vince McMahon's promotion, once just another territory, into the industry monolith it is today. Cyndi Lauper was there. So was Albano. Nearly every performer that would become the faces of the WWF — and thus the faces of professional wrestling as a whole — competed at the event, including Hulk Hogan, Roddy Piper, and Andre the Giant. By leaving the company prior to Wrestlemania, the Wild Samoans missed an opportunity to become true household names in wrestling.
Afa and Sika would eventually make their Wrestlemania debuts, but not as a tag team. After tagging for a couple more years in other territories, the brothers finally split up. Sika returned to the WWF, where he had an unspectacular run as a singles performer. He appeared at Wrestlemania IV as part of a 20-man battle royal — it was his final match with the WWF. Afa would return to the company in 1992, primarily as the manager of a tag team called the Headshrinkers, which consisted of Afa's son and nephew. He appeared alongside the team when they battled the Steiner Brothers at Wrestlemania IX.
Heads of the table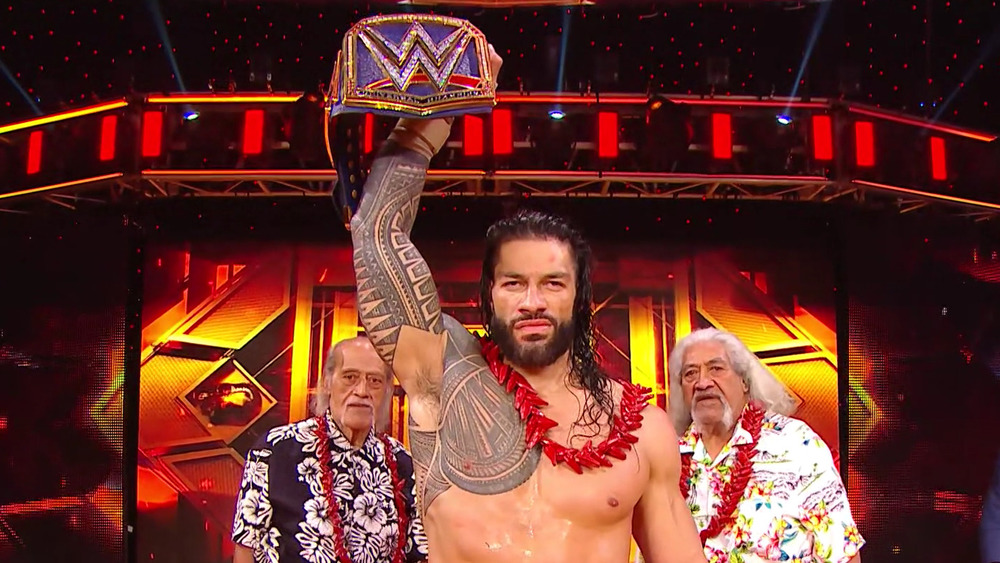 The Wild Samoans have been part of the wrestling business since the early 1970s, and they left an indelible stamp on professional wrestling. Part of their legacy comes from what they left in the ring, but arguably a bigger part comes from the gifts they gave the industry in the form of their families.
Afa saw three sons become pro wrestlers. Samuel Anoa'i, better known as Samu, was trained by the Samoans at an early age and saw his career overlap with his father's, most notably as a member of the Headshrinkers tag team that Afa managed. His own son, Lance, is also a wrestler. Afa's second son, Lloyd, has worked for several promotions under names like Fred Williams and LA Smooth, and his third son, Afa Jr., had a brief stint in WWE as part of the Legacy faction under the name Manu.
Sika, meanwhile, had two sons in wrestling, both of whom gained somewhat more prominence. His eldest, Matthew, had a memorable WWE career that saw him become a WWE tag team champion before tragically passing away in 2017. Sika's other son, Joseph, wrestles in WWE under the name Roman Reigns, has held five world championships, and is one of the biggest stars in wrestling today. In 2020, Afa and Sika briefly returned to WWE programming when they appeared to anoint Reigns after his Universal Championship victory, officially passing the torch to the next generation.
Extended family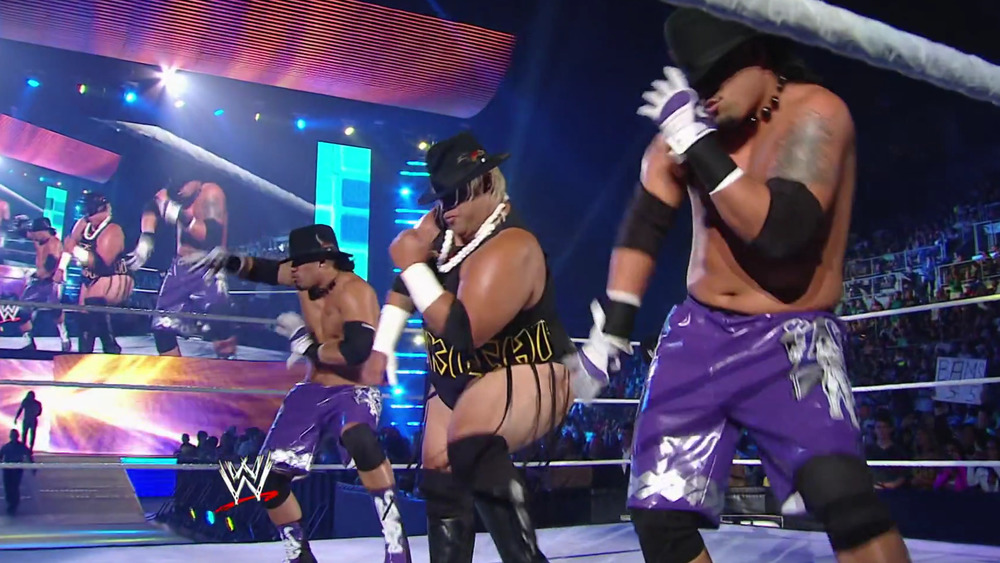 Speaking of that match, the man Reigns defeated to retain his Universal Championship was named Jey Uso, who, along with his brother, Jimmy, is also part of the Anoa'i family. Afa and Sika didn't just infect their own children with the wrestling bug. Their sister Elevera had three sons of her own who became wrestlers, kicking off a whole new branch of the Samoan wrestling bloodline. In 1965, she gave birth to twin boys named Samuel and Solofa Fatu. Both would be trained by Afa and Sika and go on to have lengthy wrestling careers, with Samuel being branded in the WWF as the Tonga Kid (in keeping with that company's long tradition of treating all non-White races as interchangeable) and forming a team called the Islanders (yes, again) with an actual Tongan named Haku. Solofa, meanwhile, would find considerably more success as Rikishi, though the road to fame that involves wearing a thong and rubbing your butt in wrestlers' faces isn't, perhaps, for everyone.
It was Rikishi who fathered his own set of twins in the form of Joshua and Jonathan Fatu, also known as Jey and Jimmy Uso. Meanwhile, Samuel Fatu's son, Jacob, is tearing up the independent scene, currently enjoying a reign as Major League Wrestling's World Heavyweight Champion that has been going for almost two years. Dwayne Johnson might be the most famous member of the Wild Samoans' extended family, but thanks to Afa, Sika, and Elevera, the Anoa'i bloodline has transformed wrestling forever.
Shaping the industry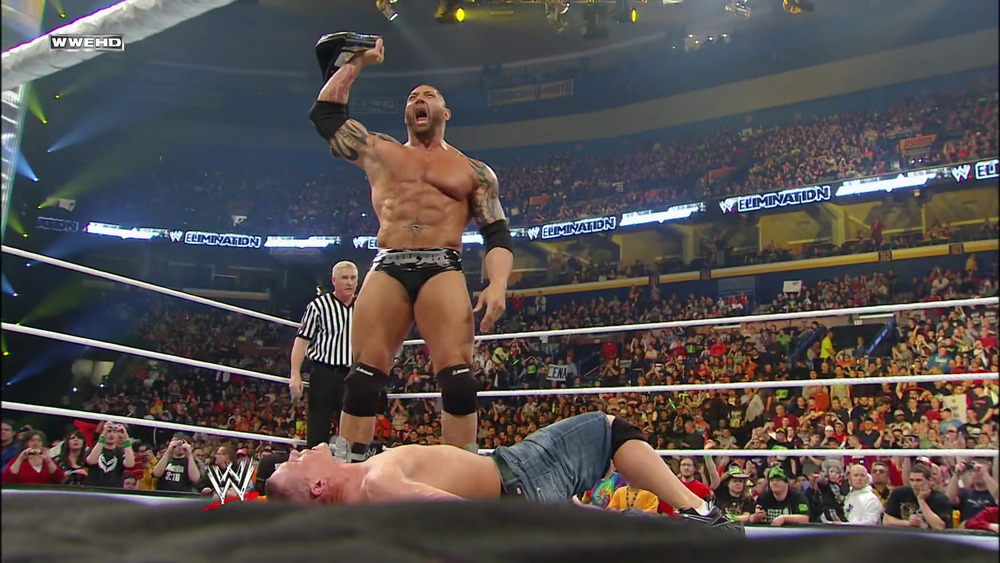 Even after going over all their family ties, it must also be said that the Wild Samoans' influence on professional wrestling goes well beyond their sons, grandsons, and nephews. In the late 1970s, only a few years into their careers, Afa and Sika started the Wild Samoan Training Center, and the brothers have been training new generations of wrestlers ever since. Famous contemporaries of the Wild Samoans like Hulk Hogan, Paul Orndorff, and the Junkyard Dog all trained with them at the center in its early years running out of Pensacola, Florida. In the 1980s, the center moved to Connecticut, where it helped train famous wrestlers like "Sensational" Sherri Martel and two-time WWF Champion Yokuzuna (who, despite being billed as Japanese, was also one of Afa and Sika's nephews in the Anoa'i family) and then to Pennsylvania, where the brothers worked with the next wave of wrestlers, most notably Dave Batista, who would go on to become both a multiple-time world champion and an actor best known for his role as Drax the Destroyer in the Marvel/Disney franchise Guardians of the Galaxy.
In 2008, the Wild Samoan Training Center returned to Florida, where Afa and Sika continue to train wrestlers to this day. They might have missed out on fame and fortune in their own right, but the Wild Samoans have been instrumental in shaping the wrestling business by passing their considerable knowledge on to anyone who wants to learn.
New promotions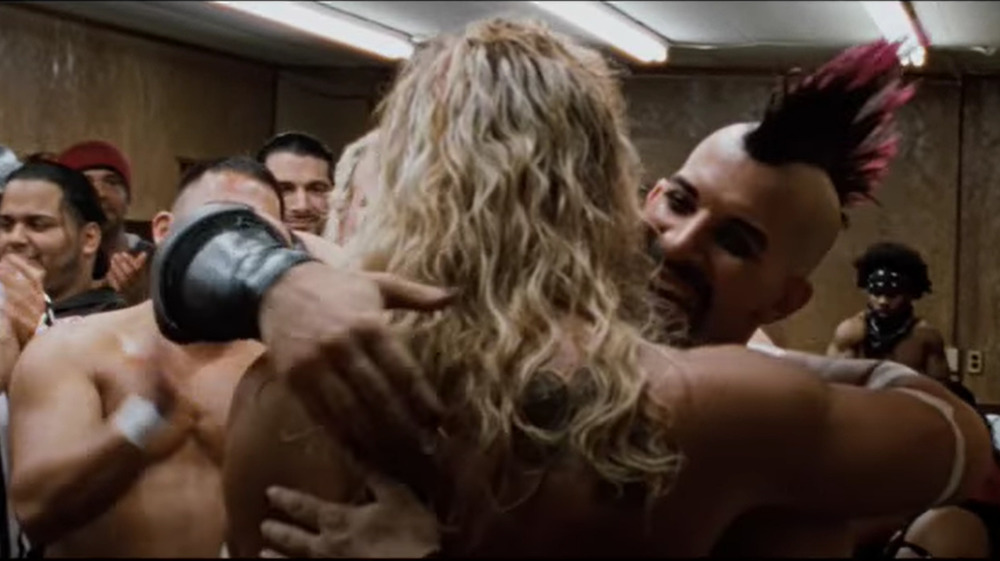 After settling in Florida, Afa and Sika weren't content with just training wrestlers, or even fathering them. Both men would end up starting their own Florida-based independent wrestling promotions. In 1999, Sika started XW 2000, a little-known company run out of Pensacola that lasted until 2008. But it was Afa's promotion, World Xtreme Wrestling (WXW) that would have a wider impact on the industry. Originally known as the Trans World Wrestling Federation, it was directly affiliated with the Wild Samoan Training Center. In 1996, it rebranded as WXW and has been going ever since, often departing from its Florida home to tour the other 49 states, Japan, and of course, Samoa.
The WXW incarnation of the promotion has employed several widely-known stars, most notably its first heavyweight champion, Bam Bam Bigelow, and Mercedes Martinez, who was one of the most prolific and popular female wrestlers on the independent scene before being signed to WWE in 2020. It's also served as the home promotion for several members of the Anoa'i family. Afa even came out of retirement in 2013 to wrestle a match in WXW, and he wrestled another one in 2014, teaming up with all three of his sons and his grandson in a five-on-five contest that saw the family emerge victorious. That said, WXW is probably most famous for being featured in the 2008 film The Wrestler, in which Mickey Rourke's character wrestles fictional WXW wrestler Tommy Rotten, who is portrayed by actual WXW wrestler Tommy Suede.
Acting brings the Wild Samoans full circle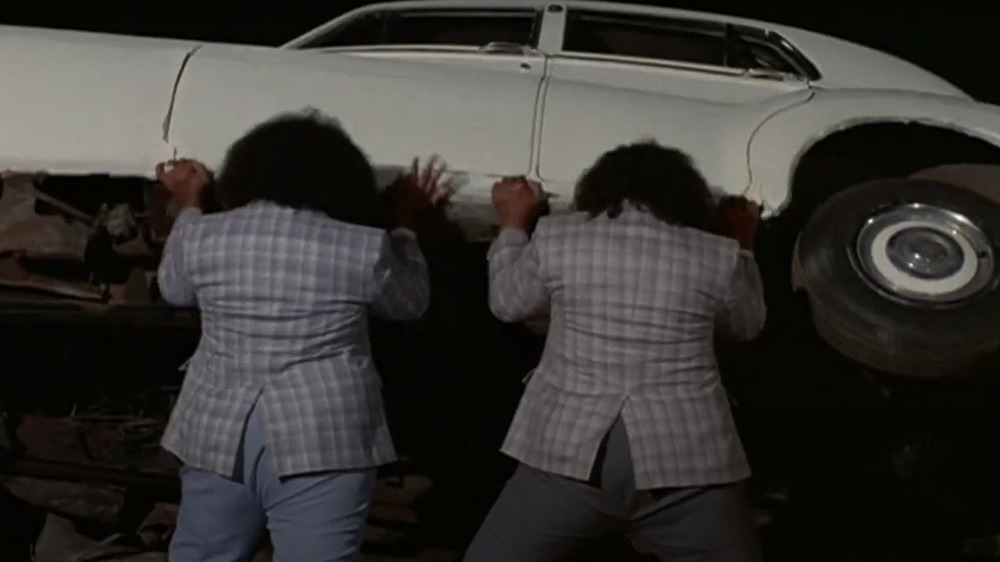 Finally, while we're on the subject of the movies, Afa and Sika do have one acting credit to their names outside the world of wrestling. In 1986, the film Body Slam was released directly to video, starring Dirk Benedict as a down-and-out music manager who accidentally finds himself immersed in the world of wrestling. As you might expect, the movie also stars numerous professional wrestlers, including Roddy Piper, Captain Lou Albano, and the Wild Samoans, who play bodyguards and don't have any lines of dialogue. The brothers' nephew, Sam Fatu, also appears in the film (playing the role of "Tonga Tom" as Hollywood followed the WWF's lead in substituting one Pacific Islander culture for another). Body Slam was the final feature film directed by Hal Needham, best known for the movie franchises Smokey and the Bandit and Cannonball Run.
From Body Slam to The Wrestler, from Dwayne Johnson's superstar acting career to Roman Reigns' acting debut in the Fast and Furious spinoff Hobbes and Shaw, the Anoa'i family has always had a connection to the movies. It only makes sense that they would eventually infiltrate the world of television as well. And thanks to Young Rock, millions of people who might never have known their names are now being introduced to two men who embraced their cultural heritage and used it to shape the face of an entire industry, the wrestling legends that are the Wild Samoans.