The Untold Truth Of Young Rock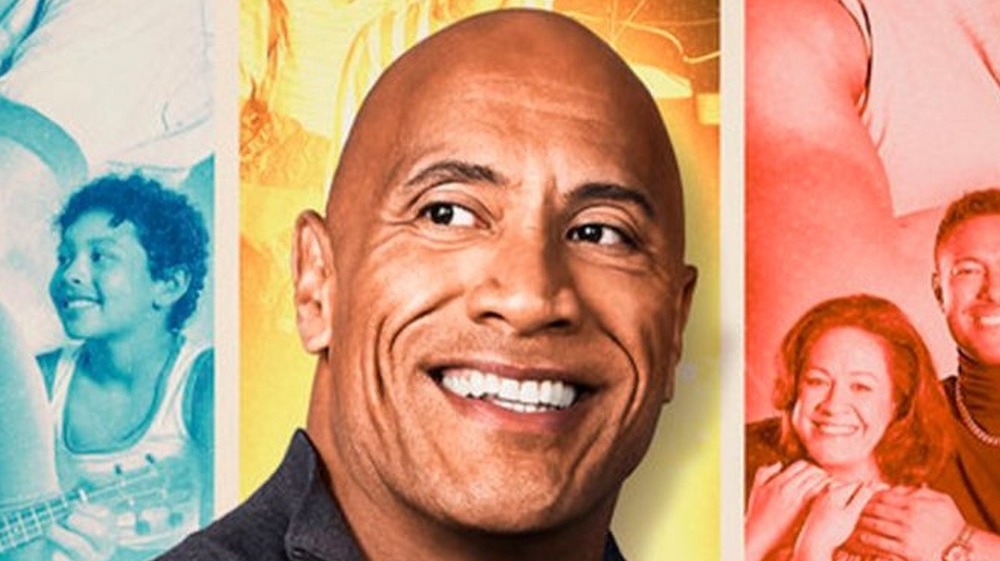 NBC's Young Rock has officially been body-slammed into our lives. The time-jumping comedy tells the life story of Dwayne "The Rock" Johnson, once one of the most recognizable wrestlers in the world (and a 10-time world champion within the almost-but-not-quite fictional artifice of professional wrestling), and also one of its most recognizable actors, having now spent 20 years in Hollywood following his film debut in 2001's The Mummy Returns. With a career that includes both action-packed blockbusters like San Andreas, Rampage, and the Fast and the Furious franchise, and family fare like Moana and the Jumanji films, Johnson is all over our screens, and while you'd be hard-pressed to find someone who doesn't know who he is, Young Rock suggests that you don't know as much about him as you might think, and invites you to learn.
But how much do you actually know about Young Rock? From its connections to the wrestling world and portrayals of several real-life characters to the people who made it happen behind the scenes, there's a lot to be told about how the series works, even before its first season has concluded. So slap on a pair of tights and get ready to grapple with the eyebrow-raising details of Young Rock. Oh, and fair warning: when the bell rings, anything goes, so there are spoilers ahead for the first two episodes of the show.
A fresh cast and crew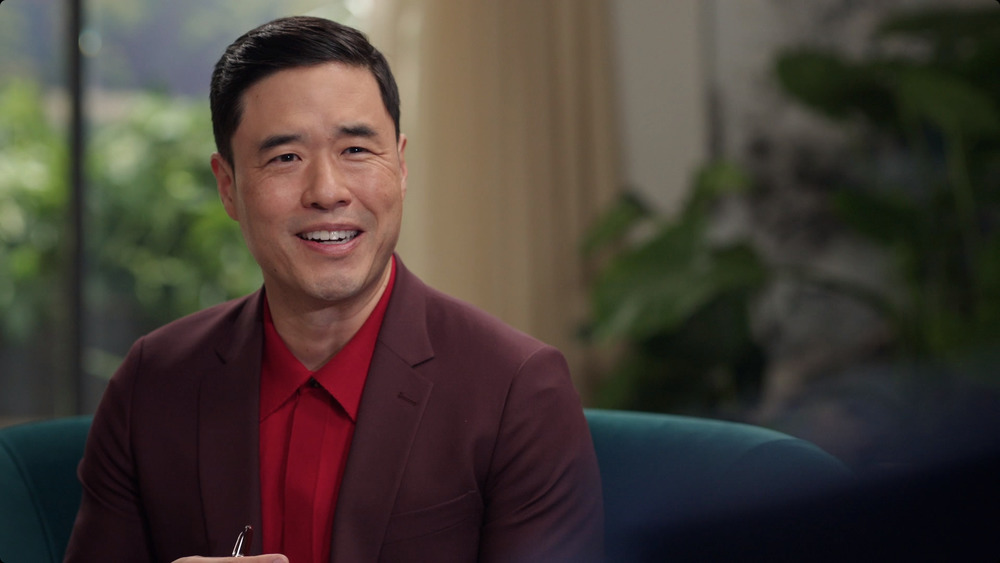 Young Rock's showrunner is Nahnatchka Khan, whose previous work includes the ABC comedy show Don't Trust the B—- In Apartment 23, the 2019 Netflix film Always Be My Maybe, and Fresh Off the Boat, the award-winning sitcom centered around a Taiwanese-American family that ran for six seasons on ABC. According to Khan, it was two of Fresh Off the Boat's executive producers, Jake Kasdan and Melvin Mar, who first introduced her to Dwayne Johnson, setting her down the path that would lead her to Young Rock. Of course, Khan would enlist the assistance of longtime collaborator Jeff Chiang, who has worked with her as a writer on Don't Trust the B— in Apartment 23 and Fresh Off the Boat, and as a producer for the latter.
And those aren't the only connections to Khan's previous work. Fresh Off the Boat was the show that gave Randall Park his breakthrough starring role as Louis Huang, which helped springboard him into, among other things, the Marvel Cinematic Universe, where he plays FBI agent Jimmy Woo in Ant-Man and the Wasp and WandaVision. Park also has a regular role in Young Rock, though this time, he's playing a future version of himself, interviewing Johnson during his theoretical 2032 presidential campaign and bringing his unique comedic energy to the show. After all, he used to be an actor.
Johnson wanted to tell his life story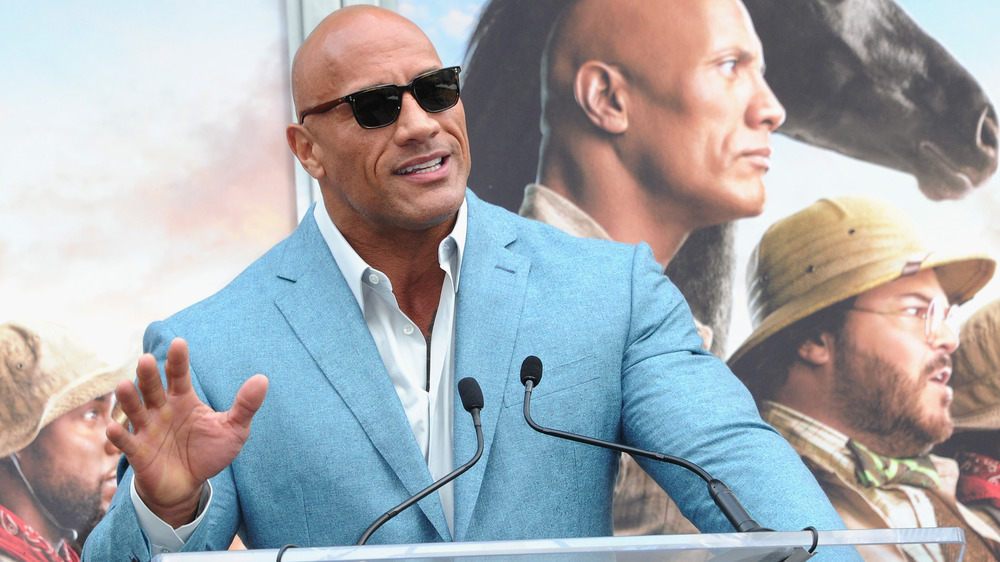 Albert L. Ortega/Getty Images
Khan explains the genesis of the show by saying Johnson told her that "he's always wanted to figure out a way to tell his life story, but he could never figure out kind of how to crack it." While we're sure that's true, it's an interesting line coming from somebody who (a) is one of the most famous professional wrestlers of all time, (b) is one of the highest-grossing box office movie stars of all time, and (c) has had multiple books written about him, all of which are some variety of biography.
The first of these, The Rock Says..., was released in 2000, while Johnson was still at the height of his wrestling career as the Rock. Releasing company-produced biographical books or documentaries about their careers before their careers have ended is common practice for employees of World Wrestling Entertainment (WWE), though they are often of dubious quality and even more dubious accuracy. The other four came out considerably more recently. In 2018, the illustrated WWE World of the Rock was published by DK and WWE, and Influential Individuals put out a Johnson-centric edition of it's The Life, Lessons & Rules for Success series, while 2020 saw the release of two more straightforward biographies in the form of James Romero's Dwayne "The Rock" Johnson: The People's Champion and Hiram Garcia's The Rock: Through the Lens. Johnson has, in fact, found ways to tell his life story before — just never on television.
A three-part story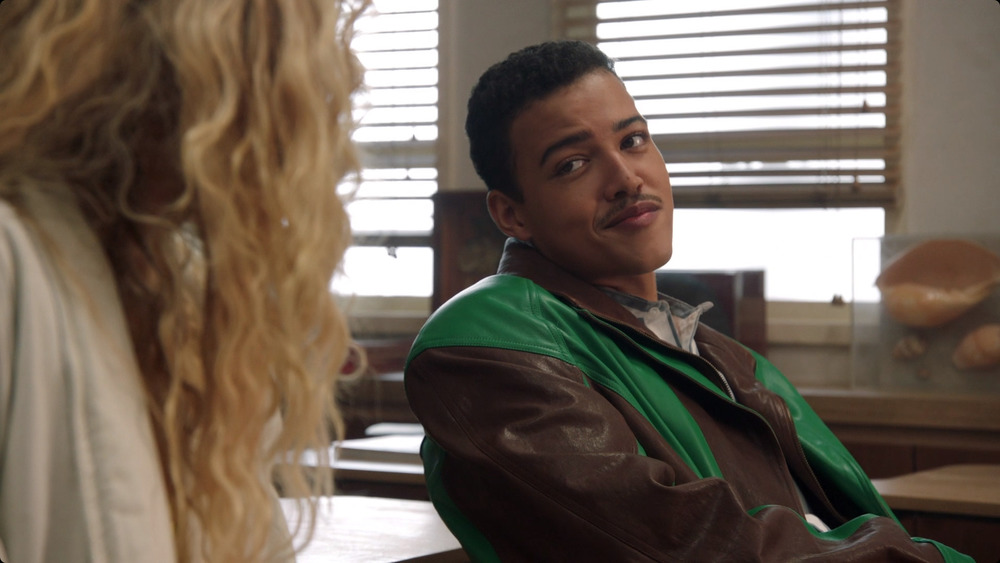 The idea that Khan and Chiang pitched Johnson, ultimately resulting in the creation of Young Rock, was to focus on three distinct parts of his life. The show switches back and forth between Johnson as a 10-year-old kid, as a 15-year-old high school student, and as a freshman at the University of Miami, with different performers portraying him at each of the three stages (though at one point there was talk of Johnson himself playing all three roles). While viewers got a glimpse of all three timelines in the first episode, each subsequent episode limits itself to just one – episode 2, for example, takes place entirely within the context of Johnson's life at 15, stealing clothes and chasing girls.
Since these three different stories are all set prior to the start of Johnson's WWE career, his life as the Rock is, ironically, not a very big part of Young Rock. However, depending on the overall success of the show, it could find itself as the focus of future seasons, since Khan has made it clear that there are numerous other parts of Johnson's life she'd like to explore, including his wrestling career.
Wrestling royalty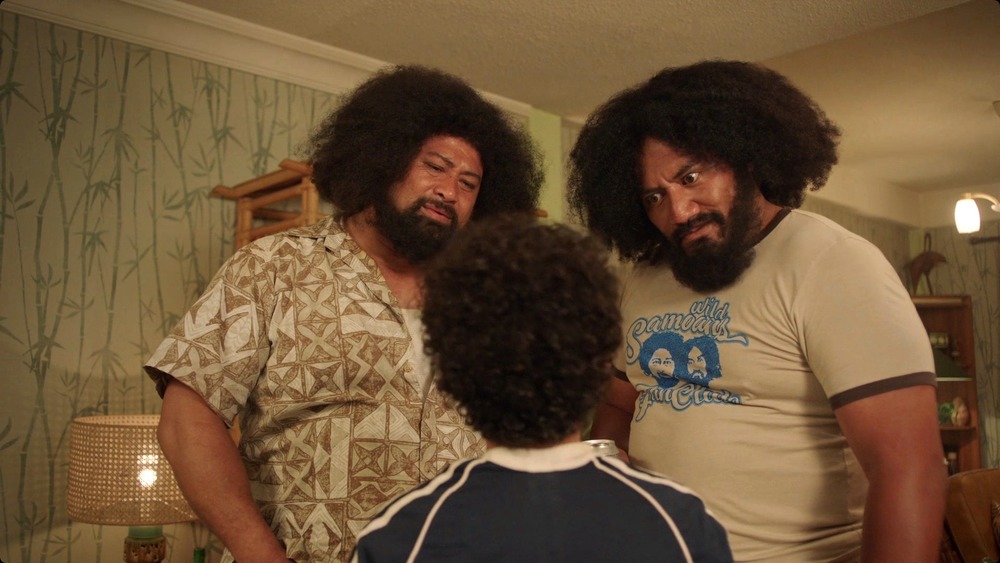 Young Rock might not be focused on Johnson's wrestling career, but it would be a mistake to say the show isn't about wrestling. Wrestling was part of Johnson's life long before he himself ever stepped into the ring, due to his association with one of the industry's most dynastic bloodlines.
The Anoa'i family is synonymous with Samoan wrestlers, having produced several of the sport's biggest stars, from numerous branches of their family tree. While Johnson's Samoan grandfather, "High Chief" Peter Maivia, was not technically a member of the family, he was supposedly the blood brother of patriarch Amituana'i Anoa'I, whose sons regarded Maivia as an uncle (his wife, Ofelia "Lia" Maivia, was also a wrestling legend, known as one of the first female wrestling promoters). Those sons included Afa and Sika, the famed Wild Samoans, who are featured in Young Rock, and who, between the two of them, produced five sons of their own who entered the wrestling business. Afa's sons Afa Jr., Lloyd, and Samuel (as well as Samuel's son, Lance) are all still working on the independent wrestling circuit, while Sika's son, Joe, is currently the biggest star in the WWE (and reigning world champion) under his ring name, Roman Reigns.
That's just the beginning. Former champion Yokozuna, the ill-fated duo of Rosey and Jamal (the latter better known as Umaga), the dancing superstar Rikishi and his sons, the high-flying Usos, and current WWE women's tag team champion Nia Jax are all part of the Anoa'i family.
Actors from the isles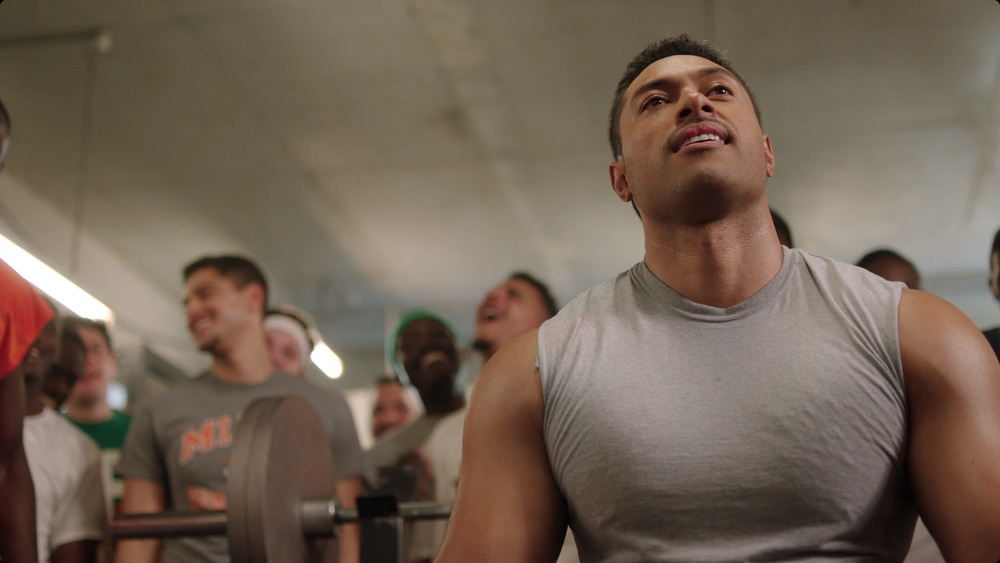 Because Johnson's Samoan family was such an important part of his life, both he and Khan were dedicated to crafting an accurate representation of their lifestyle and heritage. Part of that involved casting actual Pacific Islanders in key roles, something that many sitcoms wouldn't attempt, but that Johnson prioritized. Samoan actors Stacey Leilua and Ana Tuisila were hired to play, respectively, Johnson's mother, Ata, and his grandmother, the aforementioned Lia Maivia. The Wild Samoans are played by Fasitua Amosa and John Tui, who are respectively of Samoan and Tongan descent.  Meanwhile, the young adult version of Johnson who has just arrived in the Miami Hurricanes locker room is played by Uli Latukefu, who also hails from Tonga (the two younger versions of Johnson are played by Black actors rather than Pacific Islanders, in keeping with Johnson's dual heritage).
In fact, Young Rock is notable for the fact that every member of the main cast is a person of color, as are the writers and showrunners, something you don't often see in mainstream network comedies — though it is consistent with Khan's previous work. It's to the show's credit that it places such an emphasis on non-white communities, and that it has found jobs for (and could possibly make stars of) Tongan and Samoan performers from cultures that have rarely seen themselves represented on networks like NBC.
The wider wrestling world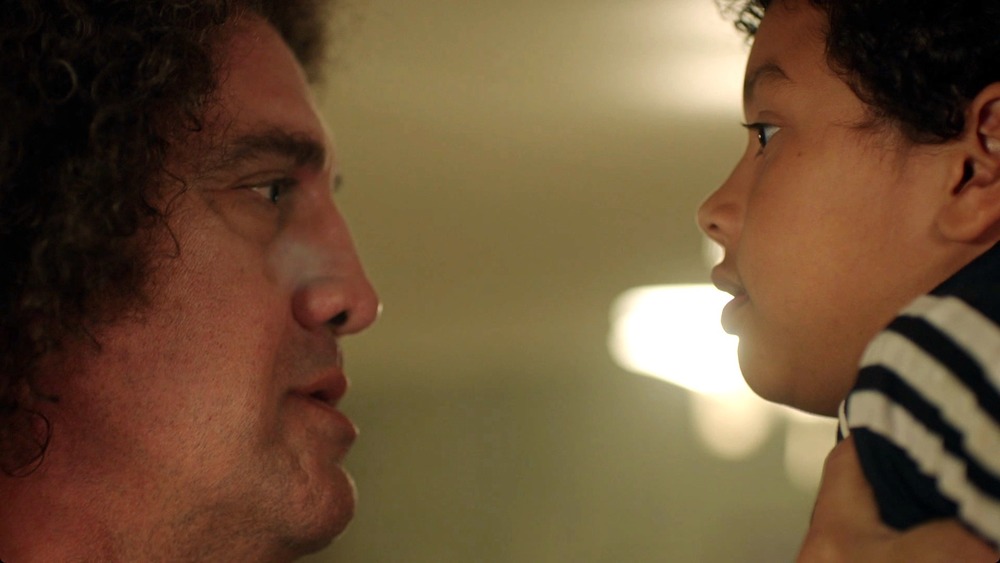 Johnson's father, "Soulman" Rocky Johnson, wasn't Samoan and came into the Anoa'i family by marriage, but he's the Young Rock character most frequently seen in a wrestling ring. The youngest version of Johnson idolizes him unabashedly, while the two older versions have a somewhat more complicated relationship with their dad. However, Rocky Johnson's status as a main character means we get to see him both wrestle and interact with his fellow wrestlers, and that means that several prominent wrestlers appear in the show, even beyond the extensive Anoa'i family.
The first episode of Young Rock features a party attended by, among others, beloved wrestling icon the Junkyard Dog, notorious Iranian villain the Iron Sheik, and larger-than-life megastar Andre the Giant. In the second episode, Rocky Johnson is shown wrestling both Ric Flair and "Rowdy" Roddy Piper, two of the greatest performers in the history of the industry. We also know that additional wrestling characters like Sergeant Slaughter and "Macho Man" Randy Savage will be part of the story in later installments. Johnson's mainstream popularity is so broad that a show about his life can potentially appeal to anyone, but wrestling fans can take particular enjoyment in hunting down Easter eggs and pointing out familiar characters.
President of WWE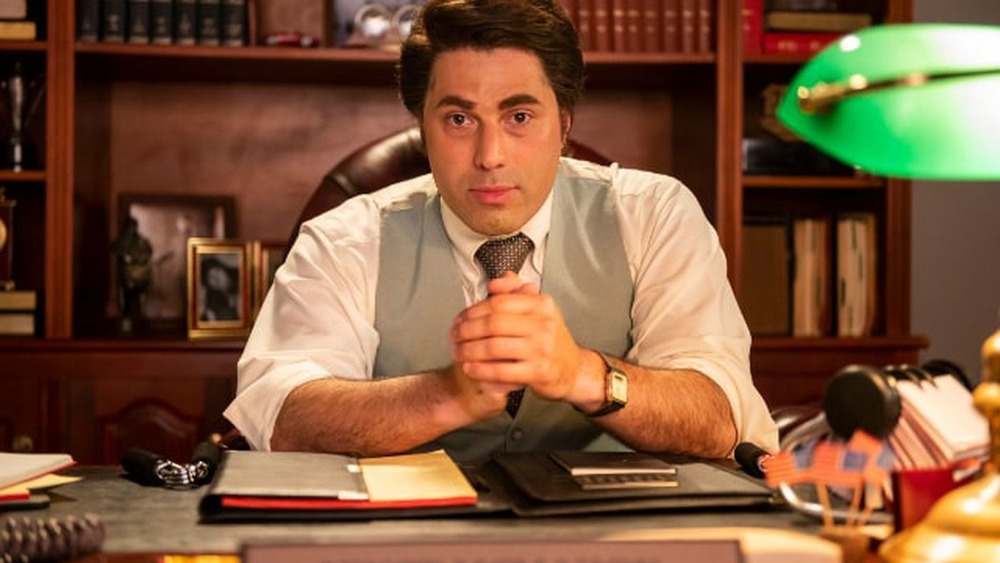 Another Young Rock character pulled from the annals of wrestling history is none other than Vince McMahon, chairman and CEO of WWE and, for better or worse, the most influential wrestling promoter of all time. But there's actually another connection between Young Rock and the business side of the world's most popular wrestling company: showrunner Nahnatchka Khan's brother, Nick Khan, is currently serving as WWE's President and Chief Revenue Officer.
Given how the Khans grew up, this isn't at all surprising. Their entire family watched wrestling, throwing their support behind the Iron Sheik — though the Sheik was portrayed as an unscrupulous heel, frequently going up against the wildly popular Hulk Hogan, he was Iranian, and the Khan family, who had immigrated from Iran, cheered him on despite his dastardly actions. Nick was a particularly devoted fan, and it makes sense that somebody who grew up loving Vince McMahon's product would eventually rise to the top of his corporate structure. Any implications Nick's position might have for Young Rock are currently unknown, but you have to think that at the very least, it can't hurt.
The soul of a legend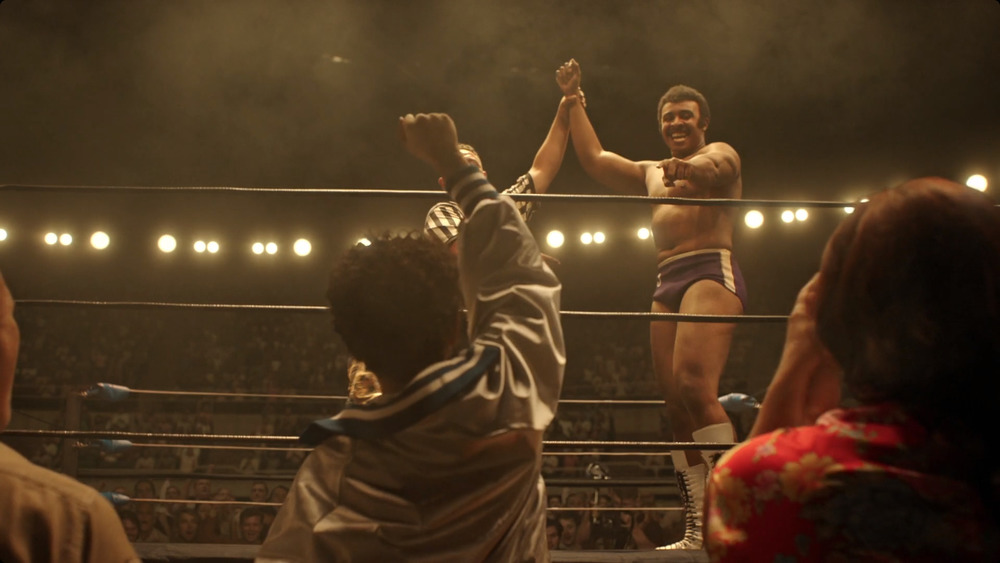 Even apart from his family connections to the Anoa'i dynasty and the Rock, "Soulman" Rocky Johnson is a legend in the wrestling business in his own right. He was actually trained by his future father-in-law, Peter Maivia, and took his trade worldwide before making a name for himself in the 1970s as part of the National Wrestling Alliance, where he won numerous championships. While he wasn't born with the name Rocky Johnson, he liked it so much after adopting it that he had it legally changed. In 1983, he arrived in Vince McMahon's World Wrestling Federation (now known as WWE) and teamed up with another Black wrester named Tony Atlas. And in November of the same year, the two men defeated Rocky's "cousins," the Wild Samoans, to win the WWF tag team championship, making them the first Black wrestlers in history to hold that title.
Johnson inducted his father into the WWE Hall of Fame in 2008. In 2020, after Johnson got the news that NBC was moving forward with Young Rock, he called his parents to let them know. A few days later, Rocky Johnson died unexpectedly of deep vein thrombosis at the age of 75. He will be remembered as a true pioneer for Black performers in wrestling, and Young Rock will hopefully help cement his place in history.
Tell stories, wrestling style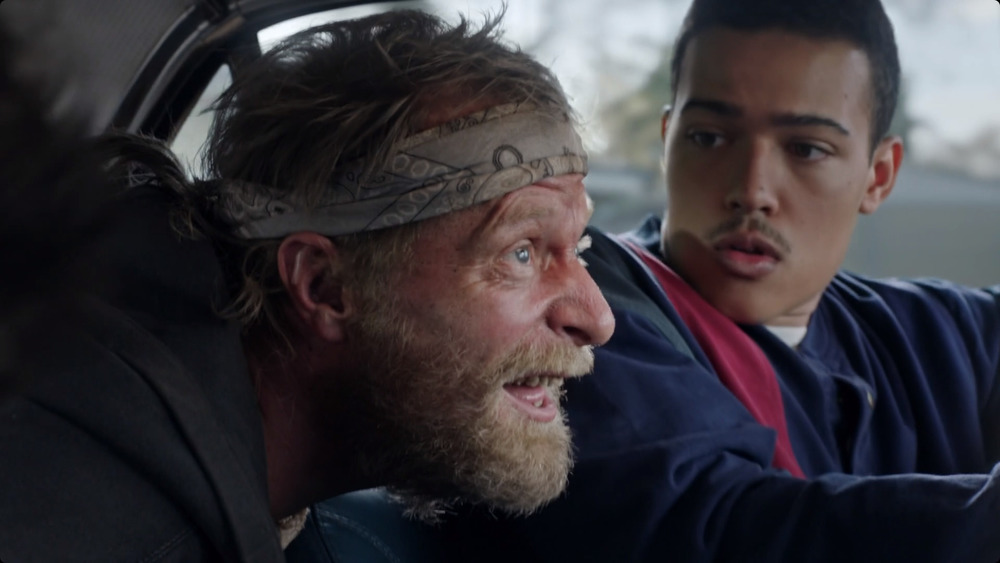 While many of the events of Young Rock have been given a few tweaks for the sake of TV, they largely come directly from stories Johnson told to Khan and Chiang, which the showrunners then curated and adapted for their program. These stories often have a certain large-than-life quality to them, from young Dwayne being lifted into the air by a stern Andre the Giant for the crime of saying wrestling is fake, to teen Dwayne buying a car that turns out to have strange men sleeping in the backseat and the trunk, to college Dwayne breaking Miami's bench press record on his first day in the locker room. Did they actually happen? It's impossible to say, especially given the unique nature of wrestling as a medium.
Young Rock isn't shy about showing the differences between wrestlers' real lives and the facsimile lives they present to the audience. The first episode is called "Working the Gimmick," a wrestling term that refers to staying in character when the public can see you, even outside the ring. This is why Rocky Johnson drives a far nicer car than he should be able to afford given his actual financial situation. He's also almost constantly telling stories about his wrestling career and has a tendency to exaggerate some of the details, a trait common in professional wrestlers. Are Johnson's stories true? Probably, at least for the most part... but it's important to remember that he's a wrestler, and wrestlers are liars.
President Rock?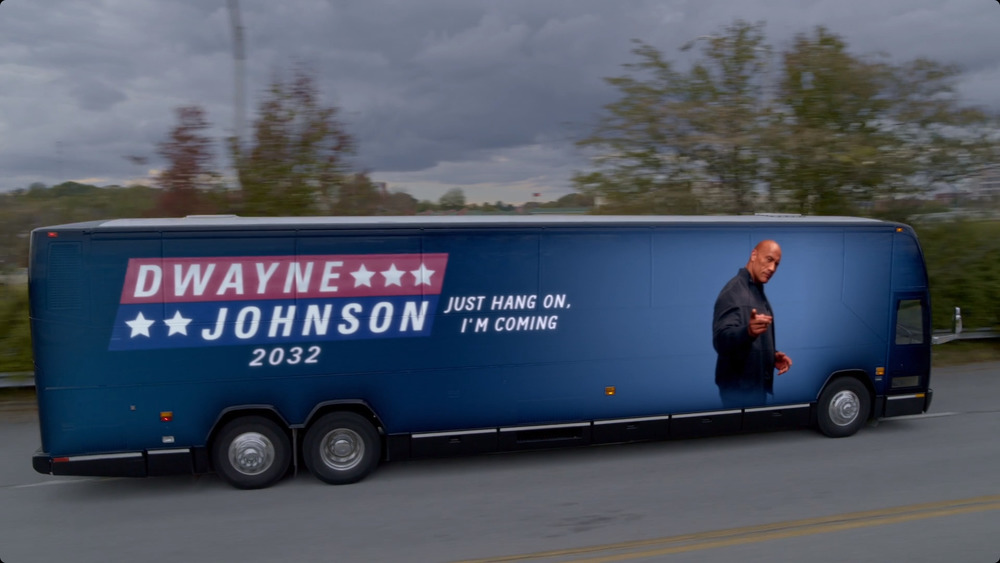 In between its three timelines with their three different Johnsons, Young Rock utilizes a strange framing device. In the not-too-distant future — 2032, to be specific — Dwayne Johnson is running for president. But he isn't exactly being characterized as a man of the people. To change that, Johnson arranges a series of interviews with Randall Park, meant to present himself in a way that's more relatable to potential voters. Scenes in Young Rock will often end by shifting back to Johnson being interviewed by Park, and the two will engage in some dry comedy before continuing with the story. The humor is played so straight that it's often difficult to tell whether Johnson and Park are even trying to funny, which, naturally, makes it funnier.
The biggest of this is Johnson's 2032 presidential campaign itself. The idea isn't just a random invention of Young Rock — the idea of Johnson running for president, especially on the heels of reality show host Donald Trump, has been publicly floated for a while now. In 2017, Johnson said he was "seriously considering" a presidential run, and in February 2021, the day before Young Rock premiered, he reiterated "I would consider a presidential run in the future if that's what the people wanted." Certainly fans seem to think that's what the show is foreshadowing. While the fictional 2032 campaign is seemingly a joke, it's very possible that Young Rock is attempting to normalize the idea of President Dwayne Johnson.