The Ending Of Wynonna Earp Season 4, Episode 7 Explained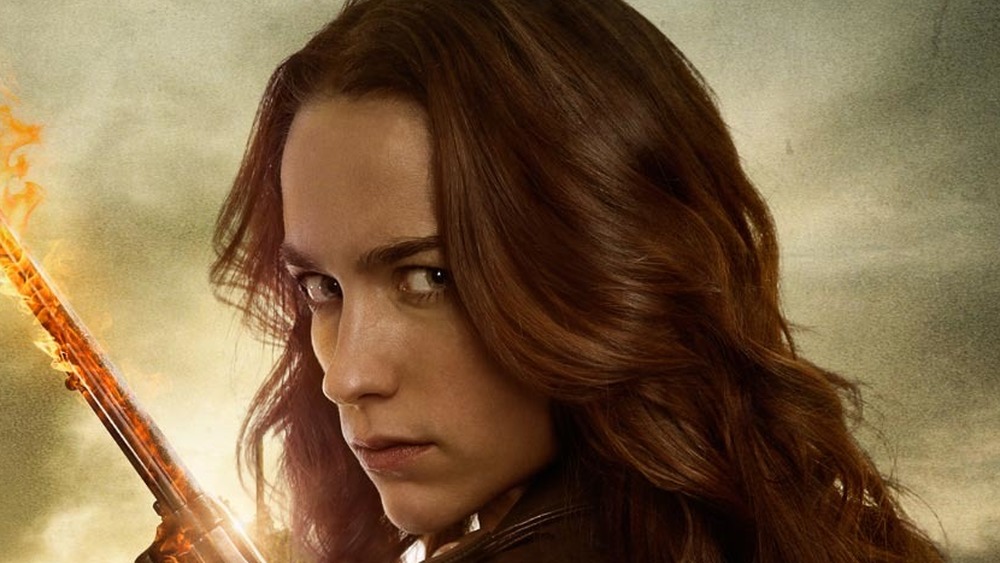 SYFY
Few, if any, shows in the history of television have had a journey quite like the science-fiction Western-meets-demons show Wynonna Earp. The show debuted on SYFY in April of 2016, and ran for a 13-episode season. It flew under the radar, but quickly garnered a devoted following, thanks largely to its LGBTQ+ representation. The second and third seasons came the following two summers, and the show's availability on Netflix only bolstered its fan base.
Even so, the show, produced by California-based company IDW Entertainment and filmed in Canada with a mostly Canadian cast and crew, didn't quite hit mainstream status. Then things took a turn for the worse. SYFY renewed the series for a fourth season, but IDW Entertainment encountered financial woes and couldn't produce it. Devastated, fans launched a massive social media campaign and even bought billboard ads in Times Square. The effort worked, and IDW was able to secure new funding to get Wynonna Earp's fourth season back on track. Filming was halfway through completion when the next wall came in the form of the pandemic. SYFY decided to drop the six completed episodes in the summer of last year.
The sixth episode aired August 30. Since then, fans have been waiting for the second half of the season. Unfortunately, in the interim, SYFY announced that it is not renewing the show for a fifth season. The network is billing these last six episodes as the end of the ride, while still celebrating it with a Women's History Month tie-in promotional campaign. Fans are furious over the decision, but they're still hopeful the show might get picked up by another network for at least one final, fifth season. Fans are also, in the meantime, excited about the rest of the story they're guaranteed. That "rest of the story" kicked off with some crazy, goofy chaos in the mid-season premiere.
Here are the main takeaways from the epic seventh episode, entitled "Love's All Over." Spoilers ahead, obviously.
The sparkle spell makes mayhem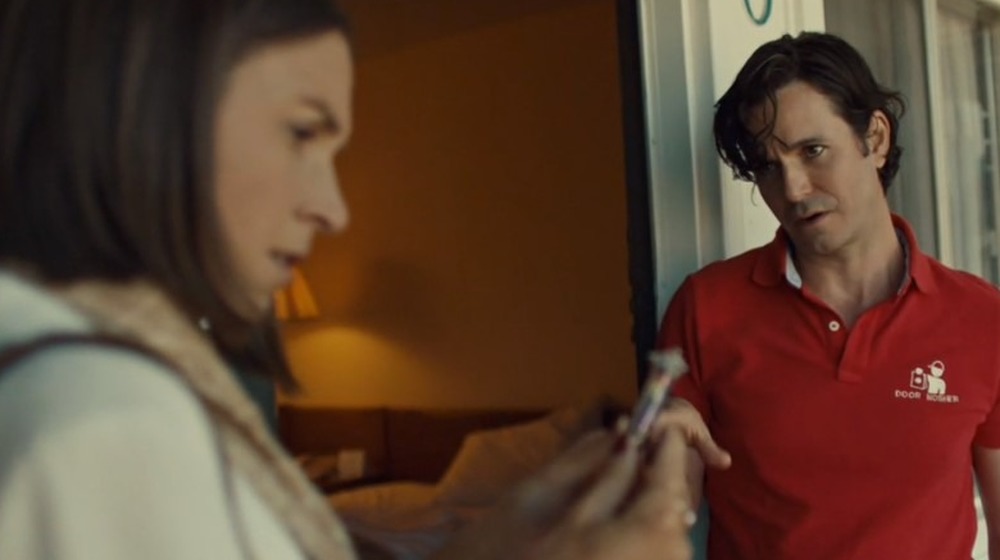 SYFY
The episode picks up more than a month after the events of episode 6, which included Waverly (Dominique Provost-Chalkley) and Nicole's (Katherine Barrell) engagement. The gang gathers at Shorty's — now owned by Nedley (Greg Lawson) — for a pre-engagement celebration. When Wynonna (Melanie Scrofano) shows up late after a drunken demon hunting session, she pretends she was planning a bachelorette party. The lie sends Wynonna, Waverly, and Nicole to a bar for a mid-day Sunday strip show.
Waverly notices one of the strippers has angel wings, and that she "knows" him. While drinking with the women after his performance, the stripper, Demetri (Christopher Jacot), says love isn't real. Waverly insists it is — citing her and Nicole's willingness to die and kill for one another. Demetri asks Waverly if she wants to bet on it. She half-kiddingly accepts. He then wishes her luck "spreading love through the world," and secretly slips something into her pocket.
Waverly suspects Demetri might have done something. When she confronts him, he admits he slipped her a vial of glitter that, when sprinkled on someone, makes them fall in love with the first person they see. Spreading love with the glitter was Demetri's role as a cupid, but he doesn't want it anymore, so he dumped it on Waverly. She's been accidentally spelling people ever since ... because she wants everyone to be as happily in love as her. Nicole, Bunny, and Amon (Noam Jenkins) are spell-obsessed with Waverly, Wynonna with Amon, Doc (Tim Rozon, who recently had an unexpected Wynonna Earp reunion) with Cleo Clanton (Savannah Basley), and Nedley with Bunny. What a mess, right?
When all the victims converge at Shorty's, chaos breaks out. Waverly lures Demetri there to fix things, and learns Demetri is cynical about love because his heart was broken ... by none other than Amon. She asserts Demetri's pain proves that love does exist. He softens and agrees to take back the cupid responsibility and fix things. Before he leaves, he tells Waverly he gave her the vial because he's never seen anyone more in love.
Demetri's game has an impact on many of the characters, and it's a the core of episode 7's plot.
What's going on with WayHaught?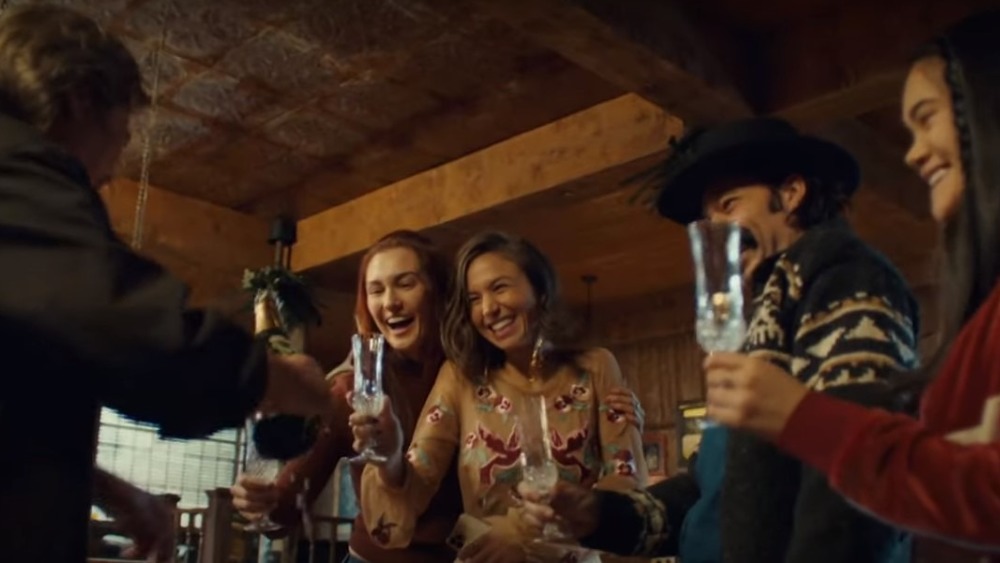 SYFY
Nicole and Waverly are still very much in love — Nicole even gets Waverly her own ring. However, during the bachelorette party, Waverly tells Wynonna that Nicole wants to get married quickly and keep it simple — perhaps just a city hall ceremony. She says Nicole has never been a big wedding person, and it doesn't help that it's her second marriage. But Wynonna points out that Waverly has always wanted a big wedding — she has scrapbooks! She urges Waverly to tell Nicole how she feels.
Later, when Waverly starts talking wedding plans, Nicole brushes her off, saying she doesn't like public displays of affection. Then Nicole falls under the glitter spell and suddenly begins fawning all over Waverly, including getting excessively physical with Waverly at an inopportune time when they're trying to obtain a marriage license from Nicole's nemesis, the homophobic Bunny Loblaw (Jann Arden). After finding Waverly's wedding scrapbook, spell-crazed Nicole insists they should indeed have an extravagant wedding. Waverly, still unaware of the spell, thinks Nicole is making fun of her and is hurt. When the glitter spell is cured, Nicole is relieved Waverly isn't mad about anything that happened during the day, and the two agree on a medium-sized wedding. Even Bunny changes her tune. 
Are all the obstacles cleared, then, for WayHaught, or will the path to wedding-day bliss have many more to come? The latter is the safer bet. After all, they do still have to contend with demons running amuck — plus wedding day jitters, Waverly's insecurity over Nicole's ex-wife, and Wynonnus Interruptus. Our ladies will surely work through it all, but the ending of episode 7 certainly sets them up for some high nuptial drama.
Cleo's at a crossroads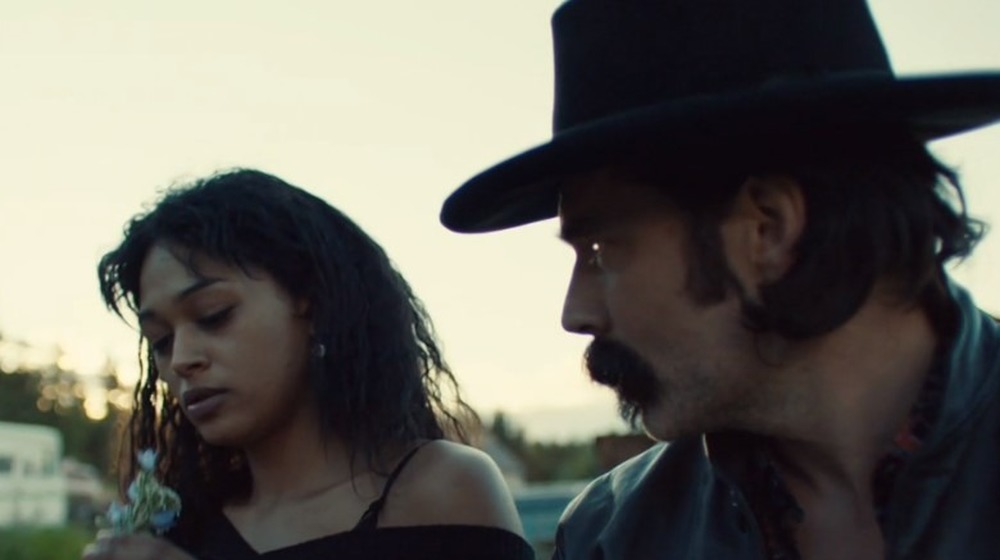 SYFY
When Waverly approaches Amon at his bar to ask him to rein the demons in for one day so she and Nicole can get married safely, Amon asks what happened to Margo "Mam" Clanton (Hannah Duke), signaling he suspects Waverly killed her with some unknown extraordinary power. Waverly plays dumb but Doc, having overheard the conversation, then confronts Waverly himself. She admits she touched Mam's head, but says she isn't sure what happened.
Doc decides to visit the junkyard to investigate what happened to Mam. He finds her in a chair, looking pretty dead. He then finds Cleo curled up in a ball, bawling over not knowing what to do next without her mother. She wants Doc to kill her. He starts trying to cheer her up and then kicks things up several notches when Demetri's spell gets to him. He slings a mountain of praise at her, immediately boosting her spirits.
In one conversation, Doc urges her to move on from her mother's expectations and begin her own life and legacy. Later, Cleo says she's glad the covenant between Nicole and Mam was busted. Cleo nonchalantly explains that Nicole asked Mam for help getting Waverly out of the garden in exchange for Doc himself. Doc is disturbed by the news — but not surprised.
After he leaves, Cleo dismembers Mam's body, defying Mam's wishes to be turned into a reaper to help end the family's curse. Talking to herself, Cleo gloats about defying her mother as revenge for Mam killing Billy, and about how Mam won't get to see Cleo destroy the Earps and Doc. Cleo then welcomes home reaper Billy (Billy Bryk), whom Rachel (Martina Ortiz-Luis) had finally found earlier and apparently freed.
With that, it's clear that even though Mam is dead, the threat of the Clanton family is not. But exactly what is Cleo capable of? With several baddies in the mix at this point in the show, how will she factor in? As Wynonna Earp moves into its endgame, it's obvious that Cleo's going to play a major antagonistic role.
Where will wayward Wynonna stumble next?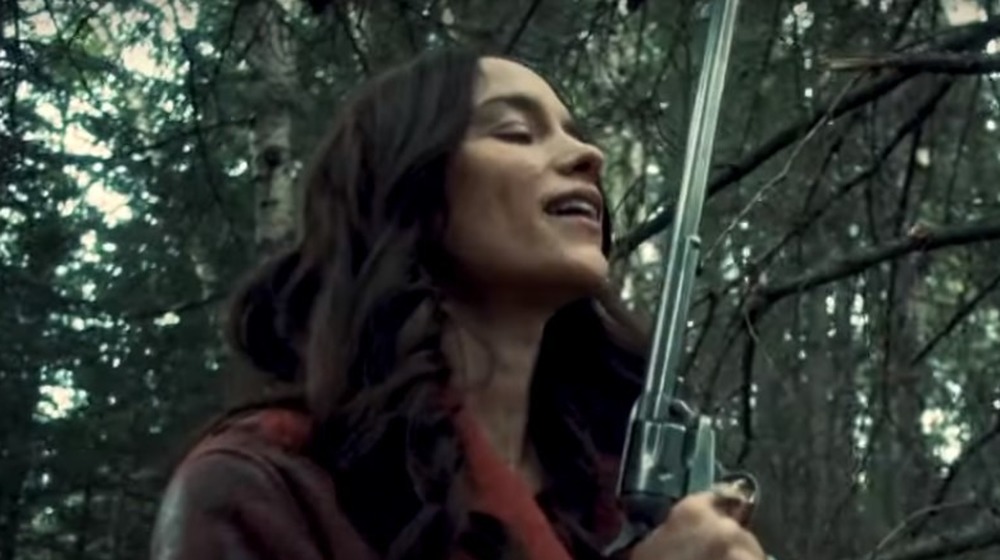 SYFY
The episode quickly establishes that Wynonna is in a bad place, having shot Hoyt (a Clanton) in the back at the end of episode 6. She's been on a drinking and demon-killing tear ever since. She claims she's simply embracing who she is — a hunter — but it seems she's really lost.
On the hunt, she encounters Amon. When he says he's done nothing wrong, she decides not to kill him but notes she can at any moment. Who is this power-mad Wynonna? Her descent started before she killed Hoyt (Ty Olsson); it started when she learned the truth about Wyatt Earp's shady past — that he shot first at the O.K. Corral — which made her think even Wyatt wasn't the hero he's believed to be, but rather a killer. Wynonna's attitude strains her relationships. Waverly is concerned, and Doc still wants nothing to do with Wynonna for her cowardly murderous act against Hoyt.
During the engagement celebration, Waverly insists to Doc that the latest issue between him and Wynonna is just another blip. He maintains their rift is significant, and when Wynonna walks in and snips at him, he leaves. Wynonna gets a temporary reprieve from her Doc frustrations when Demetri's spell has her chasing Amon. However, when the group is gathered at Shorty's, spell-crazed Wynonna and Doc dance together. They hold each other close and Waverly is sure the love in their eyes is real. When Demetri lifts the spell, Wynonna doesn't want to let go, but Doc pushes her away. In pained response, Wynonna turns to yet another vice besides killing demons and drinking — sex. She hits on Amon again, and this time he accepts. The two get busy.
What's next for Doc and Wynonna? Will they stop, as Waverly told Demetri, burying their love under hurt and pride, and make up? Will Doc pull Wynonna out of her darkness, or will she have to pull herself out to get Doc back? Our guess is that the rift and Wynonna's darkness will continue a while longer, but toward the end of the season, they'll find their way back to the light and each other.