The Romantic Sitcom Hidden Gem You Can Binge On Netflix
Channel 4/Netflix
Netflix never disappoints, with plenty of romcoms and straight-up comedies to fill all your binge-watching needs. With Netflix Originals like GLOW, Grace and Frankie, and Unbreakable Kimmy Schmidt, the streaming platform already has a lot to offer, but that doesn't stop Netflix from saving other great comedy shows and bringing them to a wider audience. Netflix did this with the Emmy-winning series Schitt's Creek and seasons 4 and 5 of Arrested Development. On top of that, Netflix found another hit when it saved a lesser-known British romantic comedy called Lovesick.
Lovesick initially premiered its first season on Channel 4 in the United Kingdom as Scrotal Recall. Obviously, the name choice wasn't too appealing, leading to diminished viewership. When the series became available on Netflix, the streamer decided to produce a second season, labeling the show a Netflix Original under a new name, Lovesick. One of the show's stars, Antonia Thomas, who some might recognize from The Good Doctor and Misfits, spoke to Digital Spy about the positive effect of the name change, saying, "It's basically changed my life, being able to actually talk about the show, as opposed to avoiding talking about it 'cos you don't want to mention the title." 
By 2018, when Lovesick premiered its third and final season, the show was a huge success for Netflix. Unfortunately for some, Lovesick still remains an unknown hidden gem just sitting there waiting to be watched, so here's why you should definitely check it out now.
Lovesick is a British comedy about the troubled love lives of three roommates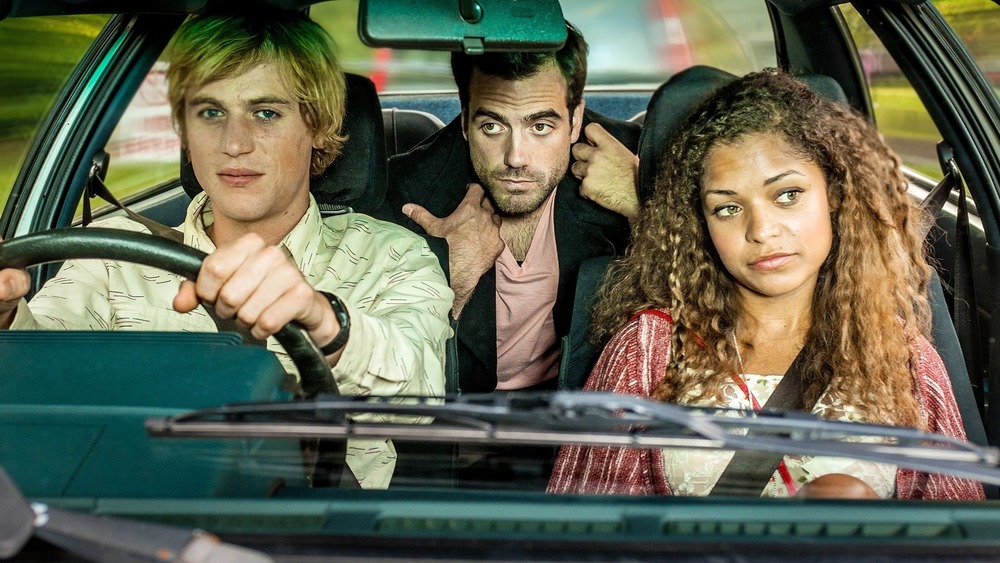 Channel 4/Netflix
Lovesick stars Johnny Flynn as Dylan, Daniel Ings as Luke, and Thomas as Evie, three 20-something best friends living together in Glasgow, Scotland. According to Netflix's official summary, Lovesick is about how "in his quest for true love, Dylan found chlamydia." With the help of Evie and Luke, Dylan begins a quest to notify all of his past sexual partners about the diagnosis, taking an emotional, sometimes painful jaunt down memory lane. At the same time, Dylan quickly realizes that he is in love with Evie, who previously had feelings for him but has since moved on — supposedly.
The romantic comedy series Lovesick has three seasons and 22 episodes telling a complete story about the trio, so no need to worry about any abrupt cancellation cutting off the show early. Lovesick has a 98% on Rotten Tomatoes with a 92% Audience Score, so it clearly impresses. Alex Abad-Santos of Vox praised the actors' performances, saying that "Together, the three actors have created one of television's best portrayals of friendship," also commenting that his "favorite thing about Lovesick is how mature it is on the subject of love."
Lovesick presents a realistic portrayal of love and the complexities of relationships, while taking a deep look at all the embarrassing moments we go through in our lifetime. It's a great pick for laughs and heartfelt moments, and is a must-watch for any and all romcom fans. Check out Lovesick now on Netflix.